Over the last few years wellness and mindfulness have been the world's fastest-growing health trends. Many cruise lines have taken note and are slowly introducing new wellness programmes, curating more finely tuned treatments and renovating their spas. Here are the best spa and wellbeing facilities of the moment… at sea!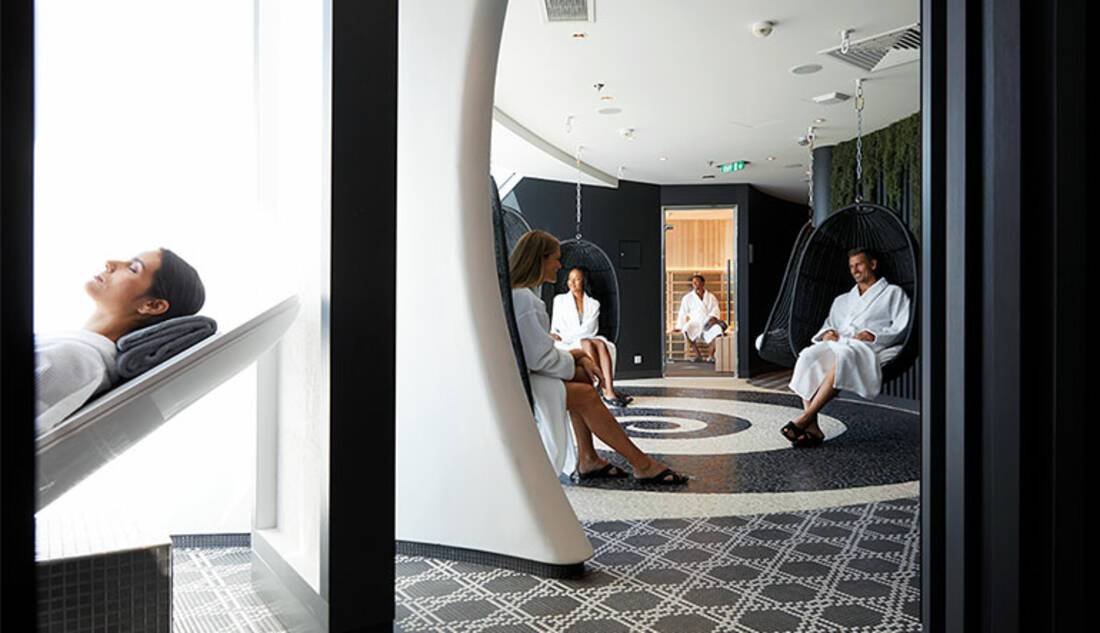 Celebrity Cruises
The Spa
With the launch of Celebrity Edge, Celebrity Cruises' highly anticipated ground-breaking ship which debuted in 2019, came The Spa, a revolution in relaxation. Collaborating with Kelly Hoppen, Celebrity Cruises have created a phenomenal spa that boasts a host of sea-spa firsts including more than 120 treatments. You can choose from a number of enticing options inspired by nature's most rejuvenating elements and each one ends with the mellow tones of sound therapy.
At the heart of The Spa is the SEA Thermal Suite which offers eight therapeutic journeys including a Float Room, heated tile loungers, an Infrared Sauna Room, a luminous Crystalarium Room, a Hammam, a Salt Room, a Mist Aroma Steam Room and a Rainfall Room. The Crystalarium, where warmth and healing energy radiates from a shimmery amethyst, is the perfect spot to meditate. In the Float Room, you can cocoon yourself in a floating basket chair and swing into a meditative sleep.
The Spa will also appear on Celebrity Apex when she launches in April 2020.
See all featured Celebrity cruises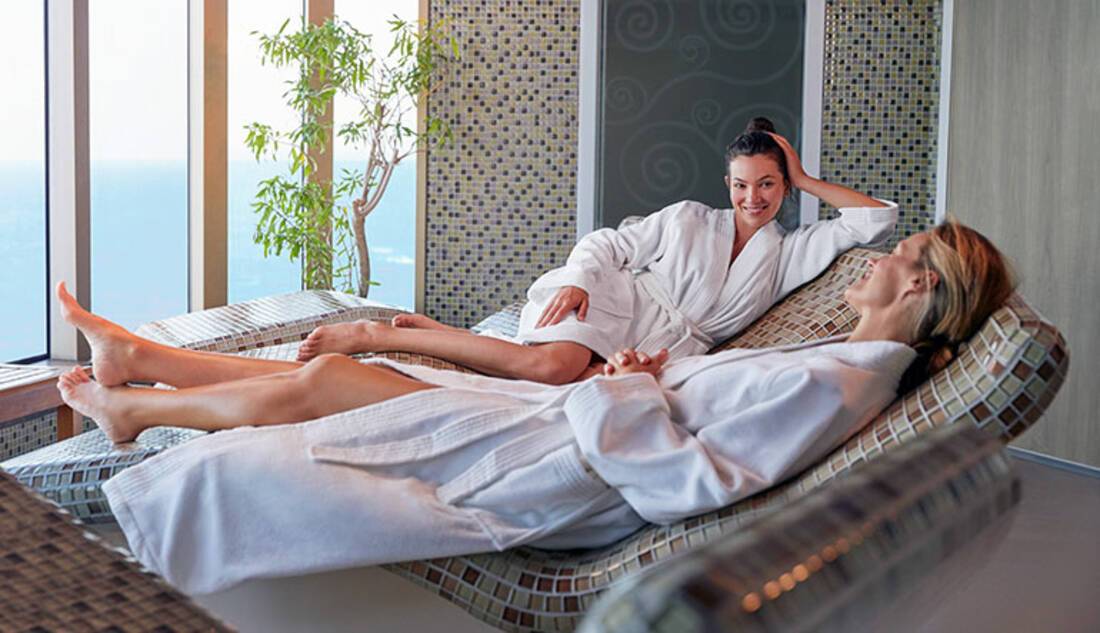 Cunard
Mareel Spa
In 2019, Cunard partnered with wellness trailblazer, Canyon Ranch, to introduce their new spa concept Mareel Wellness & Beauty. The renovated spa features lots of new sustainable products, bringing a whole new wellness experience to Cunard guests. There are also a number of new spa facilities, including a Relaxation Lounge, an Aqua Therapy Pool, an Aromatic Steam Room, a Finnish Sauna and Sensory Showers.
Their signature treatment, Ocean Discovery, features organic, marine-based ingredients sustainably sourced from Ireland. Other treatments include seaweed wraps, luminescence massages and a range of alternative treatments such as acupuncture and reflexology.
The Mareel Spa is available on Queen Elizabeth and Queen Victoria and will soon debut on Queen Mary 2.
See all featured Cunard cruises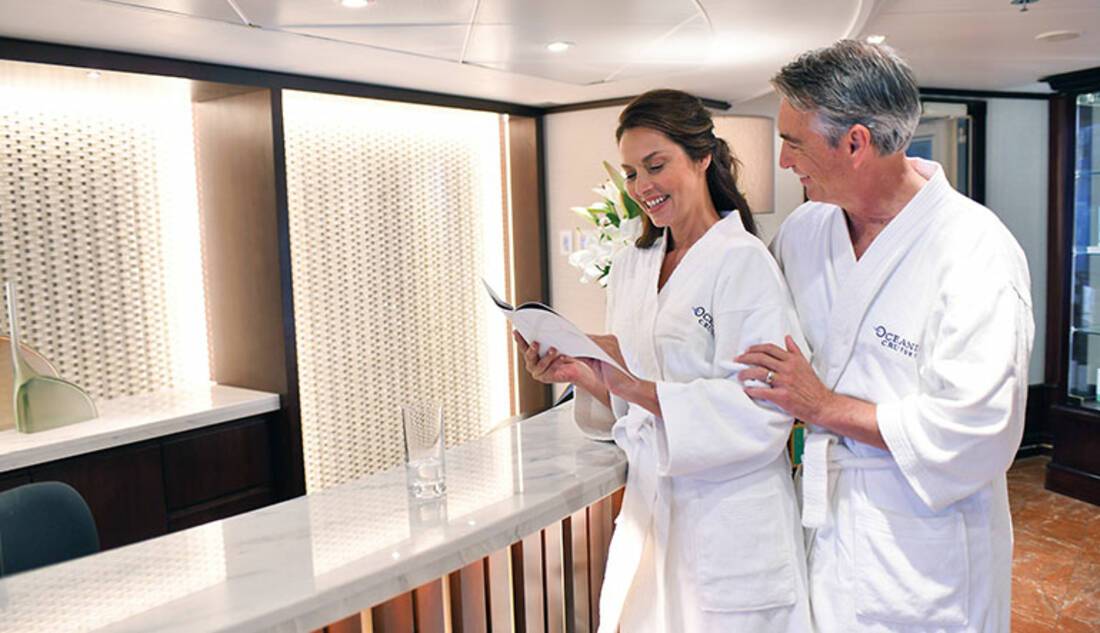 Oceania Cruises
Aquamar Spa + Vitality Center
As part of OceaniaNEXT, Oceania Cruises have introduced Aquamar Spa + Vitality Center to their fleet of 5★ luxury ships. The new spa has been thoughtfully designed to enhance your experience through an array of wellness encounters uniquely curated to encompass their hallmark offerings.
Aquamar Spa goes so much further than just relaxing treatments. A dynamic suite of programs and services extends well beyond the spa to support all dimensions of wellness and help you attain balance; enriching presentations on board, enlightening adventures ashore, healthy menu choices and personal training consultations.
See all featured Oceania cruises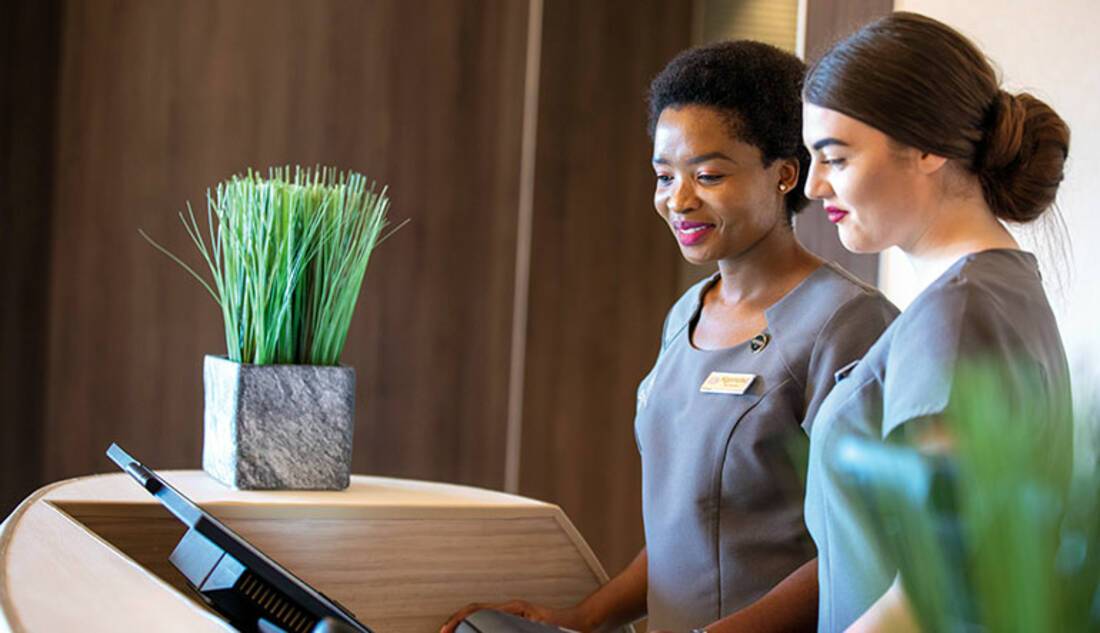 Regent Seven Seas Cruises
Serene Spa & Wellness™
In October 2019 it was announced that ultra-luxury cruise line, Regent Seven Seas Cruises would introduce a new globally inspired brand, Serene Spa & Wellness™. The spa offers exclusive treatments integrating techniques and ingredients inspired by destinations around the world, creating a tranquil haven of health, beauty and wellness that offers restorative treatments and services to soothe both the body and mind.
The incredible menu of services reflects treatments originating from many of the 450 destinations Regent sail to. It includes globally renowned ELEMIS facial therapies, body treatments, massages, manicures, pedicures, luxury Kérastase salon services, fitness classes, plus a series of wellness tours and nutritionally mindful cuisine selections served in restaurants on board.
To date, Serene Spa & Wellness™ has launched on Seven Seas Explorer, Seven Seas Mariner and Seven Seas Voyager and will be added to Seven Seas Navigator in January 2020 and Seven Seas Splendor when she debuts in February 2020.
See all featured Regent cruises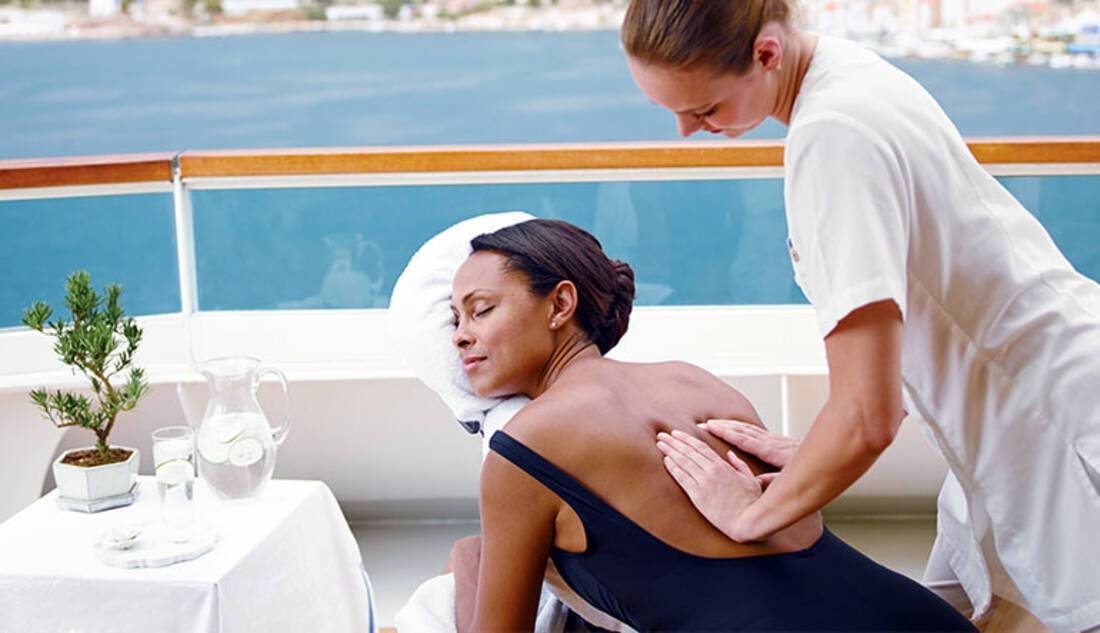 Seabourn
The Spa
Seabourn's Spa & Wellness with Dr. Andrew Weil is the first ever program of its kind at sea. Dr. Weil is a visionary pioneer in integrative medicine, his holistic spa and wellness experiences integrates physical, social, nutritional, environmental and spiritual approach is designed to relax and rejuvenate your mind and spirit as well as body.
The Mindful Living programme has been launched fleetwide and includes complimentary yoga and meditation (which he uses to beat joint pain, back pain and headaches) as well as daily lectures, discussions, classes and demonstrations covering everything from mental health and spiritual fulfilment.
Dr. Weil will join one cruise per year, educating guests about philosophies and practises that marry Eastern and Western traditions and empower them to advance their own wellness. His representatives will be on board all other cruises.