Cruise holidays are an excellent way to enjoy a stress-free holiday. With pre-planned shore excursions and everything you need all in one place, cruises, especially no fly cruises are a great choice for disabled travellers. Find out everything you need to know about planning your accessible cruise holiday with ROL Cruise and read top tips from disability travel bloggers.
Planning your accessible cruise holiday
Plan your trip as far in advance as possible
In order to make sure you find the perfect accessible cruise holiday, it's best to plan well in advance. Cruise lines will need to prepare for your arrival, so it's best if you can let them know if you need any assistance or medical equipment as soon as possible.
Cory Lee, the writer at Curb Free With Cory Lee, started his travel blog to document his adventures throughout the world in a wheelchair. Cory was diagnosed with Spinal Muscular Atrophy at the age of two but after his first-ever holiday to Walt Disney World and a trip to the Bahamas, he became hooked on travelling and has since made his way around the globe.
Cory shared his advice for planning a cruise: "I would say to start planning your trip as far in advance as possible. I usually start the planning process 6-12 months in advance. This will give you more time to figure out accessibility at the ports of call and book tours. In some destinations, there may only be one tour company that has wheelchair-friendly transportation, so the earlier you book, the more likely you'll be to get that coveted spot."
Look into shore excursions when choosing a route
One of the most exciting aspects of taking a cruise holiday is that most of the adventure is planned for you. Shore excursions are an important part of any cruise, so make sure you know what these entail and whether you'll need any additional support.
While most shore excursions will be accessible for disabled travellers, in the event that a ship is unable to dock, guests may be taken ashore on smaller boats called 'tenders'. Guests with limited mobility may find it tricky to embark or disembark and should keep this in mind when deciding on a route. If you need more details for a specific cruise line we'd be happy to look into this for you, so feel free to contact us.
"You will need to arrange accessible shore excursions at the ports of call, but these are pretty widely available in the Caribbean and Europe," said Cory Lee. "I've gone on wonderful accessible tours in Cozumel, Nassau, St Maarten, San Juan and more.
"I'm also really excited to do my first European cruise later this summer around Scandinavia and Russia! I've been able to find several accessible tours for this upcoming cruise in places like St. Petersburg, Russia and Tallinn, Estonia. Those two destinations don't seem like they'd be entirely welcoming to wheelchair users, but they are! Sometimes the places that you'd expect to be the least accessible are quite the opposite."
Consider transfers to the cruise port
When planning your trip, it's important to factor in how you will travel to your chosen cruise port. As with any journey, you'll need to check if the bus/coach/train/plane transfer to the port can accommodate your mobility equipment. The sooner you make these arrangements, the more relaxing your cruise experience will be. To avoid the hassle of flying, take a look our extensive selection of no-fly cruises sailing all over the world including to Norway, the Mediterranean, Central America and the Caribbean.
Cory added: "I think that cruising is by far the most accessible way to travel. Not only does it allow you to see several different countries, but everything that you could possibly need is on the ship.
"You can go to dinner, then to a Broadway style show, and then go gambling in the casino all night if you want, without ever having to search for accessible transportation. Cruising allows me to have the most stress-free vacations."
Before you book
Is your cabin accessible?
Regular cabins may not be spacious enough to incorporate mobility scooters or wheelchairs, so in most cases if you have mobility issues, you will need to reserve an accessible cabin.
Are you taking a wheelchair or mobility scooter?
Many cruise liners have specific requirements as to which types of mobility scooters can be allowed on board. This could include specific types of batteries as well as size and weight. If you'd like more information about specific cruise lines before booking your cruise holiday, feel free to give us a call. Remember that while cruise lines have wheelchairs on board, you must bring your own if it is to be used for the duration of your holiday.
Does the cruise line allow service dogs?
Most cruise lines accept service dogs but specify that guests must provide copies of the dog's current vaccination records. You must also bring any food and medication for your dog, as well as a life jacket.
Are you travelling with someone?
Remember, if you need assistance with dressing, eating or attending safety drills, you must bring a capable travelling companion to support you on your holiday. Cruise line staff are not legally allowed or trained to help guests in these areas, but they are able to help you arrange specific seating at the on board bars and restaurants, for example.
Before you travel
Have you requested the medical equipment/assistance required for your holiday?
Most cruise lines will ask you to fill in a medical request form once you have booked your holiday. If you have mobility, hearing or visual impairments, it's important to request any additional equipment you may need in advance. If you need to request assistance when boarding the ship, or if you forget to list anything on your form, let us know and we'll speak to the cruise line for you.
Do you need a cabin alert kit?
Alert kits are designed for passengers with hearing impairments. They can be fitted to your cabin and include visual-tactile alert systems so passengers know when someone knocks at the door, if the cabin phone rings, if the alarm clock goes off or if smoke detectors go off.
Do you have the appropriate documentation?
Make sure you have all the relevant documentation to support your disability needs, so that you don't incur any additional charges.
Have you organised your transfers to the port?
Check all arrangements are in place for your journey to and from the cruise port whether you're travelling by taxi, bus, train or plane.
On board
With all your preparations in place, boarding your cruise ship will be stress-free. Crew members will be on hand to help you board comfortably, and in most cases cruise lines will allow you to board early. Once you are settled into your cabin, you'll be free to explore the ship at your leisure, safe in the knowledge that the friendly crew are available should you need any additional arrangements to be made.
John Morris, disability advocate and travel writer at Wheelchair Travel, created his blog to document his travels after a car accident left him in a wheelchair. After being told his disability would make travel "impossible", John has visited 27 countries and territories. He said: "Regardless of our abilities or disabilities, we all deserve an opportunity to see and explore the world. Cruises offer a level of accessibility in travel that is unmatched – with accessible cabins, restaurants, entertainment, swimming pools and more.
"Experiencing a cruise with a disability could be your first step in opening the world to yourself and realising that it is actually more accessible than you might have assumed."
Accessible cruise lines and what they offer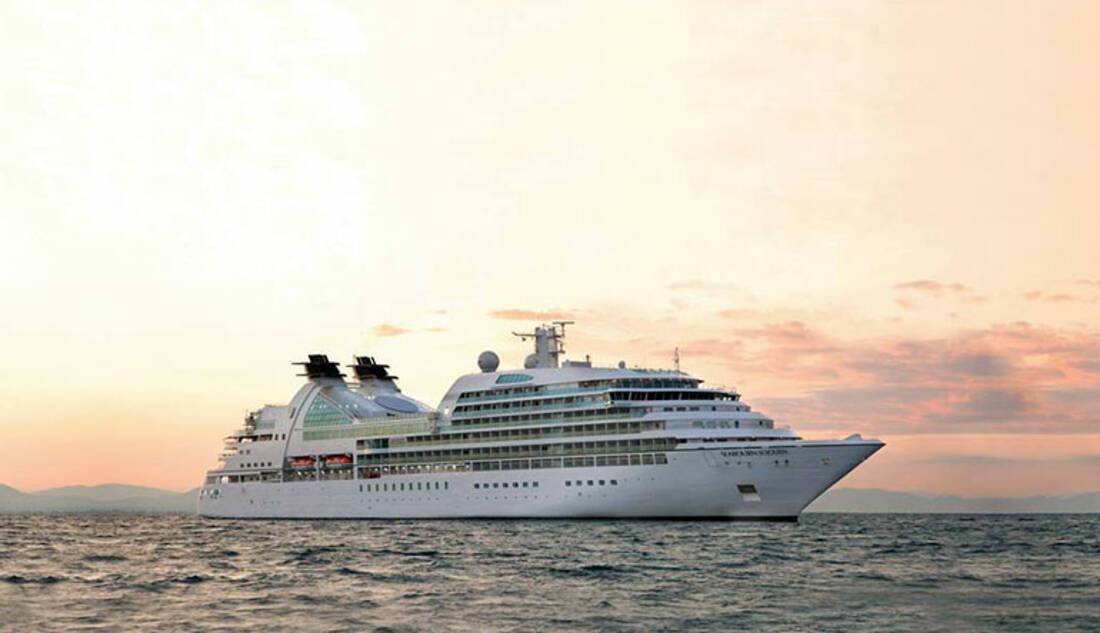 Seabourn Cruises
With all vessels specially designed for guests with mobility issues, Seabourn is an excellent choice for disabled travellers. The cruise line's Quest, Sojourn and Odyssey ships offer wheelchair accessible suites with wider entry doors, roll-in showers with grab bars, benches/seats and hand-held shower nozzles, as well as lowered closets and towel rods.
To help guests with visual impairments, Seabourn Cruises offer downloadable daily activities, news and menus for guests using laptops with screen reader programs. If notified 45 days in advance of sailing, they can also provide large print or braille menus describing the cuisine in every venue. Guests will also be offered a familiarisation tour of the ship on arrival.
If you are travelling with a hearing impairment, the cruise line includes several features to assist you throughout the journey. With advance notice, they can include a suite kit with a visual and tactile alert for someone knocking at the door, the phone ringing or an alarm. The ships also include TVs capable of showing closed captioning, telephones with amplified sound and Assistive Listening Systems with portable receivers in the show lounges.
Guests with mobility issues are welcome to bring their mobility scooter or wheelchair on board; however, there are some restrictions based on doorway widths and weight. It's best to let us know before booking to check whether your equipment is suitable. Service dogs are also welcome as per the ship's guidelines.
See all featured Seabourn cruises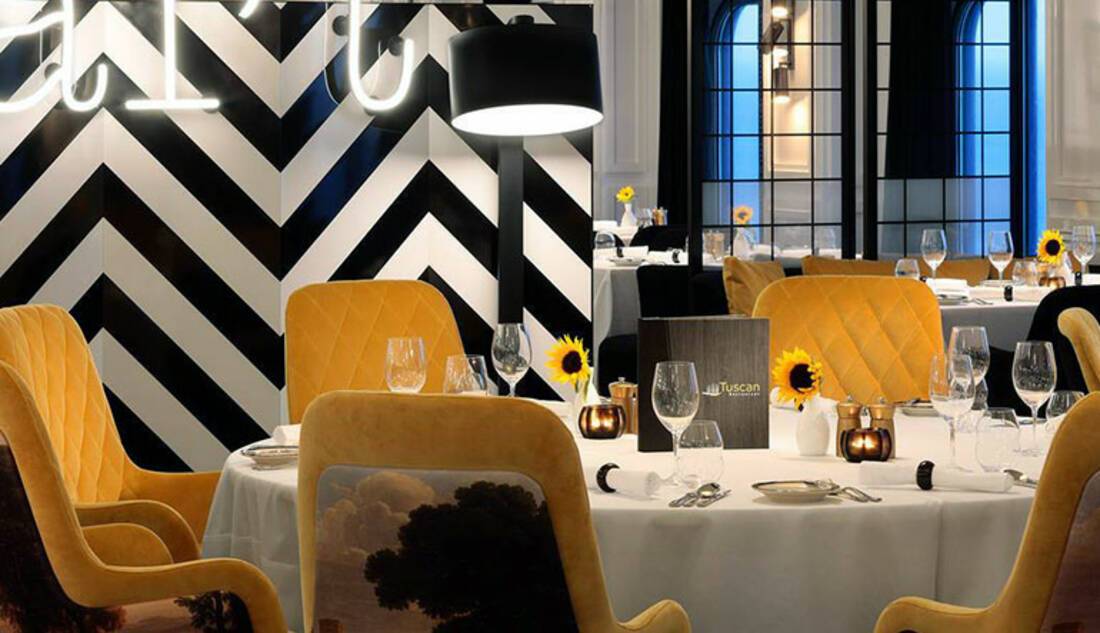 Celebrity Cruises
Celebrity Cruises has ensured all of its ships are accessible, from the public doors to wheelchair-accessible cabins adapted with special features. The cruise line has made a special effort to cater to the needs of anyone with mobility, hearing or visual impairments.
The cruise line's accessible cabins range from 272 square feet to 381 square feet, with a five-foot turning radius in the bedrooms, bathrooms and sitting areas. Automatic doors feature throughout, as well as gradual inclines to all public rooms. The entertainment hasn't been forgotten either, with accessible Blackjack tables in the casino and scooter access.
For those with hearing impairments, Celebrity Cruises offers the latest technology from Alertmaster to ASL, to ensure your journey is as comfortable and smooth as possible. Amplified telephones are available in the cabins and public areas, in addition to closed-caption TVs. Portable kits including TTY/TTD, Alertmaster and a strobe alarm can be requested. The TTY (teletypewriter) in your cabin is linked to the guest relations desk, so you can contact the team if you need anything. The Alertmaster alarm clock has an under-mattress or under-pillow vibrator and lights can alert you to the doorbell, telephone and alarms.
Guests with visual impairments have also been considered, with braille signs throughout the ships. Each of the staterooms, dining areas and public areas have incorporated braille and there are audio call signals in all elevators. Service animals are welcome on board Celebrity cruise ships, as long as the necessary documentation is provided.
See all featured Celebrity Cruises cruises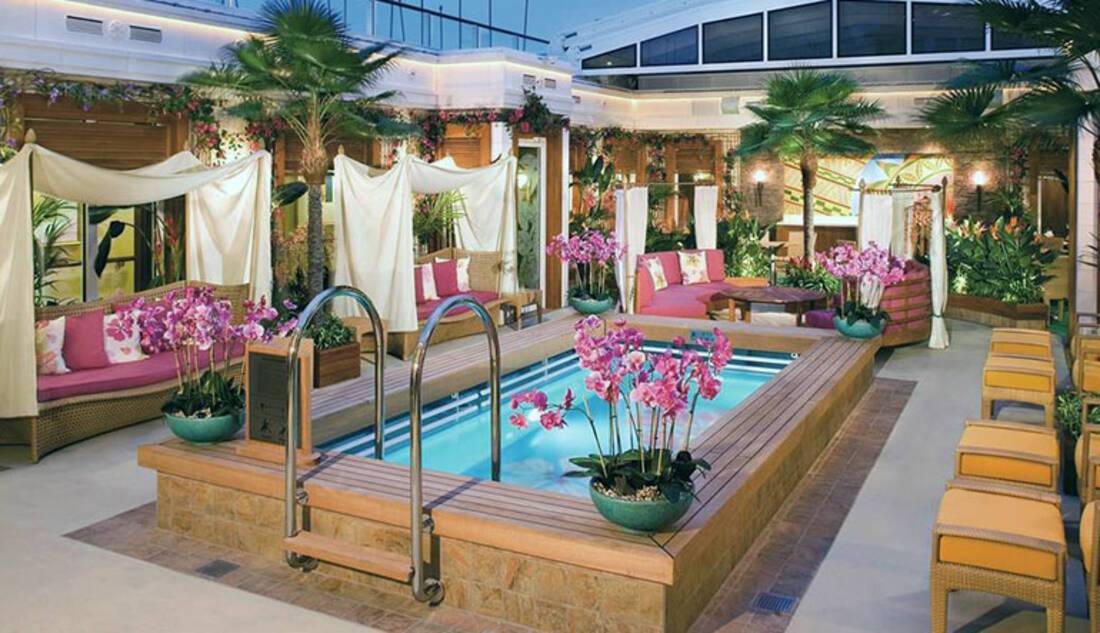 Norwegian Cruise Line
Norwegian Cruise Line prides itself on its dedicated Access Officers to help you during your holiday. The helpful staff will talk you through every aspect of your cruise experience and will be on hand if you need any assistance.
For guests with mobility impairments, Norwegian Cruise Line has a supply of wheelchairs to help with embarking and disembarking the ship. Motorised wheelchairs and mobility scooters are allowed in the accessible cabins, as long as they are powered by gel-cell batteries and the chargers are adaptable to 110 volts. Wheelchair accessible cabins are available, equipped with grab bars in the bathrooms, raised beds, adjustable hanging rods in the closets, shower seats and wider doors for easy access. Pool lifts and accessible restrooms in the public areas are available on all Norwegian Cruise Line ships.
Guests with hearing impairments who are travelling with the cruise line are also catered for. Specifically, the cruise line's Sky, Sun and Pride of America ships have staterooms that are designed for guests who are deaf or hard of hearing. These staterooms include a visual-tactile alert system to let you know if the phone is ringing, if someone's at the door or if there is an alarm. For those travelling on vessels without these built-in systems, the cruise line offers portable versions. Norwegian Cruise Line also offers pagers, assistive listening devices, closed-caption televisions, sign language interpreting services and TTY phones.
Those with visual impairments have been considered by the cruise line, with a vessel orientation tour and braille/tactile signage. Service animals are also allowed on board, as per the ship's guidelines.
See all featured Norwegian Cruise Line cruises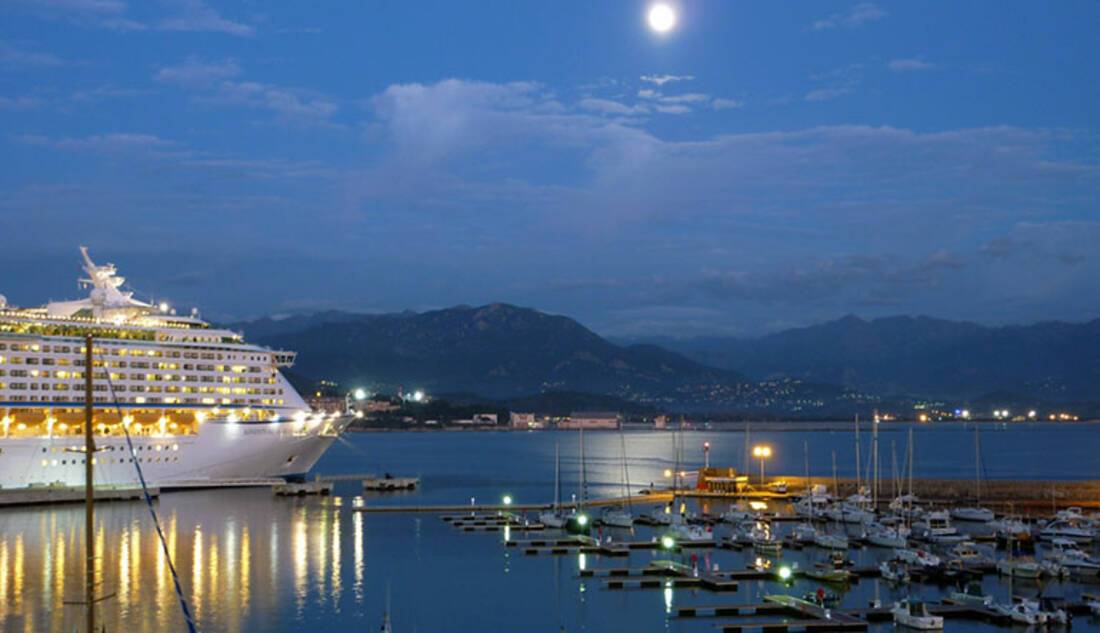 Royal Caribbean International
All of Royal Caribbean International's ships have been designed with public doors accessible to wheelchairs and cabins adapted with special features for those with mobility, hearing and visual impairments.
Staterooms onboard Royal Caribbean's vessels offer five feet of turning space in sleeping areas, bathrooms and sitting areas, ramped bathroom thresholds, grab bars, lowered sinks and dressing tables, roll-in showers, fold-down shower seats, hand-held showerheads, lowered wardrobe rails, accessible balconies on selected staterooms and lowered safes for easy access. If you need help embarking and disembarking the ship, just let the cruise line know in advance.
For guests with hearing impairments, Royal Caribbean offers additional support in many forms. A portable room kit is available for your cabin on request with a visual-tactile system providing alerts for door knocking, telephone ringing, alarm clocks and smoke detectors. You may also wish to use the available TTY which interfaces with the TTY at the guest relations desk should you need any assistance. Amplified telephones are also available in cabins and public areas. There are assisted listening systems in the main theatre on all ships, as well as in Studio B on the Voyager, Freedom and Oasis-class ships. All staterooms have a closed-caption TV. For guests who use American Sign Language (ASL) as their primary means of communication and are departing and/or returning from/to the U.S or Canada, interpretation services can be provided on request.
Visually impaired travellers onboard Royal Caribbean cruises will be catered for with large print menus and cruise compasses, braille/tactile signage, braille lift buttons/audio call signals and orientation tours. Service animals are also welcome on board all cruise lines according to the company's policy.
With everything in one place and the opportunity to experience multiple countries and cultures in one trip, world cruise holidays really are an excellent choice for disabled travellers. Most cruise lines have designed their ships with accessibility in mind, meaning you can enjoy a stress-free holiday. Contact us if you're planning a cruise holiday and would like more information on individual cruise lines and their accessibility details.