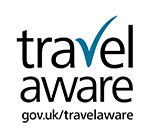 It is very important while travelling aboard to keep up-to-date on the advice regarding your safety and health. The Foreign & Commonwealth Office and National Travel Health Network provide the latest travel advice regarding security, local laws and passport and visa information. To find out more, please visit: www.gov.uk/travelaware
If you would like to receive updates via your social media platforms you can follow @FCOtravel on Twitter and Facebook.com/FCOtravel on Facebook.
We advise you check for updated advice regularly as this may be subject to change. You will also find advice on what may be needed prior to departure. Please ensure you check the following:
All passengers are required to hold a full 10 year passport please note this is 5 years for children. Your passport should be valid for at least 6 months from the date of your return. We kindly request you ensure you passport is issued within 10 years of your intended departure date. To check your specific destination requirements please visit https://www.gov.uk/foreign-travel-advice


Take out travel insurance which covers you for the entire duration of your cruise and the activities you plan to partake. For more information on foreign travel insurance, please visit: https://www.gov.uk/guidance/foreign-travel-insurance or please visit our Travel Insurance partner, Just Travel Cover.


Check your European Health Insurance Card (EHIC) is still valid (if travelling within Europe). If you do not have A EHIC, you can register for your free card here


Familiarise yourself with the laws, customs and entry requirements of the countries you will be visiting. For more information, please visit: www.gov.uk/foreign-travel-advice. If you are looking into purchasing your visa, please visit: https://cibtvisas.co.uk


Photocopy all your important documentation and keep a record of any electronic documentation on a data storage site that you will be able to access remotely


Be aware of the vaccinations or any other medical requirements for the countries that you're visiting. It is passenger's responsibility to ensure they comply with all health and vaccination requirements. For medical advice, please visit: https://travelhealthpro.org.uk/


Tell your friends and family about your travel plans and inform them of any information necessary


Keep enough money on you and have the means to access alternative funds if you need to


Ensure you take the contact details of the local British Consulate in case of emergencies - www.gov.uk/government/world/embassies


Understand what consular staff can and can't do to help British nationals travelling overseas, check www.gov.uk/government/publications/support-for-british-nationals-abroad-a-guide
Looking to apply for a Visa?

ROL Cruise have partnered with CIBT, the global leading provider in passport and visa services. With services ranging from standard tourist visas to eVisas, ETAs and passport renewals, their experienced visa consultants will help you navigate the often stressful process of applying for your visas.
To start your application visit: www.cibtvisas.co.uk/rolcruise. Travellers using this dedicated visa website will also receive significant discounts (in comparison to CIBT's retail prices). For this reason, please always identify yourself as a ROL Cruise traveller.