A bustling destination of the future, Singapore is a melting pot of cultures with a lot to offer all travellers. Thanks to the fusion of influences it benefits from, the food scene here is unlike anywhere else in the world and you can find everything from the cheapest Michelin Starred meal in the world to dishes you wouldn't expect to see in South East Asia.
For a foodie, Singapore is an adventure. A theme park of flavours and a buffet of unique dishes and fresh ingredients. In this article, find out what you should try whilst in Singapore and where you should try them.
What to eat in Singapore
Laksa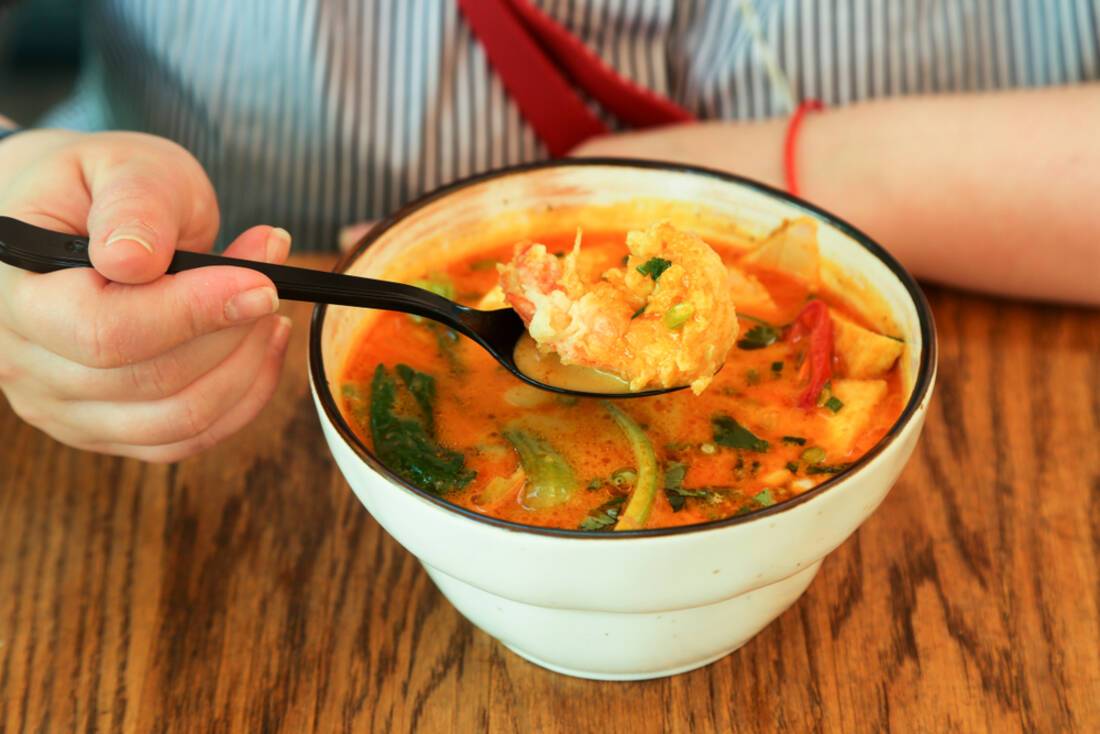 Laksa is a spicy curry dish that you can find variations of around Asia. However, in Singapore, it is a must-try and a classic. Usually served with a distinctive orange colour, it can contain all manner of ingredients but commonly features noodles, coconut milk broth, some kind of meat (usually chicken or prawn) and include fresh vegetables and spices.
JB, a foodie and travel blogger at Will Fly for Food recommended laksa. He told us: "Singapore is such a delicious and diverse food city that it's hard to narrow it down to just one dish, but if I had to choose just one must-try dish, then that would be laksa. Laksa is a spicy noodle soup typically made with chicken, prawn, or fish in a rich and savoury coconut milk broth. It can also be made with a sour tamarind- or gelugur-based broth, but in Singapore, the most popular version is the coconut-based curry laksa."
Kara from Stretchy Pants Tours also recommended laksa for those who like a bit of heat: "If you like a spicy kick, be sure to try the Singaporean Laksa, a traditional noodle dish. Laksa can be found all over the country or you can learn how to make it yourself by taking a local cooking class at Food Playground."
Where to eat Laksa in Singapore
JB makes a range of restaurant recommendations in his blog, 25 must-eat restaurants in Singapore. He told us where to get the best laksa: "There are many great laksa stalls in Singapore but one of my favourites is Sungei Road Laksa. They've been serving the same bowl of curry laksa with fish cake, blood cockles, Vietnamese coriander, and spicy sambal for over forty years. They cook it on a charcoal-fuelled burner which gives the broth a nice, smoky aroma. Delicious!"
Soya Chicken
If you've always wanted to try a Michelin Star meal but have been turned off by the large price tags, you'll be extremely excited to hear that Singapore is home to the cheapest meal in the guide.
Soya chicken is a common street food in Hawker stalls all around Singapore. It's marinated and then cooked in a salty and sweet broth, giving it its distinct bronze colouring. Once cooked, it is glazed, chopped and served with rice.
Where to eat Soya Chicken in Singapore
Of course, if you're going to try soya chicken you should do it at the Hawker Chan. For less than £2 you get a full serving of soya chicken and also get to experience a Michelin Star restaurant. Be aware, queues can be long but it's certainly worth the wait!
Hainanese Chicken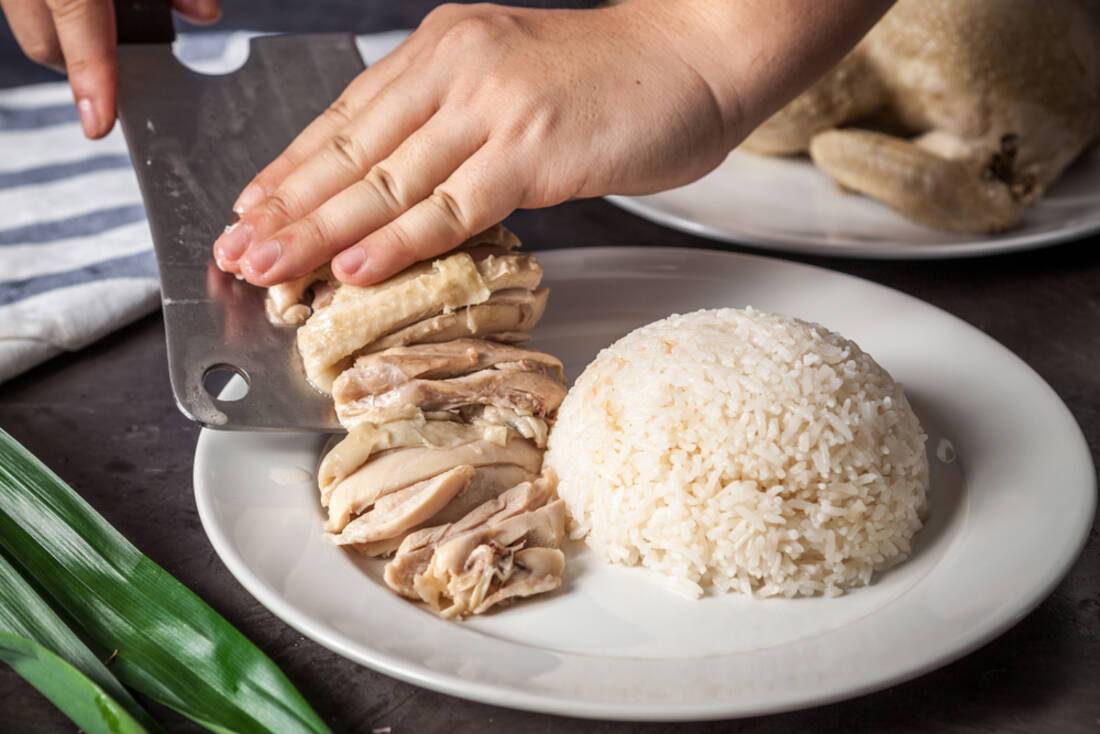 Although to the eye it may not look like the most exciting dish, Hainanese chicken is the national dish of Singapore for a reason. Poached chicken with light flavours of ginger and spring onion served with rice and a chilli sauce. Made to bring out the natural flavourings of the meat, it's a delicate dish that is a must-try for all in Singapore.
Raymond from Travelling Foodie recommended Hainanese chicken: "When in Singapore, everyone should try the local Hainanese chicken rice because it is the national dish and it was in Singapore where I had it the best."
Marianne Rogerson from Mum on the Move also recommended this: "flavourful rice topped with slices of steamed chicken - sounds boring but tastes delicious!"
Where to eat Hainanese Chicken in Singapore
Hainanese chicken can be found at most Hawker Centres to try. Marianne told us: "You shouldn't leave Singapore without eating at a Hawker centre at least once. These local food centres are the city's version of street food and are where you find some of the best local dishes. You will find a huge selection of stalls within the Hawker centres, so take a wander around and order a few dishes from different stalls."
It's well worth trying to get off the beaten path to try Hainanese chicken. Raymond told us: "I highly recommend trying Hainanese chicken at Hainanese Delicacy which is a small joint that is a local gem, less publicised and flocked by tourists."
Chilli Crab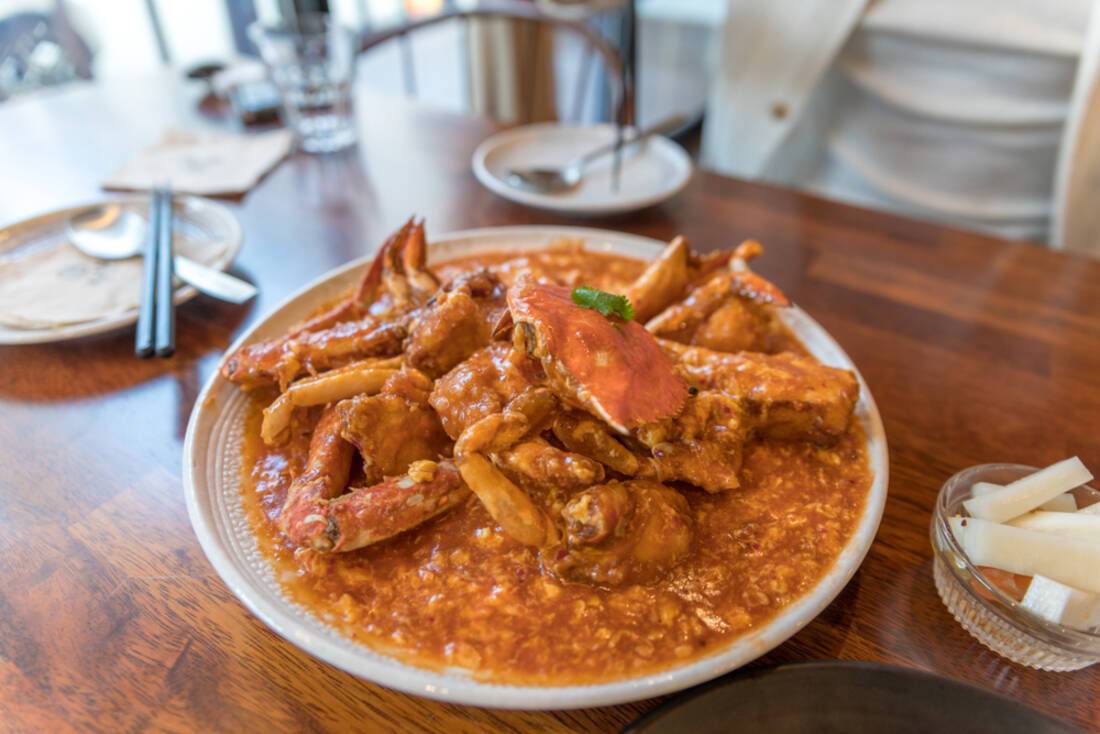 For seafood lovers, chilli crab is an incredibly popular dish on the island that brings fresh crab together with powerful flavours. Made with mud crabs most commonly, the dish is served with a tomato and chilli sauce and despite the name, it isn't too spicy. You'll find this dish everywhere in Singapore, with each place serving it in a slightly different sauce with recipes that have been passed down through generations.
Where to eat chilli crab in Singapore
There are plenty of places to try chilli crab in Singapore, and as we said, all places will serve their own take on it. As one of the oldest seafood houses, Red House is a popular choice. Long Beach also manages to draw in a large crowd with its version of the dish featuring an eggy sauce.
Kara recommended Momma Kong's. Describing themselves as the best crab experience in Singapore. As well as the traditional red chilli crab you can also get some different sauce flavours and at the end of every crab experience, they'll take a photograph of your table to keep as a memory.
Oyster Omelette
Oyster omelettes are popular dishes in eastern Asia, and Singapore is no exception. You can find it done slightly differently here, as in Hawker Centres the omelette is fried in batter for a light, fluffy filling and a crispy bite.
As the ingredients stay virtually the same from stall to stall, the cooking method and style is what gives each place a unique flavour. That, and the sauce they serve with it. Some stalls go for chilli whereas some go for more of a gravy. We suggest trying a few styles to know what your favourite is.
Where to eat oyster omelette in Singapore
Ah Chuan Fried Oyster Omelette tops most lists as the best place to get an oyster omelette on the island. Only serving for around three hours a day, the opening hours may be short but the omelettes are delicious. Alternatively, for a more authentic experience, Geylang Lor 29 still use charcoal to cook their omelettes which offers a smoky flavour to the finished product.
Kaya Toast
The most traditional breakfast in Singapore, kaya toast is a local delicacy with a unique flavour. Toast with butter and kaya jam, it is often served with coffee and eaten to start the day. Kaya jam's unique flavour is popular over the island, and as well as kaya toast, you'll be able to find other products that make the most of it. It's a coconut egg and caramel jam with a sweet, rich flavour.
Where to eat kaya toast in Singapore
To eat kaya toast in the Lion City there are many places you can go to. Ya Kun is a popular choice, with more than 40 locations you won't ever be far from one. They also serve a value meal which is great for first-timers featuring kaya toast and soft boiled eggs with a hot drink.
What to eat in Singapore:
Laksa
Soya chicken
Hainanese chicken
Chilli crab
Oyster omelette
Kaya toast
And those are just a selection of the amazing dishes Singapore has to offer. With our great cruise deals and offers, you could be on the island indulging in chilli crab and kaya toast before you know it. So, search now to find a cruise deal that suits you.