Pizza has had an international influence. Wide variations of pizza can be found in every corner of the world - from its deep dished cousin in Chicago to the Lahmacun in Turkey. One thing is for sure, though; its home is Naples in Italy. Naples is widely considered to be the birthplace of pizza and is famous for a passionate tradition for the way that it is cooked, the ingredients used and even how to eat it.
Many of us opt for pizza as an easy choice for dinner or turn to it as the ultimate comfort food. But you'll never be able to look at the frozen supermarket option in the same way again after trying authentic pizza in Naples.
What makes an authentic Neapolitan pizza?
Making pizza is serious business in Naples. The Italians have even established a governing body to ensure that the high standards and strict specifications of a true Neapolitan pizza are maintained. Founded in 1894, the mission of the True Neapolitan Pizza Association (TNPA) is to "promote and protect in Italy and worldwide the 'true Neapolitan pizza.'"
"Neapolitan pizza is unique," Lori writer at TravlinMad explains. "The dough is the headliner and takes centre stage. The crust is soft and chewy, not hard and crusty. Generally woodfired, its tomato bed is soft and pillory, almost gooey in the centre, so it's best eaten with a knife and fork. Rather than being smothered with shredded cheese, it has just a few blobs of fresh buffalo mozzarella and several whole basil leaves adorning the middle."
If you'd like to create an authentic Neapolitan pizza at home, there are a few rules you must abide by. The pizza must be round, measuring a maximum of 13.75 inches in diameter, the centre must be less than one-tenth of an inch in height and cute crust three-quarters of an inch thick or less, it must be made from hand-kneaded dough exclusively and it must use the traditional types of flour, yeast, salt and tomato.
While you may be able to pick through a catalogue of toppings, sauces and even crusts in the UK, there are only four toppings allowed on an authentic Neapolitan pizza. The most common type is the Margherita which is made up of just crushed tomatoes, olive oil, basil and mozzarella (in fact, the Italian Ministry of Agricultural Politics has passed legislation stating that these parameters must be met in order for anyone to call their pizza a Margherita). There are variations, including the Formaggio e Pomodoro which uses different cheeses, crushed tomatoes and olive oil. Even the authentic calzones use just four ingredients - for example, the Ripieno pizza uses ricotta or mozzarella, olive oil and salami.
Not only is there a governing body but the Italian Ministry of Agricultural Politics even passed legislation identifying strict parameters that must be met for anyone to call their pizza a Margherita or Marinara in Italy.
If you're wandering the streets of Naples and fancy a bite to eat, you can find small vendors serving pizza from stalls or wagons but restaurants with seating areas make for the most authentic Italian experience. Inside the establishments, look out for traditional wood-fired ovens. Domed in shape, they have retained the original design that has been used in Italy and across the world for hundreds of years. And you won't have to wait long for your delicious meal - these ovens are heated to at least 480°C and will cook your pizza in under two minutes.
How to eat pizza in Naples
Everyone has their own way of eating pizza but in Naples, there are a few rules to follow. Lori told us, "In Naples, pizza is served unsliced and everyone gets their own pie. If you must take it to go, some places might quad-fold it for you in a napkin.
"Before I visited Naples, I never imagined I could eat six or eight slices of pizza at once, yet I had no trouble whatsoever eating the whole pine in front of me. Maybe it was the excitement, the normalcy of it all or the knife-and-fork approach. I don't know. I don't care. What I do know is that from the very first bite I knew: this is what pizza is supposed to be."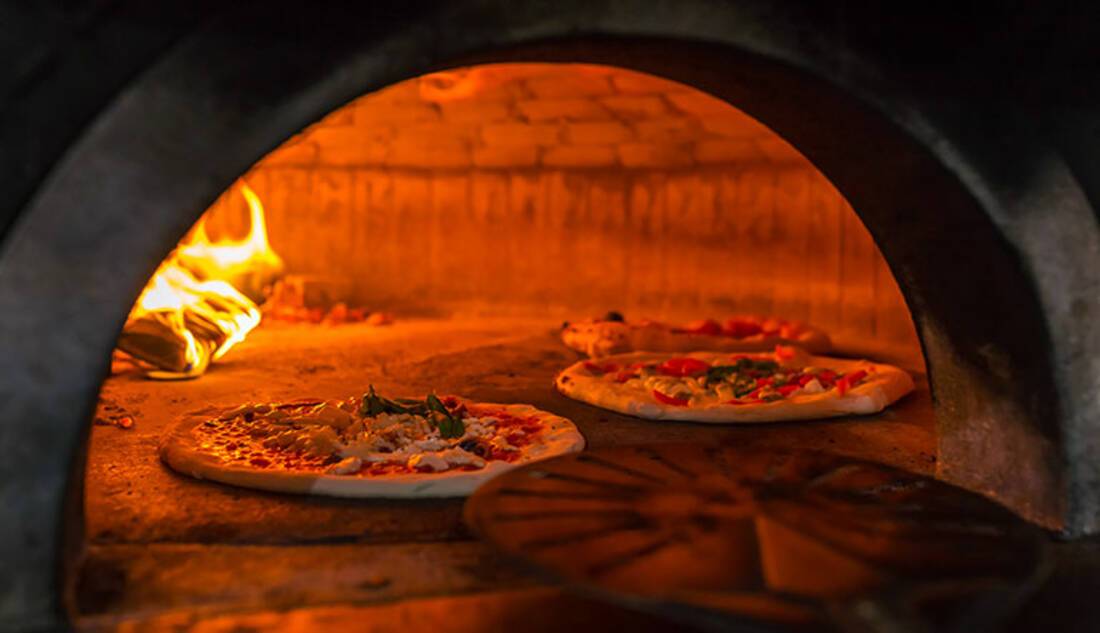 The best pizza in Naples
When it comes to places to eat, you're spoilt for choice in Naples. The older pizza joints in the city can be found along Via Tribunali between San Domenico Maggiore and the train station. It's easy to feel overwhelmed by the number of pizzerias in Naples, so we've compiled a list of the best places to enjoy a truly authentic Neapolitan pizza:
L'Antica Pizzeria da Michele
Situated in the heart of Naples, L'Antica Pizzeria da Michele was made famous when it appeared in the film Eat, Pray, Love starring Julia Roberts. The restaurant is a firm favourite with Lori, "My first pizza love was L'Antica Pizzeria da Michele and I'm still dreaming about it," he told us. "Even after all the Eat, Pray, Love movie hype and Julia Roberts following her 'moral imperative to eat pizza in Napoli,' it's still the best around."
The restaurant has been in the same location since 1930 and is run by the Condurro family, whose pizza heritage dates back to 1870. Writing on the history of this prominent pizzeria, Laura Condurro says, "A pizza requires no special or exclusive ingredients; a pizza, to be good, must blend with its simple ingredients; soft and smooth paste just like butter that gets lost in the taste of genuine tomato and precious, luscious mozzarella cheese the members of the pizzeria get every day from the Agerola's mountains. As Luigi Condurro, one of Michele Condurro's sons, used to say - it is the passion that makes you do things well, I am able to do very few things in my life but those few things I can do, I do with passion, believing to be the best."
Pizzeria Dal Presidente
Pizzeria Dal Presidente has been serving hungry locals and tourists for over half a century. Conveniently located in the centre of Naples, this restaurant prides itself on serving quality pizza in keeping with the ancient Neapolitan culinary tradition. Former President of the United States, Bill Clinton, once paid a visit to this humble restaurant and clearly the legacy continues.
According to its owners, the strength of the pizzeria is "careful selection of raw materials and the rising of the dough," but the most important ingredient is "passion for our work, an essential element that drives us to always give our best to satisfy our large clientele." So, if you're looking for tasty pizza and service with a smile, Pizzeria Dal Presidente should be at the top of your list.
Pizzeria di Matteo
Pizza certainly runs in the family at this humble yet popular restaurant. Salvatore Di Matteo followed in his parents' footsteps and grew up to become a famous pizzaiolo in Naples. It said that Salvatore was "born with hands in flour," according to the Di Matteo biography. Having been destined for the ancient craft of pizza making for many years, Salvatore is now continuing his legacy at this famous pizzeria. Pizzeria Di Matteo is perfect for picking up a cheap, authentic pizza and wandering around Naples.
Pizzeria la Notizia
A self-proclaimed pizzaiolo, Enzo Coccia is famous for being one of the finest pizza makers in Italy. As a founding member of The Neapolitan Association of Pizza Makers, Enzo believes that pizza doesn't need to be complicated. Controlling the helm of the Pizzeria La Notizia and its sister restaurants, Enzo serves up authentic Neapolitan pizza with a side of classic Neapolitan hospitality.
"Pizza is the quintessence of Neapolitan culinary art," says Enzo. "Pizza is the most celebrated and imitated dish of partying gastronomy and as such, it must become a true work of art in the wide hands of the craftsmen." Although its sister restaurants are renowned for modern twists on classic dishes, for a traditional Neapolitan pizza experience you should head to La Notizia 53. Seating almost 100 people, the restaurant has been delighting locals and tourists alike since it first opened its doors in 1994.
Pizzeria Trianon da Ciro
A hidden gem, Pizzeria Trianon da Ciro is worth seeking out. Always filled with locals, Trianon spans three floors and services up some of the tastiest flavour combinations in the city. Although also famed for its specials (for example, an Italian sausage pie topped with broccoli), Pizzeria Trianon Da Ciro is a great place to experience traditional pizza dishes too. Expect fresh buffalo mozzarella, beautifully cooked crusts and perfectly concocted sauces. Despite being tucked away in Naples' crumbling old streets, Trianon Da Ciro has been dubbed the best pizza in the world by many and is favoured by locals and tourists alike. Drop by for a slice - or eat like a local and devour the whole pie!