In one of the most remote corners of the globe, many locals are self-sufficient. Gathering wood, foraging and coping with sub-zero temperatures are a part of everyday life for Alaska's inhabitants. And yet, in this wild and rugged landscape, the state's craft beer scene is flourishing. Inspired by the elements and an overwhelming sense of community, brewers are creating award-winning beers, popular not only in Alaska but across the United States.
On a cruise to Alaska, you'll see some of the state's isolated towns and cities. Fortunately, thanks to a craft beer movement, you'll also get the chance to sample some of the most delicious beer in the world. To find out more about life as a brewer in Alaska, we spoke to some of the area's longest-running breweries and newer companies, working hard to make some spectacularly unique beers.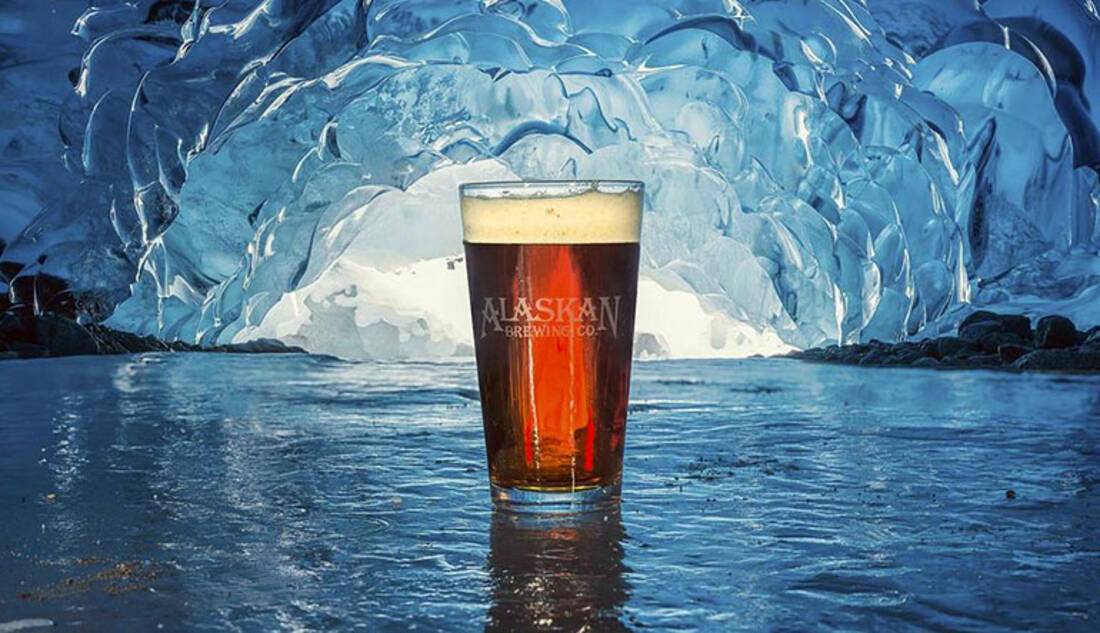 Alaskan Brewing Company
In Alaska's capital city of Juneau, a popular stop on your cruise holiday sits one of the state's most famous breweries. Alaskan Brewing Company has been creating its delicious, award-winning beer since 1986. Located in the shadow of Mount Roberts, the only way to get to this remote city is by boat or seaplane.
"When Alaskan Brewing was founded, it was the 67th independent brewery in the country; the first craft brewery in Alaska, and the first brewery in Juneau since Prohibition," said marketing specialist Laura Steele. "Since then, the craft beer scene has exploded. Alaska now has 35 breweries, including two new ones in Juneau. We are thrilled about the growth of the industry and all the excitement around craft beer in our state right now!
"Alaskan beers are inspired by the place we call home, and the unique challenge that comes from brewing in such a remote location. We utilise local ingredients as much as possible, taking inspiration from the land as well as from Alaskan history. For example, our Alaskan Amber is based off a Gold Rush era recipe, while our gold medal-winning Heritage Coffee Brown Ale is brewed with locally roasted Heritage coffee. Our beer has a strong sense of place.
"Our flagship, Alaskan Amber, continues to be our most popular beer. It is richly malty and well-balanced, and pairs perfectly with Alaskan king salmon and crab. Another fan favourite is Icy Bay IPA."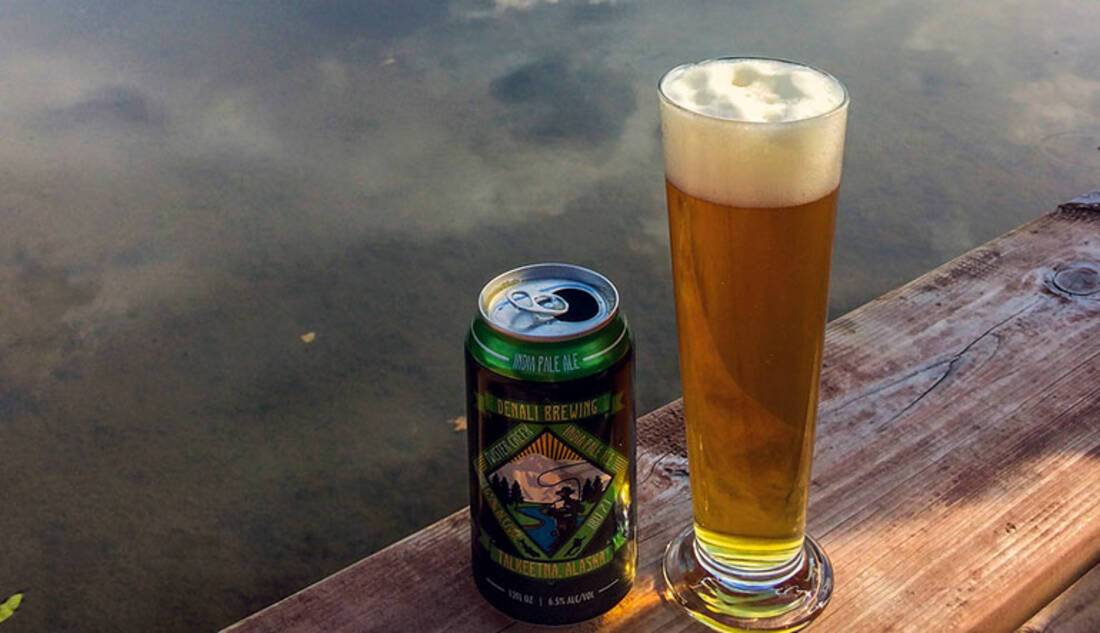 Denali Brewing Co
Just a stone's throw from Denali National Park, it's little wonder why the team at Denali Brewing find inspiration from their surroundings. The brewery itself can be found in the remote town of Talkeetna, with a population of around just 1,000. We were fortunate enough to catch up with Brad Wakefield of Denali Brewing to find out more about this incredible part of Alaska, and how it inspires the team to create their beers:
"Denali Brewing Company is a locally owned microbrewery in Talkeetna, Alaska. Nestled in the heart of the Upper Susitna Valley and on the banks of the confluence of three mighty rivers, this charming community boasts breath-taking views of Denali and the Alaska Range. A historic railroad community used by climbers from all over the world as a starting point for their summit attempts on Denali (North America's highest point 20,320 feet.) Talkeetna is a mecca for those who love really big mountains, exhilarating outdoor adventures, and good beer!
"We are inspired by the place we live and the people we share it with! Talkeetna is inhabited by folks who crave the unique blend of a simpler life paired with the hard work and dedication it takes to live in and enjoy Alaska! Many of our employees live off grid and haul their own water and chop their own wood to heat their cabins. They spend their time off work exploring their wild and vast backyard! It's this hardworking and hard playing attitude that inspires and drives our creativity in creating our unique brews. And, of course, delicious craft beer is our passion."
With a huge roster of beers, Denali Brewing really does have something for everyone. But we were curious to find out which of their amazing selection are the most popular among locals and tourists:
"Our flagship beers are our Single Engine Red, Chuli Stout, Mother Ale and Twister Creek IPA. Twister Creek IPA is a Pacific Northwest style IPA. With its harmonious blend of floral, citrus and hops along with its delightful bitterness perfectly balanced with a hint of caramel malt. There's no wonder it is our best-selling ale as well as one of Alaska's preferred IPAs. Although not as widely distributed, our most popular local ale is our Louisville Sour. Light bodied and highly palatable, this golden ale is refreshingly tart in flavour with a crisp taste of lemon and a hint of oak."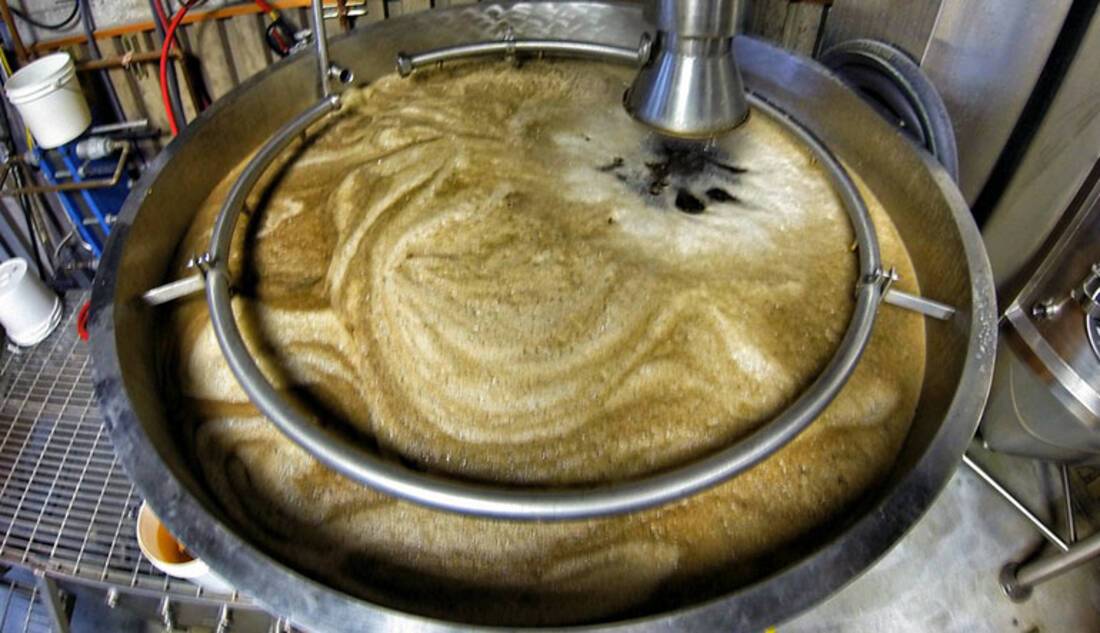 Seward Brewing Co
A stop on many cruises to Alaska, the port city of Seaward is the gateway to the Kenai Fjords National Park. It's here that Seward Brewing Company first started creating delicious craft beer in 2012. According to Erik Slater, it is the city's first and only brewery. As well as serving their tasty brews, the company also has a full-service restaurant offering chef-driven pub food and wood-fired pizzas. We caught up with Erik to find out how the craft beer scene in Alaska has changed:
"The craft beer scene in Alaska has not only evolved, but like much of the lower 48, has blown up over the last few years. We see breweries opening up in all parts of Alaska every year. The combination of Alaska's spirit along with the craft beer business has made being in this industry one of the best experiences.
"We are a large state, but it feels like everyone lives in the same town. It is a very collaborative and supportive industry here between breweries. We support each other, collaborate and promote as if we were the same. Not only does Seward Brewing Company serve our own beer, but our tap system features other Alaska breweries from around the state, who think we are brewing some really cool stuff. So you might not be able to get to the brewery in Denali, but if you come to Seward, you'll get to drink theirs side by side with ours."
So, what inspires the team at Seward Brewing? "Food inspires us greatly," said Erik. "We often try to incorporate it into something we brew. Alaska inspires our beer as well. If you look out our windows where we brew the beer, it has a view of resurrection bay and the mountains. Best view of any brew house in the state!
"Our beer is chef-inspired, often times incorporating local ingredients into our beer. We offer up to 8 different styles ranging from our flagship Pinbone IPA to our El Jefeweizen Chile Hefe, to our Irish-style Inked Out Stout. We love to experiment and often times will pour someone off beers that incorporate different food ingredients. For example this summer we collaborated with Bleeding Heart Brewing in Palmer and brewed a potato and oyster imperial stout, using local potatoes and oysters."
Seward Brewing is one of the few seasonal breweries in Alaska open from early May to late September. If you're planning a cruise to Alaska, be sure to stop by.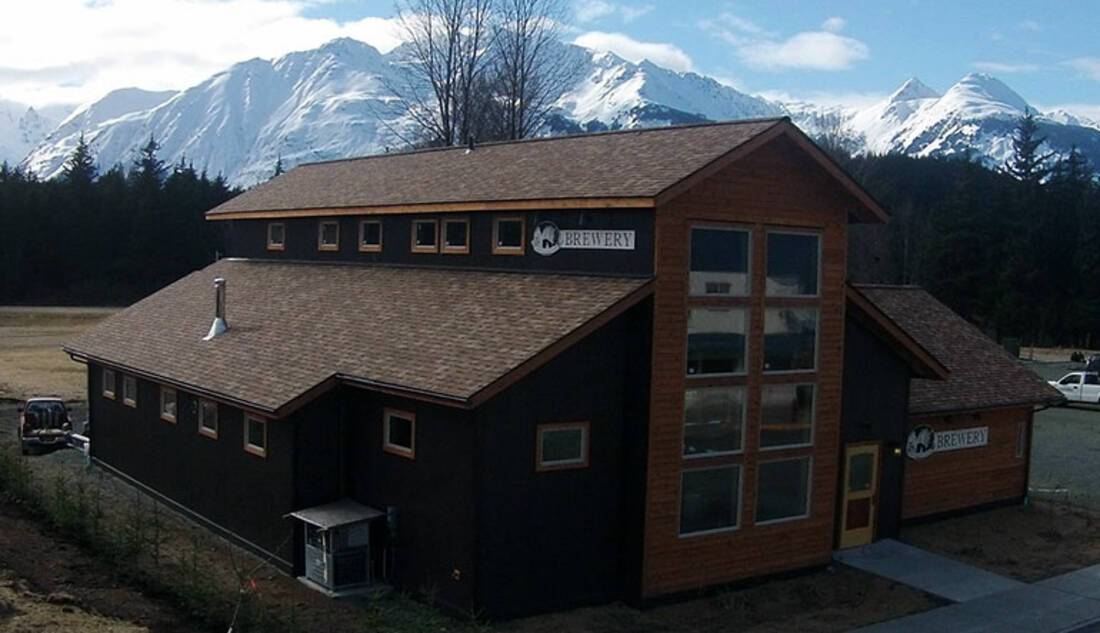 Haines Brewing
In 1999, with some encouragement from friends and neighbours, Paul Wheeler and Jeanne Kitayama launched their brewing company. Paul's fine homebrews had become increasingly popular and the team, after spending their younger years working in forestry in Southeast Alaska, fell in love with the town of Haines.
After 16 years at a small rental site at the local Fairgrounds, Paul and Jeanne moved Haines Brewing Company to a new location in downtown Haines. By expanding the premises, the team could now accommodate 49 people in their tasting room and outdoor beer garden. We spoke to the couple to find out more about their incredible venture:
"By location, size and design, the brewery now draws tourists and a politically diverse range of local folks. Haines Brewing Company does not allow talking on cell phones as a way to encourage people to socialise with each other. The open design of the tasting room encourages folks to intermingle, which has made it a community hub of sorts for folks who do not frequent the bars."
When we asked Paul and Jeanne about what inspires them, it seems that the brewing community has a huge influence on their exquisite beers:
"We certainly keep brewing our flagship beers that customers love, and mix it up with seasonal brews to keep local folks aware of and appreciating a wide range of craft beers. And once a year, after the Haines Beer Festival in May, all the visiting Alaska brewers gather at the brewery after all the festivities to party themselves and collaborate on 'I'll Have Another'. Folks throw out their ideas, someone writes it down on a paper plate, napkin, cardboard, or whatever is handy. The recipe is general, with a few key ingredients and target specs. Then before the next festival, each brewery brews this beer on their own systems. Some years everyone's brews turn out very similar, and sometimes the taste is wide ranging.
"One year the recipe required a locally-brewed coffee, one year roasted pecans, and this year's recipe requires an alder-smoked malt. No matter the brew, it's always 'I'll Have Another' to be tasted at next year's Haines Festival. Besides the fun of collaborating with our Alaska brew buddies after a day of beer tasting, the challenge has inspired new beers for our brewery. We've liked some so much that we've brewed them again and again with new names and our own tweaks on the recipe."
And their most popular beers? "Captain Cook's Spruce Tip Ale with locally picked springtime spruce tips which bring a subtle raspberry-like finish. Black Fang, an imperial stout, rich in chocolate and coffee flavours, with a hint of liquorice on the finish."
Some Alaskan cruises stop by Haines, so if you're not there in time for Haines Beer Festival, at least stop by the taproom to try some of Paul and Jeanne's ludicrously good brews.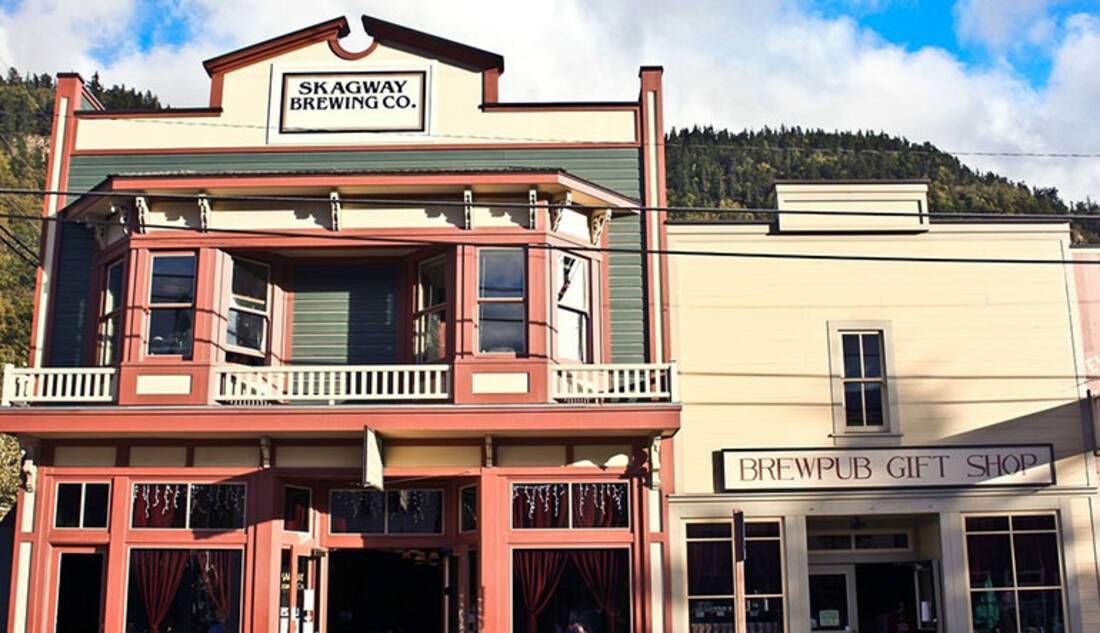 Skagway Brewing Co
With roots dating back to the Klondike Gold Rush of 1898, Skagway Brewing Co has a fascinating history. "Skagway Brewing Company first opened its doors in 1897 to serve the thirsty prospectors who had abandoned everything to head north and strike it rich in the gold fields, said owner Michael Healy.
"During its heyday, the Skagway Brewing Co and its brew master Herman Barthel, the most technologically adorned brewer on the West coast, produced up to 30,000 barrels of beer per year and had a bottling operation on site. Multiple breweries operated out of Skagway during the peak of the Gold Rush and by 1900 competition was fierce amongst them.
"With the Skagway economy on a decline due to the fervour of the gold rush ending and growing Prohibition support, the Skagway Brewing Company closed its doors in 1904. In 1916, the 'Alaska Bone Dry Law' was passed effectively ending the making and consumption of alcoholic beverages in the Territory of Alaska."
According to Michael, in 1997, a local entrepreneur reopened the brewery, although operations ceased again in 2002. After the equipment had sat around gathering dust for years, Michael, a South Dakota native, spotted an opportunity and bought the tanks and tools in 2007. With the help of brewer Trevor Clifford, the brew tanks were fired up on July 4th, 2007, and Skagway Brewing Company opened its doors once again.
Due to a huge demand for the team's refreshing beers, the company is in the process of opening a new, larger site in early 2019. As well as an exciting new premises, complete with a beer garden and space for 130 thirsty locals and tourists, Skagway Brewing Company has welcomed a new addition. "We've added another brewer to our team, but not new to Skagway Brewing or Skagway. Sam Best began as a home brewer and came aboard in 2013 to help clean beer lines and be a very part-time assistant. With the ever-growing popularity of microbrews and brew pubs, our gig can no longer operate as a one man band."
With Alaska's craft beer scene in full flow, Michael told us that the competitiveness is pushing brewers to create even better beer: "The amount of breweries in the state has more than doubled since we opened in 2007. This added competition has pushed all breweries to bring their A game, or get left behind."
Skagway is a popular stop on many Alaska cruises. So which of the team's beers should you be sure to try on your visit? "The newcomers to craft beer typically enjoy our Boomtown Brown ale," said Michael, "and those that have a seasoned palate enjoy our Chilkoot Trail IPA. Everyone seems to really enjoy our Spruce Tip Blonde Ale, which is made from the new growth of our local Sitka Spruce trees."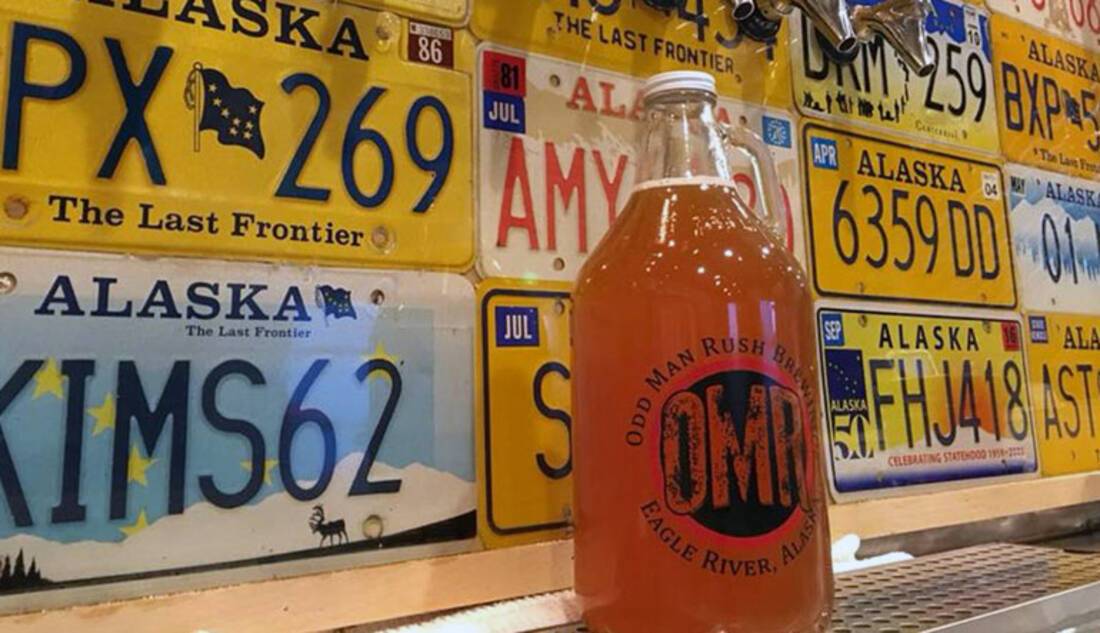 Odd Man Rush Brewing
In the small neighbourhood of Eagle River, near the cruise stop in Anchorage, Odd Man Rush Brewing was founded by three local homebrewers who share a passion for beer and hockey. Although it began as a hobby, demand for their tasty brews soared and the three friends soon opened their first official brewery. Brian Swanson, owner at the brewery, said: "Odd Man Rush Brewing opened in September of 2015 by 3 friends. Our craft brewery is located in Eagle River, Alaska about 13 miles north of Anchorage. We make beer we like to drink, our Enforcer IPA is our most popular beer, but our creative comes out with beers like our Smoked Oyster Porter or our Pepper Blonde."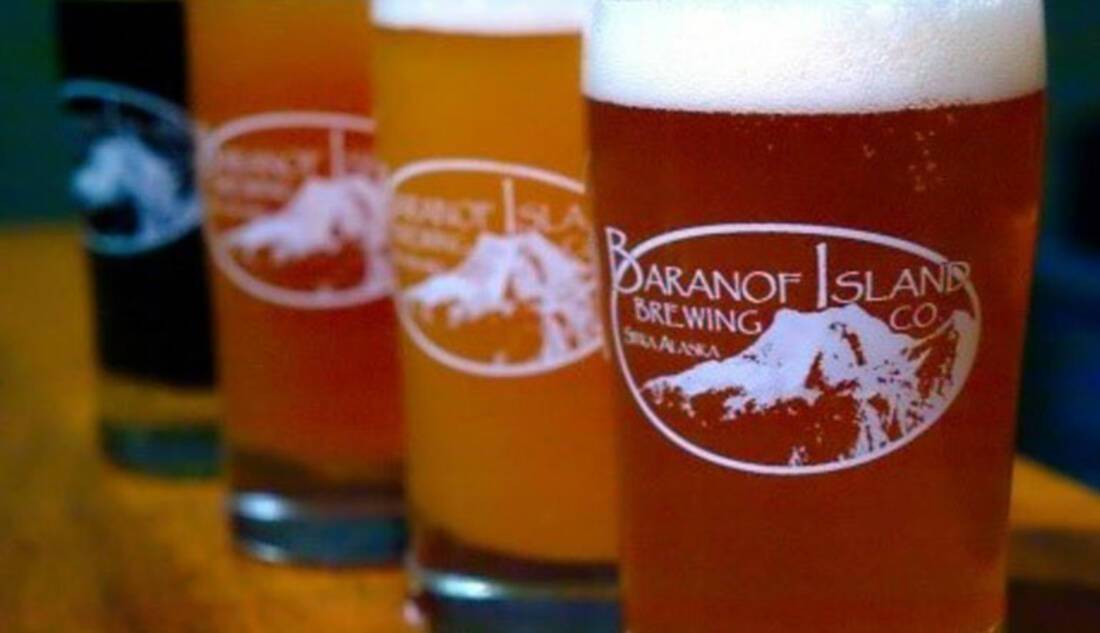 Baranof Island Brewing Company
This Brewery is now closed as of October 2019
The picturesque town of Sitka sits within the world's largest temperate rainforest. And it's the crystal clear glacier-fed mountain water that Baranof Island Brewing Company credits for its award-winning beers. The brewery produces six styles of American ales, alongside several seasonal beers including Sitka Spruce Tip Ale, Vanilla Stout and Pumpkin Ale.
Rick Armstrong and Suzan Hess founded Baranof Island Brewing Company in 2009. Initially using a 10-gallon homebrew system, the pair quickly realised this wasn't enough to keep up with demand. Increasing both the system and upgrading to a larger premises allowed Rick and Suzan to keep doing what they do best, and quench the thirst of locals with their delicious beers. We caught up with the owners and asked them what makes their beer unique:
"Water! They say water makes all the difference in beer and water can be responsible for up to 95% of finished beer product. We make handcrafted beer using pristine water from North America's largest temperate rainforest. We feel fortunate to have such an incredible resource right in our backyard. Our water is obtained from Blue Lake which receives nearly 100 inches of annual rainfall in addition to glacier and snow melt.
"Our top selling beers are Silver Bay IPA (our flagship), Halibut Point Hefe, North Beach Blonde (which is only sold locally), and our Sitka Spruce Tip Ale. Sitka Spruce Tip Ale is our number one seller, but remains a seasonal beer, due to the amount of Sitka Spruce tips that are collected each spring. The community of Sitka helps collect the tips, which are at their peak for about a two-week period."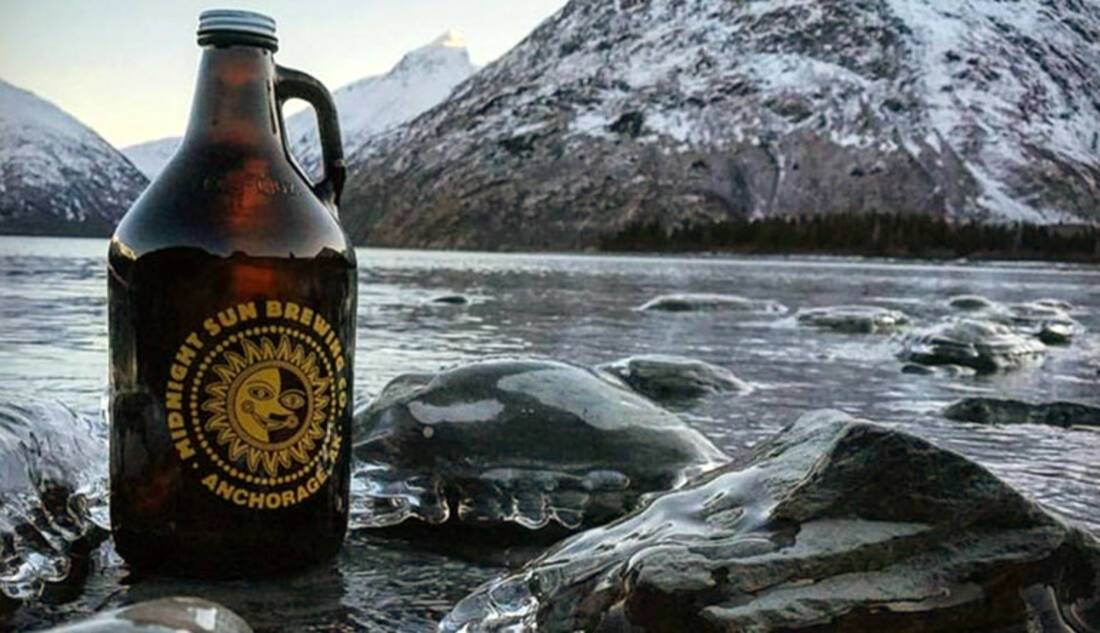 Midnight Sun Brewing Company
As the second oldest brewery in Alaska, Midnight Sun Brewing Company has pioneered many unique, exquisite brews. The team set up shop in Anchorage in 1995, serving thirsty locals delicious ales and lagers. Since their very first beer, Wolf Spirit, the team have developed a raft of excellent brews and now produces over 40 different ales and lagers each year. We caught up with Darcy Kniefel, beer ambassador, to find out what inspires the team at Midnight Sun:
"Our brewers take cues from all around them. Most recently we created a Szechuan Sasion that was balanced with lemongrass and Szechuan peppercorns. We brewed a stout with Malted Milk Balls in support of Prostate Cancer, the beer was called Balls to the Wall. Our most famous brew, Berserker, is a massive barrel-aged Imperial Stout brewed with molasses. Alaska is full of incredible flavours and we pull from our local sources as often as we can.
"Everyone in Anchorage knows the Sockeye Red IPA, but nationally, and possibly internationally, we are known for the Berserker Imperial Stout and our Arctic Devil Barley Wine. Both have won numerous awards and are sought after each year at their release."
As for their most unique beer? "That's a tough one, currently on tap we have Blackberry Noir, this was an experiment in Kettle sours, and has become extremely popular. It's a Blackberry Sour Stout and we are on our second run of it. Later this year we will be brewing a Latvian Stone brew with Juniper, that's probably the wildest brew I can think of in our books so far."
If all this talk about beer has made you thirsty for adventure, fear not. There are plenty of cruise offers available, so keep an eye out for trips to Alaska in 2018 to journey through the majestic landscape and sample some of the state's finest beers.
Image credits: Odd Man Rush Brewing, Alaskan Brewing Company, Denali Brewing Company, Seward Brewing Company, Haines Brewing Company, Baranof Island Brewing Company, Skagway Brewing Company, Midnight Sun Brewing Company