Achieving World Heritage status is a great honour and one that has been bestowed on many natural and architectural sites around the world. From Easter Island to Stonehenge, the Taj Mahal to the Acropolis, many UNESCO World Heritage sites are instantly recognisable.
Being listed as a World Heritage site isn't just a matter of status, however, it also helps to protect the area or building from being harmed in any way by new developments or environmental factors. In July, 21 new places received the prestigious accolade. The list included the Lake District in the UK, caves and ice age art at Swabian Jura in Germany and Los Alerces National Park in Argentina.
In this article we will talk you through five of the most iconic World Heritage sites across the globe and exactly what it takes to be included in the list.
What does it take to become a UNESCO World Heritage site?
According to the UNESCO World Heritage Centre website: "To be included on the World Heritage List, sites must be of outstanding universal value and meet at least one out of ten selection criteria:
To represent a masterpiece of human creative genius
To exhibit an important interchange of human values, over a span of time or within a cultural area of the world, on developments in architecture or technology, monumental arts, town-planning or landscape design
To bear a unique or at least exceptional testimony to a cultural tradition or to a civilisation which is living or which has disappeared
To be an outstanding example of a type of building, architectural or technological ensemble or landscape which illustrates significant stage(s) in human history
To be an outstanding example of a traditional human settlement, land-use, or sea-use which is representative of a culture (or cultures), or human interaction with the environment especially when it has become vulnerable under the impact of irreversible change
To be directly or tangibly associated with events or living traditions, with ideas, or beliefs, with artistic and literary works of outstanding universal significance
To contain superlative natural phenomena or areas of exceptional natural beauty and aesthetic importance
To be outstanding examples representing major stages of Earth's history, including the record of life, significant ongoing geological processes in the development of landforms, or significant geomorphic or physiographic features
To be outstanding examples representing significant ongoing ecological and biological processes in the evolution and development of terrestrial, fresh water, coastal and marine ecosystems and communities of plants and animals
To contain the most important and significant natural habitats for in-situ conservation of biological diversity, including those containing threatened species of outstanding universal value from the point of view of science or conservation.
As a result of UNESCO's criteria, World Heritage sites include natural wonders such as Mount Fuji and Yellowstone National Park, as well as architectural marvels including Chichen Itza in Mexico and the Great Wall of China.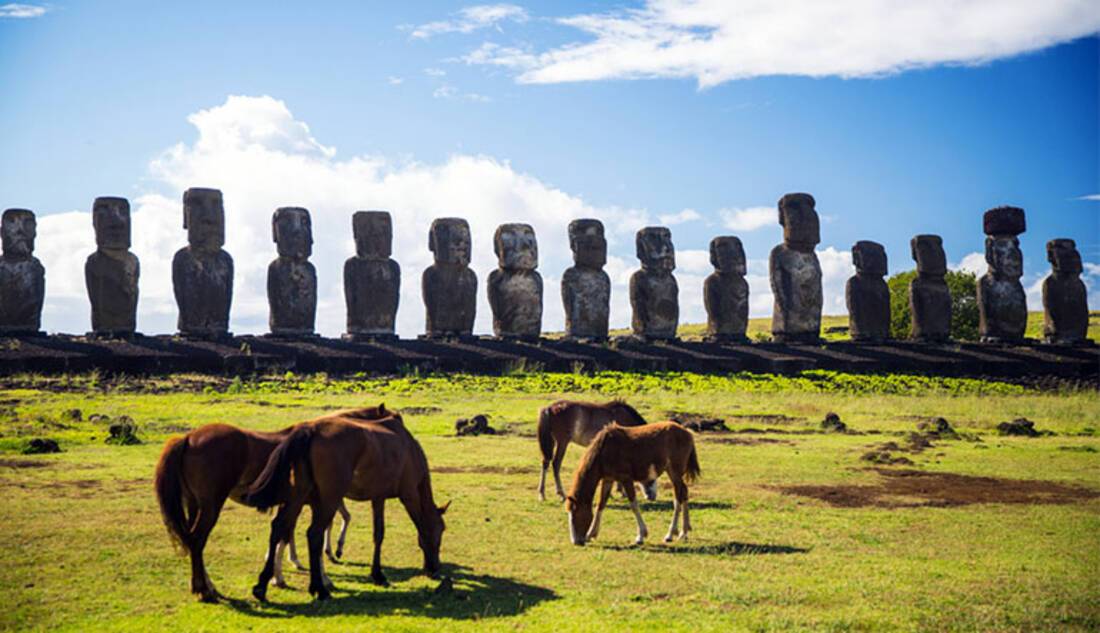 Easter Island, Chile
Perhaps one of the most iconic World Heritage sites is Easter Island. This remote Chilean island is famous for its 887 monumental statues, called moai. Found along the coast, often in formation, the moai were created by the island's earliest inhabitants. The first humans on the island of Rapa Nui (the Polynesian name for Easter Island) are believed to have arrived in approximately 300-400 A.D.
The tall statues stand at an average height of 13 feet and weigh 13 tonnes. They were carved out of tuff – the light, porous rock formed by volcanic ash – and placed on top of ceremonial stones called ahus. It is believed that the statues represent the ancestors of the people of Rapa Nui, however it is not known how the heavy moai were transported across the island.
Today, the island welcomes visitors who wish to see this historical marvel for themselves. The island is accessible on a cruise via Hanga Roa, the main town, harbour and capital of Easter Island. Hanga Roa is home to around 3,300 people, amounting to 87 per cent of the island's population.
Between exploring the statues, be sure to stop at one of the island's swimming beaches. Although most of the coastline of Rapa Nui National Park is rocky due to the volcanic terrain, Ovahe Beach and Anakena Beach are white coral sand beaches with crystal clear water. Visitors can also discover the island on horseback, visit The Anthropological Museum and see the only moais facing the ocean at Ahu Akivi.
Jarryd and Alesha of NOMADasaurus told us about their experience at Rapa Nui: "Easter Island is one of the world's most isolated destinations, and the iconic moai statues make it one of the best and most unique World Heritage sites.
"Mystery still shrouds the fascinating heads, and it's unknown how the ancient Rapa Nui people managed to transport the stones across the island. The highlights come from driving around Easter Island, marvelling at the wonderful statues, and visiting the volcanic craters and quarry. If visiting for one day we recommend joining a tour with a local guide to get the most information from your trip."
See all featured cruises to Chile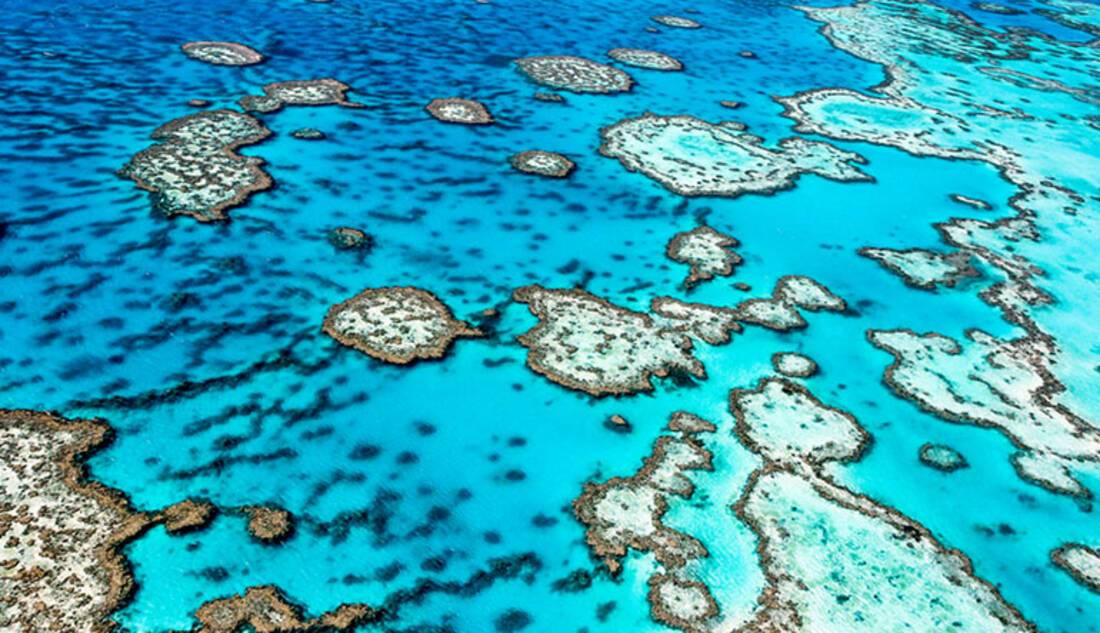 Great Barrier Reef, Australia
Spanning 133,000 square miles, the Great Barrier Reef is the largest coral reef system in the world. The reef can be found off the coast of Queensland, Australia, and achieved World Heritage status in 1981. It's considered by UNESCO to be a "globally outstanding and significant entity" and welcomes visitors from all over the world.
Sadly, the reef has fallen victim to what is known as 'bleaching'. When corals are stressed by changes in conditions such as temperature, light or nutrients, they expel the symbiotic algae living in their tissues, causing them to turn completely white. Warmer water temperatures are believed to be the cause of this in the Great Barrier Reef.
The Australian Marine Conservation Society (AMCS) has a long history of fighting to protect the reef. Ingrid Neilson, communications manager at AMCS said: "The Great Barrier Reef represents about 10% of all the world's coral reefs. It is one of the seven natural wonders of the world. Spanning 2,300km along the Queensland coast, the Great Barrier Reef's 3,000 coral reef systems contain a huge diversity of marine plants and animals such as sea turtles, reef fish, sharks, hard and soft corals and migrating whales.
"AMCS has a long, proud history of fighting for the Great Barrier Reef. We led an Australia-wide community campaign to prevent coral mining and oil drilling on the reef in the 1960s. We played a critical role in establishing the Great Barrier Reef Marine Park (1974) and World Heritage Area (1982)."
Although greater protection of the reef has been achieved, there's still plenty of work to, according to Ingrid: "We are currently working to stop the industrialisation of the coastline, particularly one of the largest coal mines on Earth which is planned for Queensland. We are working hard to convince the Australian Government to heed the will of Australians who want a rapid switch to renewable energy away from coal and gas, which creates carbon pollution and drives global ocean warming and bleaching. A rapid transition to clean renewable energy is in the best interest of the reef, its communities and future generations"
When asked why people should visit the reef, Ingrid said: "Because despite two years of unprecedented coral bleaching, the Great Barrier Reef is still one of the most beautiful places on Earth. Half of the reef's corals have died in the last two years, but there are still many beautiful places to visit.
"We must keep supporting our sustainable industries like reef tourism which sustains coastal communities and charges our economies. The tourism industries are the eyes and ears on the water along the reef. They need our support because their livelihoods, along with the marine life of the Great Barrier Reef, are too previous to lose."
See all featured cruises to Australia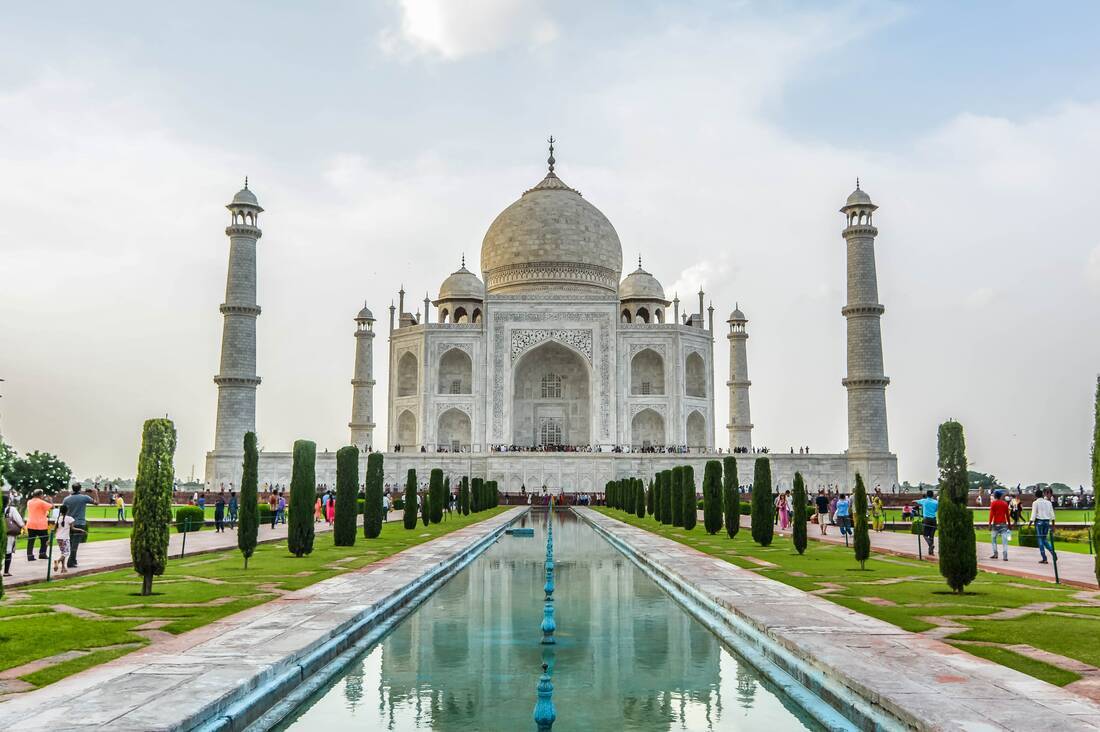 Taj Mahal, India
Built by Mughal emperor Shah Jahan in memory of his late wife, the Taj Mahal is considered to be a masterpiece of the world's heritage. The ivory-white marble building, on the bank of the Yamuna River in Agra, is universally recognised, famous for its intricate detail and symmetry.
Shah Jahan was a member of the Mughal dynasty that ruled much of India from the 16 to 18th century. In 1628, after the death of his father, King Jahangir, and a power struggle with his brothers, Shah Jahan crowned himself emperor of Agra. His wife, Mumtaz Mahal, was said to be the most cherished of his three queens. In 1631, Mumtaz Mahal died after giving birth to their 14th child. Grief stricken, Shah Jahan commissioned the building of a huge mausoleum to house her tomb. It is said that 20,000 workers and 1,000 elephants were brought in to build the Taj Mahal.
The innovative design and planning of the Taj Mahal is what captures the attention of many. UNESCO states: "The Taj Mahal represents the finest architectural and artistic movement through perfect harmony an excellent craftsmanship in a whole range of Indo-Islamic sepulchral architecture. It is a masterpiece of architectural style in conception, treatment and execution and has unique aesthetic qualities in balance, symmetry and harmonious blending of various elements."
See all featured cruises to India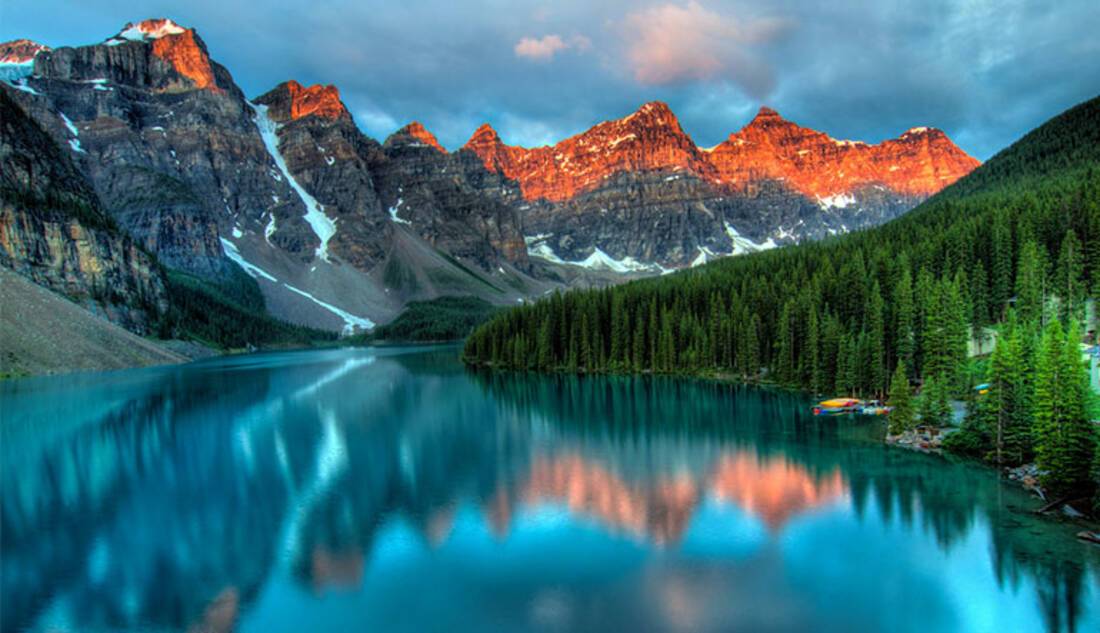 Canadian Rocky Mountains National Parks
Icy blue lakes, glaciers and mountain peaks all come to mind when we think of Canada's Rocky Mountains. The national parks of Banff, Jasper, Kootenay and Yoho, along with the provincial parks of Mount Robson, Mount Assiniboine and Hamber, have all been granted World Heritage status.
Unlike the American Rockies, the Canadian Rockies are formed of layers of sedimentary rock such as limestone and shale, making them appear much more jagged and dramatic. The highest peak in the Canadian Rockies is Mount Robson, towering 3,954m over the landscape.
UNESCO describes the parks on its website: "The seven parks of the Canadian Rockies form a striking mountain landscape. With rugged mountain peaks, icefields and glaciers, alpine meadows, lakes, waterfalls, extensive karst cave systems and deeply incised canyons, the Canadian Rocky Mountain Parks possess exceptional natural beauty, attracting millions of visitors annually."
Savi and Vid of Bruised Passports told us why they think the Canadian Rockies are so special:
"Having travelled to more than 80 countries on this beautiful planet, if we had to choose one place that we feel is the most beautiful when it comes to natural beauty, it'd have to be the Canadian Rocky Mountain Parks. We could not believe how gorgeous the entire area is and the variety that is offers to tourists.
"Lakes, waterfalls, mountain peaks, alpine meadows and stunning wildlife – there's pretty much nothing nature-related that you won't find in this area. What's more, the glaciers, ice fields and the karst caves provide stunning insights into the evolution of our beautiful planet, making this naturally rich area an important World Heritage site."
When asked to choose the highlights of their trip to the Canadian Rockies, Savi and Vid said:
"There were far too many to mention but if we had to pick the top three those would have to be driving the Icefields parkway, enjoying a sunset at Lake Moraine and photographing the Sunwapta waterfalls in Jasper National Park."
See all featured cruises to Canada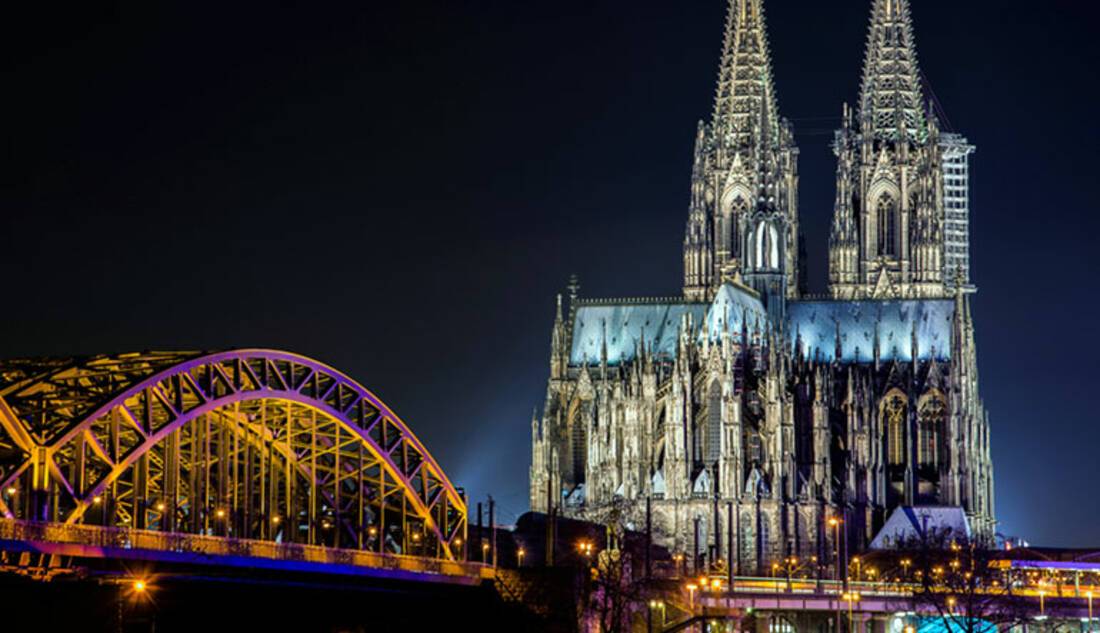 Cologne Cathedral, Germany
As a striking example of Gothic architecture, it's little wonder why Cologne Cathedral was granted World Heritage status in 1996. The imposing building is the largest Gothic church in Northern Europe and Germany's most visited landmark, welcoming around 20,000 visitors each day. Visitors can admire Cologne Cathedral from a Rhine river cruise. At the site itself, there are 533 stone steps leading up to a viewing platform in the structure with spectacular views over the city.
Building began in 1248 and the cathedral was not completed until 1880. Today, the cathedral represents seven centuries of craftsmanship, towering over Cologne. UNESCO states that the cathedral "bears witness to the strength and endurance of European Christianity", adding: "no other cathedral is so perfectly conceived, so uniformly and uncompromisingly executed in all its parts."
Across the world there are 1,073 World Heritage sites, from natural wonders to architectural marvels. By taking a world cruise you can tick off plenty of sites on your travel bucket list, including some of the most iconic sites on Earth. How many World Heritage sites have you visited? We'd love to hear about your experiences!
See all featured cruises to Germany
Image credit: Mayumi Ishikawa, James Wheeler