Europe offers a plethora of joys for those that want to venture into its maze of extraordinary views, historic buildings and varying cultures. From sun-soaked cities to snow-capped mountains, stunning sights aren't the only thing that our European neighbours are renowned for, as beer gardens are a pinpoint in society for most of the region's most popular destinations. Whether you are looking at European river cruises or want to find the best spot to relax with a pint, carry on reading to find out the best beer gardens in Europe.
Letná Beer Garden
Location: Prague, Czech Republic
If you're after a top-notch drinking location, Prague is the perfect place to sit down and sip on a traditional Czech beer. Letná Beer Garden is situated at the top of Letenske Park the top of Prague's Old City. Tourists and locals alike flock to the garden for its stunning views across the city, traditional food and of course, a greasy sausage or two.
Kate and Ben, a blogging couple at Two Wandering Soles told us a little more about Letná Beer Garden: "Visiting a beer garden or a beer hall is a great way to mingle with locals in a casual and fun setting. Plus, you get to try the local brews – what more could you ask for?! We like to seek out beer gardens with a unique atmosphere, great views, or live music to make the experience extra special. In Prague, Letná is an outdoor beer garden that offers stunning views over the city and is a great place to watch the sunset on a nice day."
A cold Pilsner and a serving of fried cheese is the perfect accompaniment to a deep, amber sunset over the historic buildings of the old city. Shaded by the trees that line the garden and hundreds of benches to choose from, Letná Beer Garden is an attractive spot all year round.

Image credit: Two Wandering Soles
Biergarten
Location: Rotterdam, Netherlands
Biergarten Rotterdam offers you more than just a garden perfect for drinking, it is an experience. An open bar that serves pint-sized beer, meat-filled dishes and a programme of music-filled events to rival the best.
All beverages are pint only and refill stations are dotted across the site so you'll never be low on an ice-cold beer and you can be your very own bartender. Enjoy a beer with a difference as the views of Rotterdam's skyline appear, live bands and DJs fill the air with subtle beats and delicious food is served to happy customers.
Matou
Location: Liverpool, England
Situated at the top of Liverpool's modern pan Asian restaurant, Matou is a rooftop beer garden with plenty to offer. The impressive outside terrace is capable of seating up to 300 people and offers spectacular views across Liverpool's waterfront and the outstanding buildings that lie beyond.
Bryony from Travels And More loves visiting Matou when in Liverpool: "As a lover of all rooftop bars and terraces when I'm travelling somewhere new, I always love to seek out the best sun traps. Liverpool is home to some amazing rooftop spots and beer gardens, so as a local I get to experience these a lot. As long as there are drinks flowing, a chilled atmosphere and general good vibes, I'm there. Music is also key to making the perfect rooftop garden or bar experience. Matou on the Liverpool waterfront is an absolute must if you are spending any time at all in Liverpool!"
Queen of Hoxton
Location: Shoreditch, London
A quirky hidden gem in the heart of London, The Queen of Hoxton is a stunning rooftop terrace splashed with vibrant colour and urban, cultural finishing touches. Not just serving your typical beer garden beverages, we couldn't help but mention this outstanding venue that is well worth a visit.
Pop along and enjoy a number of craft beers, premium cocktails and choose from a selection of unique and quirky seating options, perfectly positioned for outstanding views across the city of London. Bryony also enjoys visiting Queen of Hoxton: "Another favourite European rooftop bar of mine is actually in London - the Queen of Hoxton in Shoreditch has amazing chill vibes and great drinks."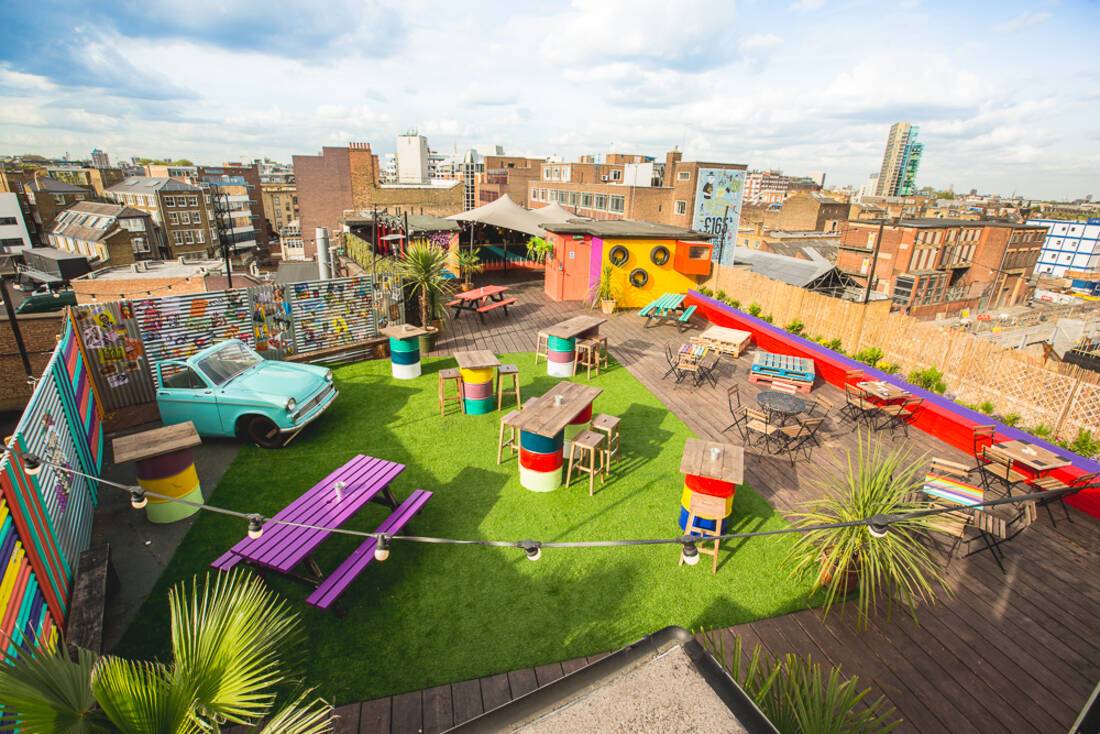 Image credit: Queen of Hoxton
Hirschgarten
Location: Munich, Germany
When you think of a traditional beer garden, you conjure up images of vast, green spaces with locals and tourists sipping on ice-cold beers and ciders – that's exactly what you'll find at Hirschgarten. Known for being the biggest beer garden in Munich, no matter the weather, this adorable but vast location offers you the perfect respite from exploration.
Tuck into typical Bavarian snacks as you sip on German beer ordered from the innkeeper. With over 8,000 seating places shaded by large, imposing Chestnut trees you won't find a better place to relax and unwind than Hirschgarten.
Schweizerhaus
Location: Vienna, Austria
Located in the heart of Austria's capital, Vienna, lies Schweizerhaus, a traditional 19th-century rustic beer hall and garden that attracts tourists from far and wide to its vast, nature-filled outdoor space. Since 2003, the restaurant and beer house has been offering something a little different to its guests in the form of a 300-capacity garden.
"True to the motto 'make you feel at home', the individual garden stations were named after Vienna's municipal districts. For example, you can enjoy your freshly tapped Budweiser Budvar in 'Kaisermühlen', perhaps nibble some raw slices on your next visit to 'Hietzing' or scrutinize the shade of 'Hütteldorfs' chestnut trees." Schweizerhaus reports on their website.
We spoke to Jacky from Nomad Epicureans about her favourite beer gardens, she told us about her experience at the famous Vienna beer garden:
"No place can you better experience the Austrian 'Gemütlichkeit' than at a beer garden in Vienna. Deep in the heart of 'Prater', an old amusement park, lies Schweizerhaus. Not only is it one of the biggest beer gardens in Vienna, but it also retains its authentically Austrian menu despite the tourist draw. Here, you can wash down your crispy pork knuckle or beef goulash with any of the nine beers on draft. Alternatively, they also have a small selection of craft beers. Best of all, the beer is cold, plentiful and sure to be served with typical Viennese 'charm'."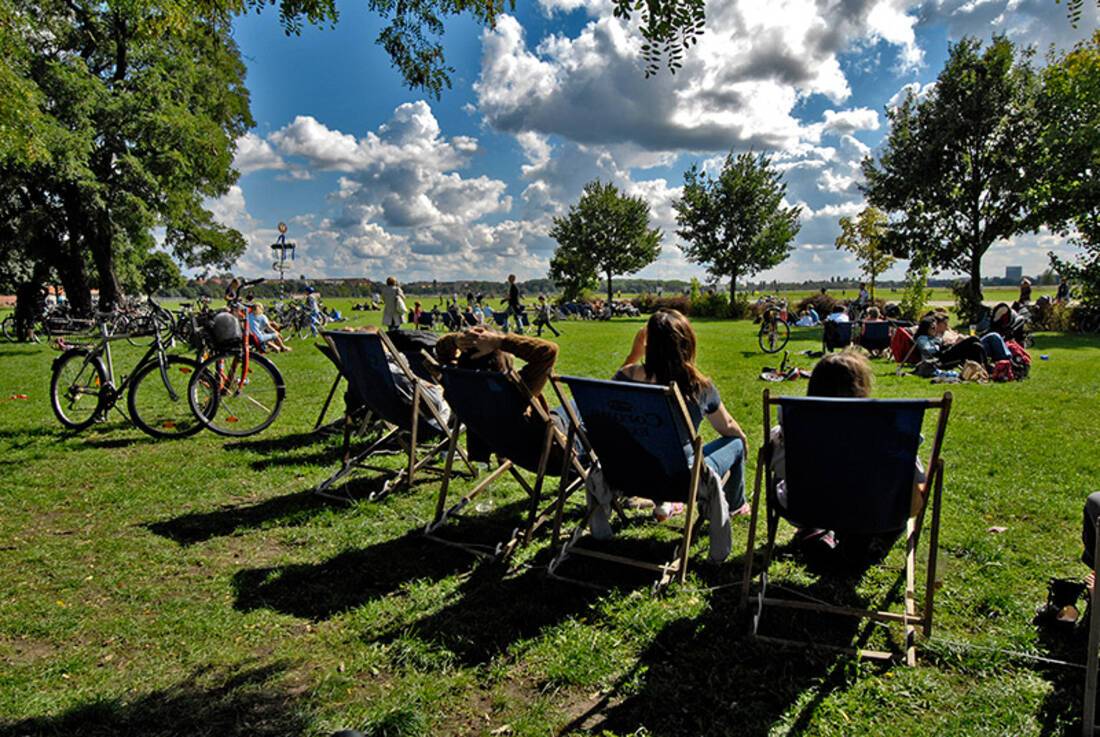 Image credit: Lufgarten Berlin
Luftgarten
Location: Berlin, Germany
A location unlike any other, Luftgarten is situated on the outskirts of Berlin at the now disused Tempelhof Airport. One of the largest and most unique beer gardens in Berlin, whether you're looking for a spot to cycle, fly a kite or simply drink beer, this is the perfect place for you.
Visit Berlin describes the venue on their website: "The Luftgarten is an ideal place to relax in a green oasis in the heart of Berlin. This beer garden offers all that you want after a long day at the Tempelhofer Feld: a good beer and a barbecue to enjoy the rest of the day with a great sunset."
No matter where you are in Europe, you're never going to be too far from a great beer garden. So, when you're planning your next cruising adventure, make sure you stop off and enjoy a variety of wonderful beers in some world-famous locations.