A cruise around Europe really isn't complete without trying a selection of the traditional dishes that are on offer to you in each country you visit. A delicacy that is popular in most cities around Europe is pancakes and not the simple pancakes we often know and love in the UK. Around some of the popular cities in Europe, you'll often see American style pancakes, mini Dutch pancakes and even crepes in stores around every corner, covered in a plethora of sweet and gooey toppings.
Feast your eyes on some of the delicious offerings we are about to serve you, that are all available in some of Europe's famous cities. Carry on reading for a mouthful of the best pancakes you just have to try on your next cruise.
Amsterdam
Amsterdam; the city of canals, bicycles and pancakes. A cruise to the capital of The Netherlands isn't complete without trying out its famous pancakes and waffles. Around every corner you'll find a cute, quaint and Instagram-worthy café providing you with traditional and American pancakes topped with all your favourite fruits and sauces, but where should you head if you want to try the very best pancakes in the city?
We spoke to Kelly Duhig who documents her travels on Girl With The Passport, she told us where her favourite place to get pancakes is and what makes them extra special: "When travelling to Europe, my favourite place to enjoy pancakes is Amsterdam. There is just something about traditional, Dutch pancakes, which are typically larger and thinner than American-style pancakes, that make my mouth water. I also love that there are both savoury and sweet varieties, making it easy for travellers to enjoy pancakes at any time of day.
"Now, within Amsterdam itself, one of the city's best pancake houses has to be Upstairs Pannekoeken. It's a tiny, hole in the wall restaurant that can only be reached by ascending an incredibly steep set of stairs. However, once you walk inside and try one of their amazing pancakes, you'll understand why this place is so popular and why you need to make a reservation in advance."
Bakers and Roasters
Kadijksplein 16
Bakers and Roasters is a chain of restaurants in the heart of Amsterdam and is a must-visit location for brunching cruisers. Serving a selection of brunch and lunch dishes, it's the pancakes many come here to try.
On their site they say: "The open kitchen produces all your favourite brunch dishes, fresh fruit salads, and kiwi-twisted baked goods all day long. All of our cakes are made in-house and our Ozone coffee is always served as doubles."
Enjoy a short or high American stack full of blueberries, bananas and topped with lashings of maple syrup washed down with a delicious coffee, what could be better?
Moak Pancakes
Jodenbreestraat 144
Previously Mook Pancakes, Moak Pancakes is a sweet-toothed, sugar lover's dream and really lives up to its ethos 'it's all good'. Started by dream team Sten and Sammy in 2016, Moak has grown into an empire of delicious offerings and now serves happy and healthy pancakes to locals and tourists that visit the city of Amsterdam.
No matter what you're craving on your pancake, Moak will have it available and there are no limitations to the number of toppings you can have, so go wild. Not only do they serve traditional American pancakes, they now serve vegan American pancake options, so there really is no limit to the deliciousness on offer.
We spoke to Sten, Co-founder of Moak Pancakes and this is what he had to say about their American style offerings: "It was all a dream, back in 2016, when we started with the help of some friends. Actually, a lot of them. We made a promise to ourselves – and to them and to you – to give it our all! Our philosophy is pretty simple: great food, the juiciest juices, a cool mellow-urban vibe, featuring mostly throwback hip-hop. And we're offering it all with our dedicated brand of generous hospitality. For real!
"At Moak, you can find your ultimate guilty pleasure: the American pancake. Served with incredible toppings and the best maple syrup straight out of Canada. With three locations in Amsterdam, there is always a Moak nearby for your breakfast, lunch or brunch."
The Happy Pig
Rosmarijnsteeg 12
With the motto 'the best pancakes in Amsterdam, a visit to the city of canals isn't complete without a taste of The Happy Pig. Serving pancakes like you have never seen them before from their little shop in the heart of historic Amsterdam. Hot pancakes teamed with melted toppings, fresh fruit and a plethora of other delicious toppings.
We spoke to Andrea, the owner of The Happy Pig, who told us a little more about these tasty treats: "A lot of people say that you'll find Amsterdam's best pancakes at The Happy Pig Pancake Shop, located in the very heart of the city.
"But beware… this isn't a restaurant like you're probably used to! It's more like an adorable 'hole in the wall'. But with their mouth-watering organic pancakes and homemade fillings and toppings, The Happy Pig attracts people from all over the world."
He continued to tell us about the delicious toppings you can have on your pancakes: "You can choose between organic traditional, vegan and buckwheat ('gluten light') pancakes. Pick a sweet or savoury filling. Then go ahead and pick one (or more!) delicious toppings. Owner Andrea Steinmetz, who started the pancake shop five years ago said: "If you want we'll give you advice, but you can make any combination you want!
"You can take your pancakes on the go but the is also a small seating area where you can enjoy your food and drink and leave your name and a drawing on the chalkboard. A unique experience!"
London
Who says you have to travel far to get a stack of delicious pancakes? If you're planning to cruise from London, why not stop off and enjoy a pre-cruise pancake beforehand? Not the first place your mind conjures up when you think of delicious crepes and pancakes, but it really is a hub for breakfast and brunch restaurants all with sweet menu offerings.
Where The Pancakes Are
85a Southwark Bridge Road
Situated near Southwark Bridge in the heart of Central London, Where The Pancakes Are serves simple and honest pancakes and a selection of breakfast and brunch dishes.
"Pancakes are an ideal meal any time of the day or a perfect snack to revive the spirit - after school, after work, after the gym, after a gig. We serve nutritious buttermilk pancakes – savoury or sweet, each dish is a feast of colour and flavour, made with heaps of tender loving care."
Barcelona
Maybe not the first location you think of when you envisage delicious and fluffy pancakes but Barcelona is a hub of culinary excellence and it doesn't stop at the sweet varieties. Cafes and restaurants are all serving sweet and Marden pancakes along with their traditional breakfast offerings and locals and tourists alike can't get enough of it.
Milk Pancakes
Gignas 21
Milk Pancakes is a bar and bistro in the heart of the city and serves delicious, freshly cooked brunch dishes, we spoke to Rebecca, co-founder of the bistro and she told us a little more about the tasty pancakes they offer:
"We have been serving brunch here in Barcelona for over 15 years and were, in fact, the very first restaurant to make brunch fashionable here. Milk serves brunch by day and an eclectic bistro menu by night time. Brunch has since become very popular with new restaurants opening all the time. Pancakes have always featured highly on our menu as a main dish and as a side. Our most popular are the Penny Lane Pancakes with banana, walnuts, thick Greek yoghurt and lashings of pancake syrup. Truly delicious. There really is so much you can do with the pancake and their popularity doesn't look like it is going to wain anytime soon!"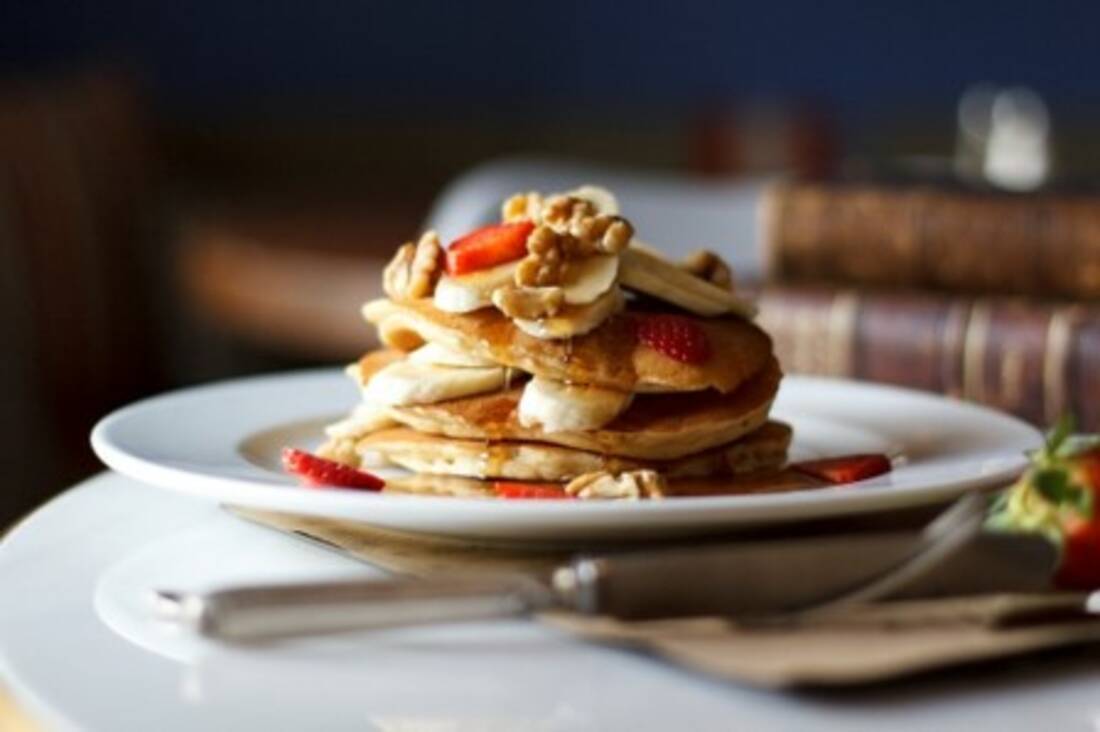 Image credit: Milk Barcelona
Paris
The city of love and the city of delicious pancakes, the streets of Paris are often filled with the smells of coffee and sweet pastries escaping from local bakeries and delicatessens. Wander the streets of the city and get lost in the romanticism and of course, some delicious pancakes served with sweet and sticky toppings. There are a plethora of amazing locations to visit whilst in the city, but if you're looking for the best American stack, then Holybelly is the place to be.
Holybelly
5 Rue Lucien Sampaix"
Holybelly opened in 2013 and has been offering delicious, light pancakes ever since. Fun fact, they were supposed to be on the menu for one month but stayed on for about 6 years and are now a popular request. Holybelly makes everything from scratch and follows the rhythm of the seasons religiously. We offer a 'savoury stack' made of 2 pancakes, 2 fried eggs, crispy bacon, bourbon butter and bacon salt, or a sweet stack of 3 pancakes with seasonal fruits, cream and maple syrup." Says Nico Alary, founder of Holybelly.​
Madrid
Sun, sangria and pancakes, what more could you ask for in the beautiful city of Madrid? Sail lazily on your Scenic Tours Europe Limited river cruise before reaching the stunning Spanish city and exploring its historic streets and tucking into some of the delicious food on offer.
Zenith Brunch and Cocktails
Calle de Valverde, 28
We spoke to Lauren who blogs about her travels and culinary experiences at Lauren on Location, she told us a bit more about her favourite pancake restaurant in the city, Zenith Brunch and Cocktails.
"While Spain may not be particularly known for 'breakfast foods' aside from classics like 'churros con chocolate' or 'pan con tomate', the growing international community has brought a boom in cafés and restaurants specialising in brunch.
"Zenith Brunch and Cocktails is a new café, in Madrid's Malasaña neighbourhood, that serves breakfast all day every day. They happen to have a soft spot for pancakes and have dedicated an entire section of their menu to the popular breakfast treat. With savoury, sweet and mixed options of fluffy goodness to choose from, they truly have a stack for every palette.
"My favourite there are the Oreo pancakes featuring banana cream, fresh cut strawberries, homemade Oreo ice cream and topped with an Oreo crumble."
No matter where you choose to go on your next cruise holiday, make sure you plan some time into your schedule to visit some of these mouth-watering locations.