With powerful traces of Viking heritage, Dublin has been forming its rich history ever since the 9th century. The whole city is its own museum, with winding streets full of life and stories to tell. The idyllic charm of the Irish capital is summarised by the characters who dwell there-bold and charming.
Dublin native, James Joyce, mused that a "good puzzle would be to cross Dublin without passing a pub", and with more than 1,000 that really is no mean feat. The draw of a properly pulled Guinness in a traditional haunt is an aspired travel bucket list item of many, but with so much choice it can be hard to know where to start. So, let us guide you through some of the best spots to wet your whistle.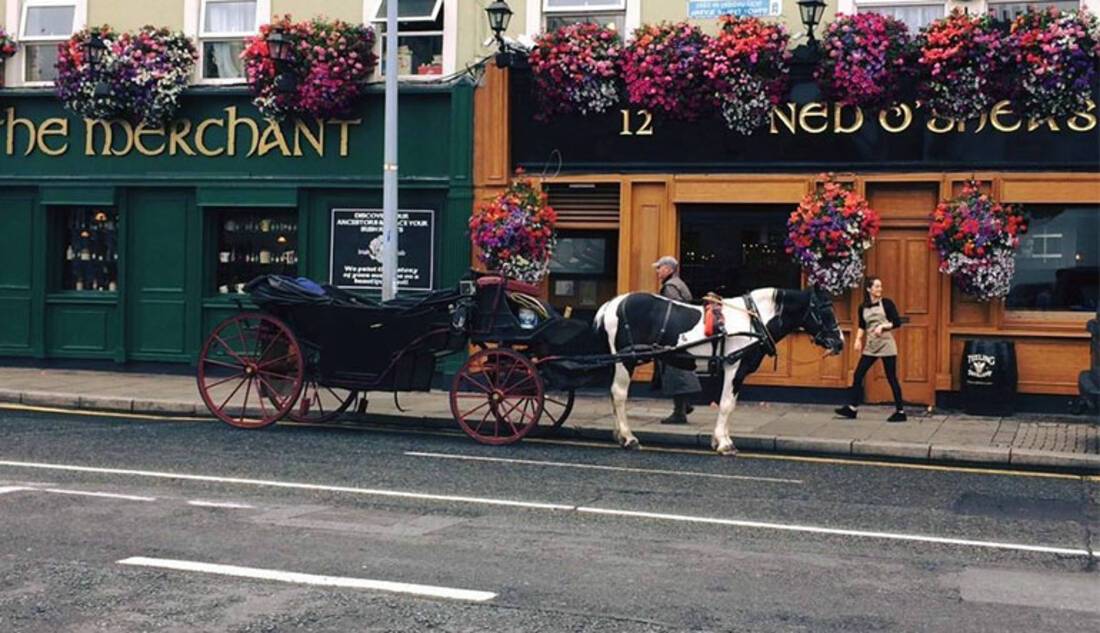 Ned O'Sheas
O'Sheas is a family run business located in the heart of the city. Originally from Annascaul in County Kerry, they remain close to their roots by continuing to use local produce and recipes.
Karen from O'Sheas, or The Merchant as it's known to locals, tells us what you can expect if you do end up in this bar: "We offer authentic traditional Irish music 7 nights a week from 9pm, musicians travel from around the world to play at Ned O'Sheas. Irelands oldest traditional dance, Set Dancing, still occurs every Monday night and all are welcome to join in. Visitors can enjoy a drink in our courtyard sitting on original Croke Park seating."
As well as Dublin's largest pint of Guinness, O'Sheas also offer some great experiences if you are looking to sample the local alcoholic delicacies, Karen told us: "We offer Irish whiskey and Premium Irish Whiskey tasting which is ideal either pre or post-dinner. Guests can educate their pallets around Ireland's finest Whiskies. Guests can learn how to pour the perfect pint of Guinness behind Ned's Bar and receive a certificate on completion."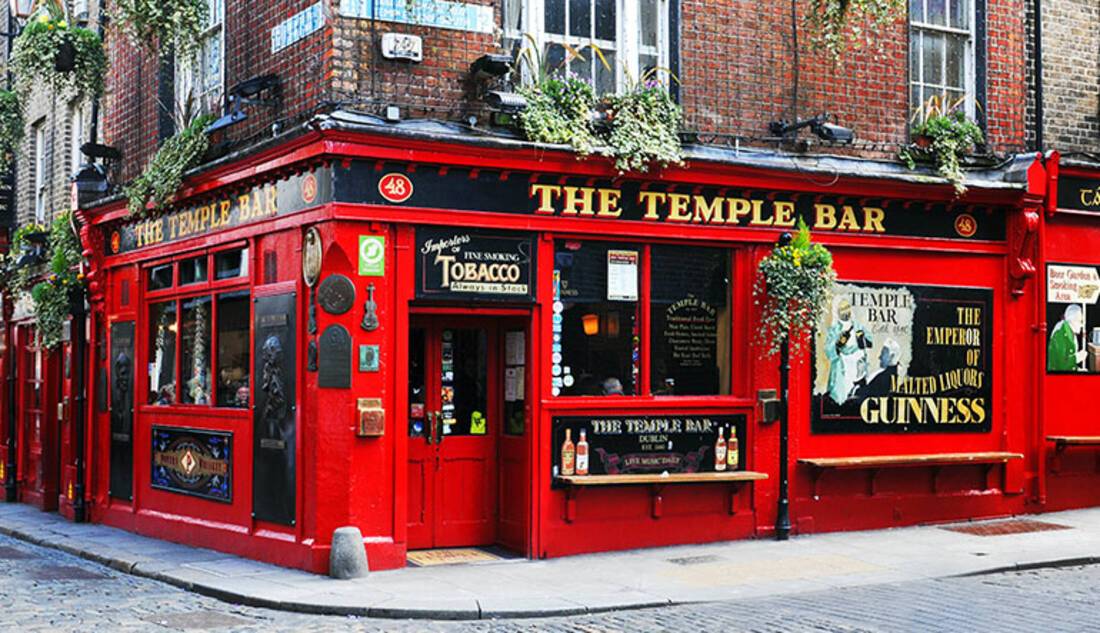 The Temple Bar
The Temple Bar has the reputation of being Dublin's best watering hole. The bar has been open for 160 years and its iconic bright red exterior still draws in people from around the world today. The staff are full of information about the city's history and sights and are great local tour guides.
The area around Temple Bar is a hive of activity, and that doesn't stop inside as the pub has Irish music and is usually full to the rafters with tourists and locals alike. The area is dubbed the cultural capital of the city and you can tell that from the cafes, galleries and boutiques lining the street. Temple Bar is the perfect place to engage yourself with the overwhelming culture of the city.
The Swan Bar
If you are a rugby fan, The Swan Bar is the pub for you. This authentic Victorian pub is Dublin's rugby pub - its owner played for Ireland. Even during his international career, Sean Lynch was behind the bar in The Swan. As Sean's career went from strength to strength, the team would all head down to his bar on a Friday night to have a drink or two before their big weekend games. The team were even superstitious, always sitting in the same snug and believing if when they arrived the same three local ladies were there that was a good omen. They did win 2 triple crowns during that time, so maybe there was something to it.
The rugby connection is still alive today, and the jerseys Lynch accumulated in after game swaps are now framed above the bar. His son, Ronan now runs the pub, and even has a bust of his father on display, although to meet the real thing you need to only look behind the bar where Sean still pulls pints today.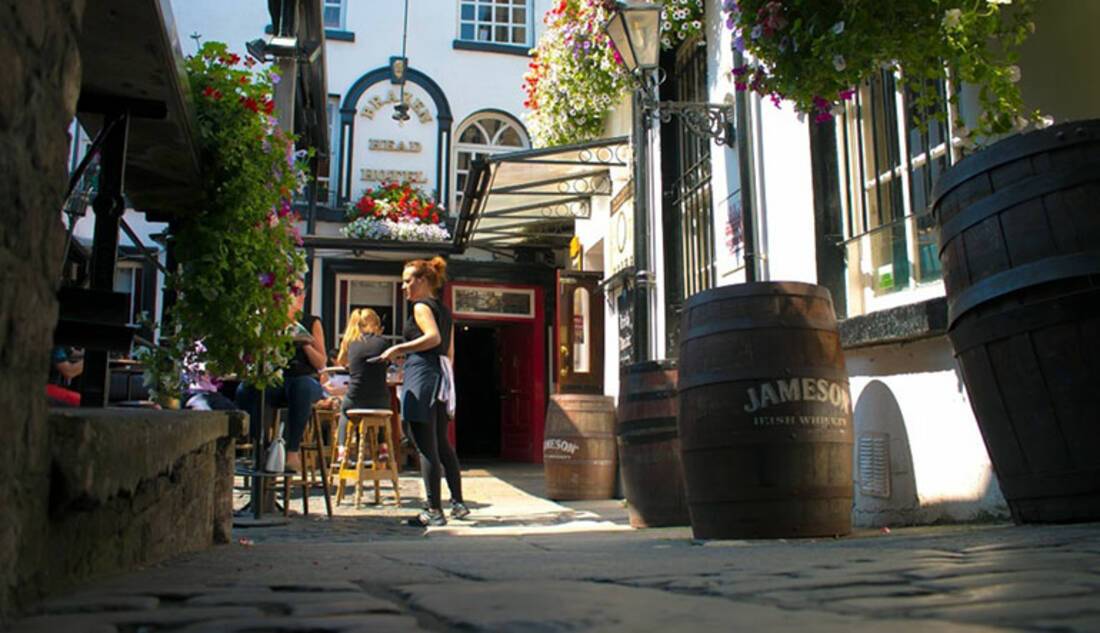 The Brazen Head
If you are looking for history, you needn't go any further than The Brazen Head, as it is Ireland's oldest pub.
We spoke to Erica from The Brazen Head to learn some more about the rich history of the pub, which dates back to 1198: "Back in those days it would have been a coaching inn. The buildings were timber and usually had courtyards, into which coaches could be driven. Plenty of good food and wine was available as well as accommodation. To this day four of the original bedrooms remain untouched reflecting the timeless history within the walls of this historical building."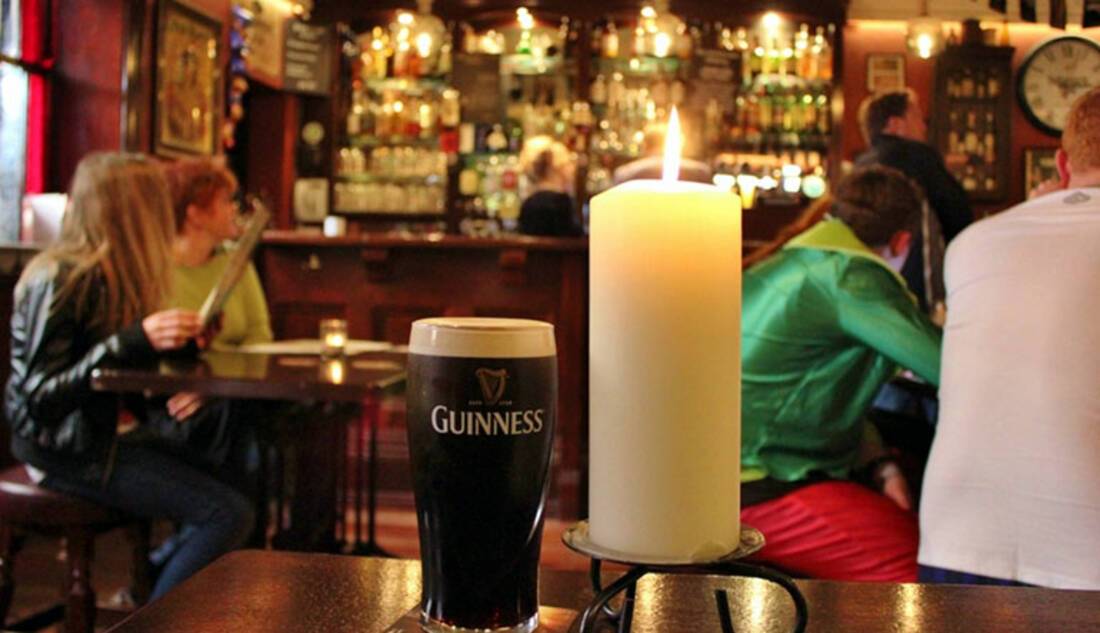 Among some of the famed literary patrons of the past including James Joyce, Brendan Behan and Jonathan Swift, travel bloggers JetSetting Fools have also enjoyed a session at The Brazen Head and spoke to us about their experience there: "On our visit to Dublin, The Brazen Head was absolutely our favourite pub! Perhaps it was just great timing, but the atmosphere on a Sunday afternoon was spectacular and along with the traditional Irish jam session in full swing, it made for a very enjoyable afternoon!"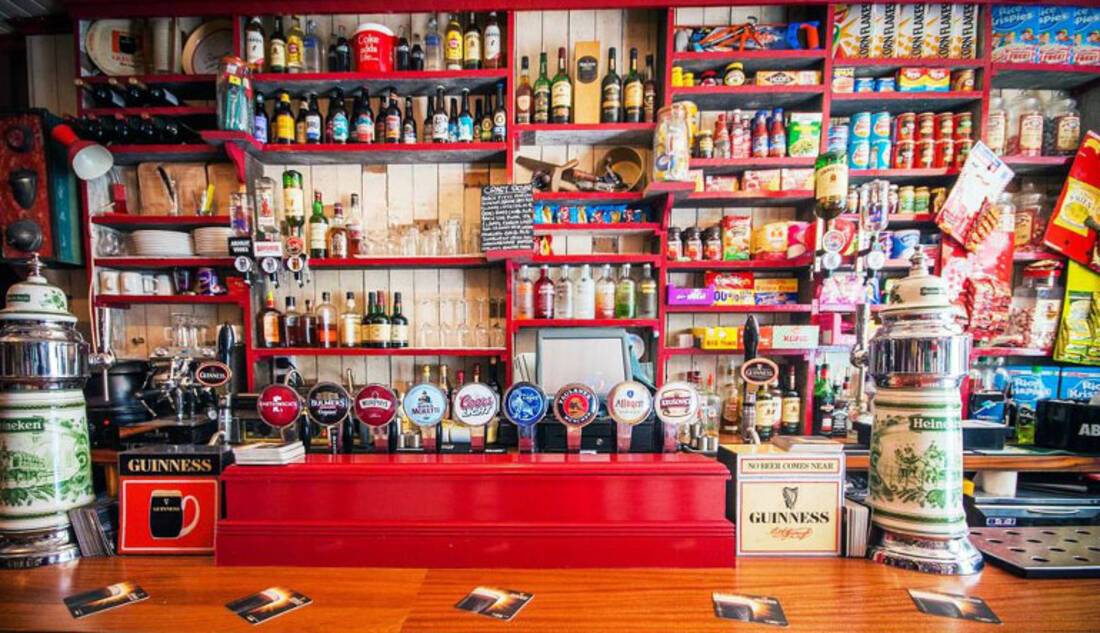 Mary's Bar & Hardware
If you are looking for a unique pub, Mary's Bar & Hardware is for you, not only is Mary's a traditional Irish pub, it is also a fully functioning hardware store. It's located just off of Grafton Street, but it feels like you are stepping out of the city centre and right into a pub in rural Ireland.
Colin Hennessey spoke to us about what makes his pub so unique: "Not only will you be able to grab the best pint and toastie deal in Dublin for €8 during the week, Mary's has the largest selection of hardware for sale in any pub in Dublin. And if you're not suited to toasties or hammers, why not grab a delicious 100% Irish Beef Wowburger that are made to order in our basement. Besides the great pints and city centre location, Mary's is renowned for its charming atmosphere, welcoming bar staff, and guaranteed 'craic agus ceol' (good times and music)."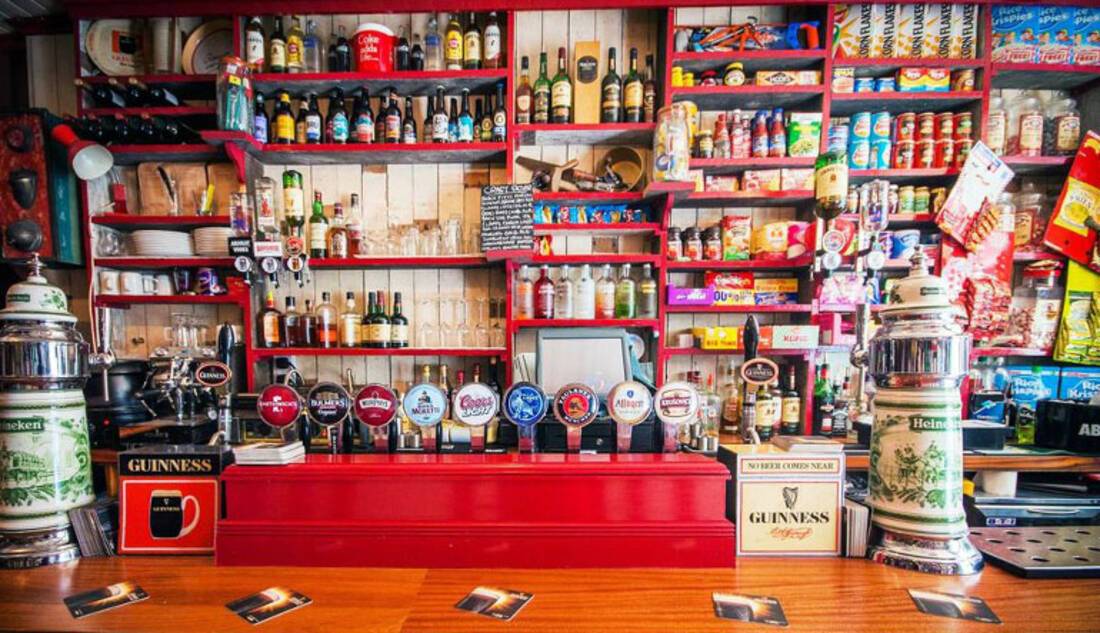 The Dawson Lounge
The Dawson Lounge is as exclusive as it gets, it only has a capacity of 40! If you are lucky enough to get in, you'll have no choice but to get to know everyone around you. The door to the pub looks more like a London telephone box but will bring you into the world of the Dawson. The pub may be small, but it does not lack in any area. The tiny space is full of character and culture, and what better story to tell than that of the smallest pub in Dublin?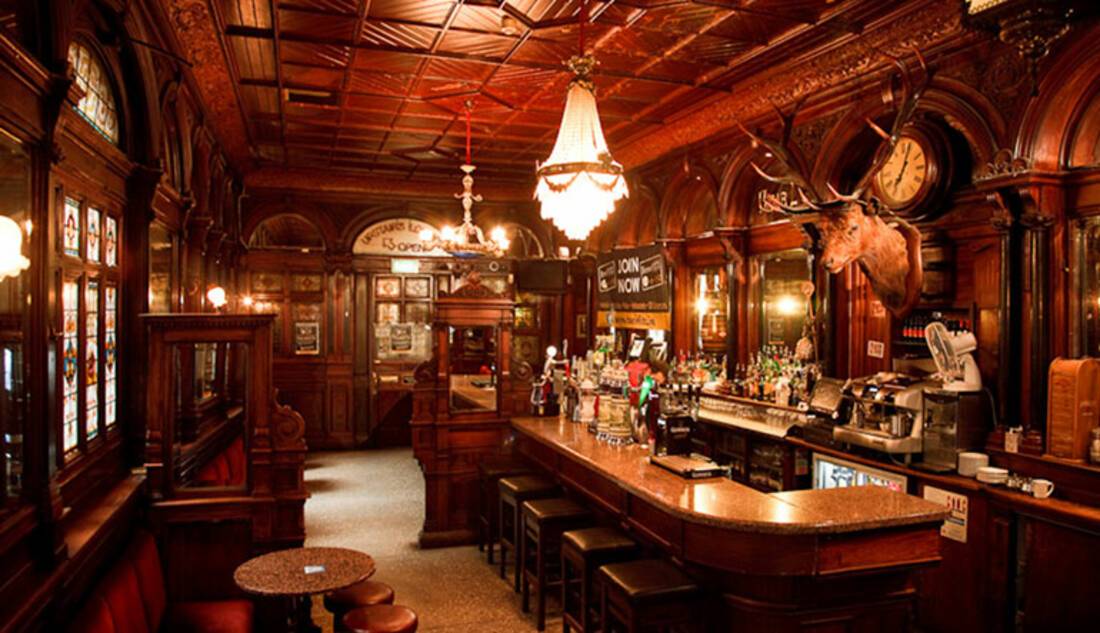 The Stags Head
The Stags Head embodies the feeling of hidden Ireland. When you stumble upon it you can see the authentic Victorian exterior and warm glow, everything in The Stags Head is of authentic Victorian origin. The long mahogany bar creates a warm, cosy atmosphere whilst in pride of place above the spirits hangs the thing the pub is named after, a large Stag's bust. Sunlight filters in through the stained-glass windows illuminating the classic Victorian architecture.
"Visiting The Stags Head is a wondrous experience whether you call in when the premises is cosy, warm and glowing at night-time, or in the early morning when this is an old repository of liquid culture is radiantly illuminated" said Louise Fitzgerald, owner of The Stags Head. "Events vary from ukulele sessions, comedy, traditional music sessions and seasonal James Joyce storytelling so you'll be sure to always find something going on at The Stags Head."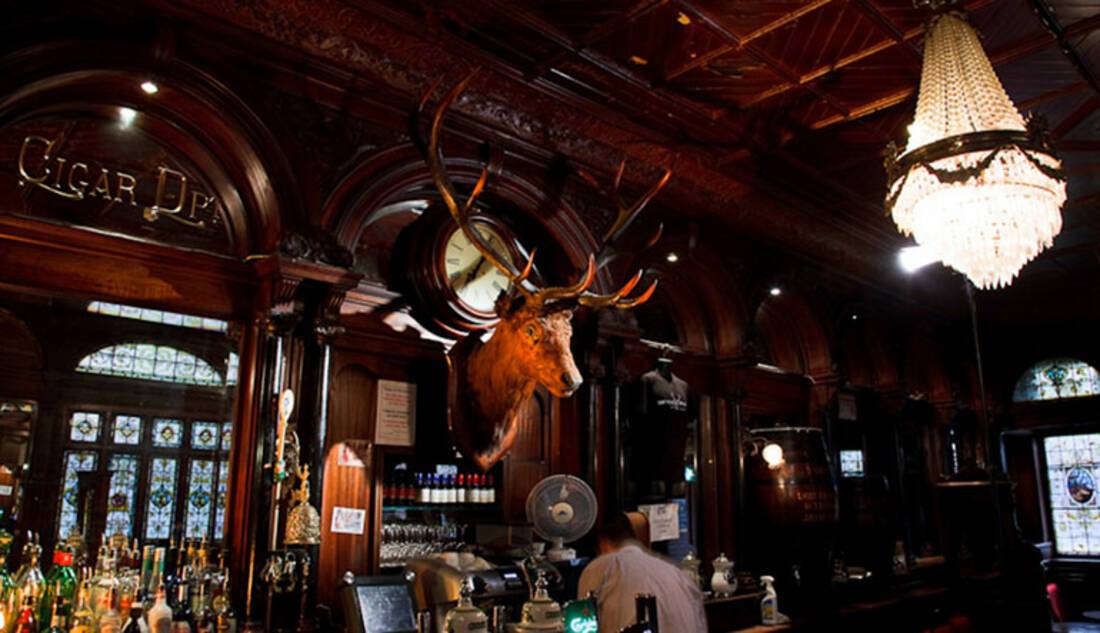 You can be overwhelmed by the array of pubs, taverns and watering holes around Dublin whilst on your Cruise & Maritime adventures, and with every corner you take you are given new options. But for those of you looking for the best, the most traditional, and the ones with the best stories, you now have a good start on where to look.
Image Credit: O'Sheas Merchant, The Brazen Head, JetSetting Fools, Mary's Bar & Hardware, The Stags Head.