Tokyo is known for so many incredible things; fascinating shrines and temples, an abundance of art museums, architecture and design, captivating history, beautiful gardens, unbelievable parks, plenty of photo opportunities, enthralling markets and most importantly, sushi.
Sushi began with paddy fields in Asia, where fish was fermented with rice vinegar, salt and rice, after which the rice was discarded. Today, sushi is one of the most indulged cuisines with famous sushi restaurants the world over. But nothing beats dining on this delicious delicacy in one of the most vibrant cities in the world, and your cruise to Tokyo is the perfect opportunity to feast on some of the world's most delicious sushi. Here's our list of the top 5 sushi restaurants in Tokyo: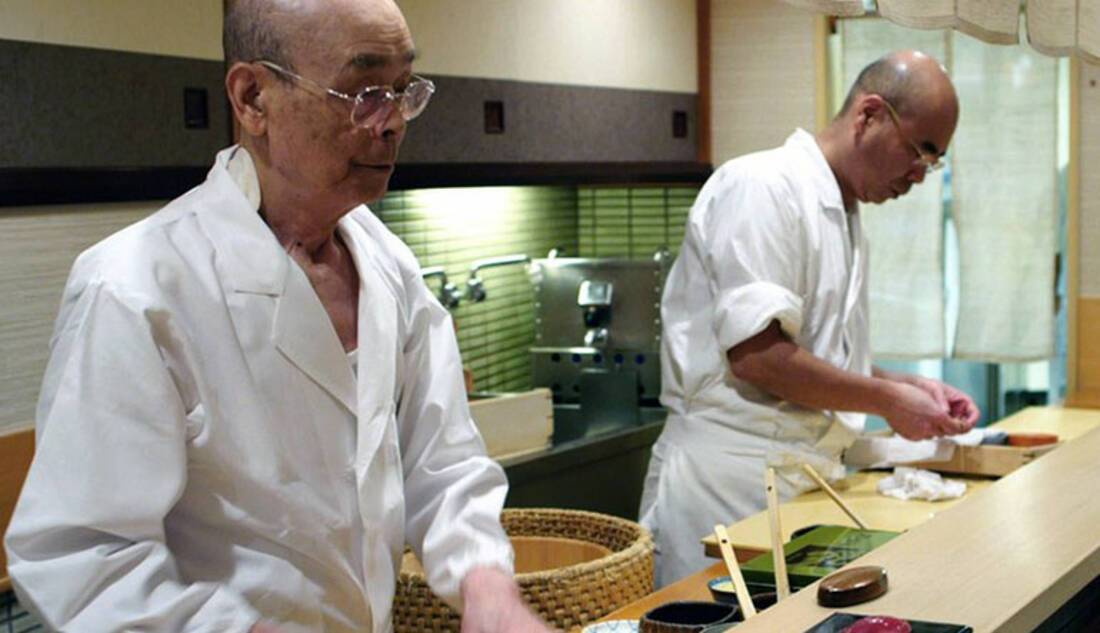 Sukiyabashi Jiro
£££
Japan, 〒104-0061 Tōkyō-to, Chuo City, Ginza, 4-chōme−2−15 塚本総業ビルB1階
Owned by the famously stern Jiro Ono, Sukiyabashi Jiro is a 2 Michelin starred sushi restaurant located in Roppongi Hills. This somewhat formal restaurant is a true shining star of the culinary universe – Jiro Ono, a very famous sushi master, has spent decades developing techniques to create the perfect balance of rice and fish.
Etiquette here follows the tradition of Edo-style sushi - customers are expected to focus on the sushi and eat it quickly. On their website, Sukiyabashi Jiro have 12 rules that must be followed; from advice on how to eat sushi with your fingers to flavouring the sushi with soy sauce.
Thanks to its Michelin stars, Sukiyabashi Jiro is an exceptionally busy restaurant, so reservations must be made at least a month in advance.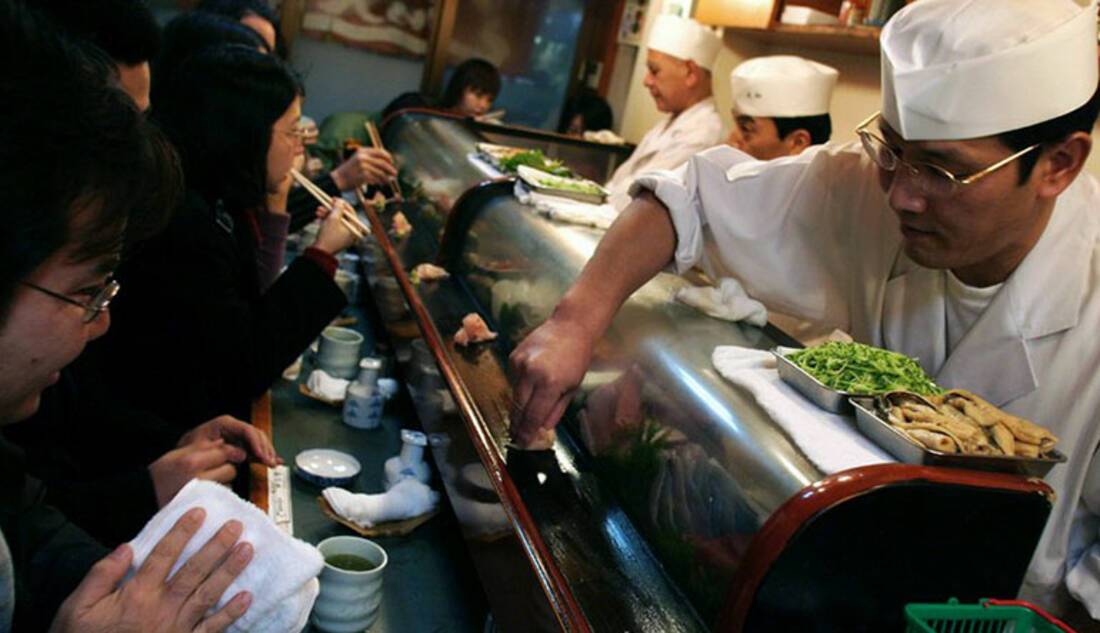 Sushi Dai
££
6 Chome-5-1 Toyosu, Koto City, Tokyo 135-0061, Japan
Sushi Dai is one of the most popular sushi restaurants in Tokyo, thanks to its low prices and high quality fish. Its location within the Tsukiji market means that the fish is exceptionally fresh – the chef heads to the market every morning and personally selects what he wants for the day.
The saying 'don't judge a book by its cover' really comes into play here – the food is much nicer than the décor. But that doesn't take away from its popularity, you're likely to see the line for the restaurant before you see the restaurant and you should expect to wait 2 to 3 hours to eat here (there are only three seats and no reservations).
Once the sushi has gone the restaurant closes, so get here as early as possible to avoid disappointment.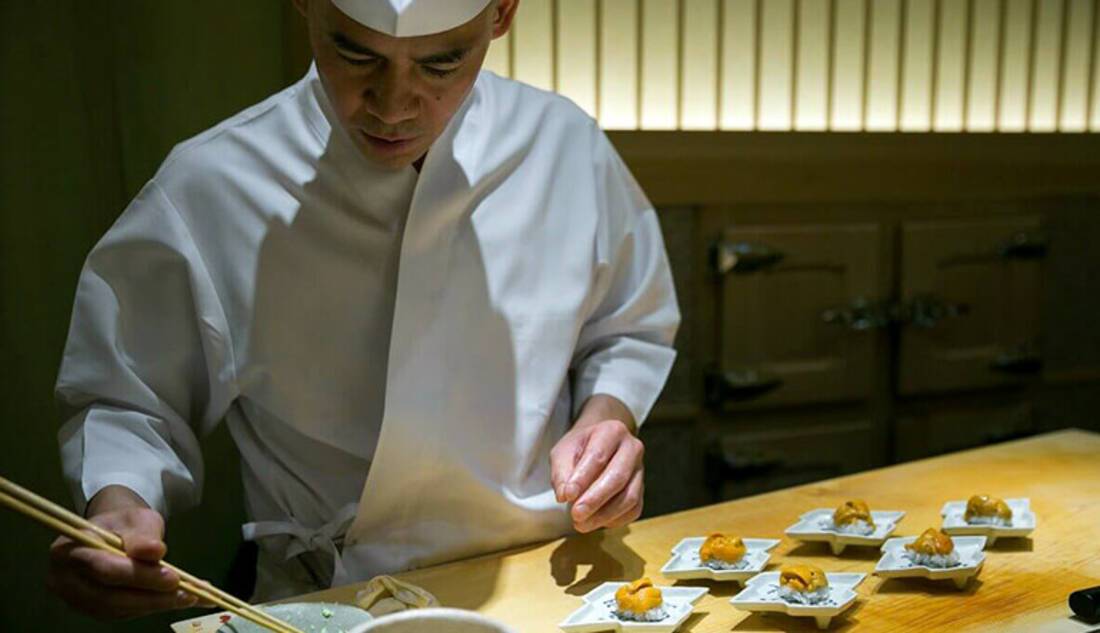 Sushi Saito
£££
Tsukijishijo 6-gokan, 5-2-1 Tsukiji, Chuo-ku, Tokyo
The gem of Ark Hills, Sushi Saito is owned by Takahashi Saito. A master of subtlety and balance, Saito is famous for his outstanding cutting technique.
The restaurant has received 3 Michelin stars over the last five years and is one of the most famous sushi restaurants in Japan. Reservations are required, sometimes months in advance. Sushi Saito is teeny tiny with only eight seats, but the food really is delicious; mild red vinegar and the perfect amount of salt give punch to the shari rice – which is never too big or too packed together.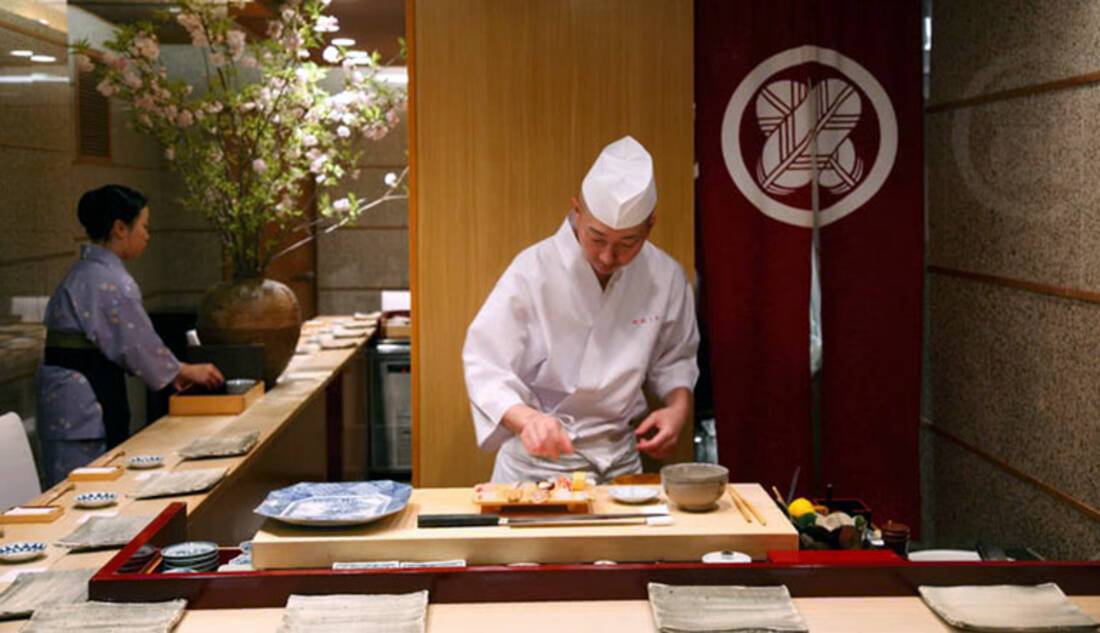 Sushi Kanesaka
£££
B1F, Misuzu Bldg., 8-10-3, Ginza, Chuo-ku, Tokyo
Famous both within Japan and abroad, Sushi Kanesaka is an excellent mix of locals enjoying dinner after work and well-heeled travellers immersing themselves in local cuisine. Shinja Kanesaka, chef and sushi master, makes every dish with extreme care – his technique is textbook perfect.
The twelve-seat restaurant with its neat and comfortable atmosphere is truly charming. Created using Edmoae techniques, the sushi is the perfect balance of rice and other delicious ingredients.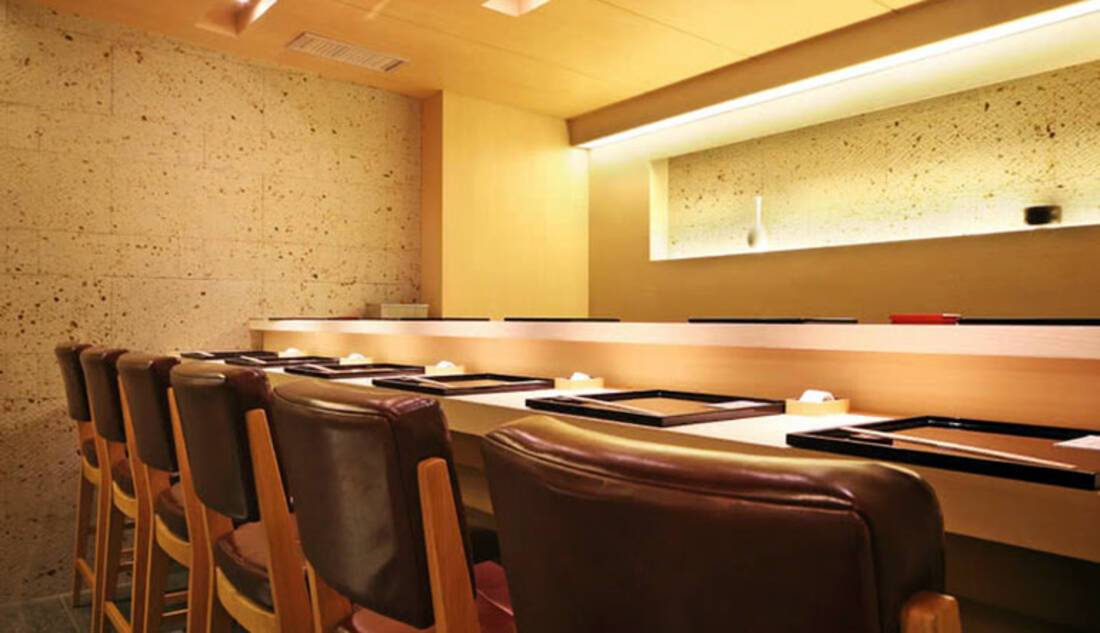 Sushi Masuda
£££
BC Minami Aoyama PROPERTY-B1F, 5-8-11 Minami Aoyama, Minato-ku, Tokyo
Owned by a former pupil of Jiro Ono who trained at Sukiyabashi Jiro, Sushi Masuda is a two Michelin starred sushi restaurant located in Minami Aoyama. Unlike the Sukiyabashi Jiro experience, a meal at Sushi Masuda proceeds at a leisurely pace with some diners spending more than two hours here.
The toppings available change by the season but Shari is always prepared with incredible care with the owner believing that, "The art of sushi is not about moulding, but about the preparation."
With only a tasting menu available you won't be spoilt for choice but the quick-seared blowfish mil and raw dishes like nigiri (which are liberally seasoned with vinegar) are worth keeping an eye out.