On the 25th of December every year, much of the world stands still. All around the globe people celebrate and mark this special day in different ways. Christmas is a time when families and loved ones come together, and although it looks very different around the world, that is something that doesn't change.
In this article, we look at unique Christmas dinners and traditions from around the world.

Share this Image On Your Site
United Kingdom
Christmas dinner in the UK is a family affair, with relatives gathered around the table, time taken off work and paper hats donned. At the centre of the feast is often a turkey, which is accompanied by trimmings like roasted potatoes, parsnips, stuffing, cranberry sauce and pigs in blankets. The main meal is followed by a Christmas pudding, doused in brandy and set alight before being served.
Traditions
Traditions in the UK vary from family to family, however there are a few things you can always expect. Christmas crackers are a holiday staple in the UK, and once pulled they are often filled with small gifts, jokes and paper Christmas hats.
Japan
The traditional Christmas day meal in Japan is fried chicken, thanks to an incredibly successfully 1974 campaign by KFC – 'Kentucky for Christmas!' Before 1974, there was no traditional meal in Japan, so the KFC 'party barrel' which contains everything you'd need for a Christmas meal, filled a hole very conveniently. KFC is now so popular on Christmas day people have to make their orders weeks in advance to ensure they get their festive meal.
Traditions
As Christmas isn't a religious or national holiday in Japan, most people will still have to work. Christmas Eve is seen as a romantic day, and is often reserved for partners to enjoy together, exchanging gifts and walking the streets hand-in-hand admiring Christmas decorations.
Brazil
Many of the Christmas traditions in Brazil originally come from Portugal, as Portugal ruled Brazil for many years. Christmas dinner is commonly served on Christmas Eve, and comprises of roasted meat, usually turkey, accompanied by colourful rice dishes and followed by Panettone for dessert.
Traditions
Secret Santa ('amigo secreto') is incredibly popular in Brazil and often people will leave gifts under pseudonyms and reveal who their amigo secreto was on Christmas day! It's also very common to get a '13th salary' in Brazil, where people receive twice their normal pay in December to help boost the economy around Christmas.
Philippines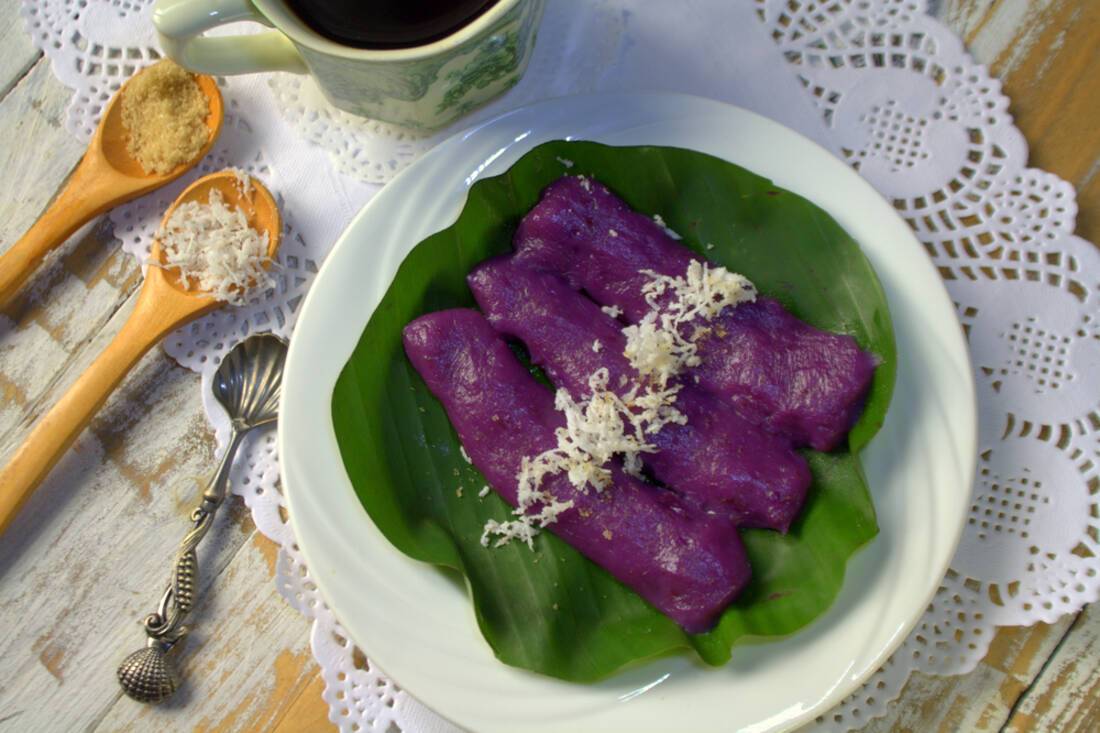 Lechon (a suckling pig) usually takes centre stage at a Filipino Christmas meal. This pork dish is said to be deliciously tender on the inside, with a beautifully crisp skin on the outside. Alternatively, a sweet Christmas ham is also customary. Puto Bumbong is perhaps the most unique item on the menu in the Philippines and is a purple-coloured treat made with sugar, rice and coconut milk, poured into a bamboo tube and steamed.
Traditions
The Philippines love Christmas and will often ensure the celebrations last as long as possible. Starting on the 16th of December, people will attend the first of nine early morning masses, the last of which being on Christmas Day. As well as that, it's common to hear Christmas songs as early as September! Due to about 80% of the Filipino population being catholic, Christmas is a very important religious holiday on the islands.
We spoke to Berylle, a food and lifestyle blogger in the Philippines at It's Beryllicious. She told us why Christmas is fantastic in the Philippines: "Christmas in the Philippines is a joyous and family-centred occasion. As cliché as it may sound, it is truly one of the most wonderful times of the year. It is a time when friends and families gather together to celebrate the joyous occasion, usually over a festive meal.
"I love Christmas in the Philippines because you can truly feel the spirit of Christmas here - joyful songs and colourful lights and lanterns on the streets, people join the holiday rush and do their Christmas shopping, families gather together and prepare dishes for the whole family to enjoy. It is a time when I feel most loved by the people around me, especially my family."
Berylle then told us about some Filipino Christmas traditions people may not know about: "Noche Buena, is commonly practiced in the Philippines. It basically means 'Christmas Eve' in Spanish, which is a traditional midnight dinner held after a late-night mass. Common dishes during Noche Buena includes the famous 'lechon' or roasted pig, 'pansit' or noodles, native delicacies like rice cakes called 'bibingka' or 'puto bumbong', and fruit salad for dessert.
"Most Filipinos celebrate Christmas Eve with their families - no matter how far their distance, they see to it that they go home to their families during this holiday season. Exchanging gifts plays a big part of Filipino Christmas. Children visits their godparents and they receive gifts in return. It is also a usual practice among friends and families to exchange gifts to show their love and appreciation to one another. Aside from the holiday feast, fun games and activities are prepared as a form of entertainment and bonding time for everyone."
Australia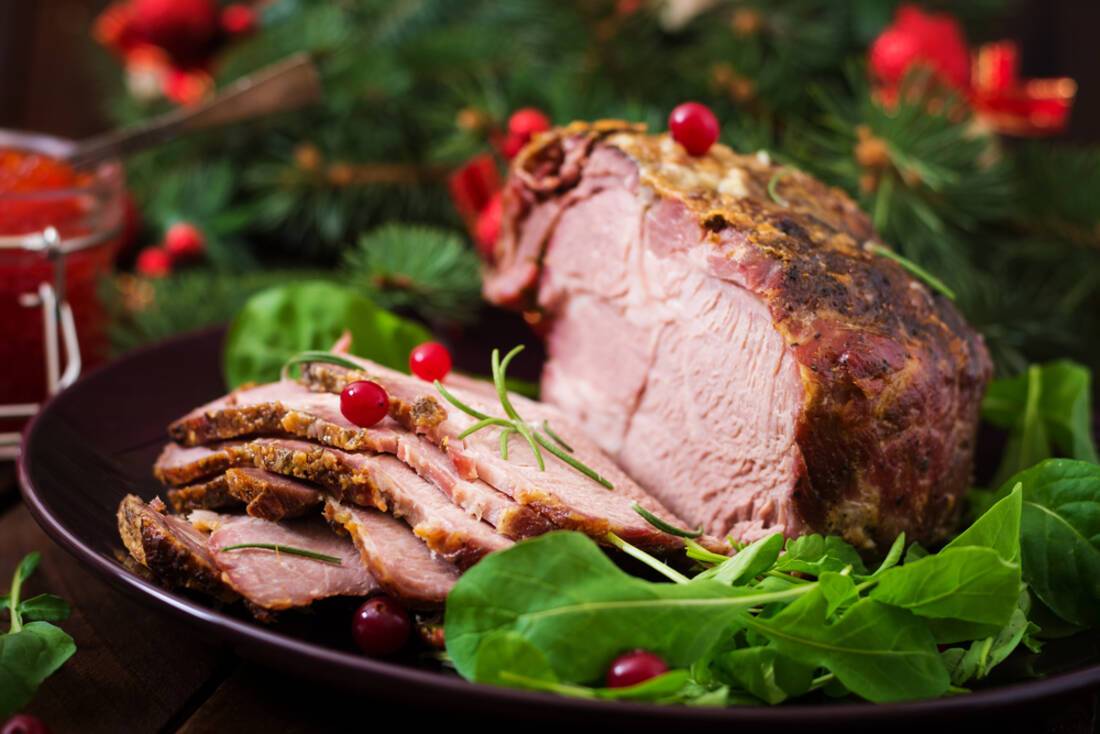 In Australia, a Christmas ham is traditional. However, as the country celebrates Christmas in the summertime, meat and fish such as prawns on a barbecue are commonplace! For dessert, Australians make a rather unusual, yet colourful treat aptly named 'White Christmas'. This is made with raisins, cherries, desiccated coconut, icing sugar, milk powder and rice bubbles.
Traditions
As it's pleasantly warm in Australia during the festive season, many locals will head to the beach and spend lots of time outdoors.
We spoke to Hayley Simpson, travel blogger at Hayley on Holiday. She told us how the Australian summer affects Christmas: "When I was growing up, I did wish for a cold Christmas like I saw in movies and sung about in Christmas carols. But Christmas in summer has its advantages, as it's always been an outdoor affair for me and my family. We've always spent Christmas by the ocean or swimming pool."
Hayley told us about her family's traditions: "I think every family has their own Christmas traditions in Australia. But for my family, we still enjoy a Christmas dinner with roasted vegetables, baked ham and turkey. We also love to watch Carols by Candlelight on TV on Christmas Eve, before opening all our presents on Christmas Day. In Australia, Boxing Day is also a big sporting day with the Hobart to Sydney Yacht Race and cricket's Boxing Day Test. But I prefer to spend my Boxing Day hitting up the sales."
Fiji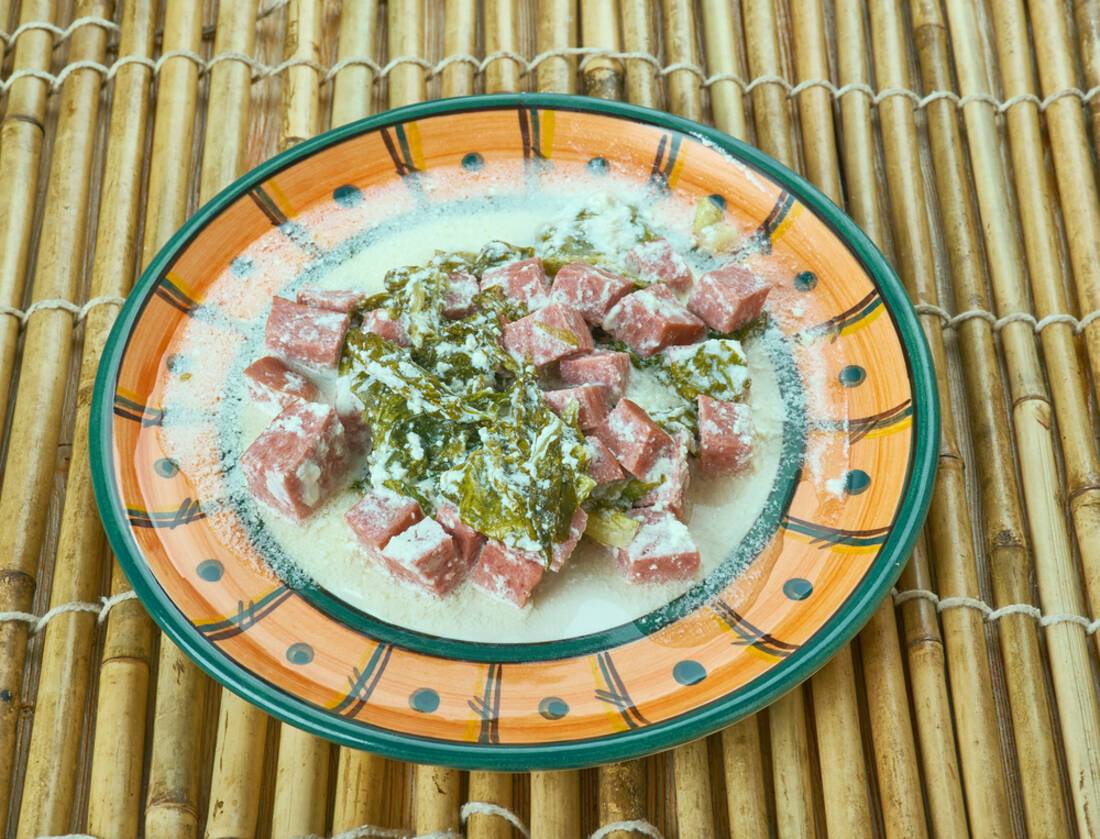 Fijian Christmas dinners are huge feasts, called lovo feasts, incorporating a whole bunch of delicious dishes. The lovo feast usually comprises of a garlic spiced chicken, beef, pork, fish, cassava and Dalo. One very special dish is Palusami – spiced mutton wrapped in leaves and cooked in a smooth coconut cream.
Traditions
Fijians celebrate Christmas in much the same way as we do here in the UK, with family and friends, carolling and eating. In traditional local village celebrations, around two weeks before December 25th, communities gather at each other's houses, singing and decorating trees.
Iceland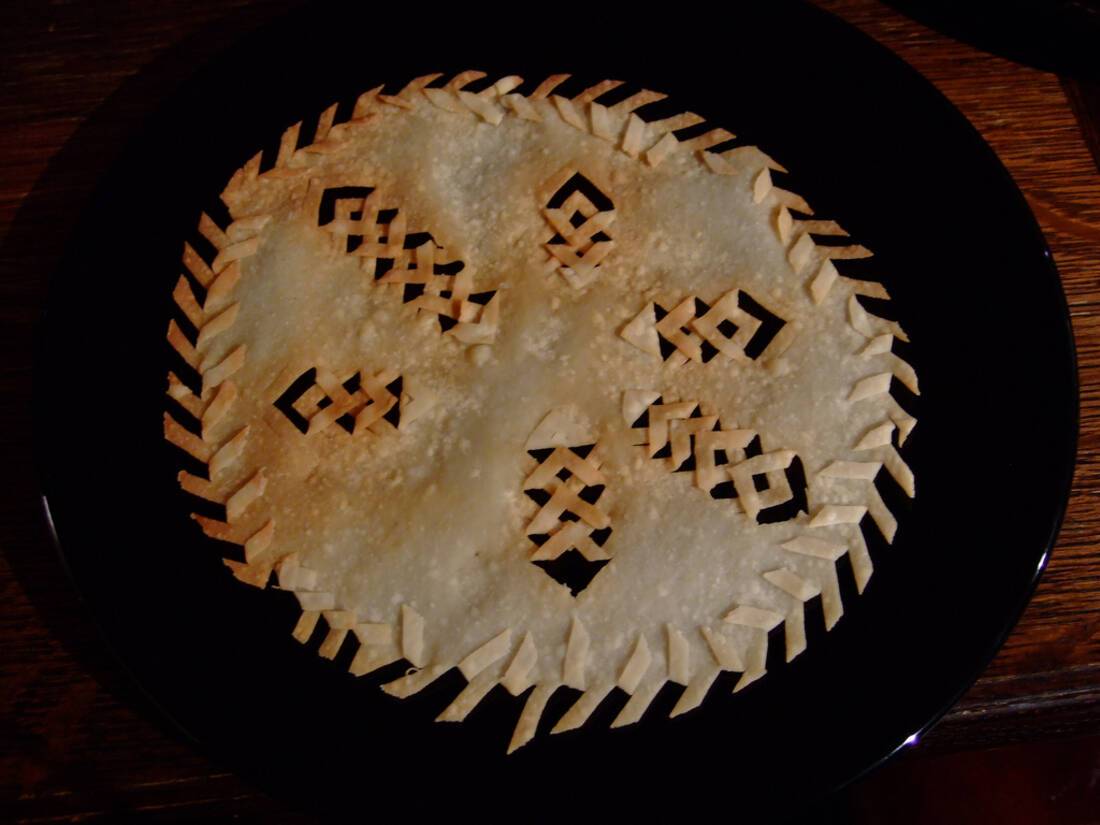 A leg of roast lamb is the traditional centrepiece for an Icelandic Christmas dinner, accompanied by laufabrauð or 'leaf bread', with the intricate design varying for each household. Typically, a Christmas dinner dessert could be a vínarterta, (shortbread and prune jam layer cake) or marens-kornflexkökur, a beautiful, flaky treat made with chocolate, meringue and cornflakes.
Traditions
Christmas is known as 'yule' or 'jol' in Iceland, deriving from the country's ancient winter solstice celebrations. The season celebrates various days, not just Christmas Eve and Christmas Day. December 23rd is St Thorlakur's Day, celebrating the country's major saint 'heilagur Porlakur Porhallsson', the Bishop of Skalholt. On this day, the customs involve eating a simple meal of skate (fish) and the Christmas or 'yule' tree is decorated. Yule Eve celebrations begin at around 6pm and this also dates back to an ancient Icelandic tradition, when the new day began at 6pm and not midnight! On Christmas (yule) Day, time is spent with family enjoying a traditional meal.
We spoke to Cheryl Howard, travel blogger from Canada who has spent Christmas in Iceland. She told us what inspired her to spend her holidays there: "I chose to spend my Christmas in Iceland as I wanted to treat myself to an adventure somewhere abroad. While many wouldn't think of going to Iceland in December due to the extremely cold and short days, it's actually an exciting place to venture during this time of year. I still managed to pack a lot of incredible things into my itinerary - going to the Blue Lagoon, horseback riding across a lava field, seeing Gullfoss covered in ice and snow, snorkelling between the continents at the Silfra Crack, and so much more. Seeing the capital city of Reykjavik decorated in festive lights made the experience even more magical and festive."
Canada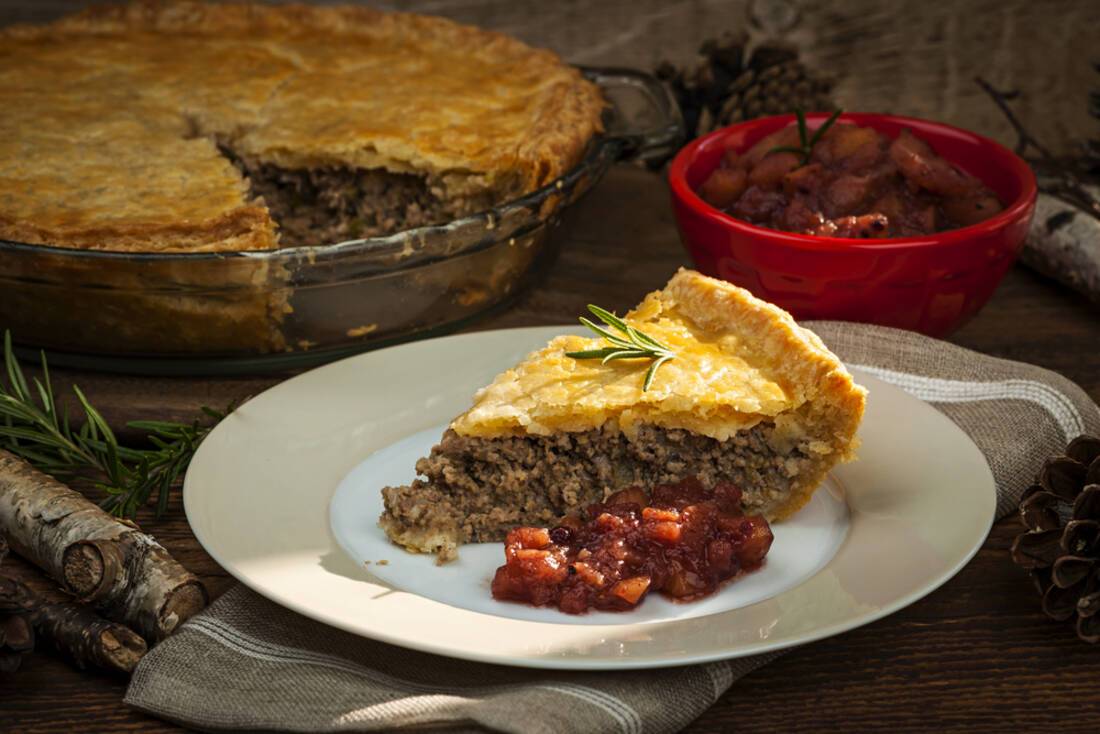 As the second-largest country in the world, it's perhaps no surprise that Canada's provinces have different ways of celebrating Christmas. French Canadians take part in Reveillon, a Christmas Eve feast complete with a delicious tortiere (meat pie) or, more traditionally, 'ragout aux pattes de cochons' – a stew made with pigs' feet. For dessert, a simple yet tasty tarte au sucre is served.
Traditions
Christmas Eve is the key part of festive celebrations for many Canadians, with most opening their gifts on this day. For those not of French descent, a typical Christmas dinner may be slightly more similar to that of the UK, with a roast turkey, vegetables, mashed potato and mince pies. In the eastern province of Nova Scotia, it's traditional to send the biggest fir tree grown locally to Boston in the USA, to show gratitude for their help during the Halifax Explosion.
Switzerland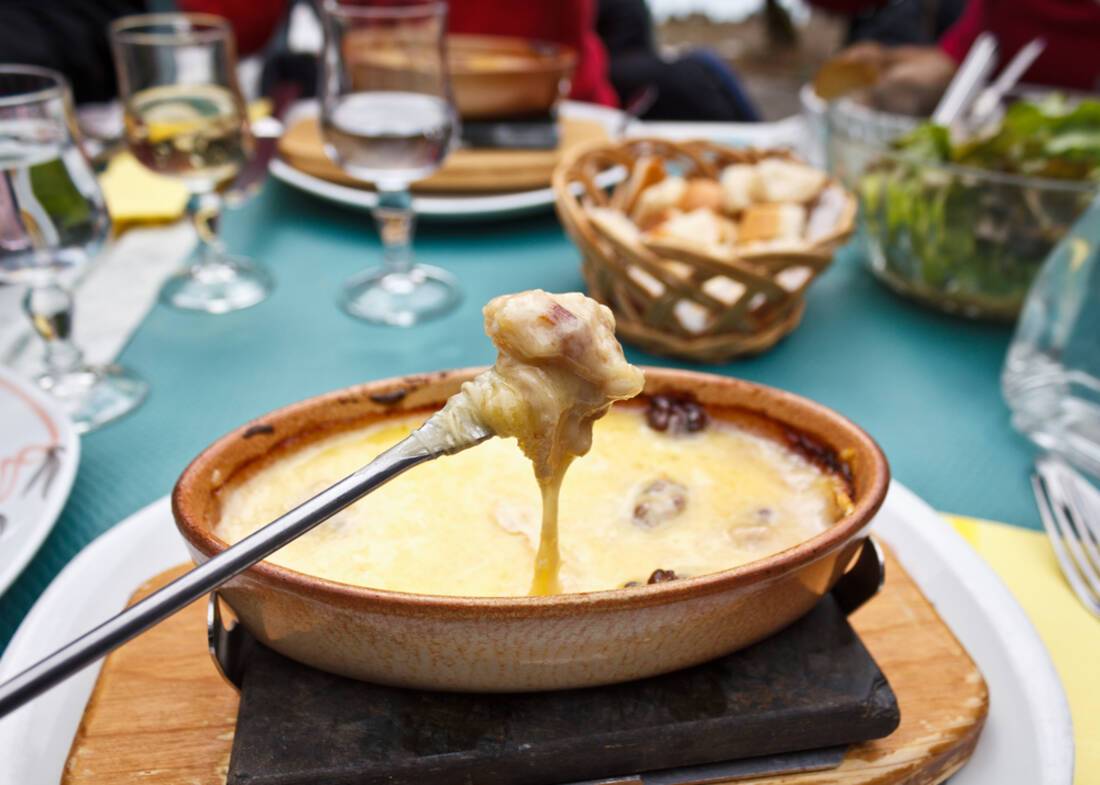 In Switzerland, a Christmas ham with scalloped potatoes and cheese is considered the traditional festive meal, with a moreish walnut cake for dessert. However, if you're hosting guests during the Christmas season, a cheese fondue will likely be served, or fondue chinoise. This alternative fondue sees people dip slices of meat into a shared pot of steaming broth and enjoyed with vegetables and other accoutrements.
Traditions
"Christmas in Switzerland is what childhood dreams are made of: yummy food, twinkly Christmas lights and hopefully some snow," said Kristin from Swiss Family Travel. "But what I love most is that the weeks leading up to the big day are filled with little traditions, making the season more than just 2 days at the end of the month. The season begins in Zürich on November 23rd when the Christmas lights, which the locals call Lucy, turn on like Swiss clockwork. Families visit Christmas markets, concerts, bake cookies, open advent calendars and light advent candles.
"While Santa visits children on the 25th December in the UK and USA, in Switzerland he visits already on the 6th December, bringing peanuts, gingerbread, mandarins and chocolates. It is 'Christkindli' or baby Jesus who brings gifts for the main event on the 24th December."
Poland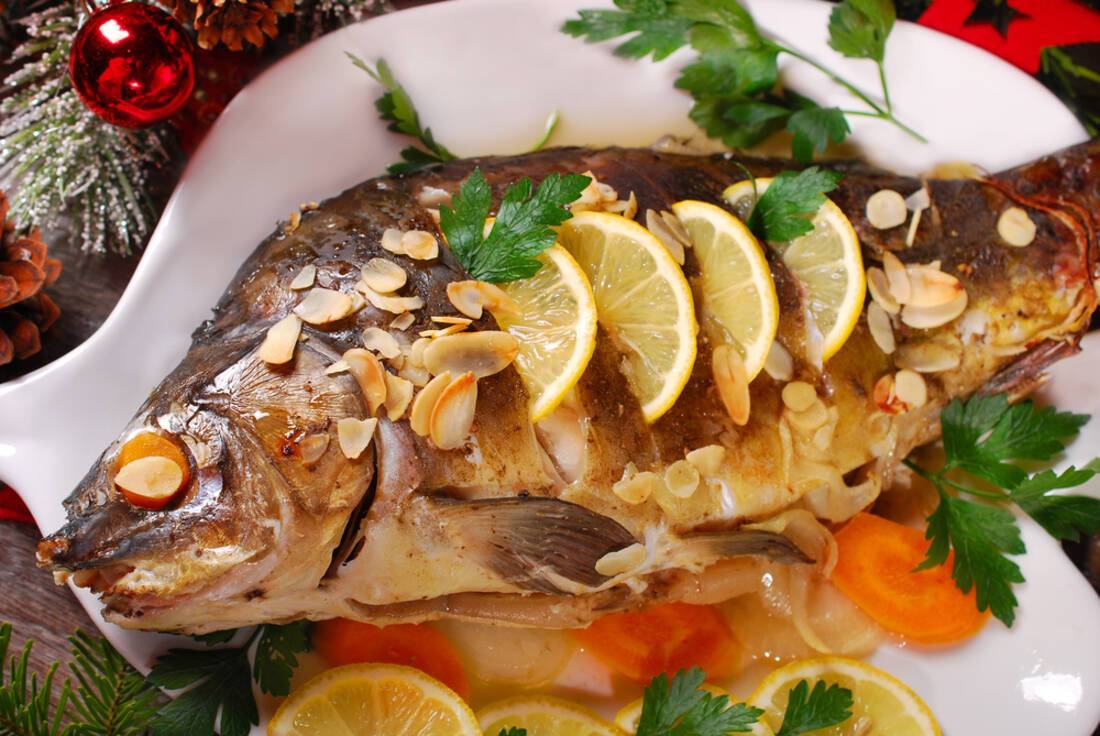 In Poland, 12 dishes are served for the main Christmas meal to give people good luck for the forthcoming 12 months. Christmas dinners traditionally begin with beetroot soup with uszka (mushroom dumplings) or 'krokiety' (savoury pancakes). Carp is the main dish, and the fish itself is actually bought a few days earlier, alive, and is kept in the household bath until it's killed and prepared by 'the lady of the house'. Of course, this tradition is dying out, and many make do with fillets of carp. A typical dessert is makoweic – a delicious poppy seed roll made with sweet yeast bread and 'piernik' a moist cake with honey, not dissimilar to gingerbread.
Traditions
A place is traditionally left empty at the table for Christmas dinner. This is either for unexpected guests, or to commemorate the loss of a loved one.
We spoke to Karolina Klesta, blogger at Karolina & Patryk, who told us why Christmas in Poland is such a lovely affair: "We love Christmas in Poland because it has everything one can expect from the perfect holidays. Let's start with the weather - it's almost always snowing on 24th and 25th December. Then comes to food - it's out of this world! Delicious pierogi (dumplings stuffed with cottage cheese and mashed potatoes), fish, cakes, dried fruit compote, żurek (sour soup) and many more. Last but not least - over 80% of Poles are Catholics, that's why Christmas in Poland is a spiritual experience. People are celebrating because they really believe The Savior was born. It's magical."
Karolina then explained something that she believes people wouldn't be aware of when spending Christmas in Poland: "Foreigners might not be aware that most Poles are fasting on Christmas Eve. It is a tradition not to eat anything before Christmas Supper (Wieczerza Wigilijna). Poles don't eat meat on Christmas Supper, most of us don't drink alcohol as well.
"Some people believe that the way you spend 24th of December is the way you will spend the upcoming year. That's why everyone really tries to be good and friendly. Presents are opened on Christmas Eve evening not on Christmas Day."
Mexico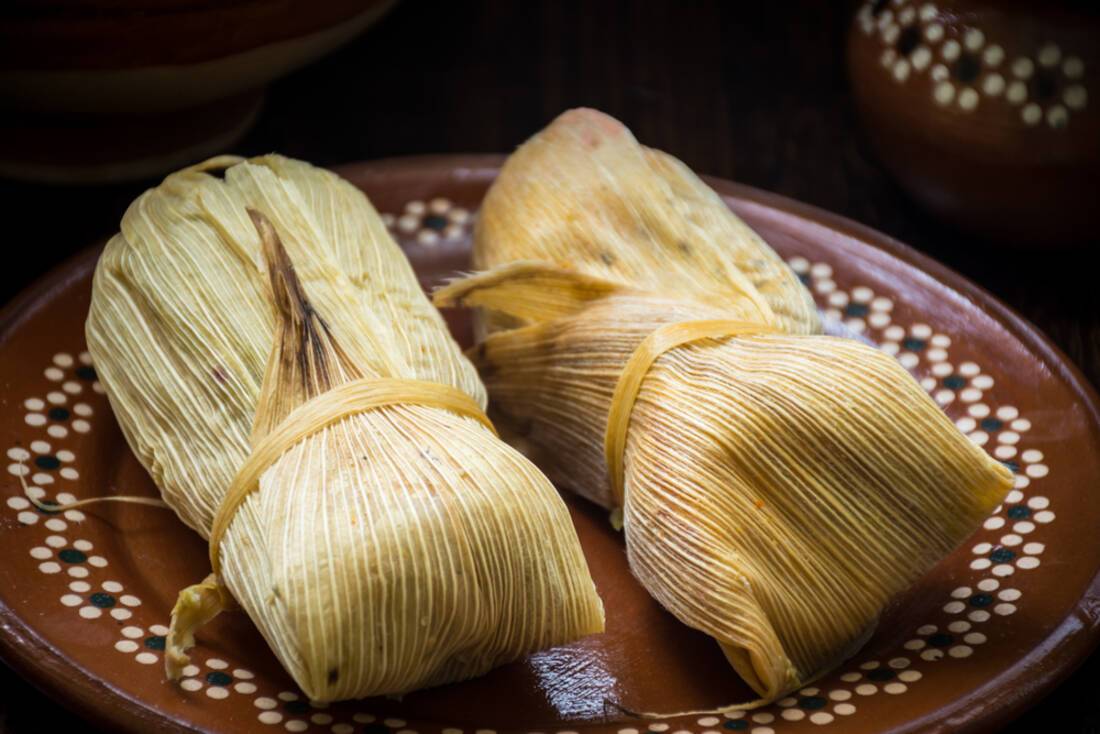 A Mexican Christmas dinner is truly a sight to behold. The country's most treasured native dishes such as tamales are a huge part of their festive feasts, made with chicken and green salsa or pork. Also on the menu is roasted pork leg and stuffed turkey – not too dissimilar to a European Christmas feast. A typical Christmas sweet treat is buñuelos, delicious fried pastry discs with powdered sugar.
Traditions
Mexicans celebrate the Christmas season from December 12th to January 6th, with a range of processions and gatherings. One of the most important is the Posada procession, which celebrates the part of the story where Joseph and Mary looked for somewhere to stay before the birth of baby Jesus. Houses in local towns and villages are often decorated as part of the processions, and children are given candles and a board with painted clay figures of Mary riding on a donkey and Joseph to display as the procession walks through the streets. Typically, there are 9 Posadas in the run up to Christmas, and at every Posada party is a piñata! Christmas Eve, or 'Noche Buena' is traditionally spent with family, with many people attending Midnight Mass services, and on Christmas Day, there are often fireworks to celebrate the day in style.
Norway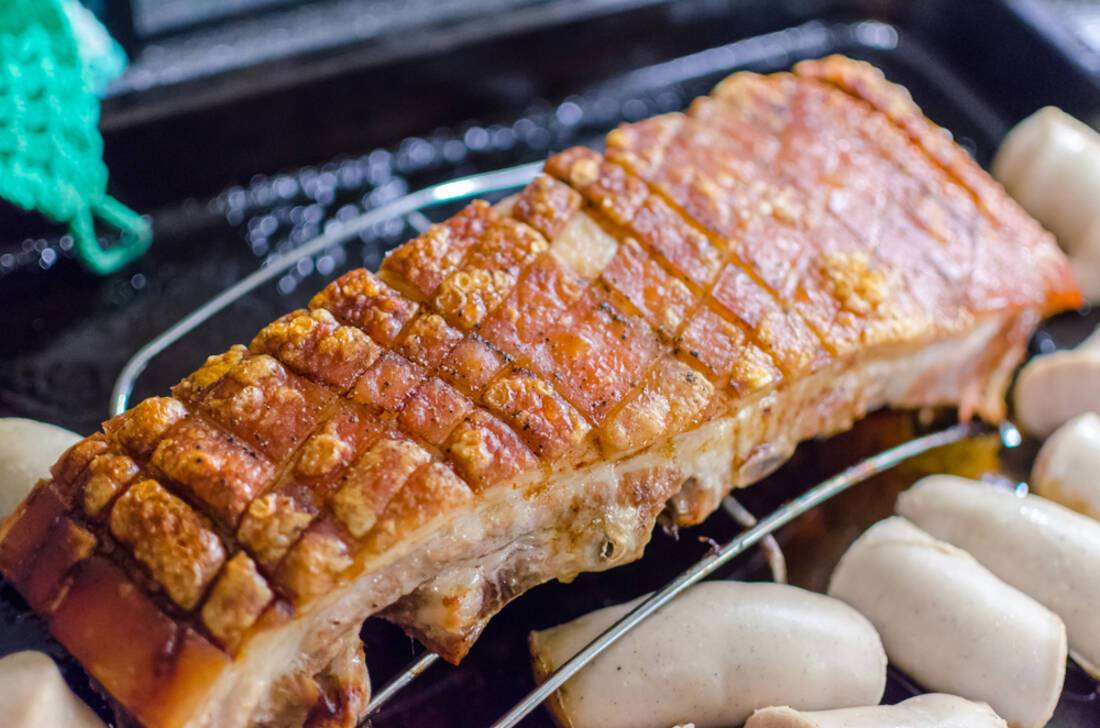 In Norway, it's traditional to serve svineribbe (pig ribs with crispy skin), pinnekjøtt (lamb meat), or lutefisk (cod). All of these full-flavoured meat and fish dishes are accompanied by beautifully-decorated gingerbread as dessert/a snack, but this isn't the only sweet treat on offer in Norway. Many types of cakes and biscuits are enjoyed over the Christmas period, including the 'Julekake', which includes raisins, candied fruit peel and cardamom.
Traditions
We spoke to Vanessa Brune, blogger and guidebook author at Snow in Tromso. She told us what is so special for her about Christmas in Norway: "Norway is one of few places in Europe that still (mostly anyway) delivers a white Christmas and personally, I really crave the cold in order to get into the Christmas spirit! Plus, what's more magical than seeing the Northern Lights on Christmas Eve?"
Vanessa then told us about Norway's particular fondness for Marzipan around the holidays: "Norwegians are crazy about marzipan during the holidays and there's this old tradition to hide an almond in the traditional rice pudding that's served on Christmas Eve. Whoever finds the almond wins a marzipan pig! I'm sure, though, that there are as many people in Norway who hate marzipan as there are elsewhere, but the almond is hidden, and the marzipan pig is gifted no matter what!"
We also spoke to David of Life in Norway about his Christmas: "What I love most about Christmas in Norway are the Christmas markets," said David. "They are generally more intimate than some of the gigantic ones in the UK and feature local arts and crafts, reindeer-pulled sled rides for the kids, reindeer burgers for the adults, and of course, more often than not, there is snow on the ground which really completes the atmosphere!
"I grew up with 25th December being the focal point of Christmas, but here in Norway, the focal point is Christmas Eve. Known as 'Julaften' in Norwegian, the 24th is the day when presents are exchanged and the whole family gets together for the main Christmas meal. Christmas Day itself is a much quieter affair and often quite private."
Source: www.whychristmas.com
Image Credit: Brian Suda