Not only is Seattle the birthplace of Microsoft, Nirvana, Jimi Hendrix and grunge music, it is also one of the most interesting and dynamic cities in America. A hub of art, design, music and sport, the capital of America's Northwest has something for every interest.
Boasting a dynamic backdrop of deep forests and snow-capped mountains, you can easily access some spectacular hiking trails and really get back to nature here. Our city guide to Seattle presents some of the most popular attractions, bars, restaurants and sights in a place that has offered so much to the world already.
Bars
Sitting in a local bar is a great way to immerse yourself into an area. You get to spend time around locals while drinking fine examples of native drinks. From fashionable craft beer breweries to secret cocktail bars, Seattle is a brilliant city for a tipple.
The Upstairs
If you're looking for a bar kept secret by the locals then this might be it. The Upstairs in Belltown serves up classic American cocktails as well as their own special varieties. Jessica from Jessie on a Journey was one person fortunate enough to find this speakeasy:
"When in Seattle, don't miss exploring the cocktail scene. The Upstairs is my personal favourite; a creaky old Victorian house that takes you back in time and pairs the experience with classic and 'local' cocktails infused with Washington ingredients. Additionally, Bathtub Gin & Co is a fun modern-day speakeasy with boozy concoctions. Just leave some time to actually find the hidden entrance!"
Foreign National
Foreign National is relatively fresh on Seattle's drinking scene. Opened 2016, the inside is dark and ambient, finished with novel features like a spinning ball not too dissimilar to a disco-ball and even swan shaped murals. If you are after a simple pint and nothing more then perhaps you should head elsewhere. Foreign National offers a drinking experience to its punters.
Take the whiskey-stir; you'll be offered a real show as the skilled bartender pours the Sazerac beneath a veil of liquid-nitrogen. To soak up the drinks sample some of the Asian-inspired bar snacks like the pho-noodle wrapped braised beef rolls, or egg-yolk finger sandwich which can be topped with salmon, paddlefish or Siberian Sturgeon roe and caviar.
The Nest
For a drink with a view, head downtown to the Thompson Hotel. Their rooftop bar, The Nest, is an upscale and classy joint with a menu including fresh oysters and delicious cocktails. It was the place that Valerie Hansen, a Seattle Influencer, published fashion writer and travel blogger at Maple Leopard recommended for anyone visiting Seattle: "The Nest is a rooftop bar located in the newly constructed Thompson Hotel. Be sure to have a camera ready, you'll to be mesmerized by the sweeping, unobstructed views of the Seattle Waterfront: a very trendy and friendly atmosphere to grab a beverage and relax."
Where to eat
For those who look forward to sampling the local gastronomy on their cruise holiday, you will adore Seattle. Take your pick from delectable sweet-treats, international cuisine and the best fresh North western seafood and farm-to-table produce.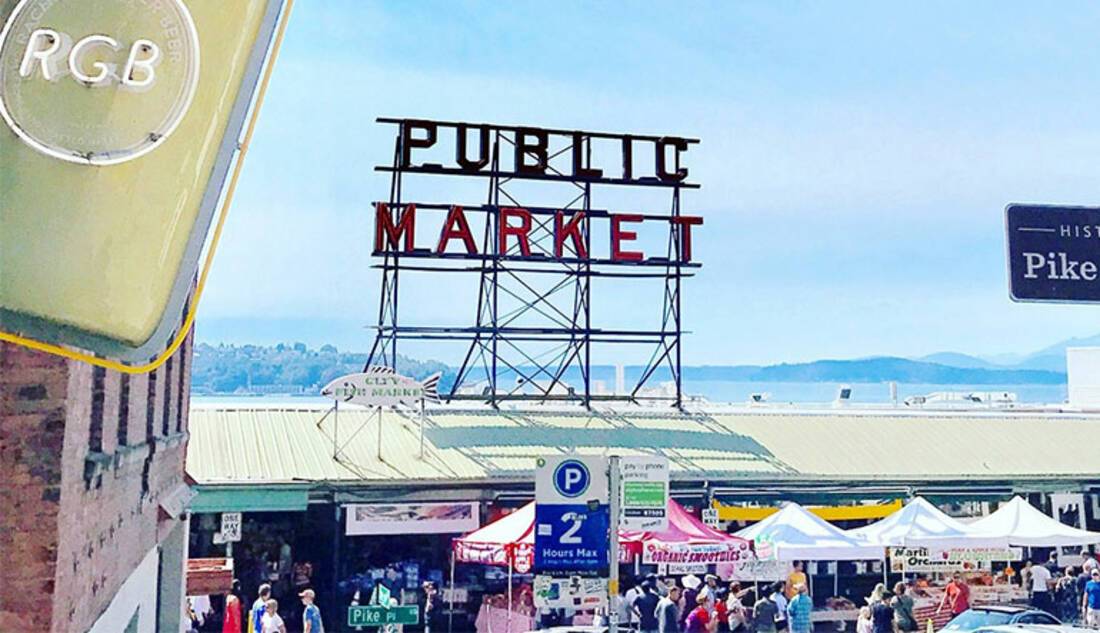 Pike Place Market
Home to both The Crumpet Shop and Daily Dozen, Pike Place Market is certainly the hub for food in the city. The market is a community and neighbourhood all in itself. Hundreds of farmers, small businesses and craftspeople flog their stock in the historic building.
As a Seattle resident, Valerie Hansen didn't hesitate to laud the Market: "Pike Place Market attracts over 10 million visitors annually, and is the 33rd most visited tour spot worldwide. Here you can feast on the best of NW cuisine, be entertained my zany street performers, and shop very unique gifts - all hand crafted by local artisans. The market is currently undergoing a 74 million dollar expansion: the first phase opened this past June."
Since opening in August 1907, Pike Place has become a focal point in the city. It helps to support local businesses and farmers, while supplying everyone with award-winning produce. Take your pick from the selection of light bites and casual dining to critically acclaimed restaurants, international cuisine, bakeries and much more.
Daily Dozen
One of Seattle's top cheap eat destinations, Daily Dozen Doughnut Stand in Pike Place, is the place to be for those driven by their sweet tooth. Head into the market and while your nose will be overcome with a brilliant blend of smells, you will be able to make out the distinctive scent of the freshly made doughnut batter being fried.
If your last minute cruise has docked in Seattle on a cold and grey morning these little golden rings are the perfect way to warm yourself up. Available with an array of toppings, the simple but delicious cinnamon sugar is a crowd favourite.
The Crumpet Shop
Locals and tourists alike flock to The Crumpet Shop for the taste of freshly prepared crumpets, washed down with a warming cup of tea or coffee. One of Britain's best-loved savoury snacks, the shop was established in 1976 when Gary Lasater opened the United Metropolitan Improved Crumpet Baking & Punctual Delivery Company. It has since been passed on to this children, Rob and Allison, who have maintained the great attention to detail that has made it so successful.
Where we merely spread some butter onto our crumpets in the UK, the Lasater family cover theirs will everything from walnuts, honey and ricotta to smoked salmon and cream cheese and so much more. All of this, including a pot of tea will set you back no more than $12, meaning you have no excuse not to pay it a visit.
Salumi Artisan Cured Meats
If you are ever in doubt for a good place to eat in a destination, follow the queues. And the biggest can been seen outside of Salumi Artisan Cured Meats. Locals might not be able to agree whether baseball, American football or soccer are better, but they will all agree on Salumis. Dishing up their legendary Italian salami and various cured meat sandwiches since 1999, this is the place to go for a bite on the move or a flavour of what the locals savour.
What to see
Come rain or shine, there are plenty of things to see and do in Seattle on your last minute cruise holiday. Enjoy the beautiful views of the parks or Alki beach, or head to some of the city's most recognisable tourist attractions. It has everything for lovers of art, sport, food and architecture.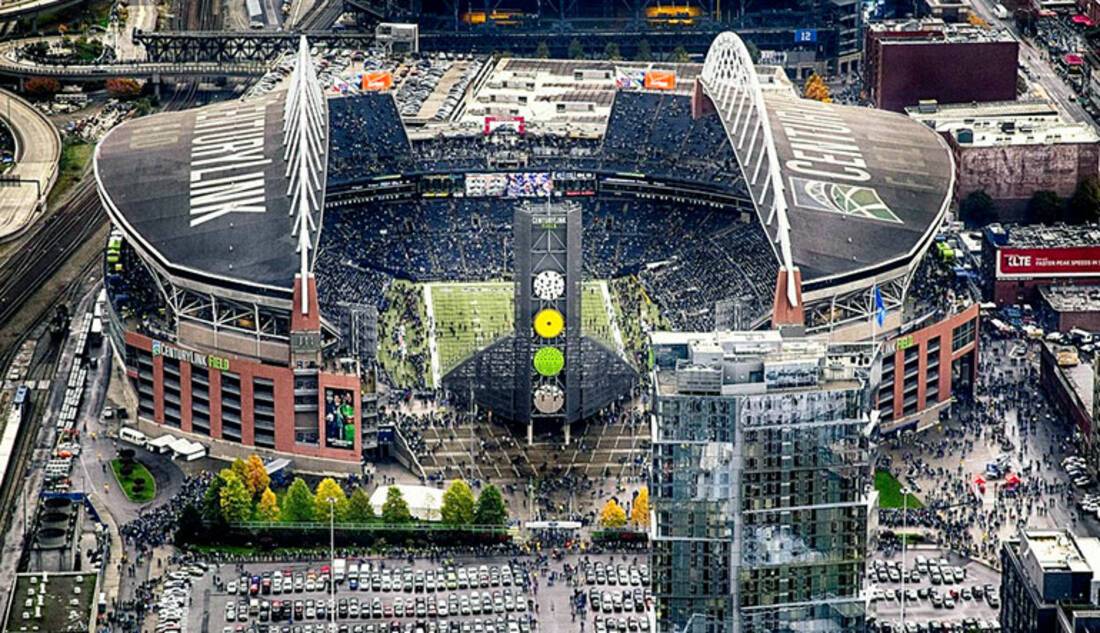 Watch a Game
Seattle is passionate about sport. With professional baseball, NFL, football (soccer), basketball, roller derby and ice hockey, there is plenty of live fixtures for you to choose from throughout the year.
Football
The Seattle Sounders FC and Seattle Reign represent the city in football, or soccer as it is called in America. Sounders are the men's team whose history may be short, but certainly successful. The side have featured in the playoffs in each season since their inauguration into the league and have even achieved the highest average attendance for the last eight years. Reign FC play in the National Women's Soccer League (NWSL) and have won the NWSL Shield in 2014 and 2015, despite only playing their first match in January 2013.
NFL
Super Bowl champions in 2014, the Seattle Seahawks are the only NFL franchise in the Pacific Northwest. Having joined the league in 1976 the Seahawks have won nine division titles, three conference championships and have reached the Super Bowl on three occasions, including that win in 2014.
If you're after atmosphere then head to the CenturyLink Field, where the World Record for loudest crowd roar was recorded during a game in 2013.
Baseball
Baseball is an American institution. With their intractable roof, the Seattle Mariners are blessed to have one of the league's most picturesque ballparks. The retro-style of Safeco Field at sunset is a beautiful spectacle that can be enjoyed by anyone, not just sports enthusiasts.
The Space Needle
You can't really miss one of America's, indeed the world's, most recognisable buildings when you visit Seattle. The Space Needle is the dominating figure of the skyline. You can choose between the 848 steps or the elevator to reach the Observation Deck, a full 520 feet above your head. Just below it sits the SkyCity Restaurant, famous for revolving to offer a full 360 degree view of Seattle.
Edward E. Carlson, an artist, was visiting Germany and inspired by the Stuttgart Tower, sketched a version of a similar "dominant central structure" for the Seattle World's Fair in 1962 on to a small napkin in a coffee shop. Once the land was purchased the Needle was challenged to be completed in a record-breaking time so it could feature in the World's Fair. It finished 400 days later, and welcomed more than 2.3 million people during the fair.
To enhance visitor experience, the Needle will welcome floor-to-ceiling glass in June 2018, making it the world's first rotating glass floor. Perhaps not for the faint-hearted.
Alki Point and Beach
It might not be sunbathing season, but you will still find some hardy locals heading to Alki Point and the beach to swim and walk. Tucked away in west Seattle, the two and a half mile beach presents a beautiful position to look out across the city's skyline and harbour. This is also where Seattle's first settlers landed back in 1851, with its iconic lighthouse having stood since 1912.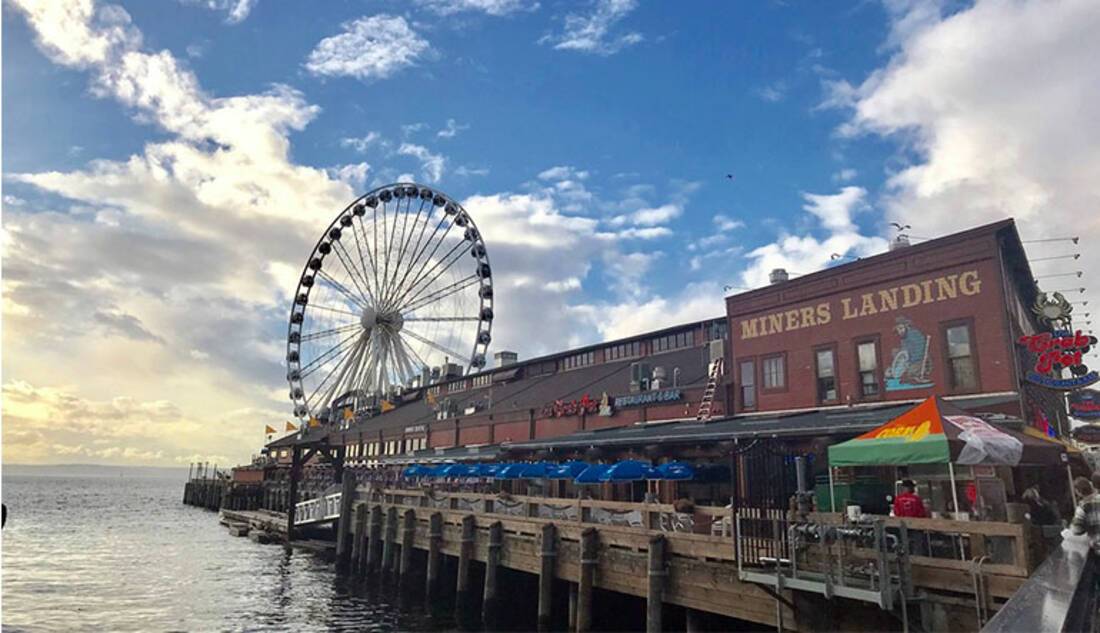 The Seattle Great Wheel
Standing proudly on the waterfront is the Seattle Great Wheel. It literally lights up Pier 57, with thousands of lights illuminating the structure during the holidays or a sporting event in the city. The Space Needle is the go-to for some pretty impressive views, but as Valerie Hansen says, The Wheel can more than compete with Seattle's most iconic tourist attraction: "If you are a thrill seeker, head down to the waterfront and ride The Wheel. Incredible views are sure to please here as well."
Since it opened in June 2012 The Wheel has become a go-to destination for locals and visitors. Standing at 175 feet, it is the largest observation wheel on the west coast of America with its 42 gondolas extending 40 feet beyond the pier to offer brilliant views of the area.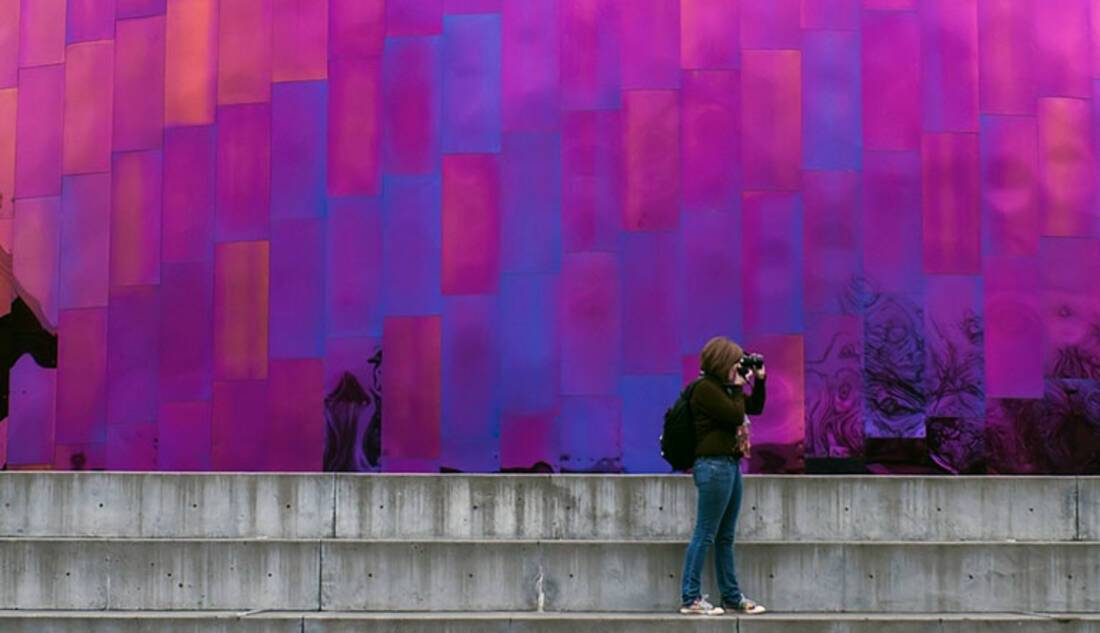 Museum of Pop Culture
Art and design seems to pour out of every nook and cranny in Seattle. It is therefore fitting that it is home to the Museum of Pop Culture (MoPOP). Opened in 2000, it began life as the Experience Music Project and was dedicated to preserving the impact that Rock & Roll has had on our lives. Now it endorses personal expression and creativity through its vibrant collections, exhibitions and educational programs.
The building itself is an incredible sight. Its exterior is made up of three-thousand panels that are covered with 21 thousand stainless steel pieces. Depending on where you are stood and the weather you will see a number of different colours presented from the museum's scales. Inside you can see an array of collections that range from music to film, gaming, art, sport and television. So whether you are a film buff or a huge David Bowie fan, MoPOP is the place to visit.
Natives of Seattle are bursting with pride for their city and it's easy to see why. The area offers incredible natural beauty, a thriving bar scene, award winning food and dining and world-class sport. If you are considering a last minute cruise holiday why not check out Seattle? We are sure you will not be disappointed.
Image Credit: Valerie Hansen Scott Webb Ganapathy Kumar Mobilus In Mobili