As the sun began to set, I arrived in Vancouver and couldn't have been more excited to be embarking on a two-day journey to Banff on board the world-renowned Rocky Mountaineer.
We were travelling on the First Passage to the West route, which goes from Vancouver to Banff, via Kamloops and Lake Louise. This particular route has been uniting the country and connecting British Columbia to Canada for over 125 years. It travels over the famous Canadian Pacific Railway which was Canada's first trans-continental line, opening in 1885, and is also the original route the Rocky Mountaineer started in 1990 when the last regular passenger trains on the line were disconnected.
Our journey began in the lobby of our Vancouver hotel, where we met our Rocky Mountaineer hosts who gave us our boarding passes. As I was travelling in GoldLeaf service, my luggage was labelled and then transported to the next hotel, to be awaiting my arrival that evening. It was indeed gold service! It was then a short five-minute journey to the Rocky Mountaineer terminal where we boarded the train.
The gleaming carriage looked so impressive with its bi-level coach and glass-domed roof. A red carpet was laid out as we embarked and made our way to the upper deck dome carriage. My first impression on entering was how much space there was and as I relaxed in my reclining plush leather seat, I was greeted by our on board host who served us a fruit cocktail to toast our departure. As the train pulled away, all of the wonderful station staff were lined up waving us goodbye. At this point I knew I was embarking on something special.
Shortly after departing it was time for breakfast, so I made my way downstairs to the separate dining area. This was an incredible experience in itself. We dined at tables of four and were immediately offered a warm, freshly baked pastry along with a selection of fruit. The breakfast menu was extensive and offered a wide variety from Eggs Benedict to pancakes – all of which was freshly prepared. Once breakfast had been enjoyed, it was time to retire to our seat to take in even more of the scenery as we travelled through Vancouver.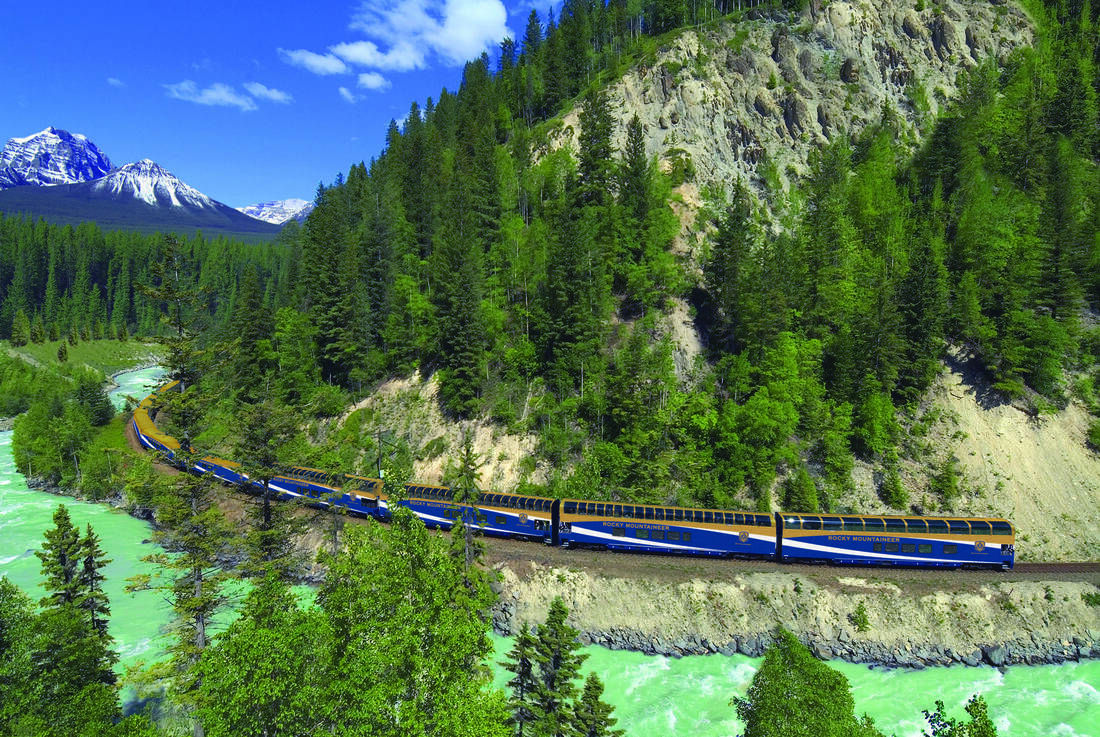 Marvelling at sights I'd never even dreamed of, the large windows mean you don't miss a second. Rushing waters flowed through lush green forests and vast canyons – it was simply mesmerising. And the wildlife was plentiful; we kept our eyes peeled for bears, elk, moose, bald eagles, osprey, salmon and mountain goats. At any time throughout the journey, we were permitted to stand in the outside area of the coach and take pictures.
The on-board hosts were extremely engaging, welcoming and happy to make the journey and experience as comfortable and as memorable as possible. With so much history and scenery along the way, the hosts would share their knowledge and point out all areas of interest. This route navigates through the Spiral Tunnels, the kicking horse canyon, along the scenic Thompson and Fraser River canyons, taking in the coast and stunning snow-capped peaks of the Canadian Rockies. The train then passes the spot where the last spike of the historic Canadian Pacific Railway was placed.
The remote Canadian villages are of as much interest, where you will learn of famous villagers who have made these areas memorable for various reasons. Embrace the history and visualise how life was as you travel through these scenic areas.
Whilst taking all this in, we were called to our three-course lunch in the dining area. I thought breakfast was indulgent, but this was something else! We started with warm baked breads and a seasonal salad or soup of our choice. The menu had a wide choice for all tastes and the friendly staff couldn't do enough to please you. With three courses of sumptuous food you really couldn't ask for more and the choice of main dishes would rival a luxury restaurant. Dining is split into two sittings and if you are on the first sitting day one then you will be on the second sitting on day two – but you will never go hungry.
As you sit back, relax and take in the scenery, the hosts ensure that your glass never sits empty and will offer snacks throughout the journey. The small attention to detail is outstanding. As I returned from lunch, my water bottle had been filled up and my blanket folded ready for me to settle back in for the afternoon. The knowledge of the hosts is remarkable and they share this with you at every opportunity along the way.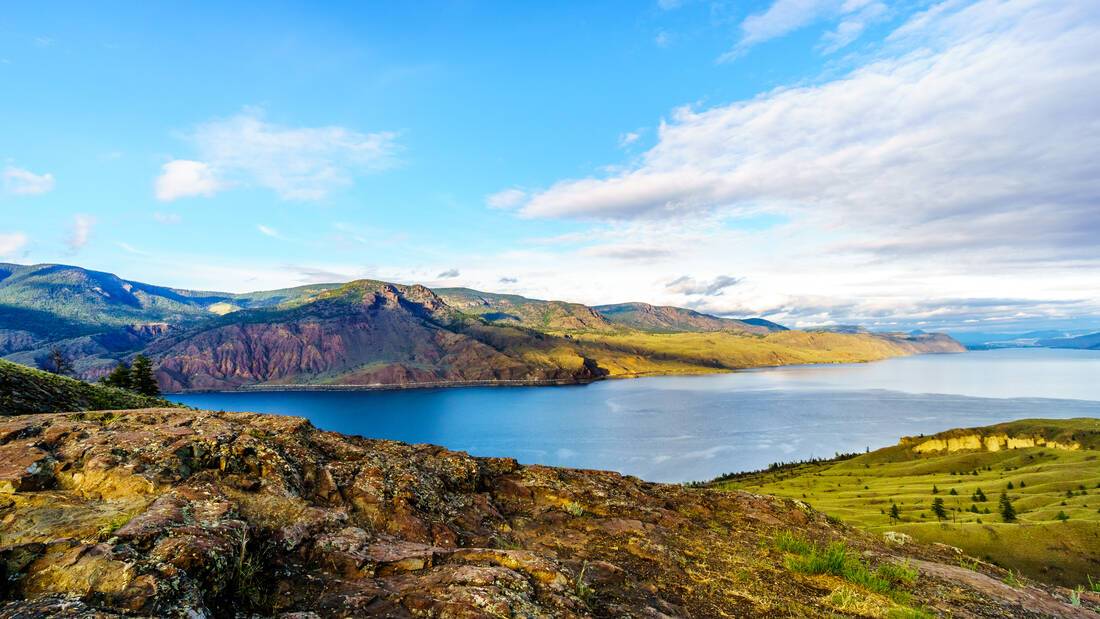 I disembarked in Kamloops for an overnight stay, where I had the pleasure of exploring the city whilst trying to find somewhere to sit down for dinner. Home to quaint shops and charming restaurants, the city's character shone through to make it a very enjoyable stop.
After a restful night's sleep, it was time for the second part of my journey, as I got back on board the Rocky Mountaineer heading for Banff. The change in scenery is wonderful to see as it transforms from desert-like mountains to the snow-capped Canadian Rockies. There are no words that can do this wonderful example of natural beauty justice. The winding river still accompanies you along your journey with tall pine trees on either side ushering it along towards the Canadian Rockies which tower into the sky. The outdoor area was an ideal spot to enjoy the awe-inspiring views.
On arrival in Banff again my luggage was waiting for me in my room but my journey wasn't over yet. The next day's agenda included a motor-coach tour from Banff to Calgary and along the way we stopped at a number of sights including the Hoodoos rock formation, Surprise Corner and Bow Falls.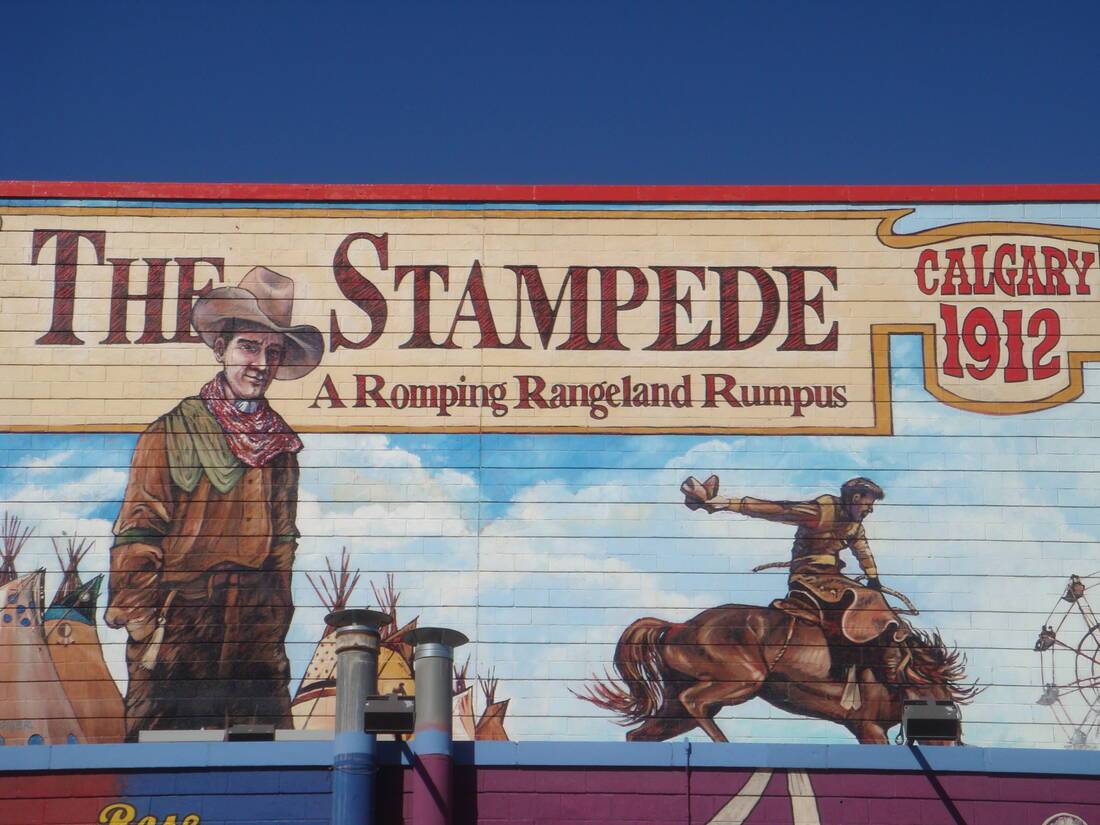 I have never travelled so effortlessly from check in to embarkation, whilst your time on board is so seamlessly straight forward. When arriving in Kamloops, the coach to your hotel is ready and awaiting your arrival right outside the train doors. Our room keys were handed to us on board the train as we disembarked so that we could go straight to our rooms, where our luggage had already been delivered. On day two again there is no need to check out or bring your luggage with you, just leave it in your room along with your room key and again they will find their way to your hotel room in Banff! The only thing you need is your boarding pass and camera – and be sure to have the latter on hand at any given time, in case you spot that lone bear or group of elk roaming in the Canadian Rockies...