Luxury river cruise line Scenic recently became my home-from-home for four days as we sailed the stunning Danube River. Scenic by name and Scenic by nature, their ethos of creating 'Wonder Moments' for all of their guests was justified as soon as we arrived in Budapest and I stepped out of the private airport-to-port transfer. Witnessing Scenic Opal docked directly across the river from Budapest's monumental Hungarian Parliament Building is a sight that I will never forget. As the only river cruise line allowed to dock in this unique position, Scenic guests will enjoy impressive views of the iconic building in all its glory during their overnight stay on board.
If the view hadn't instantly taken my breath away, then stepping on board for the first time certainly would have. Gleaming marble and glistening glass; shining mirrors; unique art and sculptures; plush seating; a grand reception and an extremely warm-welcome from the staff greeted us as we embarked the ship. We checked-in, received our key card and before we could object, our bags were whisked away to our sumptuous suite by friendly porters.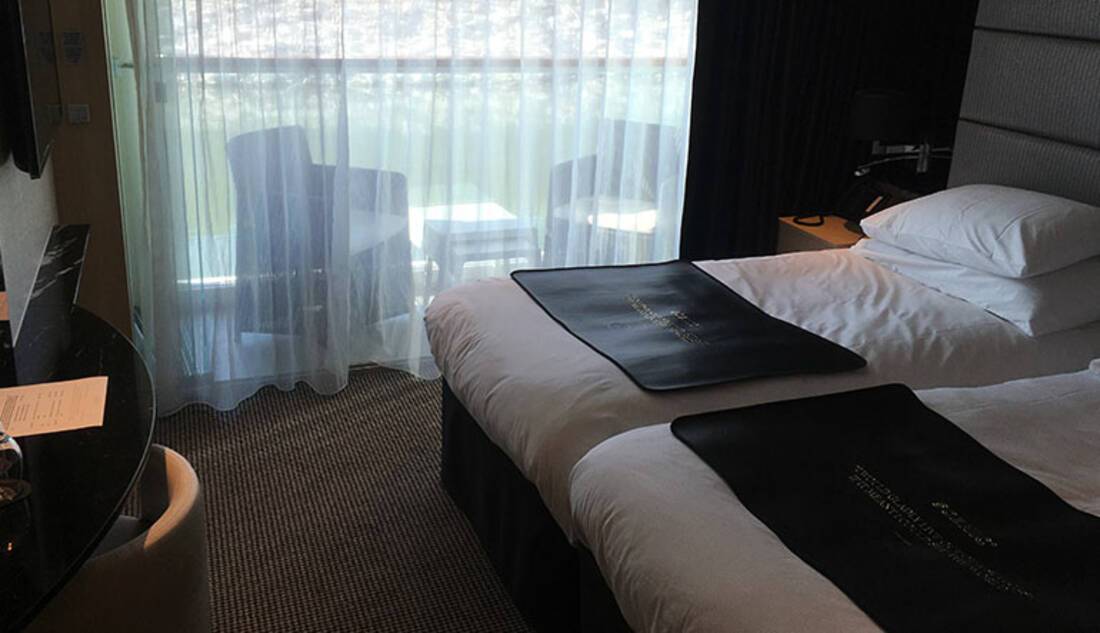 Our accommodation was a beautiful Balcony Suite. The twin beds with the finest Egyptian-cotton linen and sumptuous pillows were hard to resist after an early morning flight to Budapest, but we managed! Our Suite was gloriously-appointed and featured double wardrobes, a spacious bathroom, an Apple-TV, complimentary L'Occitaine toiletries, a mini bar and floor-to-ceiling windows with the ability to transform into an all-weather conservatory style space at the push of a button – one of the most exciting innovations in luxury river cruising to date. Soon after arriving in our room, there was a knock at the door and we were thrilled to find that our personal butler, Paulina, had arrived to introduce herself. All Scenic guests have this exceptional service available to them and the butlers are there to assist with anything from laundry and room service to helping book tours. After unpacking and revelling in the opulence of our Suite, we took to the Sun Deck to soak up the remarkable vistas with a cool drink in hand.
After spending an hour or so enjoying Scenic's fantastic choice of included beverages, we attended a welcome talk conducted by dedicated Cruise Director, Richard. Both funny and informative, Richard was unmatched in his knowledge of the cruise itinerary, tours, experiences and on board opportunities and was truly a delight to listen to.
After the talk, we were delighted to find that we would be dining at Portobellos that evening – Scenic's fine dining Italian restaurant reserved for just 30 guests at any one time. From our brilliant vantage point at the front of the ship, we were lucky enough to dine with a view as the golden Hungarian Parliament Building glowed against the night sky. Dinner itself was a delicious five course affair with wine pairings and included antipasti, the best mushroom soup I've ever eaten, saffron and prawn risotto, tender beef cheek and a choice of three desserts. Post-dinner, we enjoyed drinks in the Lounge as we enjoyed local entertainment – a Hungarian Folklore Show. Dressed in full Hungarian attire, four dancers were accompanied by a three-piece band and performed a knee-slappingly good show, much to the delight of all the guests. Before we knew it, it was time for bed and after a quick night-cap we returned to our Suite and slept peacefully throughout the night.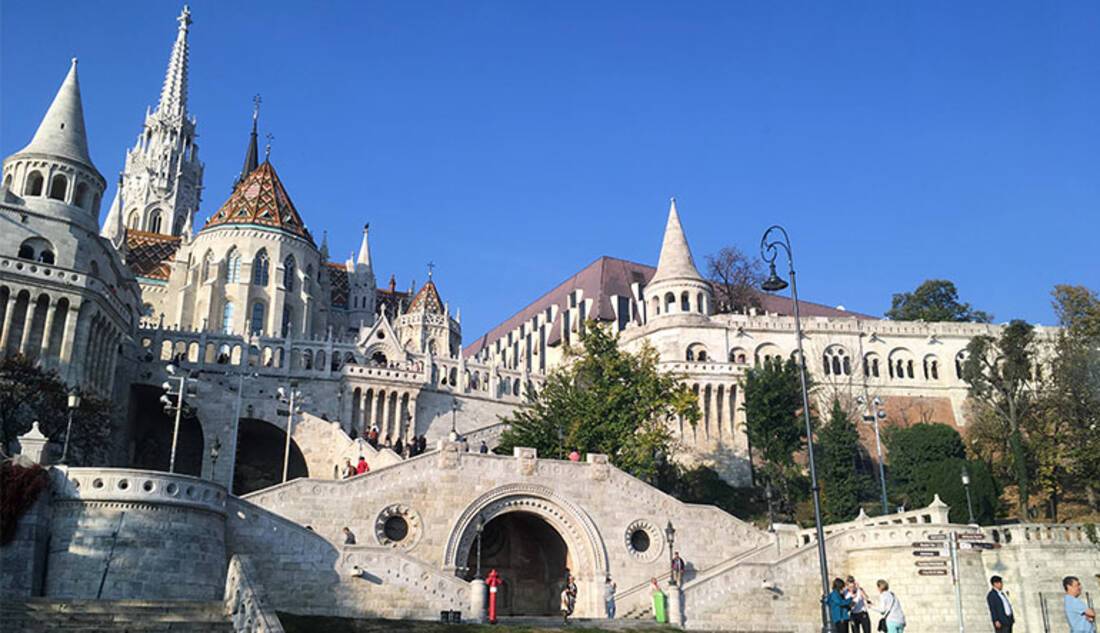 We were up with the dawn the next morning, ready for our Budapest city tour, but first we had breakfast to look forward to. We were unsure if we'd be able to fit anything in after the delicious meal we'd enjoyed in Portobellos the night before – but how wrong we were. Breakfast with Scenic means that you will never go hungry and with so much choice, you wouldn't want to skip the most important meal of the day. A continental choice of pastries, breads, bagels and cereal was on offer, as well as sausages, bacon, hash browns, eggs, cold meats, regional specials such as currywurst and even an omelette station where the chef makes your selected omelette right in front of you. As if this wasn't choice enough, you could also opt to dine à la carte and choose from a selection of dishes from eggs benedict and pancakes, to steak!
Once we'd had our fill of breakfast, we took a seat in the Lounge and waited to be called for our tour. This gave us ample time to familiarise ourselves with Scenic's unique Tailormade GPS system, available as an app to download or, for those who aren't as au-fait with technology, Scenic's own device. Downloading and using the app couldn't have been easier – with options for River View (to see points of interest as well as your location on the river), City Guide (to easily navigate around a city and learn more about the destination), My Cruise (to find out about your route) and Voice Guide (used throughout the tours with Scenic headphones).
Soon enough, our group was called, and we embarked the Scenic coach for our Budapest city tour. Having never been to Budapest before, I was excited to hear the knowledgeable local guide speak about the main city highlights – and I wasn't disappointed. Disembarking the coach, we were lucky enough to walk around stunning Fisherman's Bastion (Halászbástya), St. Stephen's Basilica (Szent Istvan Bazilika) and Matthias Church, all the while learning about Budapest's fascinating history, for example, I was surprised to learn that a series of tunnels run beneath Budapest. These were once used as cellars and bomb shelters. Following our city tour, we re-embarked the ship for lunch and, later, a delectable welcome Gala Dinner as we departed Budapest for Vienna.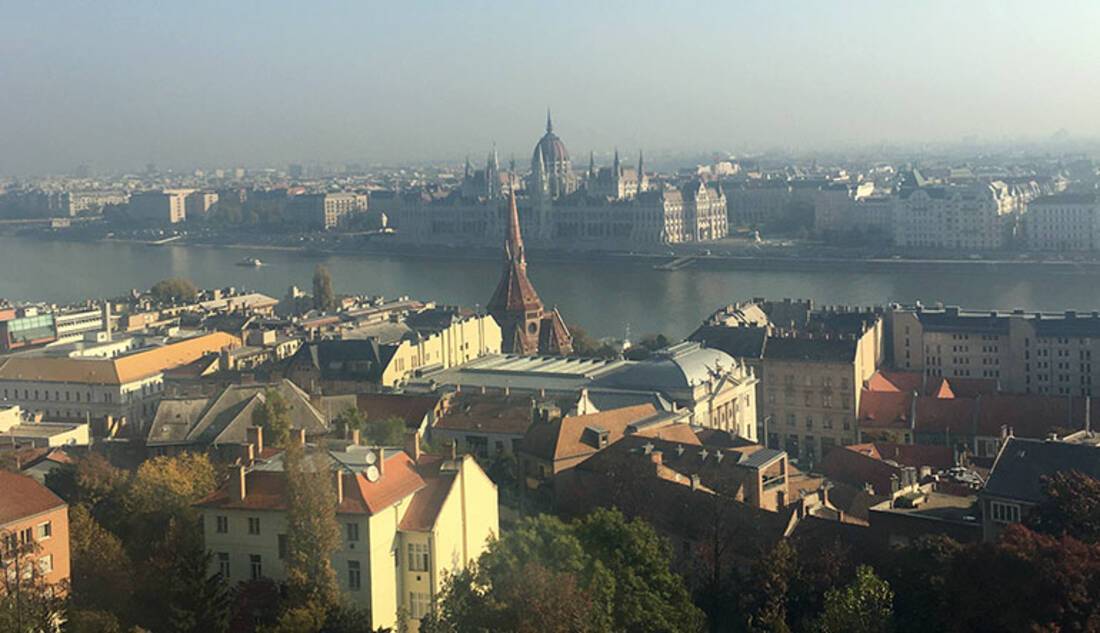 We woke to beautiful sunshine the following morning as we sailed the Danube River. One of the main highlights of my experience with Scenic was the floor-to-ceiling windows and conservatory space in our Suite. At the touch of a button, the top section of the window comes down to become a half-balcony. Watching the riverbank pass early in the morning was one of the most relaxing experiences on my trip and one that I will never forget. As we weren't due to arrive in Vienna until later in the afternoon, after another delicious buffet breakfast, I took the opportunity to familiarise myself with Scenic Opal and the amenities that she offers.
Complimentary tea and coffee facilities are available throughout the day in the Lounge, along with a selection of national newspapers, puzzle books and a small library. Should you wish, this is ideal for taking a coffee and book to a comfortable nook and whiling away the afternoon. For more active pursuits, there is a fantastic gym on board which includes a treadmill, exercise bike and weights to use, as well as optional yoga classes in the morning. If you'd like some fresh air while you exercise, then lapping the Sun Deck a few times is a good way to get your blood flowing, as well as enjoying spectacular views of the river. A small pool is also available at any time of day for those who enjoy being in the water, on the water – large enough for a few small laps as well as the ability to turn into a Jacuzzi at the touch of a button; guests should definitely find time to enjoy this. If relaxation is key to your cruise experience, then visiting the Salt Therapy Lounge is an absolute must. Scenic is the first and only river cruise line to offer the therapeutic Salt Therapy Lounge and the health benefits of salt therapy are well known and wide-ranging. The three-station salt lounges offer guests the chance to feel energised and healthier while relaxing. Aside from the on board amenities, Cruise Director Richard was on hand to give a port overview of the cruise, including the fantastic Freechoice tours that Scenic offer. He also entertained guests with a German language lecture dressed in lederhosen as his "German Cousin, Otto", which was met with much hilarity.
After exploring on board, it was soon time to get ready for an early dinner in the Crystal Dining Restaurant as that evening, we were attending an exclusive private Viennese concert featuring the enthralling music of Strauss and Mozart at Palais Liechtenstein – a once-in-a-lifetime Enrich experience only available to Scenic guests.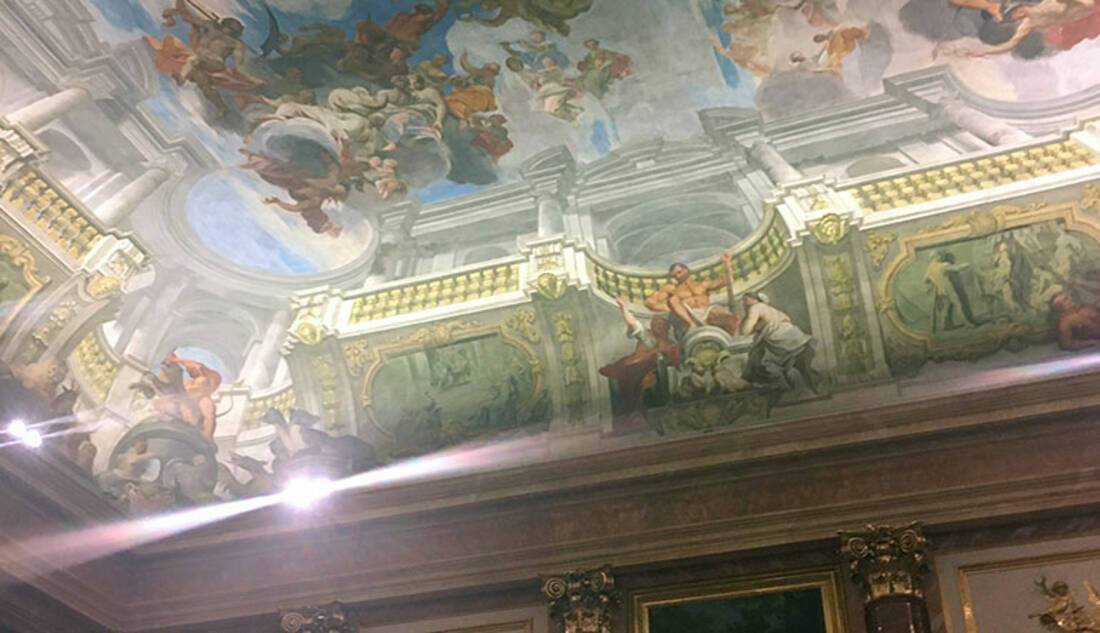 Palais Lichtenstein, situated in Vienna's inner city, is considered the first major building of the High Baroque age in Vienna. Home to a selection of masterpieces of the private art collection of the Prince von und zu Liechtenstein, Scenic guests can expect to experience the absolute lap of luxury as they arrive at this exceptional palace for their evening performance. Walking through iron gates and up the gravelled driveway, the sheer size of the palace is impressive enough, and that's before you even walk inside. As I walked through the double doors, I felt as though I had emerged into the inside of a Fabergé egg. Magnificent art, decorated ceilings, gold-covered décor and an enormous genuine-gold carriage awaited our arrival, as did a glass of the finest Austrian Sekt. Soon enough, we were called upstairs for the performance itself and, walking into the exquisitely decorated room, I was speechless. An enormous painted ceiling that would give the Sistine Chapel a run for its money greeted us along with red velvet curtains and gold-backed chairs.
Taking our seats, we eagerly awaited the concert and, much to my delight, it soon began. From Mozart to Strauss, the traditional Viennese orchestra absolutely stunned with their prowess – but that wasn't all, as two opera singers accompanied the musicians for some of the pieces. The acoustics within Palais Liechtenstein, combined with their powerful voices, meant that there was no need for microphones, and I challenge anyone not to get goosebumps when listening to their astounding vocals. Not only this, but the orchestra was also joined by members of the Viennese Ballet Company who conducted an exquisite performance. I can safely say that this exclusive Enrich experience, only available to Scenic guests, was one of my top highlights – and if you're lucky enough to experience it, it will undoubtedly be one of yours too. Leaving Palais Liechtenstein with the sweet, dulcet tones of Mozart in my mind, we returned to the ship for a late-evening snack of traditional Austrian sausage and pretzels – the ideal way to end the day.
Hungarian writer and journalist Sándor Márai once said that "Vienna wasn't just a city, it was a tone that either one carries forever in one's soul or one does not." Before cruising with Scenic, Vienna had long been on my bucket-list of destinations to visit, and I couldn't have been more excited for the day ahead. One of the best things about Scenic is that nothing is too much trouble. Our group had wanted to explore Vienna under our own steam and divert from the tours available – Richard, the Cruise Director, arranged our transfer to and from the city and it was no problem at all for us to divert from the planned tour schedule. Filling up on an early breakfast of croissants and coffee, we hitched a ride with another Scenic coach tour into the city.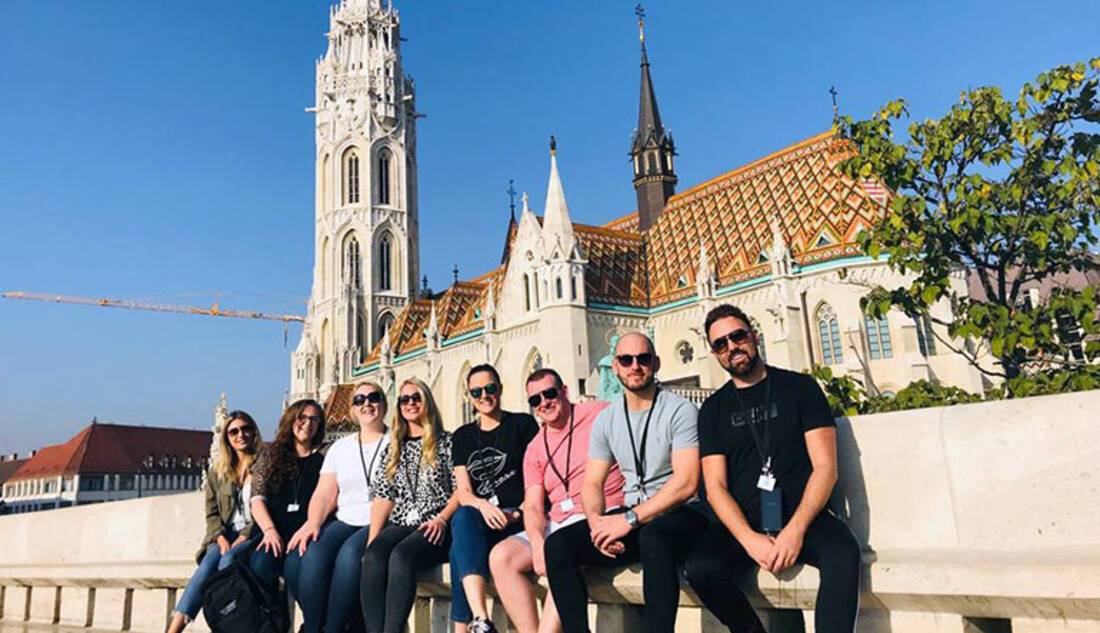 As we journeyed into the city centre, our knowledgeable guide informed us that it was The Austrian National Day, meaning that a lot of the shops, aside from cafés and souvenir shops, would be closed. However, upon arrival in the city we were privy to a number of military personnel and ceremony in the Heldenplatz, Hofburg and Volksgarten areas. I felt truly blessed to bear witness to such an important day in Viennese history. Listening to the Viennese guard playing their brass instruments in honour of their military past, present and future, I felt a true affinity for the Austrian capital. Aside from the military influence, guests visiting Vienna can experience baroque streetscapes, imperial palaces, artistic flair, a rich coffee-house culture and a vibrant epicurean scene. Scenic Freechoice activities include a visit to the Spanish Riding School, where guests can visit one of the most famous stable yards in the world, and one revered for its beautiful Lipizzaner stallions; a guided tour of historic Bratislava or a tour of Schönbrunn Palace to witness the sheer opulence of the Habsburg Empire; a guided cycling tour of Donauinsel; a visit to the Belvedere Museum or a journey outside of Vienna's city centre to its acclaimed wine region.
After arriving back at the ship from our trip into Vienna's city centre, we were lucky enough to experience Scenic's fantastic E-Bikes. I hadn't ridden a bike in years, so I was a little nervous to jump on one again – let alone one with power assist! But honestly, the experience couldn't have been easier, or more fun! With normal bike gears on the right and the power-assist gears on the left, everything can be done with the push of a button. Donauinsel or Danube Island was the location for our E-Bike ride and this recreational paradise offers an abundance of activities including bathing, boating, cycling, skating, volleyball and much more. Whizzing along on our E-Bikes, taking in the beautiful views of the Danube, is something that I would wholeheartedly recommend to all Scenic guests and we returned to Scenic Opal with smiles on our faces and hungry for lunch. Sadly, once lunch was done – another scrumptious buffet of lamb, dauphinoise potatoes and ratatouille for me – it was time to pack and disembark for our return flight home.
From beginning to end, our Scenic experience was simply unforgettable and is one that I will remember forever. Thank you, Scenic, for my unforgettable Wonder Moments!