Forming the tip of a narrow peninsula, the Spanish city of Cadiz is one of Andalusia's most attractive cities. Its neo-classical architecture lines the waterfront of the Gulf of Cadiz, an inlet of the Atlantic Ocean. Much like Havana's Malecón, a picturesque esplanade hugs the coast of Cadiz, giving visitors unique perspectives of the city's most prominent buildings.
It is widely believed that Cadiz is the oldest inhabited city in Western Europe. Ancient sources mention the founding of a trading base named Gadir in roughly 1,100 BC. Today, the old town of Cadiz is one of the most densely populated urban areas in Europe. Its narrow streets are lined with numerous homes, with laundry hanging between the buildings. Amid the maze of houses and apartments, picturesque plazas provide oases in the heart of Cadiz. Plaza de Mina, which was developed in the early 19th century, is filled with flora and fauna, while others, such as Plaza San Antonio, are surrounded by neo-classical and Isabelline Gothic mansions.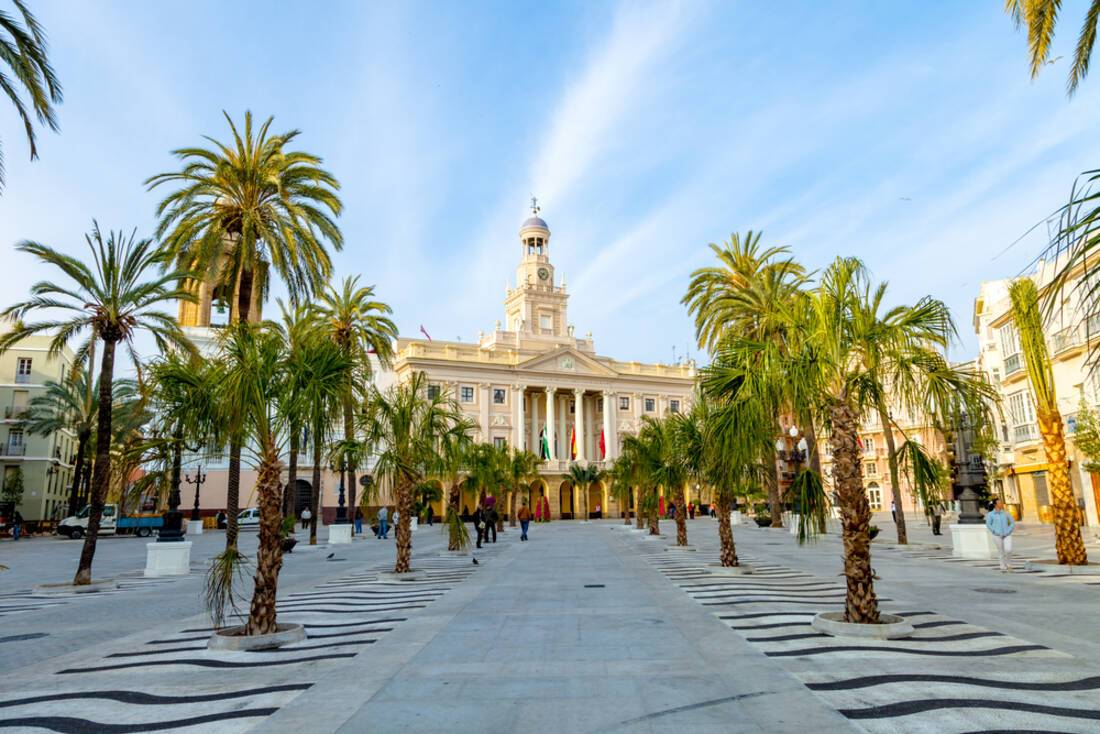 "Spain at its best"
Chloe of top UK travel blog Wanderlust Chloe believes that Cadiz is Spain "at its best". Having travelled extensively to all corners of the globe, Chloe had high praise for this Andalusian city: "It's charming, historic and beautiful, with an excellent food scene. I loved the vivid green water dotted with fishing boats, white buildings, and skinny cobbled streets running from one side of the peninsula to the other, historic towers and cathedrals, and the buzzing market hall."
We asked Chloe what her top three activities/attractions she'd recommend for those visiting Cadiz on a cruise stopover:
"1. Climb Cadiz Cathedral Tower: While many recommend climbing Torre Tavira, I preferred the views from the top of the cathedral. Not only could you see the city below, but there was also the beauty of the bells silhouetted against the cityscape
2. Hit the beach: There are a few beaches in and around Cadiz. My favourite was La Caleta which is on the old city's peninsula. It gets busy, but relaxing with that view is worth battling the crowds for!
3. Walk the entire peninsula: Cadiz is a really walkable city, and one of my favourite things to do was wander the entire peninsula, starting at Plaza de San Juan de Dios, then passing Parque Genoves, La Caleta beach, the cathedral, Roman theatre and more. You spot so much that way, and you can always stop for tapas and a cold drink when you get tired!"
As the birthplace of flamenco, Andalusia is a prime holiday destination for those seeking a true taste of Spain. And in the port city of Cadiz, there's certainly no shortage of culture. As well as its rich maritime history, the city today is known for its exceptional Andalusian cuisine. If you're unsure how to spend a day in Cadiz during your Fred Olsen cruise, we've created a guide to help you. Unlike other sprawling European cities, Cadiz is compact, allowing you to take in most of the sights and sounds in one day, if you plan wisely.
In the morning


Your cruise ship will dock in the Port of Cadiz, on the northern tip of the peninsula. Within moments of disembarking, you'll be in the most exciting part of Cadiz, with the historic Plaza España just a one-minute walk from the dock. Here, you'll find the Monument to the Constitution of 1812, as well as other historically-significant statues, and the Museum of Cadiz, which houses 17th century Spanish art and artefacts. Next door, the Plaza de Mina is the ideal place to rest and take in your surroundings. Built in the mid-19th century, this pretty square is a popular hangout, and is filled with trees and shrubs, forming an oasis.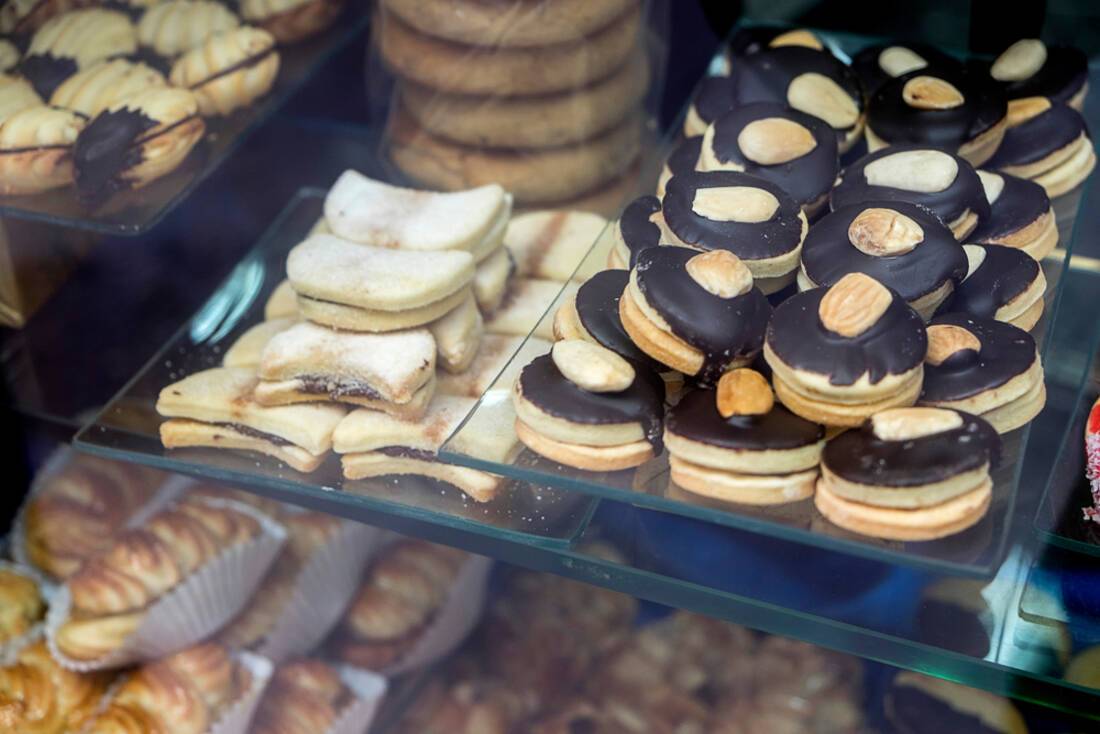 Traditional cafes and restaurants line the outer edges of Plaza de Mina if you wanted to stop for coffee and a classic Andalusian treat. Try tortas de Aceite, a wafer-like cake sweetened with orange, mostachones de Utrera, a cinnamon-flavoured cake, or leche frita – 'fried milk' – covered in cinnamon and sugar.
In the afternoon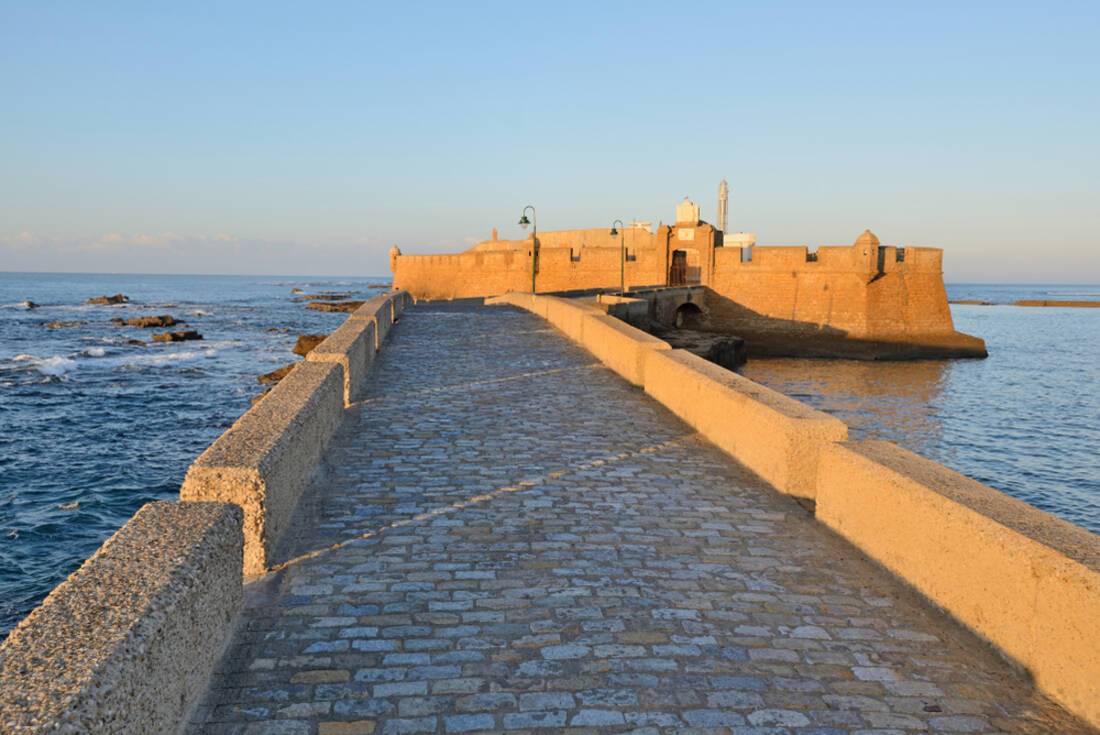 If you haven't already, be sure to wander along Cadiz' coastal promenades. With sweeping views over the Gulf of Cadiz, and palm trees lining the pathways, you'll feel like you're on a film set. From the maze of narrow streets in the heart of the city, make your way to Genovés Park, a tranquil garden set on the coast. From here, meander along the coastal walkway to reach the Castle of San Sebastian. The fortress, located at the end of La Caleta beach, was built to protect the northern part of the city from attack. Today, the castle is a cultural landmark, and the walk along the stone path through the water is a delight.
For lunch, there's no shortage of traditional Andalusian fare. Just remember that lunch in Spain is generally between 2 and 4pm. There are numerous restaurants along the waterfront, or you can make your way back into the narrow streets to find the locals' favourites. Try tortillitas de camarones, which are essentially shrimp fritters, fried in a beautifully crisp, golden batter. Or croquetas, an Anadalusian classic, made with a variety of fillings from tuna (which is found in abundance here), Spanish cheeses and nuts, and meat. If you have specific dietary requirements and limited knowledge of Spanish, 'carne' means meat, and 'pescado' means fish. If you're a seafood fan, the boquerones (fresh anchovies) are a true local delicacy.
In the evening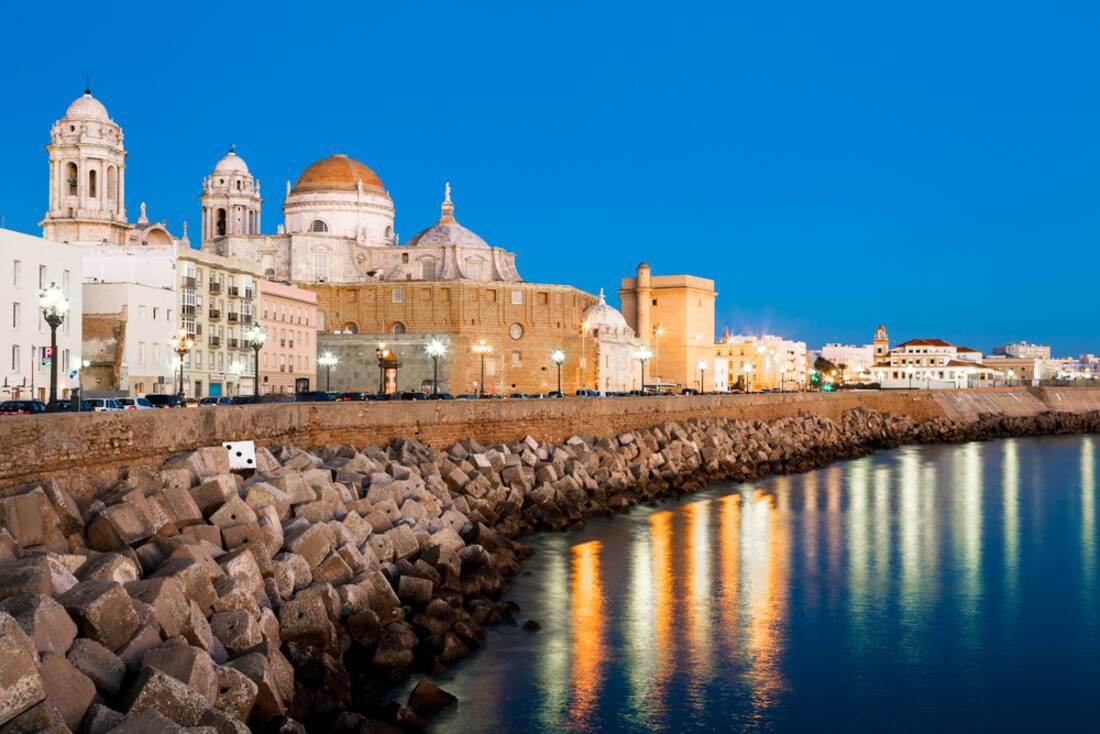 If you're staying late, save a walk along Avenue Campo del Sur until the evening. This waterfront walk will give you the iconic view over the Parroquia de Santa Cruz and Cadiz Cathedral. Of course if you're only in Cadiz for a short time, don't miss out on this part of the city. Between 5pm and 7pm, locals will often sit down for merienda, which is a drink and snack between lunch and dinner. Even if you're not taking part, it's worth stopping for a glass of wine or traditional Andalusian sherry and taking part in some people-watching.
Dining out in Cadiz in the evening offers yet more delicious local dishes. Pollo a la Canilla is a tasty chicken dish which is marinated in sherry and fried with laurel. For one of the finest cuts of beef you'll ever try, order the Retinto beef. Using meat from the iconic Retinta breed of cattle, not dissimilar to bison, this beef dish is of an extremely high quality, and is served with vegetables and very little seasoning so as not to detract from the true flavour. Seafood lovers shouldn't board their ship without trying Bluefin tuna.
Chloe of travel blog Wanderlust Chloe recommended her top three bars and restaurants in Cadiz:
"1. Casa Manteca: Without a doubt, Cadiz's most famous bar. This is a rite of passage for anyone visiting the city. It's lively with walls covered in old pictures of Cadiz's legendary carnival, bull fighting and more. Food is cheap and tasty, with the in house speciality being chicharrones – a type of pressed pork served on waxed paper.
2. Café Royalty: This historic spot is one of the oldest restaurants in the city. You'll feel like royalty as you sit dining in the lavishly-decorated restaurant, with ancient murals overhead and accents of gold all around. It's famous for picatostes – fried bread covered in sugar, which taste a little like fresh donuts.
3. La Candela: This modern tapas bar has an artier, more playful feel that many others. The croquettes were totally delicious, as was the marinated tuna, and presentation was top notch too."
For a spectacular sunset view over Cadiz, wander in to the city to the Tavira Tower – the highest point in the city. Dating back to the 1700s, this beautiful tower will give you unbeatable views of Cadiz, and if you don't make it here in the evening, be sure to check it out during the day. It's a five-minute walk from Cadiz Cathedral.
If you have time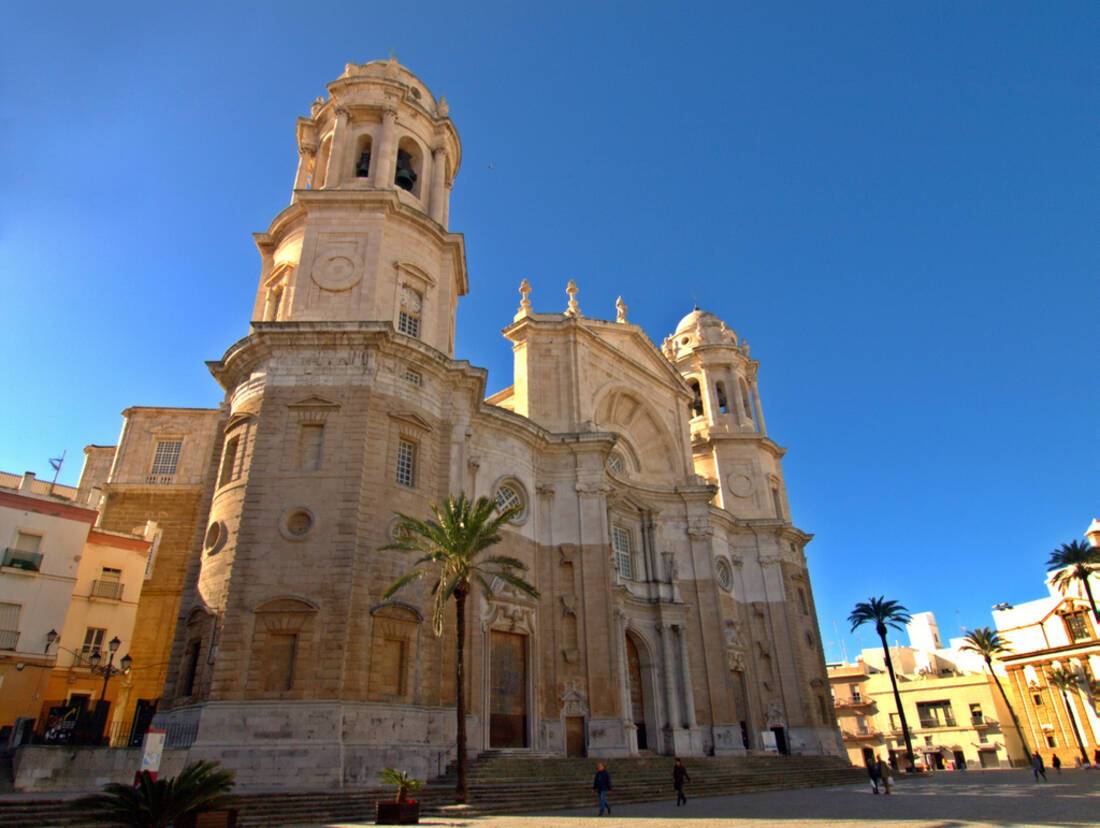 Barrio del Populo
The Barrio del Populo is the oldest part of Cadiz. Situated between the town hall and the cathedral, this is considered the city's medieval centre.
Gran Teatro Falla
In the heart of Cadiz, the Gran Teatro Falla is a spectacular theatre, dating back to 1884. Look out for the horseshoe arch entry and admire the unique red brick façade.
Mercado Central

For a flavour of the city's seafood offerings, browse the Mercado Central. The market has hundreds of stalls selling fresh produce, including a huge range of seafood. Food lovers won't want to miss out on taking a peek in this authentic Spanish market.
Dreaming of a holiday to this sunny Andalusian city? Take a look at our range of Fred Olsen cruises to start planning your next getaway.