A city of cultural treasures and majestic architecture, there is much to be unearthed in the colourful city of Marrakech. From dazzling maze-like souks to mesmerising, ornate buildings that have stood the test of time, this walled city has many spellbinding experiences to offer curious travellers.
Although you could easily spend a week whiling away the time here, for those who only have a brief window of time, we have put together a guide on how to spend one magical day in Marrakech and make the most of the sights, culture and food.
How to spend a day in Marrakech
Find your way around a souk
Exploring a souk is an absolute must when visiting this enchanting city. Navigating a souk gives a real look into Morocco's time-honoured trade culture while stimulating the senses with divine smells and twinkling trinkets.
"Here the air is rife with cries of gypsies, snake-charmers, wandering minstrels, magicians, and folk-singers," explains Bruised Passports on their blog. "There are tanneries on pavements, street artists in every corner, and vegetable vendors popping out of alleys. If you're not paying attention, you could end up with a monkey on your shoulder or snake wrapped around your arm!"
"Overwhelming? Yes! But they are the perfect amalgam of colour, energy, and vibrancy. There is nothing that isn't sold here - perfumes, spices, bags, clothes, baskets, shawls, carpets, shoes, even safety pins."
Appreciate Moroccan cuisine with a cookery class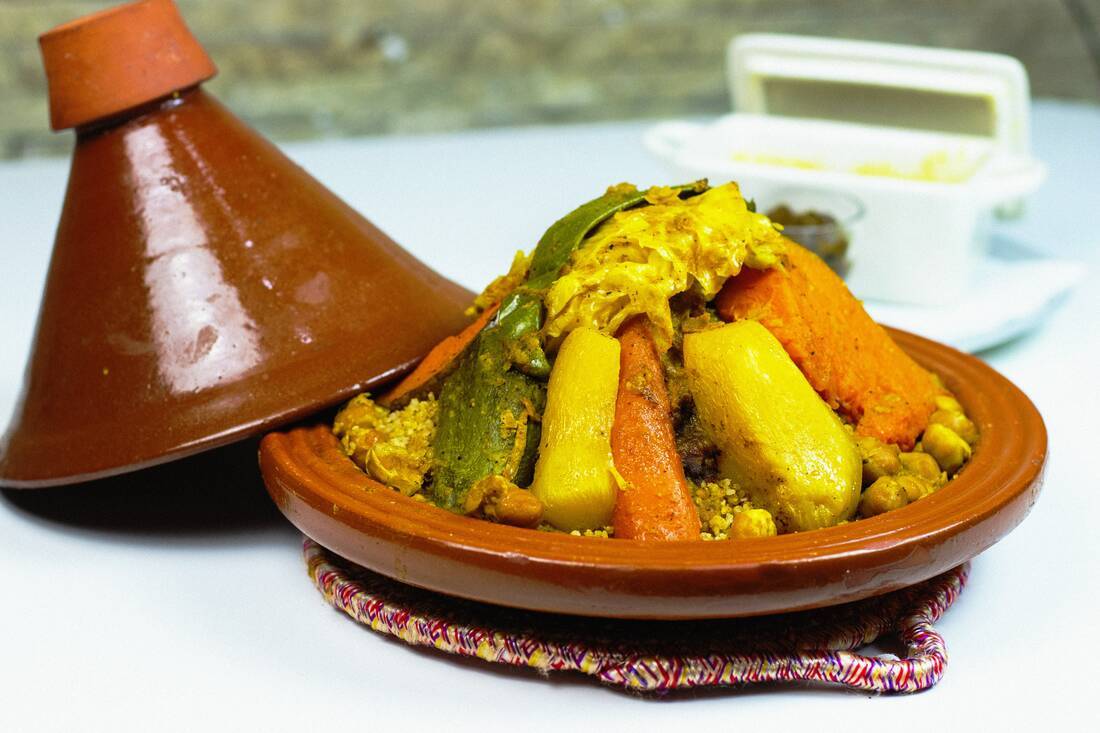 One way to really get to know a culture is through the food it offers. But as well as sampling Marrakech's otherworldly dishes, you can get a deeper understanding of the country's colourful gastronomical heritage by taking a cookery class.
Vegan Foodie Gems blogger Gemma told us about one cookery class in particular that she recommends.
"The Amal Center is a non-profit organisation in Marrakech dedicated to the empowerment of disadvantaged women through restaurant training and job placement.
"I took part in a cookery class to learn how to make a traditional tagine. It was amazing hearing how the centre had helped all the women and knowing the money I paid for the class would help them to do more. Oh, and my tagine was delicious and definitely a trip highlight!"
A Marrakech regular, Heather from Conversant Traveller also told us about her favourite cookery class.
"One of the reasons to visit Marrakech is the amazing food, and there's no better way to get to know the local culture than by taking a cooking class. There are several in the city, but our favourite has to be the classes at the famous La Maison Arabe.
"Located on the edge of the medina, this restaurant-hotel runs half-day courses in their stunning gardens where you get to learn how to cook tagine and traditional Moroccan salads (and get to eat the results of course!). They also have express workshops where you cook a tagine in just one hour!"
Enjoy a divine meal with sweeping views
After exploring Marrakech's divine offerings, there's nothing better than taking in the reaching views over the walled city while enjoying some delectable food and drink.
On their blog, We Are Travel Girls recommend dining at a beautiful rooftop restaurant called Nomad.
"This rooftop restaurant is an oasis above the medina. After a morning of bargaining for spices and scarves if you are prepared to do a little searching in the souk behind the Jemaa El Fna for Nomad (download City Maps To Go or Google Maps in advance!), you will be rewarded with a calm and tranquil spot to enjoy your lunch.
"Nomad serves up what's described as modern Moroccan food based on simplicity, using fresh local produce and spice to create twists on traditional recipes. I highly recommend the courgette and zucchini feta fritters!"
Take a load off at Le Jardin Majorelle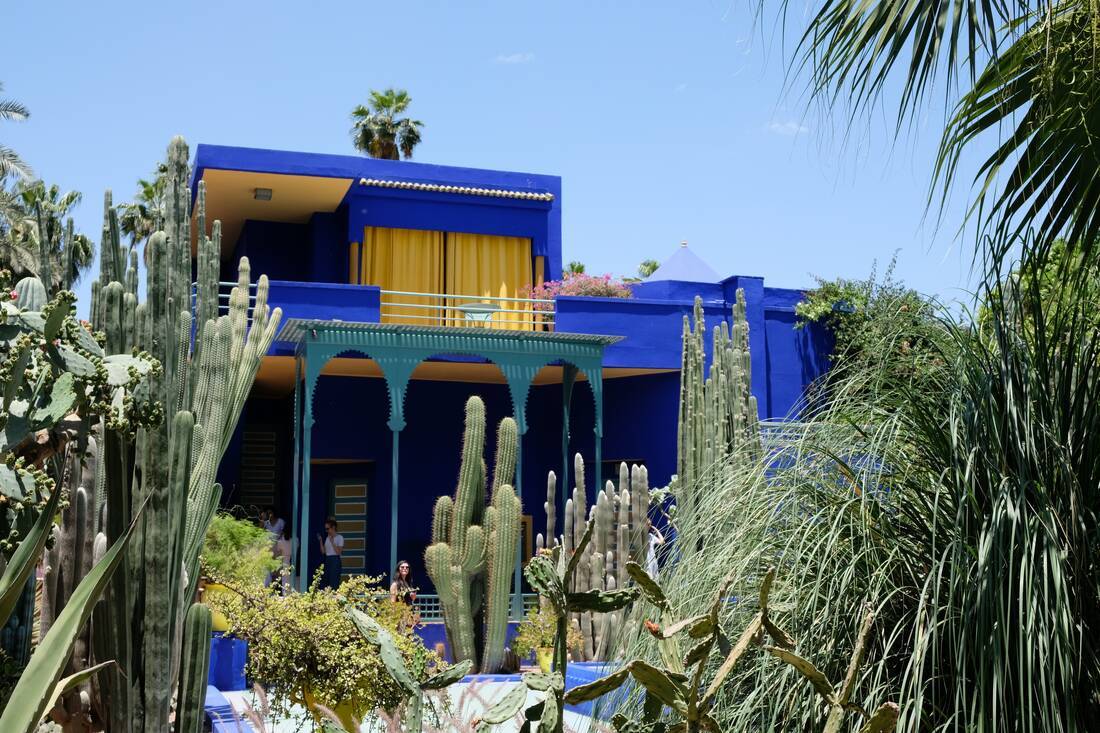 Part gardens, part museum, a visit to YSL's Le Jardin Majorelle is a must for nature lovers. Jenny from TraveLynn Family says it's the perfect space if you're craving some peace and quiet.
"You'll find a small botanic museum, plant-lined walkways and striking blue doorways waiting to be explored. In a city that can sometimes feel like the volume button is stuck on max, spend an hour or so here to remind yourself what silence sounds like."
Claire from Stoked to Travel also recommends exploring these stunning gardens and the adjoining YSL museum.
"Visiting Le Jardin Majorelle in Marrakech, also known as the beautiful and enchanting Majorelle Garden or the Yves Saint Laurent (YSL) garden is one of the best things to do in Marrakech. This enchanting garden is iconic nowadays and is most definitely one of the most visited attractions in the city.
"Le Jardin Majorelle was originally created and designed by the French artist, Jacques Majorelle. However, it has since been lovingly restored and enhanced by Yves Saint Laurent following his purchase of the garden in the 1980s.
"The YSL garden takes about an hour or two to wander around, but visitors will also find an interesting Berber Museum and a beautiful coffee shop. Adjacent is the newly opened Musee Yves Saint Laurent."
Things to do outside of Marrakech
If you have a bit longer to spend outside the walls of this dazzling city, there are plenty of outdoor experiences to be had that come highly recommended.
See the natural beauty of Ouzoud Falls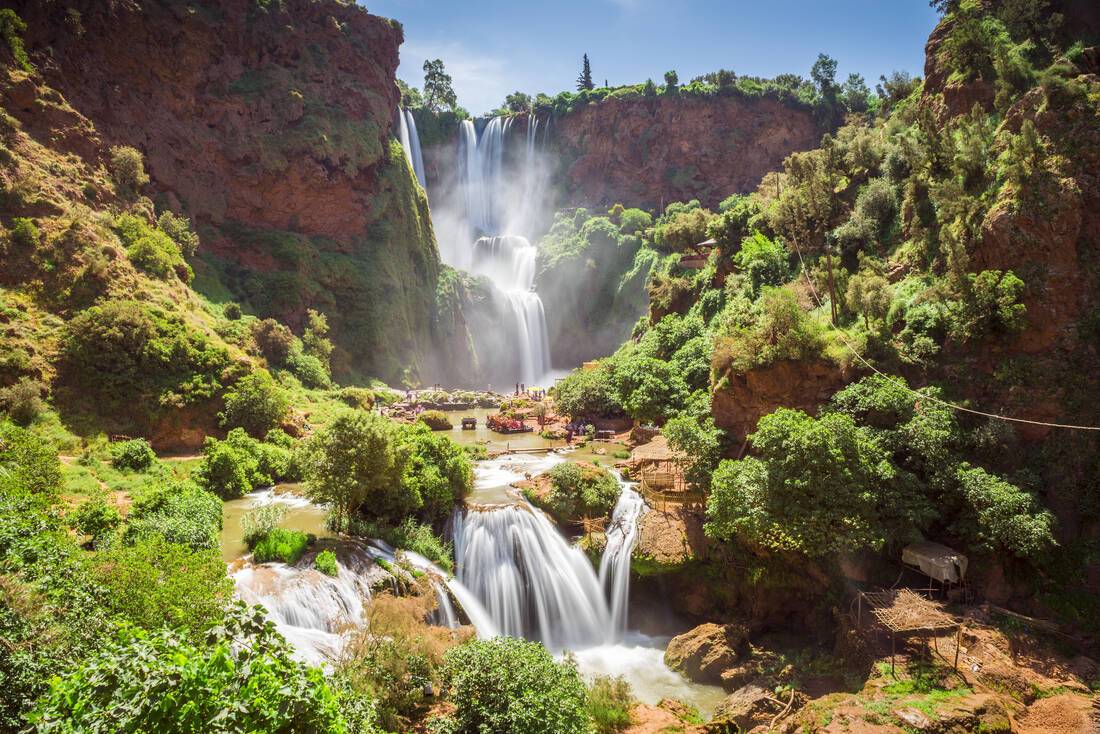 Take a load off from the hustle and bustle inside the city walls and get back to nature at Ouzoud Waterfall. Recommended by foodie and travel blogger Natalie at Hello Cuppies, she told us the experience was like nothing she'd ever experienced before.
"I will never forget the day trip we took to the Ouzoud Falls. The journey itself is exciting and once you arrive, you can walk around a little Berber village and visit an Argan oil cooperative. Monkeys roam around, the locals set up orange juice stands to keep you refreshed and once you reach the waterfall the views will blow your mind! Nothing quite prepares you for when you turn the very last corner and suddenly, you're greeted with the most thunderous sound of the falls and the most beautiful of sights. The walk back up has lots of little shops and restaurants too."
Marvel at towering cacti at Cactus Thiemann
If you love quirky day trips, you certainly won't want to pass up the opportunity to visit Cactus Thiemann, one of North Africa's largest cacti farms covering 17 acres of land. Founded by German agricultural engineer Hans Thiemann in the mid-1960s, the nursery has attracted many visitors to wander around the rows of these sky-high, spiky succulents.
"I visited Marrakech for a long weekend last year and one of the best things we did was head off the beaten track," Yaya from My Dreamality told us. "Cactus Thiemann is like a sea of cacti, most of which are as tall as buildings. There are about 150 cacti and it is like being in a cacti maze!"
Have we inspired you to experience Marrakech's rich and opulent culture for yourself? Check out our last minute cruise deals and find your perfect Mediterranean cruise today.