Welcome to the 2018 ROL Cruise survey! We asked over 500 cruise enthusiasts 9 questions about their cruising preferences and opinions. From their favourite cruise destinations to what they look for when considering cruise deals, this article takes a dive into the answers given by participants and what these consumer attitudes could mean for the cruise industry. We spoke to a range of cruise experts to see how the survey results compare with their experiences.
Here are the questions we asked our survey participants:
Our findings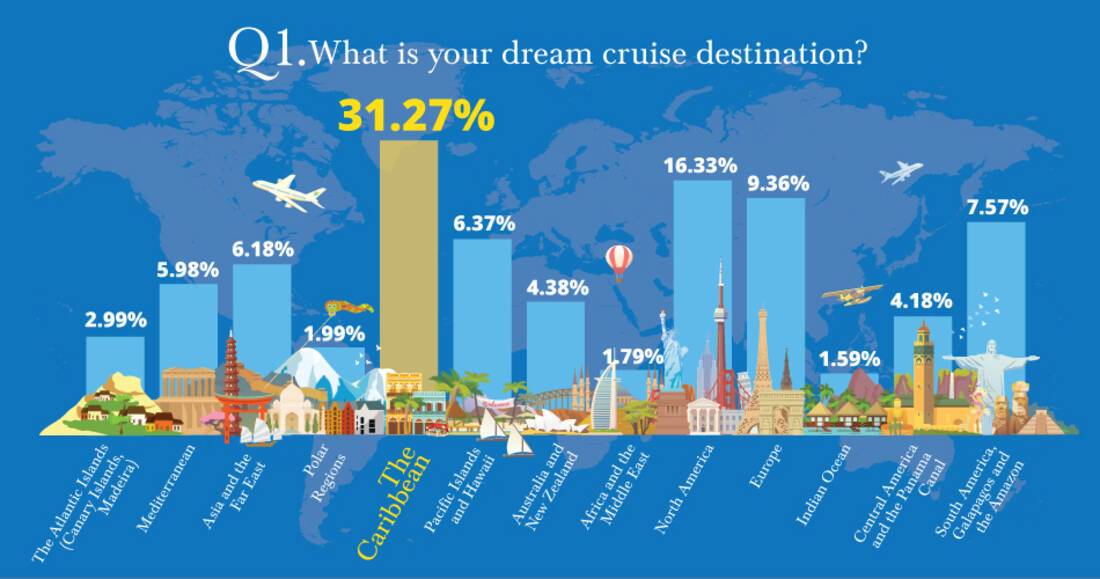 It comes as no surprise that the Caribbean takes pride of place at the top of these results. The prolonged sunny weather and tropical beaches have long attracted visitors to this holiday paradise and we can understand why over 150 of the people we surveyed listed this as their dream destination.
Adam Coulter, the UK Managing Editor of Cruise Critic, agreed: "The Caribbean continues to be a popular cruise destination for UK travellers and it's easy to see why. The destination is exotic, offers guaranteed sunshine, powder–sand beaches and a picture-perfect setting for all ages.
"North America is understandably also increasing in popularity – as more people want to tick New York, Miami and Mississippi river hotspots, such as Memphis and St. Louis, off their exotic holiday wish lists. With audience figures hitting 2.4 million viewers, the hugely popular Cruising with Jane McDonald TV show, which saw Jane thoroughly enjoying a cruise voyage along the Mississippi, might also have helped make the US a more compelling destination to visit for British cruisers."
Although not a traditionally popular cruising destination, we agree that North America is also not out of place in second position. With the rise in interest for areas like Alaska and Canada, alongside the buzz around holidays to the USA as spoken about by Adam, North America has a lot to offer travellers.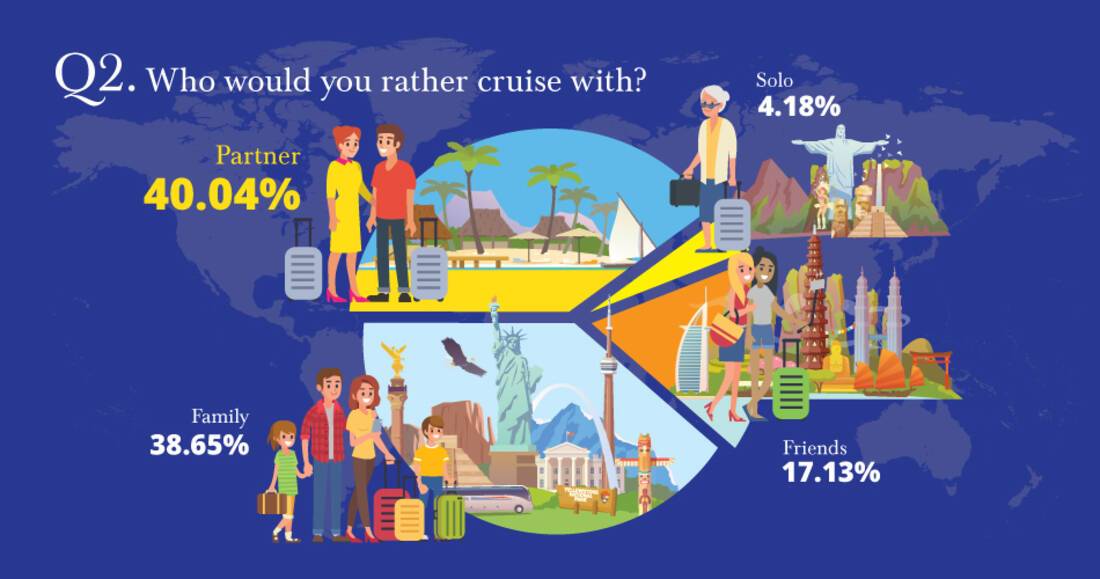 Our survey revealed that four out of ten people prefer to travel with a partner, while increasingly people are choosing to travel with extended family with over 38% confirming that family cruising is their preference. While 4% of travellers said they prefer to cruise solo, ROL Cruise has seen a real boom in the number of solo bookings it has taken, since it has been working with its cruise line partners on solo packages. In addition, in May this year, Booking.com found that 40% of global baby boomers have taken a solo trip in the last year, with a further 21% planning to take one in the future. So, there is plenty of evidence to suggest that even if people prefer to travel with their partners and family, they are still open to booking solo trips and this is perhaps becoming more 'socially acceptable'.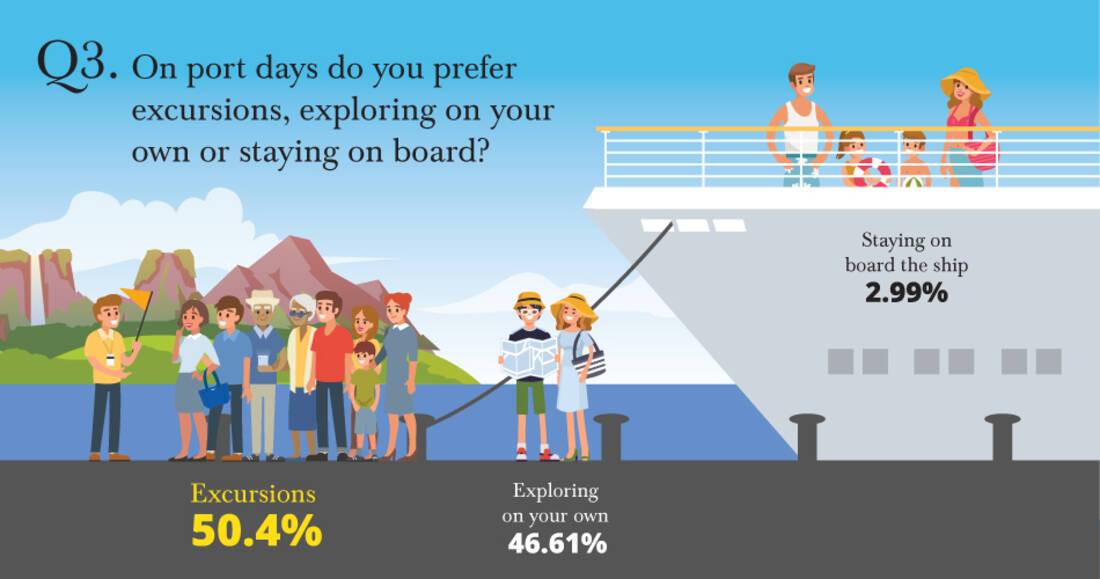 Here, we were keen to understand how cruisers spend their port days, whether excursions appealed or even whether staying on the ship was a preferred option. Last year, The Telegraph looked into the pros and cons of shore excursions, and ultimately found that: "Any ship's tour means less hassle and time spent planning than doing your own thing, but some cruise lines offer imaginative excursions that may be hard, or even impossible, to recreate." They continued: "If you want to tackle classical sites such as Pompeii (from Naples) or Olympia (from Katakolon), which are some distance from the ports, [an excursion] may be best."
Just over half of people would rather explore via an excursion, which makes sense when looking at the reason given in The Telegraph's article, and just under half would rather explore on their own. Almost 3% of people admitted they preferred to stay onboard the ship during port days, which would offer a much quieter environment to enjoy the ship's amenities. For us, one of the most exciting aspects of cruising is that it's all up to the cruiser and you can pick and choose what you do at each port, so you have full reign over what you do on your port days.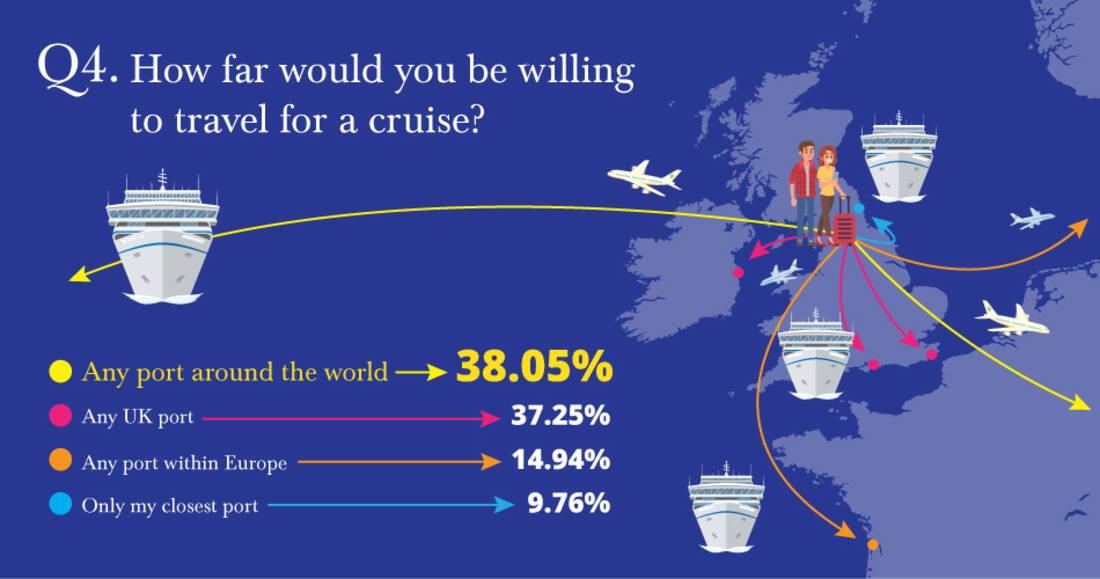 When taking a cruise, the most stressful part of the journey can often be getting to the port. For this reason, we wanted to see just how far people are willing to travel for a cruise. The figures that came back surprised us, as almost two-fifths of people admitted they'd happily journey to any port around the world to reach their departing port.
We asked Cruise Critic's Adam why he believes this could be: "People of all ages are definitely getting more adventurous about the cruises they want to take, and it is great to see that cruise fans are willing to travel to far-flung cruise ports to realise their dreams. It's also exciting to see that cruise options continue to grow, with destinations all over the world welcoming cruise travellers. The world is certainly becoming a smaller place, and many people are taking a leaf out of their children or grandchildren's own exotic travel adventure books to experience more of the world in a more luxurious way."
It's important to note that no-fly cruises remain a popular choice, sailing from ports throughout the UK and giving passengers the chance to holiday without the hassle of flying.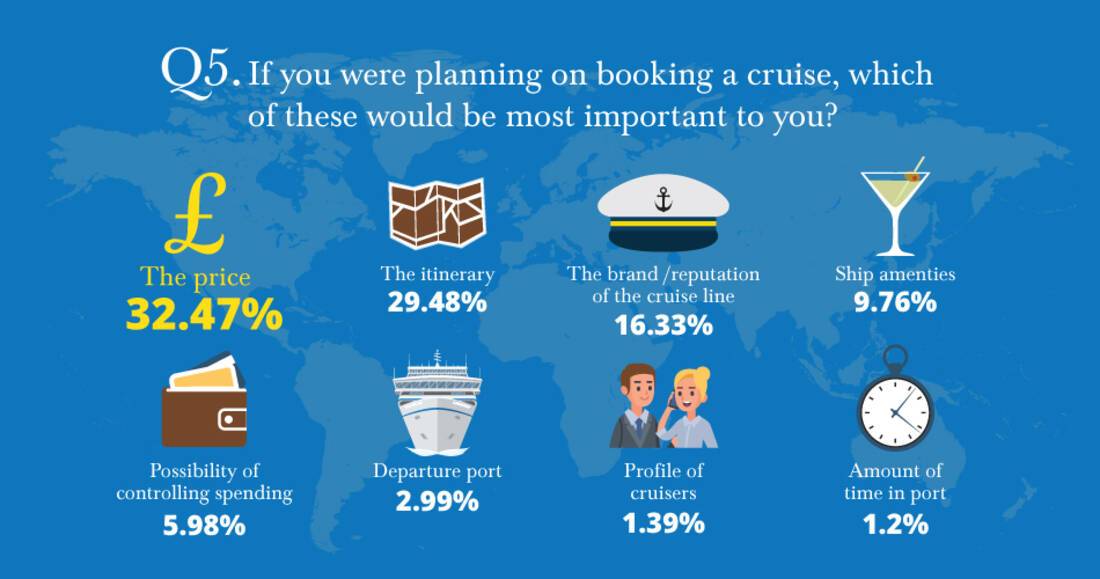 It comes as no surprise that price remains the most important factor when booking a cruise holiday. However, what is interesting is how highly cruisers regard the brand and reputation of their chosen cruise line. Through review websites such as TripAdvisor, discerning travellers can determine whether they trust a company and indeed what their pros and cons are. The rise of these online reviews show how important a brand's reputation is, and that a good price isn't always enough to set brands apart from the crowd.
Cruise Critic is the hub for cruise reviews and hosts multiple forums for the cruising public to share advice. Managing Editor Adam said: "We found similar research findings in our own poll taken a few months ago - that destination and price continue to be a key consideration for UK cruisers when booking a cruise.
"The fact that a cruise line's reputation is also becoming more important to cruisers, highlights the important part a leading cruise information website like Cruise Critic plays, by offering comprehensive ship and cruise line reviews so that cruisers can make truly informed decisions before they book."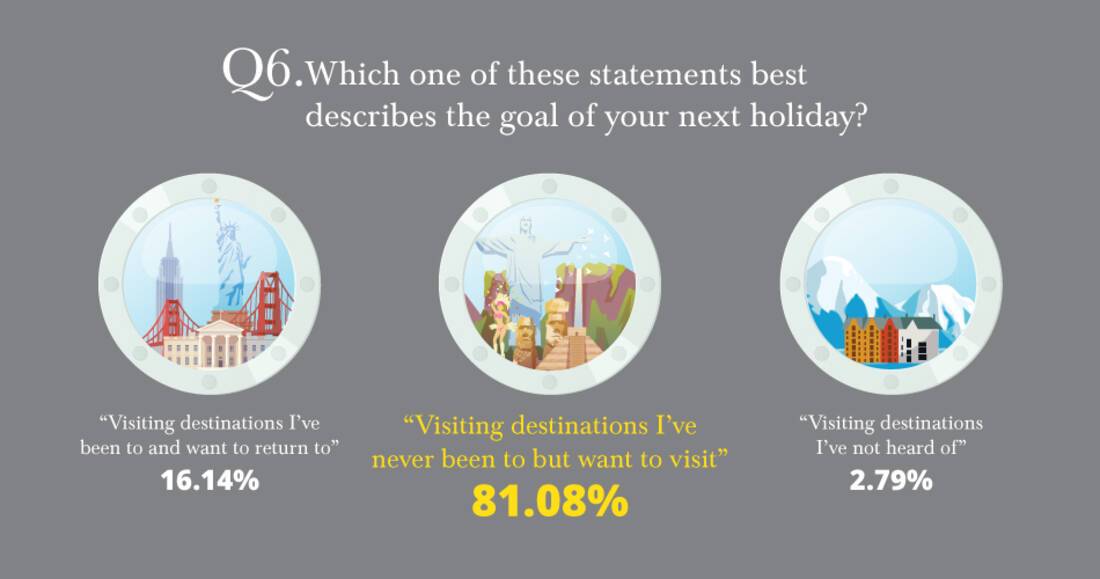 It's often said that we are creatures of habit. 16.14% of cruisers admitted that the aim of their next holiday is to visit a destination where they've already been. But it's important not to be judgemental! One of the wonderful things about cruising is that you can choose an itinerary visiting multiple cities, countries and even continents (on a world cruise) so that you can get a flavour of each location. Once you've decided which places you want to return to, your next cruise holiday could be to that country or region, such as the Mediterranean, the USA, or Southeast Asia but could also include other locations in those areas that you haven't yet visited. 2.79% of respondents were even brave enough to suggest visiting destinations they've never heard of! And with such a broad range of cruise itineraries on offer catering to even the most adventurous traveller, this goal is easily achievable.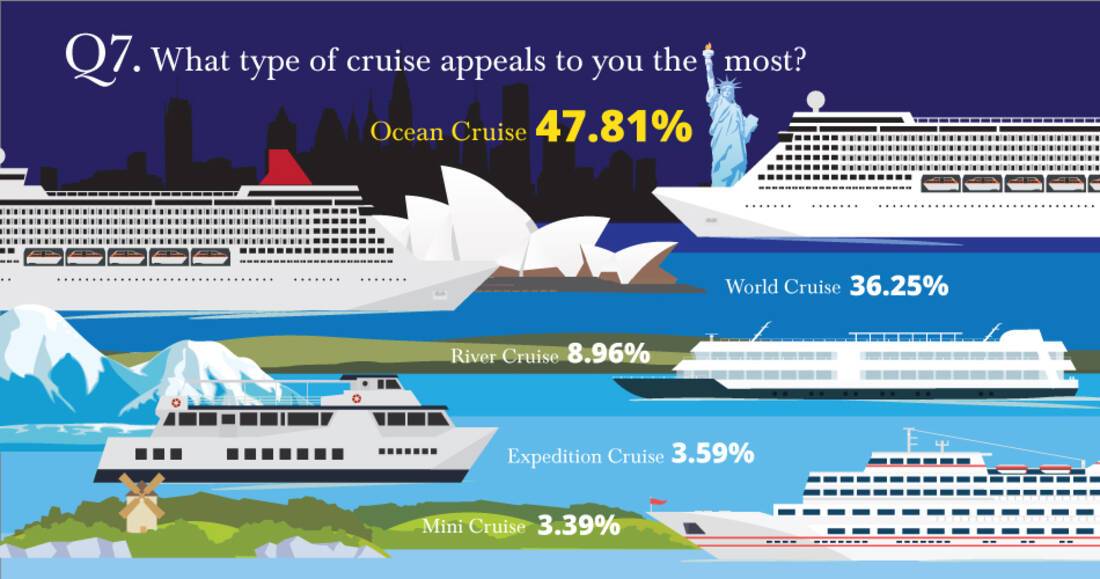 With expedition and river cruises becoming more popular, we were eager to see which types of cruise holidays appealed to our participants the most and the least. Ocean cruises have long been the most traditional style of cruise, so seeing them take the top spot was no surprise. What is interesting though, is that over a third of participants chose a world cruise as the second most appealing type of cruise.
Adam of Cruise Critic told us why he believes a world cruise has taken the second spot: "A world cruise has always been an iconic dream holiday for many - and for a number of decades. With its inimitable mix of sustained luxury, R&R, and promise of seeing the world on one seamless, unpack-just-once sailing, a world cruise is certainly a perfect choice if you have a lot of time on your hands and want to tick off many bucket-list dream destinations all in one go.
"With demand for world cruises continuing to rise, more cruise lines are now offering a variety of world cruise options. You don't always have to book the entire voyage either. Many sailings are divided into segments that let you experience an extended voyage in a region of the globe that interests you most. Savings particularly add up when you bundle two or more segments back-to-back into your own mini-world cruise – making certain world cruises more financially viable than many people think."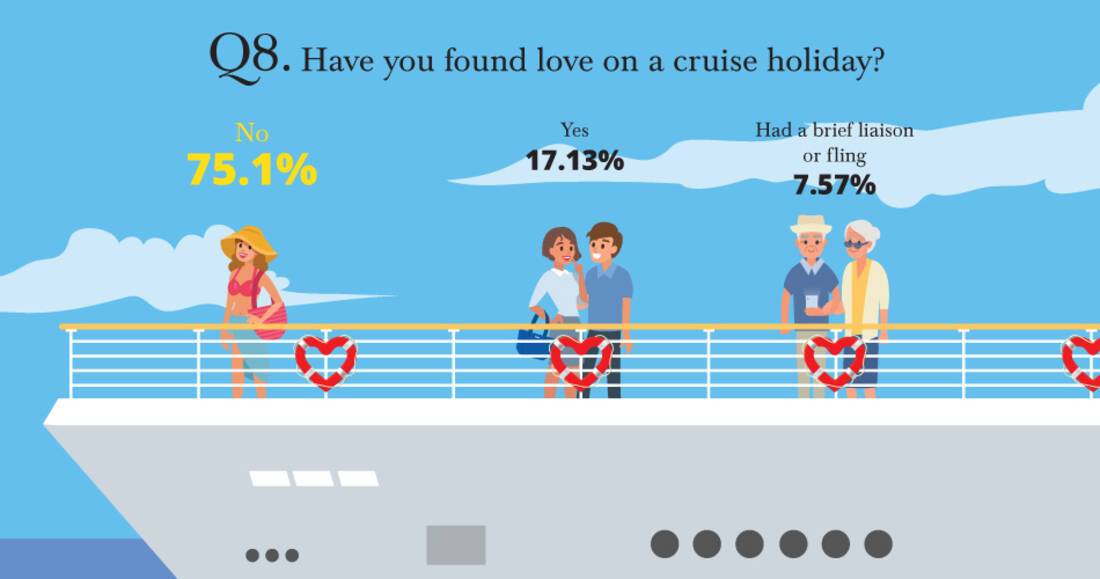 For some travellers, romance might be on the cards. In fact, a recent survey by HSBC found that 1 in 50 aeroplane passengers meet the love of their life on board an aircraft. From this survey, we can see the chances of finding love on a cruise ship are roughly the same, but wouldn't you rather meet the love of your life with a cocktail in your hand by the pool whilst exploring the world together?
Adam from Cruise Critic also spoke to us about his take on these results: "This is lovely news. Cruising has long been considered one of the most social forms of travel, based on the fact that you're exploring the world alongside a select group of travellers, with activities and social venues all on board.
"Research also shows that 1 in 10 Britons are now travelling solo on holiday, and cruise lines are quickly adapting their offerings to enable more travellers to go it alone. Today, solo cruisers can expect tailored activity programmes, dedicated cocktail parties for mingling, and dining companions hand-picked for compatibility - so there are certainly plenty of great opportunities for unattached singles to meet someone new. Encouragingly, many cruise lines are now rolling out priced-for-one solo cruise cabins on both new and reconfigured ships to meet solo travellers' needs."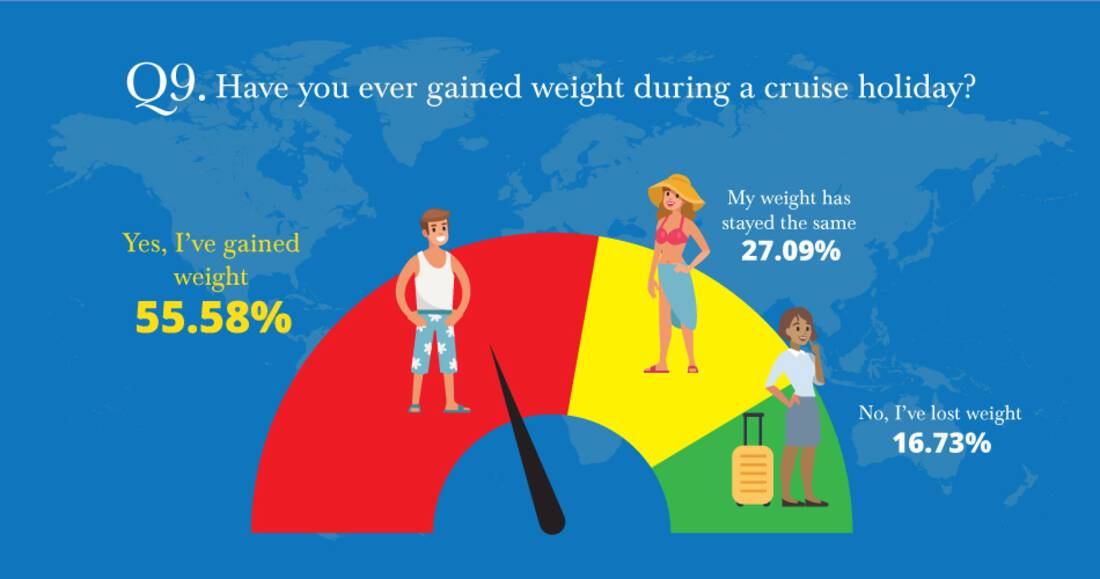 A holiday is a time to indulge, to take in some of life's finer things and worry about the consequences later. And cruises, with their fantastic high-quality restaurants, brilliant room service and generally all-inclusive dining options are the ideal place for this. That's why we're not surprised to hear that over half of participants gained weight on a cruise. However, as the other half prove, there are healthy options for cruisers that are focused on maintaining their healthy lifestyles, such as taking advantage of lighter dining options and the brilliant exercise opportunities on board.
"Like any land-based holiday, the temptation to indulge can be high on a cruise ship – particularly with the abundance of spectacular cuisine on offer on a 24/7 basis," said Adam. "But more than ever before, lines are dedicated to offering options for those on special diets or with dietary restrictions, so it's easier than ever to balance that temptation with healthy options.
"For those who do indulge, there are certainly many ways of reducing the extra poundage. Not only do most ships have exceptionally well-kitted out gyms, but many also offer a range of free fitness classes. You can also do it yourself by avoiding the lifts and taking the stairs instead; undertaking energetic swims daily, walking or jogging on deck and by taking part in more active shore excursions."
What do the results mean for the cruise industry?
We were very excited about conducting this survey and were surprised by some of the results. It's fantastic to hear that travellers are willing to venture further afield on a world cruise! It is in many ways the ultimate holiday, with all the comforts of home and the chance to sail to different continents and experience a variety of cultures.
It is also wonderful to hear that so many travellers are finding love on cruise holidays. We can't imagine a more romantic way to meet a partner and are so pleased to be part of this journey for so many cruisers.
Overall, the survey produced some very interesting results and it's fascinating to get this insight into people's hopes and aspirations when it comes to cruising. Many cruise lines are rolling out exciting new itineraries and breaking new ground so we're looking forward to seeing how the results differ next year.
Danielle Fear, known online as Cruise Miss, has consistently been regarded as one of the best cruise bloggers in the world for over five years, so we knew she'd have some great insights to share regarding the results:
"I'm not surprised by some of these figures, especially when it comes to the Caribbean being the dream cruise destination. I've visited several times and it's still at the top of my exotic list. I'm also not surprised to see the appeal for a world cruise, putting it in prime position. Who wouldn't want to travel the world? I've been there and done it, and what an experience it is.
We'd like to thank everyone who took part in the survey and Adam and Danielle for their invaluable insight. If you'd like to share these results please find our full infographic and share code below. We can't wait to see what the next year holds for the cruise industry and look forward to hearing from you again in our 2019 survey!


Share this Image On Your Site