Tokyo: A fast-paced city that dazzles in tradition and culture with an unadulterated passion for the new age of technology. This remarkable capital city can offer you an explosion of cultural experiences unlike any other. With draw-dropping sights that surround you wherever you turn, whilst exploring Tokyo you will uncover treasures of bygone eras, as well as fashionable and cutting edge technology that'll blow your mind.
We asked bloggers and lovers of Tokyo for their favourite images that'll make you want to book your next cruise to this unimaginable destination.
Odaiba by Medhi Fliss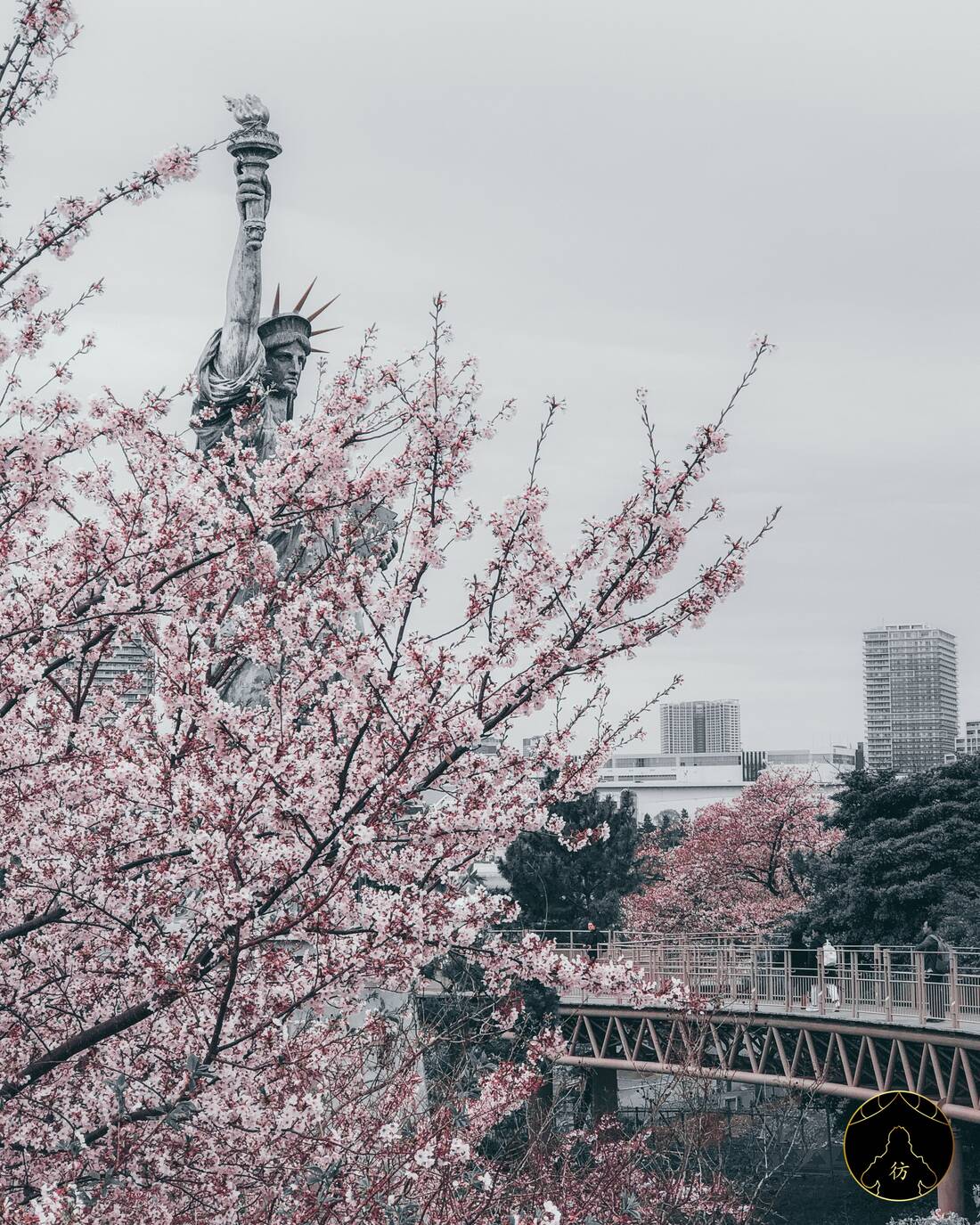 Image Credit: Asian Wanderlust
Medhi Fliss, blogger at Asian Wanderlust thinks his picture of the Statue of Liberty in Odaiba could persuade anyone to go to Tokyo.
"No, this is not New York, nor Paris. It's Tokyo! Not a lot of people know it but you can also find a Statue of Liberty in Tokyo city. It is located in Odaiba and it was offered by the French people in 1998 to celebrate the friendship between both countries. And as you can see, the statue is even more beautiful in spring with the pink cherry blossoms. I also recommend you visit Odaiba at night so you can see the Statue of Liberty illuminated with the rainbow bridge in the background. Fantastic view!"
A popular shopping and entertainment area, Odaiba is a district situated on Tokyo Bay Island, a man-made island off the south coast of the city. Much like Liberty Island, Tokyo Bay attracts crowds in their thousands that cross the waters to see the Odaiba Statue of Liberty and visit the shopping malls, a variation of futuristic hotels or cross the Rainbow Bridge.
Shinjuku Gyoen by Bino Chua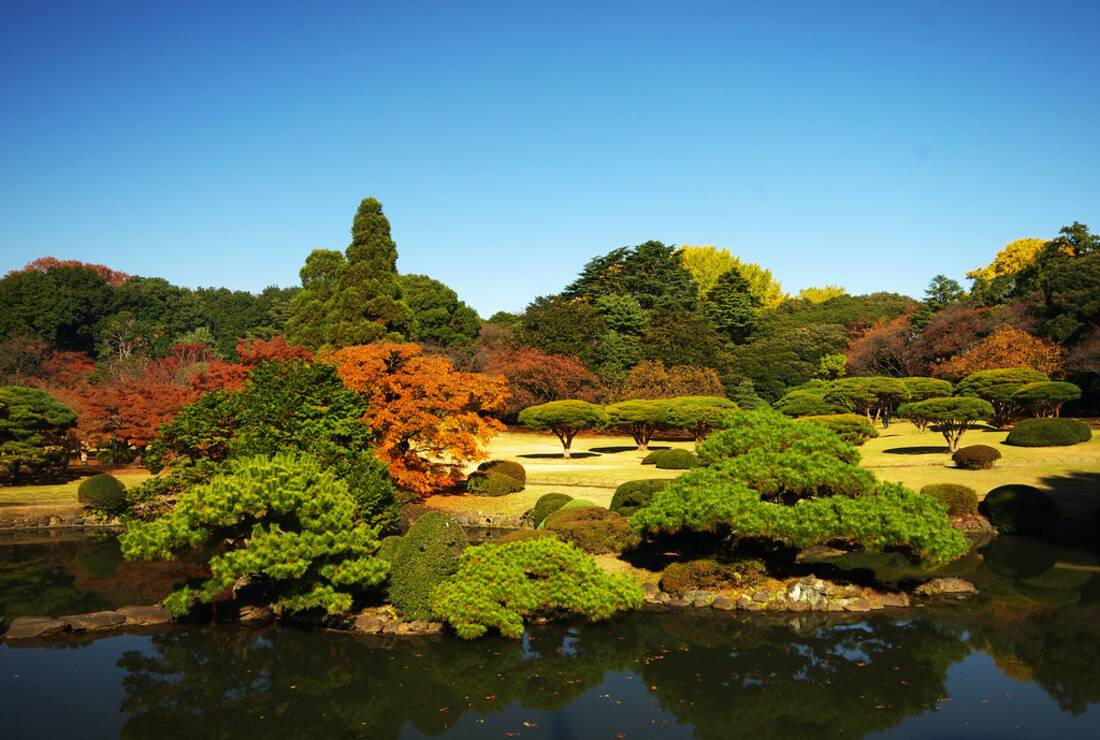 Image Credit: Bino Chua
Bino Chua is a part-time wanderer and Singapore travel blogger who told us about his favourite memories of Tokyo when he visited Shinjuku Gyoen and found his passion for the stunning location.
Shinjuku Gyoen lies on the western edge of Tokyo and is one of the city's largest and most populated parks. Divided into areas designed to emulate the finest gardens from across the globe, you can meander through a French, English and Japanese garden as you explore the sights and smells of the location.
Bino enjoys the park during the autumn months when the leaves turn amber and the sunny days turn to darkened nights: "Tokyo in autumn takes on a different character with most days being sunny and crisp while the foliage turns into a mesmerising blend of yellow and red. This is an excellent time to visit the city as leaf peeping is a popular activity in Tokyo's numerous parks. Visits to Shinjuku Gyoen and Showa Kinen Park are highly recommended."
The bustling wonderland that lies behind the facade of the once imperial garden can be left behind as you enter the gates to the peaceful and tranquil atmosphere of this secluded gem.
Akihabara by Olivia Maurer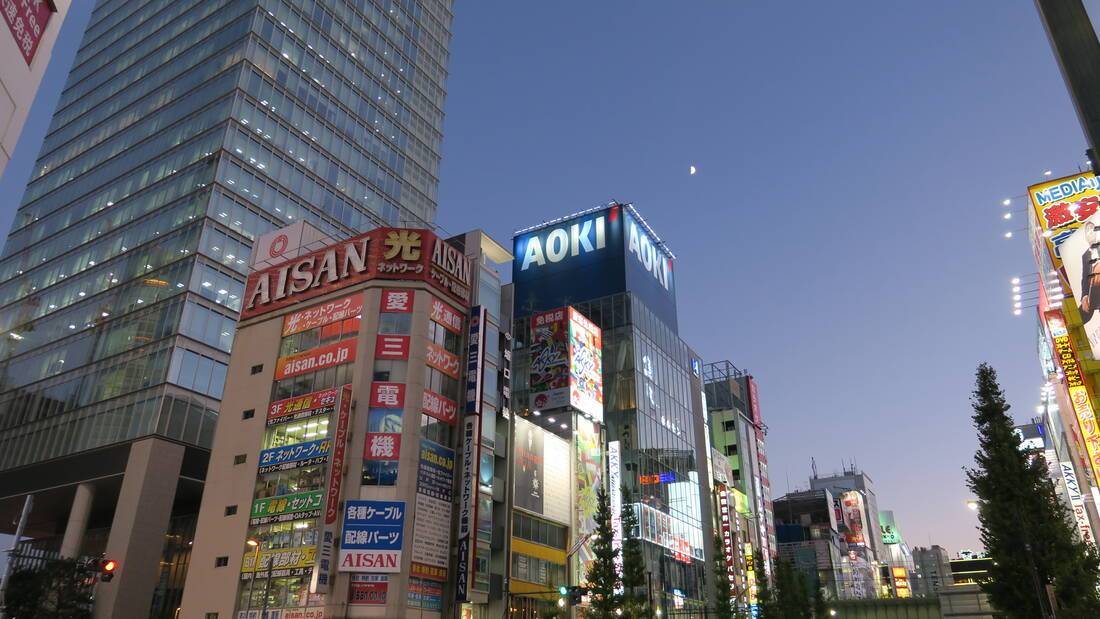 Image Credit: Aloha it's Olivia
Olivia Maurer is a Journalist turned travel blogger at Aloha it's Olivia, based in Switzerland, a blog she started after she turned down her dream job to explore the world. Olivia sent us a photo of Akihabara, the gaming capital of central Tokyo, as her favourite photo from the city.
"You can reach Akihabara which is famous for its many electronics shops within 10 minutes on a train from the city centre. What seems crazy during the day and even more as it awakens at night. Visiting Akihabara at night means to be surrounded by countless skyscrapers, on which LED advertisements flicker, loud music blooms and numerous bizarre bars and clubs try to get your attention. Make sure you stop by at the famous Gamers Store which is located only a few minutes from the train station. Spread over seven floors you can find any kind of manga, novels, card games, character souvenirs or CDs and computer games. Akihabara belongs in every must-visit list."
Akihabara has undergone a major transformation over recent years which included the renovation of the local station and neighbouring business complex that includes huge electronic stores, not uncommon for this gaming lovers area.
"Somehow everyone knows something about the islands in the Pacific, everyone has been there or really wants to go there. Confused by all the advice I got, I decided to visit Tokyo without making any plans. Fortunately, Tokyo is considered one of the safest cities in the world, which makes exploring without knowing where to go much easier. The strong sense of traditional and cultural history and its wide range of activities including the latest digital devices and Tokyo's playful fashion fascinates me over and over again."
"The city holds a tremendous amount of fascination; gambling halls, male hostesses, toilets with heating pads and giant rainbow cotton candy. By walking through perhaps the most vibrant district Akihabara, I feel like I am part of a virtual world as a character in a fiction movie. To get lost in those countless shops with anime and video games, or by drinking a cup of tea brought from waiters dressed as butlers and maids, I can completely lose the sense of reality. It's this extra portion of weirdness that made me fall in love with this place."
Harajuku by Laura Lytwyn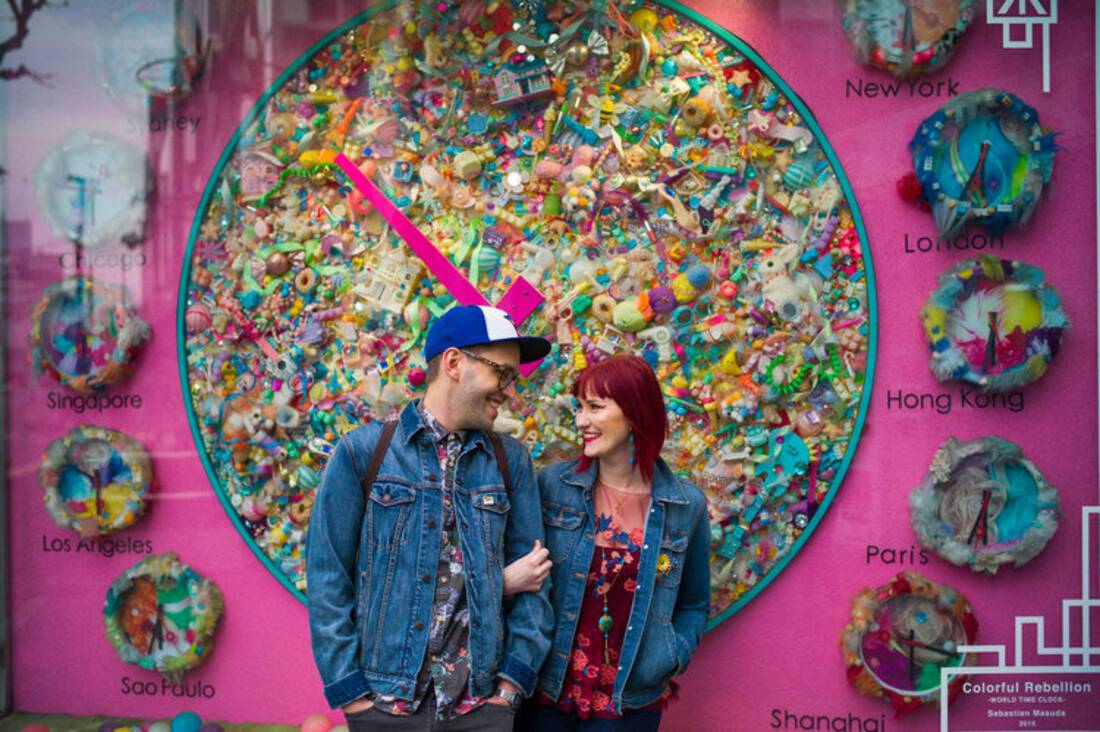 Image credit: The Creative Adventurer
Laura Lytwyn was born and raised in Toronto and now documents her travels on her blog The Creative Adventurer. She recommends visiting Harajuku when travelling to Tokyo, to see its vibrant and lively atmosphere. Known as the capital for teenage culture and up and coming fashion styles the area offers trendy shops, colourful boutiques and food outlets serving traditional Japanese snacks.
"Tokyo is the best place to take some incredible pictures! But nowhere in Japan is more wild, bright and colourful as Harajuku. This neighbourhood is filled to bursting with amazing places to see! My favourite spot in Harajuku to go for that iconic 'Kawaii' (Japanese word for cute) picture is the Moshi Moshi Box. Kawaii artisan Sebastian Masuda designed the piece with all different brightly coloured toys and accessories. Standing in front of this fantastic display is like standing in front of a giant work of art! There are so many explosive and colourful areas of Tokyo, it's one of the parts I love most about this city."
Tokyo is a city of a thousand facades and a location that everyone should tick off their travel bucketlist. Soak up the natural beauty of the cherry blossom trees, immerse yourself in the cultural offerings that intertwine themselves through the city or head into the metropolis of markets and traditional Japanese stores – no matter where you decide to explore or where your next cruise holidays may be, Tokyo is a must.