Today, Regent Seven Seas Cruises announced a $125-million fleetwide refurbishment program. The plans, which will take two years, include significant renovations of most public spaces along with a complete redesign of several categories of suites. The public spaces will feature the same elegant style and indisputable attention to detail famously featured on Seven Seas Explorer, providing a consistent look and feel across the fleet.
The first ship to be refurbished is Seven Seas Navigator, Regent's most intimate ship, carrying just 490 guests. The renovations will commence once she enters dry dock in Marseille, France in March. Jason Montague, president and chief operating officer for Regent Seven Seas Cruises said, "Seven Seas Navigator is one of our most beloved ships, so it's fitting that she is the first to undergo this extraordinary refurbishment. These renovations will bring a new level of elegance to the Regent Seven Seas Cruises fleet, strengthening our position as the undisputed leader in luxury cruising, operating the most luxurious ships at sea." Some highlights of her refurbishment include: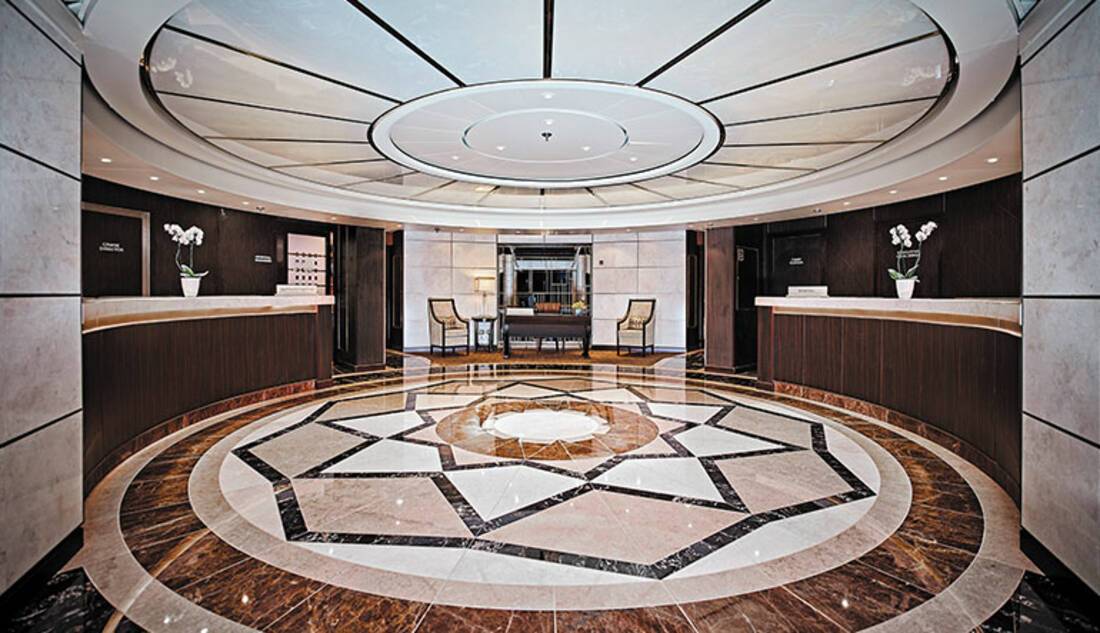 Reception Area: As soon as guests step on board Seven Seas Navigator, the renovations will be evident. Marble inlay flooring replete with a compass-like design and polished stone walls with metal inlays will guide guests to the dark wooden reception desk. Illuminating the reception area will be a gypsum diamond cut lighting fixture embedded in an oval alabaster ceiling, evoking stylish elegance.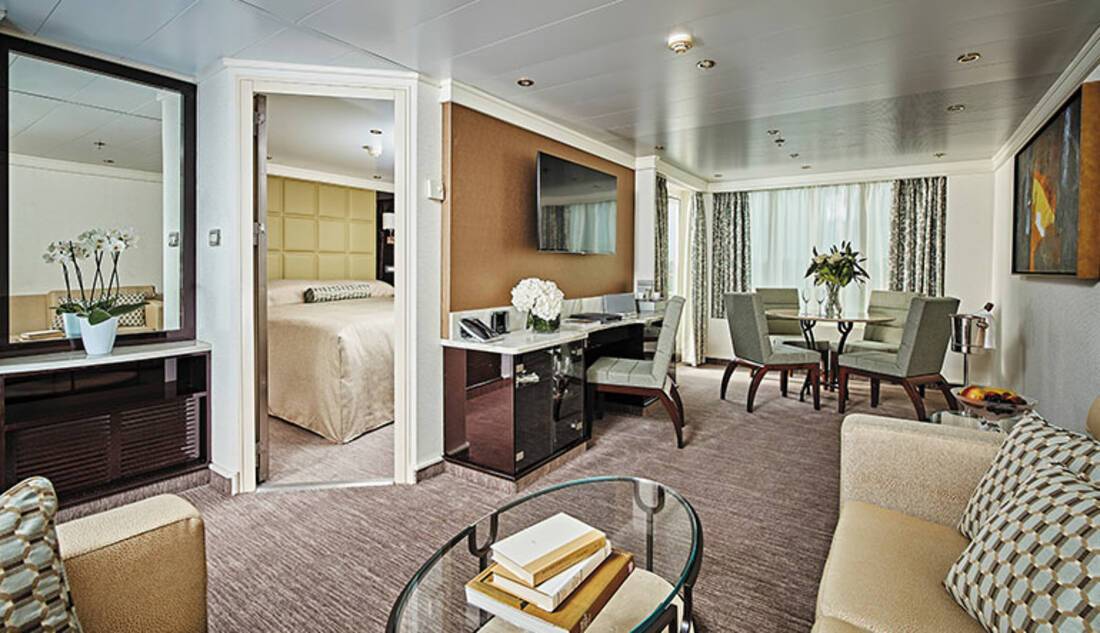 Navigator Suite: Fresh new design updates will be made to the spacious Navigator Suite. The bedrooms will feature new custom made Elite Slumber Beds, dressed in luxurious 100% cotton sateen bedding. In both the bedroom and living room, an ebony-black wooden vanity with white marble top will stretch the length of the room, harmonising beautifully with the sultry green and yellow accent furniture, draperies and new artwork.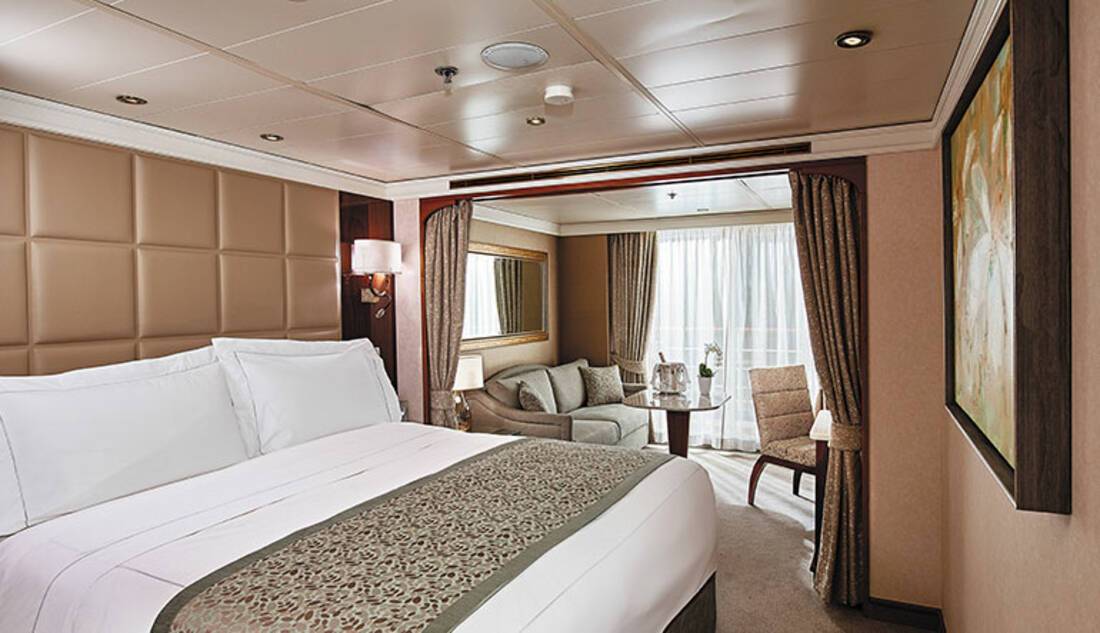 Penthouse, Concierge and Deluxe Suites: The largest collection of suites onboard the ship will receive a luxurious new look. The contemporary design will accentuate the spaciousness of the suites. A stunning padded leather headboard will support the Elite Slumber Bed in the bedroom and the sitting area will feature a plush sofa and a stylish accent table with new artwork.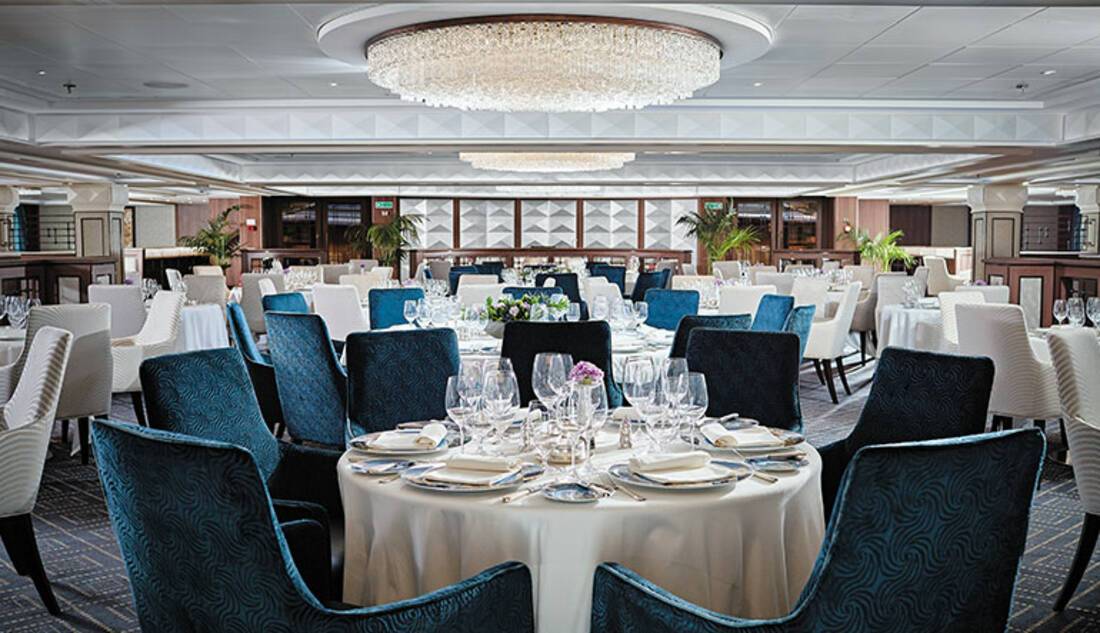 Compass Rose: The Compass Rose is the ship's flagship restaurant and it will be grander and more resplendent than ever before. Throughout the spacious, 384-seat dining room will be subtle geometric patterns underscored by silver leaf, pewter and antique bronze elements. A beautifully ornate silver-leaf feature wall will highlight one end of the dining room, while oversized windows will run along both sides of the restaurant to provide incredible ocean vistas. Grand crystal chandeliers will be enhanced by recessed ceiling lights, providing a dramatic dining experience for guests seated at intimate tables ringed by sleek leather chairs adorned with swirls of celestial blue fabric.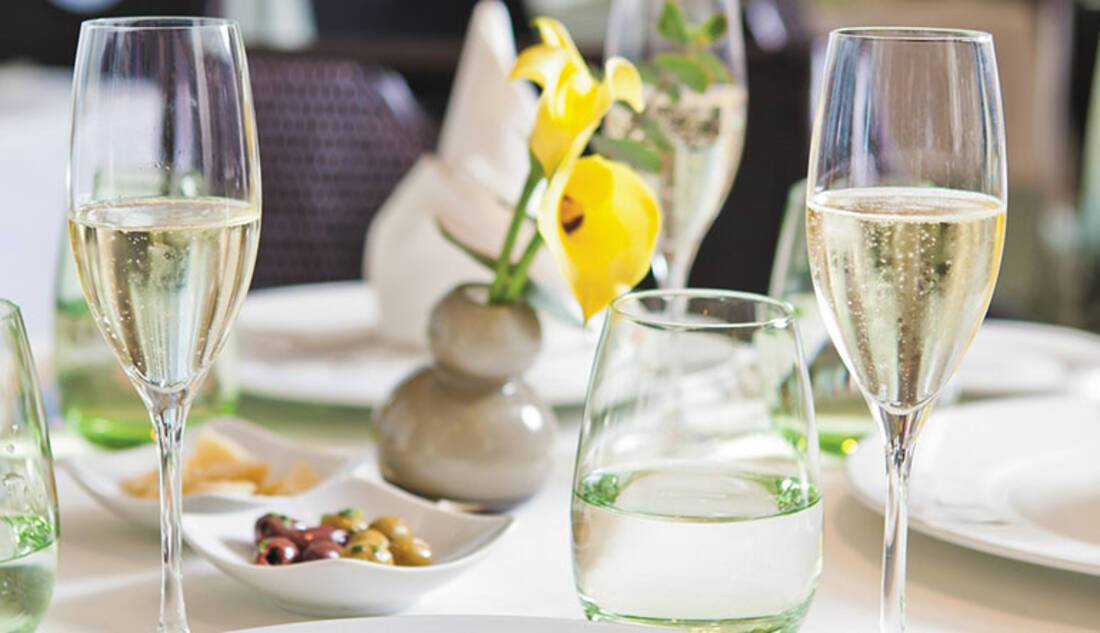 La Veranda: Effortlessly chic, La Veranda will feature a fresh and airy design that will be accentuated by a wealth of natural light from floor-to-ceiling windows that encircle the restaurant. Guests will be able to dine from a delectable buffet for breakfast and lunch and enjoy casual indoor or alfresco dining with incredible ocean views. Each evening, the restaurant will transform into an elegant fine dining restaurant, Sette Mari La Veranda, for dinner.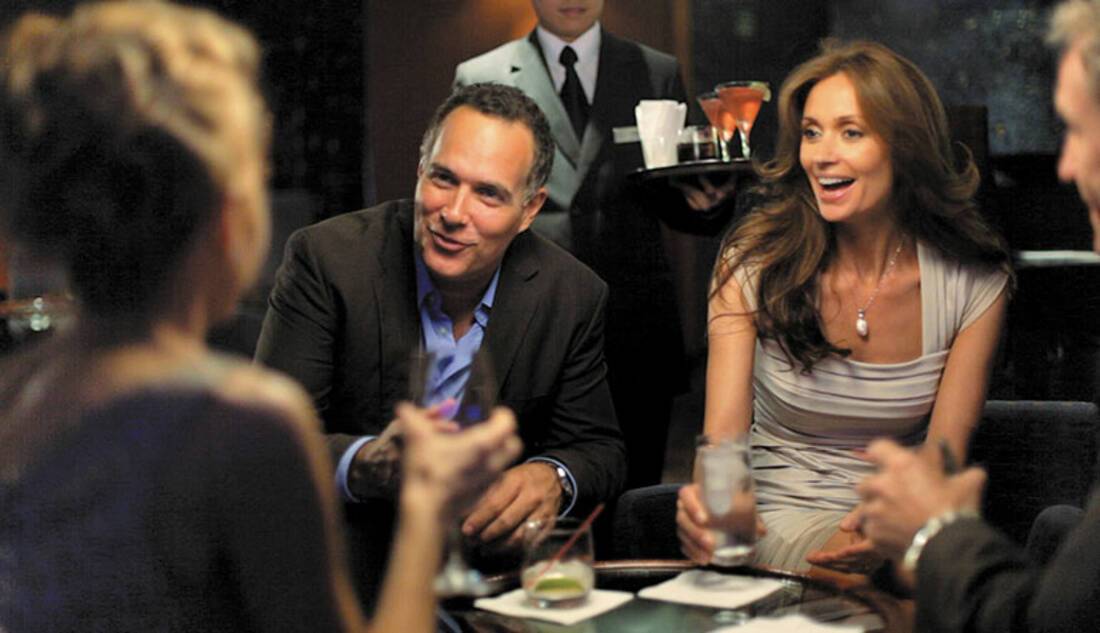 Galileo Lounge: True to its name, the Galileo Lounge on Deck 11 will convey a celestial feel, beginning with its tempered glass double door entrance trimmed with an abstract design reminiscent of the solar system and featuring a decorative sun-shaped handle. The theme will extend inside the 132-seat cocktail lounge, where a night-black oval shaped ceiling twinkling fibreoptic stars will overlook the inlaid wooden dancefloor. Guests can be immersed in the action, or retreat to high-backed wing chairs that line the room's windows.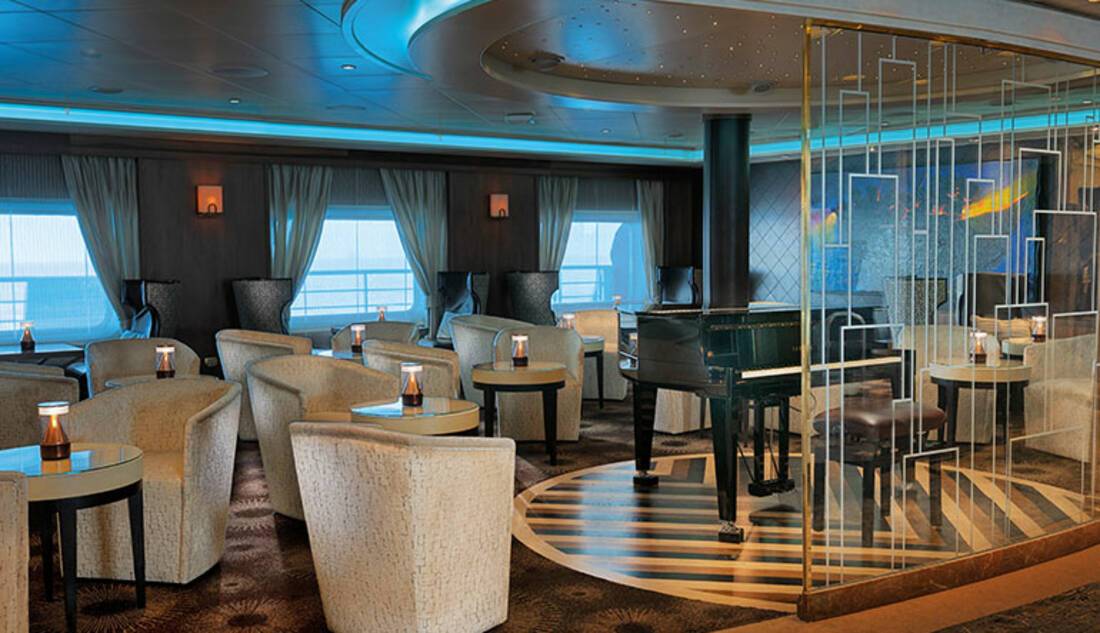 Navigator Lounge/Coffee Connection: By day, these intimate venues located on Deck 6 and connected by a central walkway, will be bathed in natural light from a bank of windows overlooking the sea. The new design and furnishings will enhance the airy look, with cream-coloured fabrics on chairs and draperies and white marble topped tables with hammered copper accents. By night, the Navigator Lounge will transform into a small night club, with a Steinway piano as the centrepiece. Adding to the elegance will be leather-wrapped columns with a copper-topped capital and dark wooden base.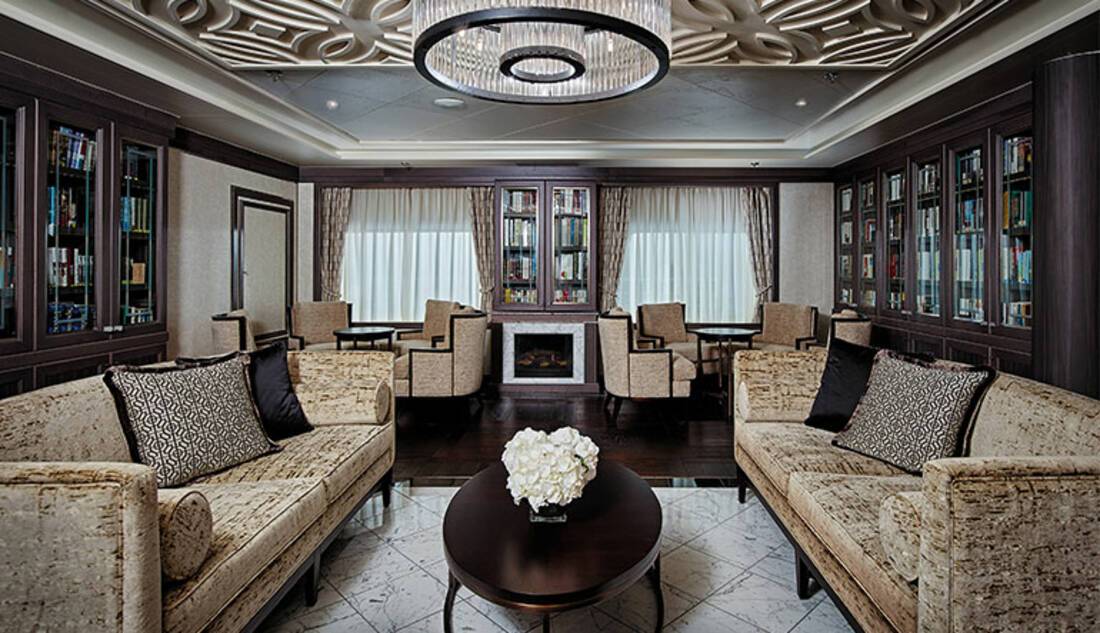 Library: The bright yet intimate library will exude comfort and charm. From its faux fireplace to cream coloured sofas resting atop a glistening marble floor, the room will be reminiscent of a library found in a residential estate home. Ringing the room will be dark wood bookshelves encased in glass, while a glistening, copper-adorned chandelier will serve as the room's glistening centrepiece. It will be the ideal spot for reading and quiet reflection.