Valentine's Day has just passed and there are bound to be many couples celebrating their new found engagement, already planning and looking forward to their wedding. . So what can you do to make your day extra special? If you're seeking something to make your wedding stand out from the crowd, then have you considered tying the knot aboard a world-renowned cruise ship? Not only is everything for your big day catered for, but you can do it in any destination of your choice – a ceremony aboard a cruise ship will ensure that your wedding day will be plain sailing.
The only decisions that remain will be choosing something old, new, borrowed and blue. So why don't you let us help you plan your dream wedding or vow renewal at sea? Here are the 6 Best Cruise Line Wedding Packages…
1) P&O Cruises Ceremonies at Sea
P&O Cruises pride themselves on bringing fun and laughter to their cruises and, broadly speaking, if you choose to take your vows aboard a P&O Cruises vessel, you'll have the time of your life. The P&O Cruises Weddings at Sea package caters for all your wedding needs and can provide both traditional, family-friendly and exclusive, adults-only ceremonies. With a P&O Cruises wedding package, your experience begins from the moment you step on board - a Wedding Co-ordinator will be at your beck and call to take care of all the organisation so that your wedding goes without a hitch – or rather with! A bottle of champagne and flowers will be waiting in your cabin for when you arrive, and you can get rid of those pre-wedding nerves with a pampering session in the spa.
The ceremony itself is provided and executed by the Captain, and you can choose all of the finishing touches; from flowers to favours, your cake to photography, music to buttonholes – everything you need will be at your fingertips. P&O Cruises also provide a Commitment Ceremony and renewal of vows, so you can rest assured that they know how to conduct a seamless wedding experience.
2) Norwegian Cruise Lines Wedding Planner
Your special day should be truly unforgettable – and Norwegian Cruise Line go the extra mile to make sure that you will always remember your wedding day. Experienced wedding planners are on hand to look after everything so that you can focus on each other – one of the only decisions you have to make is whether to have your ceremony at sea, harbour-side or a destination ceremony (options include the Caribbean, idyllic Hawaii, the USA and Alaska)! Whichever style of ceremony you decide upon, there's no doubt that your big day will be one to remember as your wedding package includes your ceremony performed by the Captain, bridal bouquet, complimentary champagne and wine, priority disembarkation and the services of a photographer – plus so much more!
It is the special touches of an NCL wedding that make the experience so astounding, your cake will be created by the ship's chef and you can choose from a vast selection with romantic names such as; Shimmering Royalty, Enchanting Pearl and Bridal Bliss. Norwegian Cruise Line believe that your wedding day is one of the most important and memorable days of your life, which is why they'll assist as much as they can to create the perfect atmosphere.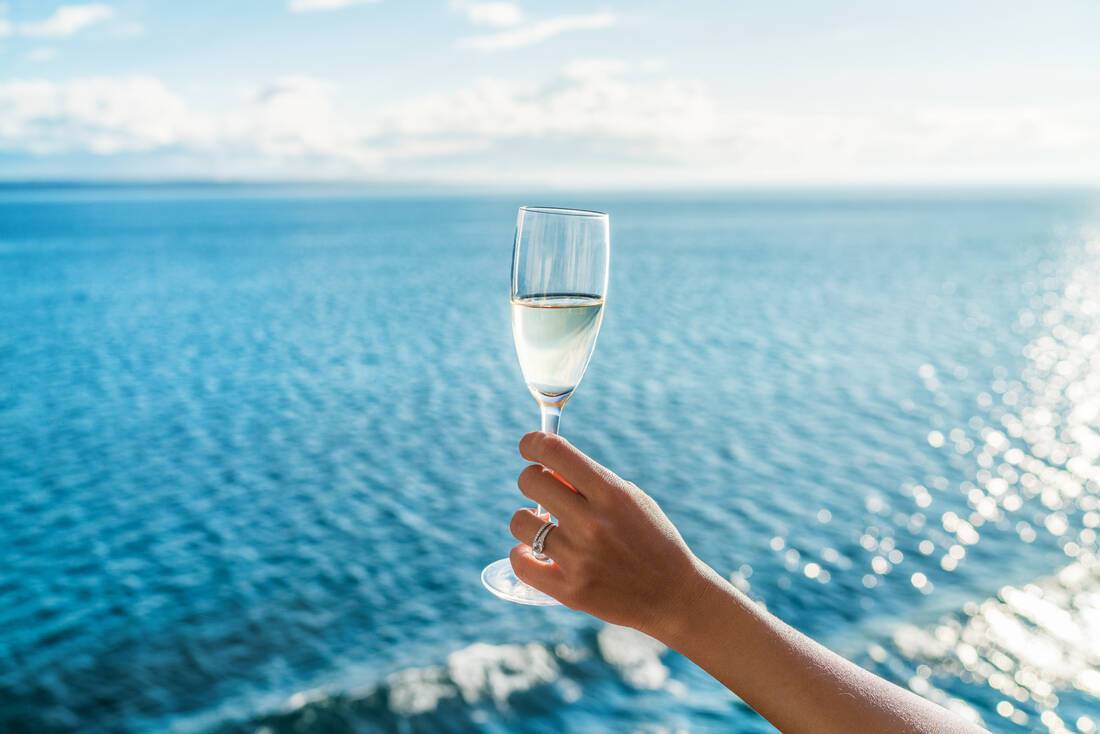 3) Celebrity Cruises® Special Occasion Package
With Celebrity Cruises® you could have the modern luxury wedding that you've been dreaming of. In true Celebrity style, your on board ceremony is one of elegance and grace, or if you prefer, you can opt for a ceremony in one of many exquisite destinations. Dream, plan, personalise – these three things are key when you book a wedding with Celebrity Cruises®. You dream of your perfect wedding, you plan it with your Celebrity Wedding Coordinator and then you personalise your ceremony to your tastes – it couldn't be easier! Your nautical nuptials can either be performed at sea by the Captain or as a wedding on board, but whichever you choose you are sure to be delighted. Both include several benefits such as a pre-sailing events manager, a romantic indoor wedding location, traditional ceremony music, keepsake wedding certificate and photography service.
But if you're looking for something extra special, then a deck wedding might be the service for you. Deck weddings are a Celebrity speciality which include a stunning white wedding canopy adorned with flowing white sheers and fresh flowers – is there anything more that you could desire for your wedding day?
4) Holland America Line: Royal Ocean Events
Exclusively for Holland America Line, Royal Ocean Events ceremonies are designed to handle every detail of your wedding so that your day runs seamlessly. From your initial consultation to your vows and beyond, everything that you need for your ceremony is catered for. With Holland America Line, you can choose between an 'At Sea Symbolic', an 'Anchors Away Harbourside' or a wedding ceremony ashore so there really is something for everyone.
Holland America Line take care of everything, from your bouquet to your vows – unless of course you want to write your own – and your wedding cake to a commemorative photograph album, meaning that your focus can be permanently on your significant other at such a special time. Ashore ceremonies are also stunning with destinations such as the Caribbean, the USA, Canada and Jamaica available for your service, you can choose to get married with the sun beaming down against a vivid backdrop of islands, ocean and sand behind you.
5) Royal Ceremony at Sea with Cunard
Traditional Cunard are synonymous with class and grandeur – so what better setting place could you choose to get married than aboard one of their classic vessels? Like a Hollywood movie, Cunard have played host to many love stories, and yours could be one that joins the stories of royalty and movie stars across the ages. With Cunard, you can enjoy your own Champagne soirée, cuisine from some of the finest restaurants at sea and dancing in the grandest ballrooms afloat. Brides will be escorted by White Star bellmen and the ship's Captain will conduct your romantic ceremony – not only this, but you can rest assured that your wedding will be in the safe hands of an on board Wedding Co-ordinator. Plus, with an impressive wine list and host of finishing touches including wedding flowers, gift & spa services and wedding cakes there really is no better venue for your classic wedding. Soak up the enduring legacy of traditional and elegance with your Cunard wedding.
6) Azamara Club Cruises® Weddings
Azamara Club Cruises® class their wedding package as your wedding ceremony, honeymoon package and once-in-a-lifetime opportunity all in one., With a 'Test the Waters' package on offer, you can enjoy a pre-inspection of the ship prior to your wedding plus an open-lunch buffet – perfect for helping you decide that an Azamara Club Cruises® vessel is the one for you. Once you have opted for Azamara, you can then choose from an on board or shore-side wedding package, both include everything that you will need to make your day extra- special. But the key to a wedding is the personalisation of your nuptials – choose from a selection of music, stationery, decorations, flowers, spa package, gourmet cuisine and videography so that your day suits your needs and dreams. Your Azamara Events Manager will do everything in their power to ensure that your day is one of the best days of your life.