Cycling is a wonderful way to explore a new place. Giving you all of the advantages of walking an area, but with more speed. It means you can not only see a new city from street-level but cover much more ground than if just on two feet.
Around the world, there are cities that are pinnacles of cycling infrastructure. With specialist bike lanes, hire schemes and more, there is no reason why picking up a set of wheels shouldn't be something you do on a cruise holiday.
In this article, discover some of the best cities around the world to explore by bike.
Amsterdam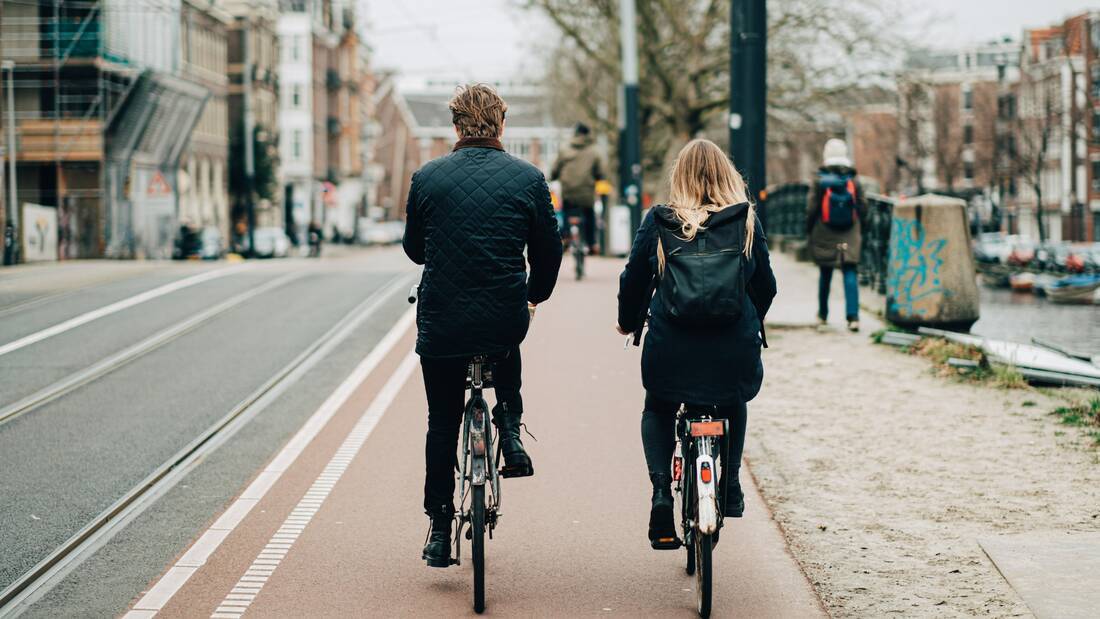 Of course, we had to mention Amsterdam. Well known around the world for its cycling prowess, and easily accessible with our cheap cruises from Southampton, it's thought there are more bikes in the city than residents! As a mostly flat city, with ample cycling lanes, it only makes sense that cycling here is a must when trying to get around. Plus, as such a bike-ready destination, drivers and pedestrians are all very aware to keep an extra eye out for bikes, so you don't need to worry about challenging cycling conditions.
Alice, also known as the Girl with a Saddle Bag, told us: "In Amsterdam, the bicycle is king. Bikes take priority over cars and even pedestrians on many of the city's roads. And if you can't beat them, join them. Taking to the town by bike isn't just one of the most convenient ways to explore the Dutch capital, it's one of the most enjoyable."
Alice offered her suggestions for the best places to explore in Amsterdam "Take a leisurely tour of the enticing Vondelpark, the largest green space in the city, to see a different side to the hustle, bustle and canals. Or take advantage of two wheels to head further afield. Well within the city limits you can reach the wonderfully whimsical Brouwerij 't IJ, a craft beer brewery housed in a former canal-side bathhouse with its own windmill. You'll find it hard to resist the temptations of their many home-brewed creations. Or, if you're feeling braver, escape the contemporary city in favour of the old-world elegance of Haarlem, a market town around 10 miles from Amsterdam by rural cycle paths. Wherever you choose to explore, you can guarantee it'll be bike-friendly and endlessly charming."
Copenhagen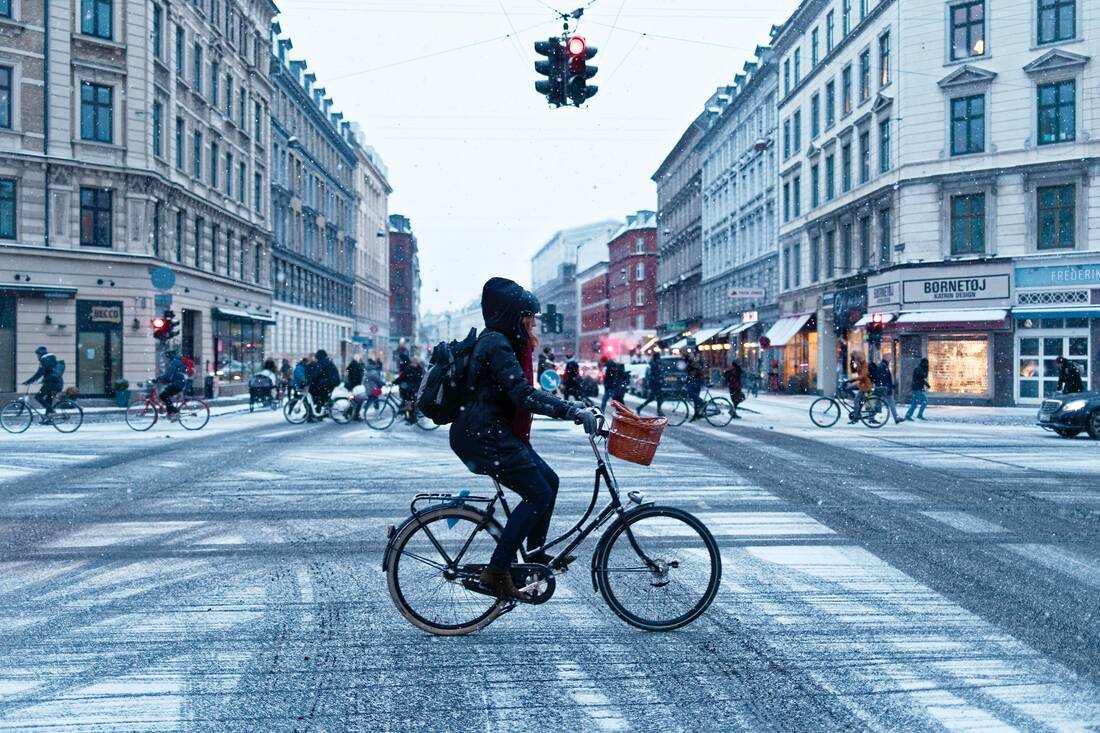 The sprawling city of Copenhagen is next on our list. With a fairy-tale charm and weaving cobbled streets, hiring a bike in Copenhagen is an easy affair and allows you to explore as much of the city as possible.
The city is such a pinnacle of cycling-prowess that the Tour De France will be starting here in 2021. The route around the city ticks off many of the major attractions, with drive-bys past Tivoli Gardens, Amalienborg Palace, The Little Mermaid and more.
Alternatively, make your own route and enjoy the nuanced culture of Copenhagen, as coffee shops fill with the bubble of conversations, workers go about their nine-to-five routines and other travellers enjoy all the city has to offer. Even down to the architecture of the city itself bikes are made a top priority, as a range of bike-only bridges have been set up allowing you to weave across the many waterways to explore further neighbourhoods and destinations.
Barcelona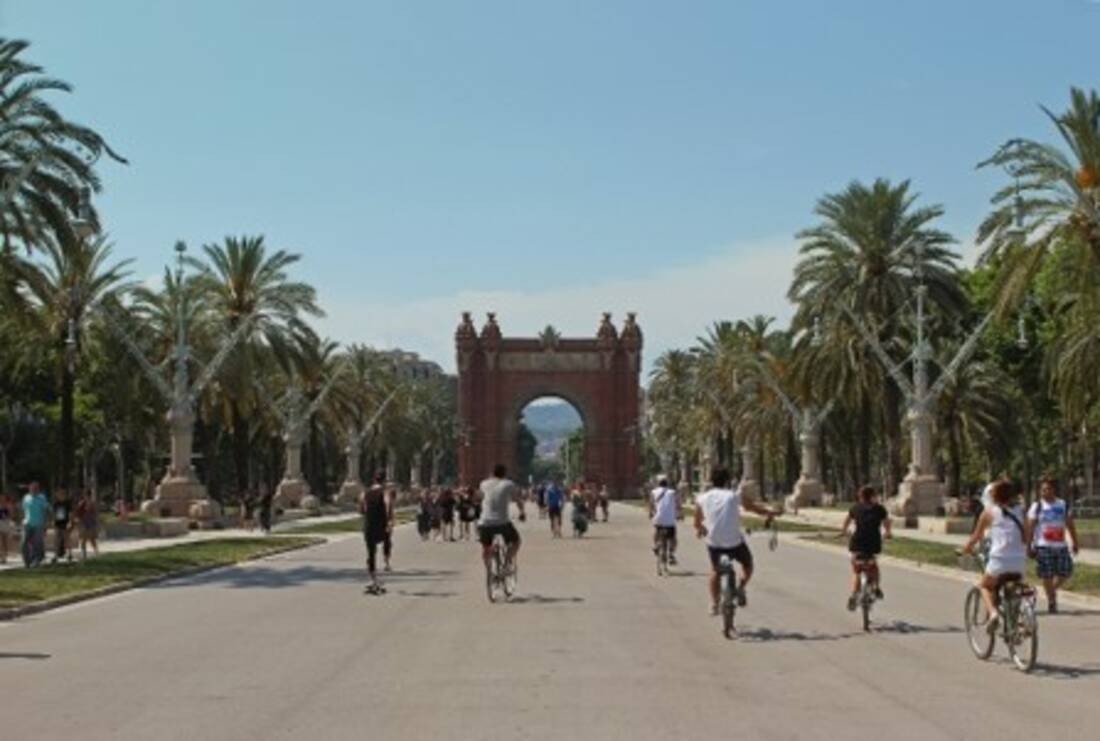 Bright and sunny Barcelona is a great place to explore by bike. The Catalonian capital is well adapted for bicycles, and there are a great range of rental options around the city.
One option is Bebike Tours, which offers a range of e-bike tours, giving you the pleasure of cycling but taking the leg strain away. The team there told us why exploring Barcelona by bike is a must: "Apart from being beautiful and almost always sunny, Barcelona is also quite a flat city and has a considerable amount of bike lanes, making it really easy to move through the city centre on two wheels. Moreover, it is not a huge city. Most sights are relatively close to each other, making it absolutely viable to explore the principal landmarks in one or two half-day tours."
We then asked which areas specifically the team think are great for exploring on two wheels: "Barcelona's nicest areas to explore by bike are its famous neighbourhoods, Eixample, the picturesque Vila de Gràcia and the long beaches around the old fishermen district La Barceloneta. If you have the chance to use an electric bike, even the hilly parts and more remote areas (such as the Montjüic mountain and the Poble Nou) are well within the range of a bike tour."
Louise, the founder of Eat Sleep Cycle, a company that offers European bike tours explained that: "Barcelona is a great, bike-friendly city with a fantastic network of bike lanes linking up the main sites. There are a number of places to rent bikes and plenty of signposts to keep you on track to your destination."
She told us that "the best neighbourhoods to explore by bike are the elegant streets of Gracia & the Barcelonetta beach. Cruising along the coast is the perfect way to spend a relaxed afternoon & get away from the crowds."
And, even if you've had your fill of Barcelona, Louise offers this suggestion: "For any keen cyclists, consider hopping on the high-speed AVE train for a day trip to Girona - cycling capital of Europe. Rent yourself a high-end road or gravel bike & head into the hills."
The team at SH Barcelona, a Barcelona real estate agency, also spoke to us about cycling in the city, they told us: "If you want to visit the streets of Barcelona, I highly recommend you to ride through Diagonal, Gran Vía or Meridiana. These are the three main streets of Barcelona and will take you around the most bike-friendly areas such as Eixample, Sant Martí or Sants-Montjüic."
Montréal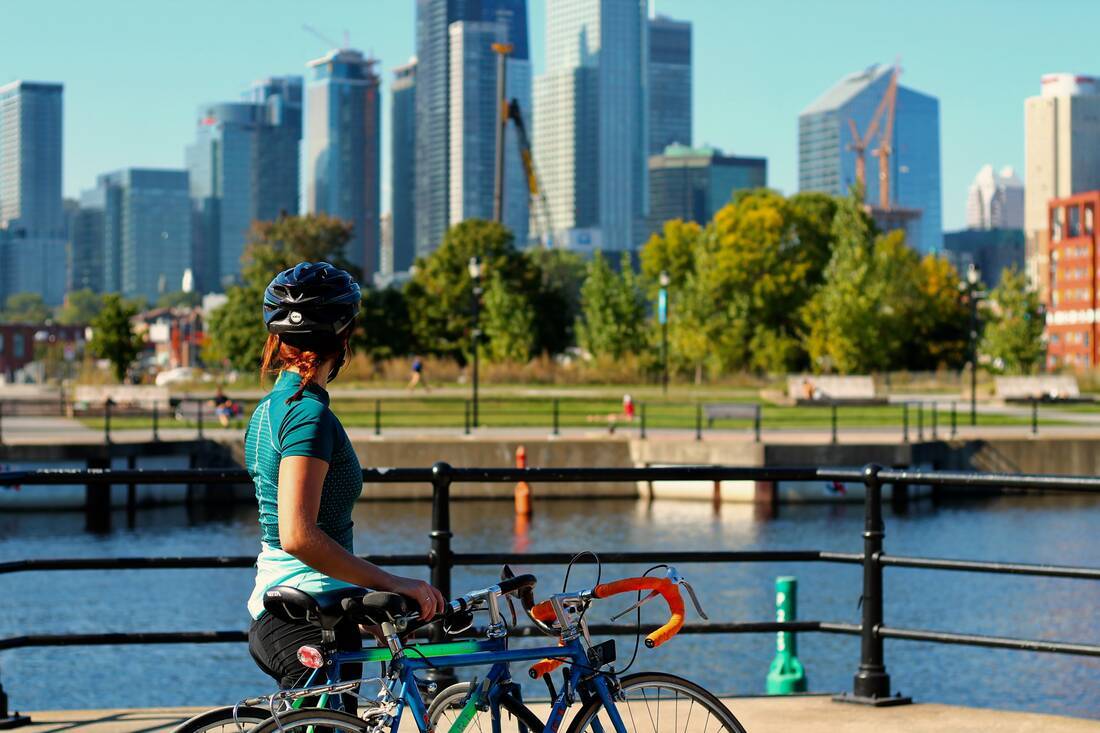 Outside of Europe, one of the most bike-friendly cities there is is Montréal. Situated on an island in the Saint Lawrence River, Montréal blends urban with nature to create a bike rider's dream playground. Whether you want to weave through city streets or enjoy a relaxed ride through parks or riverside, there is a route suited to you.
Spade & Palacio pride themselves on offering "non-touristy tours" and specialise in bike tours of Montréal and they told us: "Montréal was ahead of the game for North American cities when the oil crises saw bikes outselling cars for a small while and the first separated bike paths saw light in the early 80s. Backed by advocacy groups both official and not we paved our own way. Though I think we have plateaued in the last years, our latest mayor is making great progress (she rides around the city) with new networks being developed."
The team told us that: "Montréal has loads of parks and festivals and a European attitude. People get around as a cheap, healthier, quicker and all-around sexier way. The best way to understand the city is biking our neighbourhoods, seeing local businesses, parks and streets that provide architectural gems etc. This is what we do on our bike tours, get a feel for the city on a human scale level."
Genevieve from Tourism Montréal also spoke to us, saying: "I really enjoy cycling in Montréal since we have so many bike paths, there is a sense of freedom when you are discovering the city by bike."
Tokyo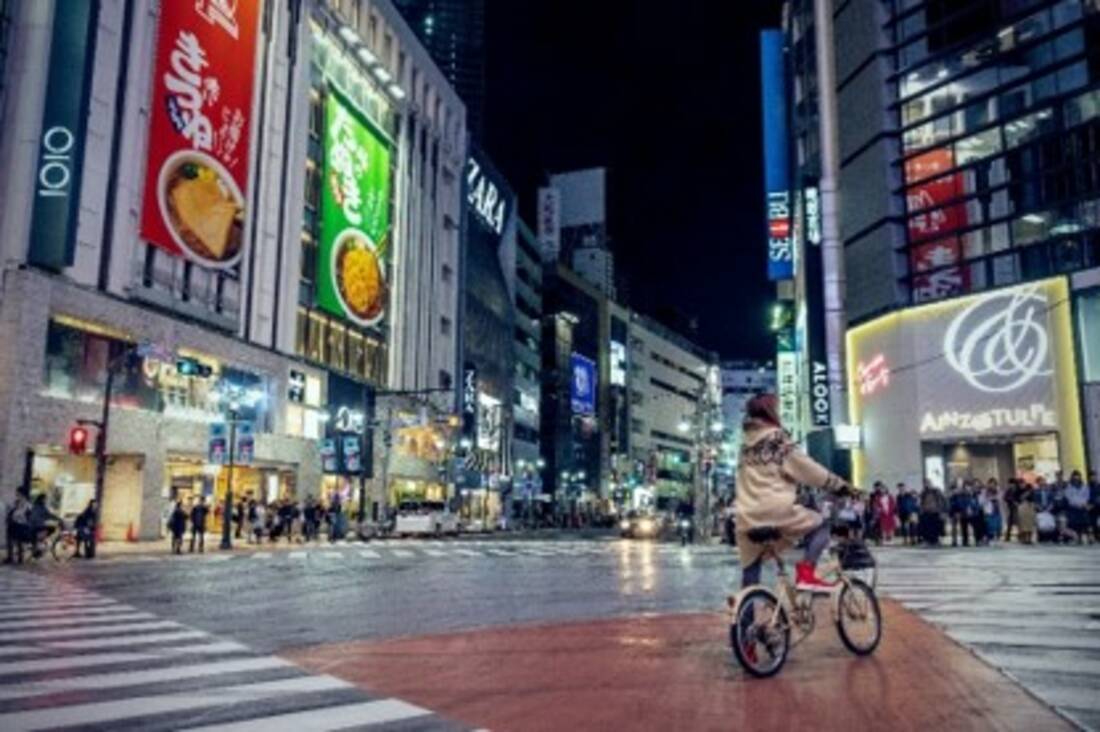 When thinking of transport around Tokyo, it's only natural that our minds go to the ultra-efficient trainline Japan has developed. However, cycling allows you to dive into the heart of the city and explore it at street level.
Donny Kimball, a Japan-based travel blogger, told us this: "One of the reasons that Tokyo is best explored by bike is that we have the Docomo Bike Share. This lets you temporarily rent a bike and then bring it back to any of the associated docking ports."
Donny then told us one of the perks of exploring Tokyo by bike: "One thing that the bike does let you do is better explore the areas in between the train stations that often get forgotten." So, although you may be tempted to explore the highlights of Tokyo by train whilst you visit the city (and you certainly should) there is a lot to say for also hiring a pair of wheels and exploring each area in more depth.
San Francisco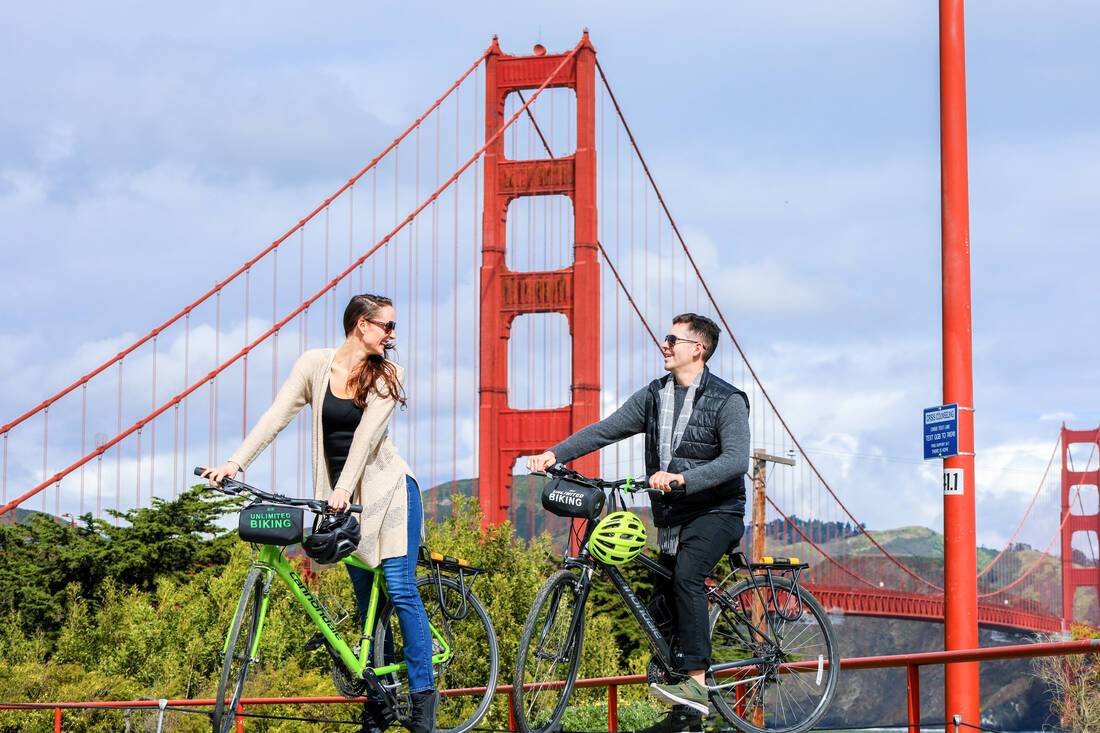 Image Credit: Unlimited Biking
In the United States of America, it's hard to think of a city more bike-friendly than San Francisco. Despite being a hilly city, there are flatter routes that allow visitors to explore the major icons, including the Golden Gate Bridge.
One of the many bike tour companies here is Unlimited Biking. We spoke to Annie Zou from Unlimited, and she explained: "More and more people are turning to biking as the best way to get around San Francisco. For locals, biking has increased as a means to get to work, avoiding a majority of the traffic along the city's many bike paths. For visitors, it is one of the most unique ways to see the city. While some areas around San Francisco are quite hilly, the bike path from Fisherman's Wharf all the way to Sausalito is one of the flatter routes that guests can take to bike to the iconic Golden Gate Bridge."
We then asked Annie where she would suggest people cycled, and she told us: "One of the most iconic and memorable experiences that guests can do is to bike the Golden Gate Bridge. Being one of the safest routes, with bike paths all along the way, this is an unforgettable experience that leaves guests with breathtaking views."
Another bike rental company in San Francisco is Bay City Bike. We spoke to them about cycling in the city and they told us their recommended routes: "The Marina to Golden Gate Bridge is always exceptional. The ride continues downhill into sunny Sausalito, where you can enjoy ample shops, restaurants and art galleries before ferrying back past Alcatraz, across the Bay. Still, biking in Golden Gate Park is a close second. This 100+ acre park features bike lanes throughout, as well as museums, rose gardens and the California oceanfront for you to stop and enjoy along the way. Truly one of the best routes for a completely scenic ride."
The best cities to explore by bike:
Amsterdam
Copenhagen
Barcelona
Montréal
Tokyo
San Francisco
So, there you have it, six of the best cities to explore by bike. If this has got you wanting to explore more on two wheels, check out our last-minute cruise deals and you could be peddling around an exotic destination before you know it!