The Mediterranean diet has long been hailed as one of the healthiest in the world. With an abundance of fresh ingredients such as olives and fish and plenty of sunshine, the Mediterranean countries enjoy a relaxed and fulfilling pace of life. In this guide, with the help of local experts, we take a look at Greek, Italian and Spanish cuisine.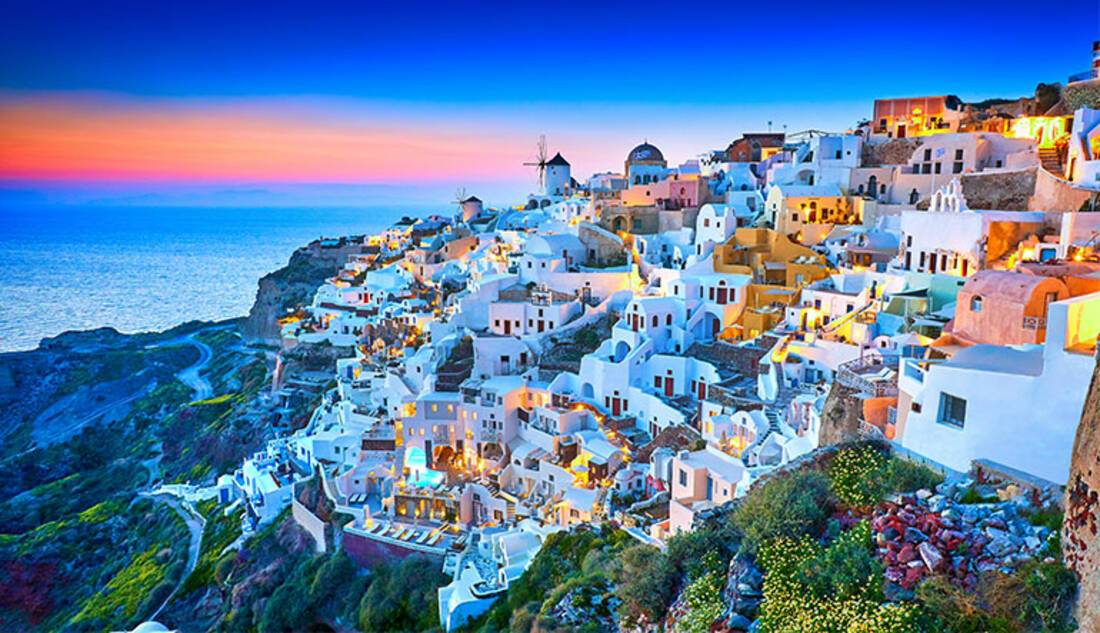 Greece
Dating back some 4,000 years, Greek cuisine is ingrained in local culture. The foundations of ancient Greek cuisine were based on wheat, olive oil and wine. Meat was relatively absent from traditional diets and fish was only eaten occasionally. Today, Greek cuisine is much the same.
Vegetarian travellers can revel in many of Greece's traditional dishes including vegetable moussaka, an aubergine-based dish with spices and cheese, spanakopita, a mouthwatering savoury pastry made with spinach and feta cheese, tomato keftedes (tomato fritters) and kolokitho keftedes (courgette balls).
One of Greece's most famous dishes is dolmadakia, or dolma, which consists of stuffed grapevine leaves with rice and herbs. There's plenty of sweet food to enjoy too, including amygdalota, a delicious almond cookie; the more well-known baklava; and bougatsa, a sweet pie normally eaten at breakfast with creamy custard.
As with most Mediterranean cuisine, olive oil is an essential element of Greek cooking. Olive trees are visible across the region and contribute to the overall flavour of each traditional dish. The fresh and full taste of Greek food makes it perfect for enjoying in the sunshine. A traditional Greek salad or pastry or a plate of crushed fava beans are the perfect accompaniment to a glass of local wine or ouzo.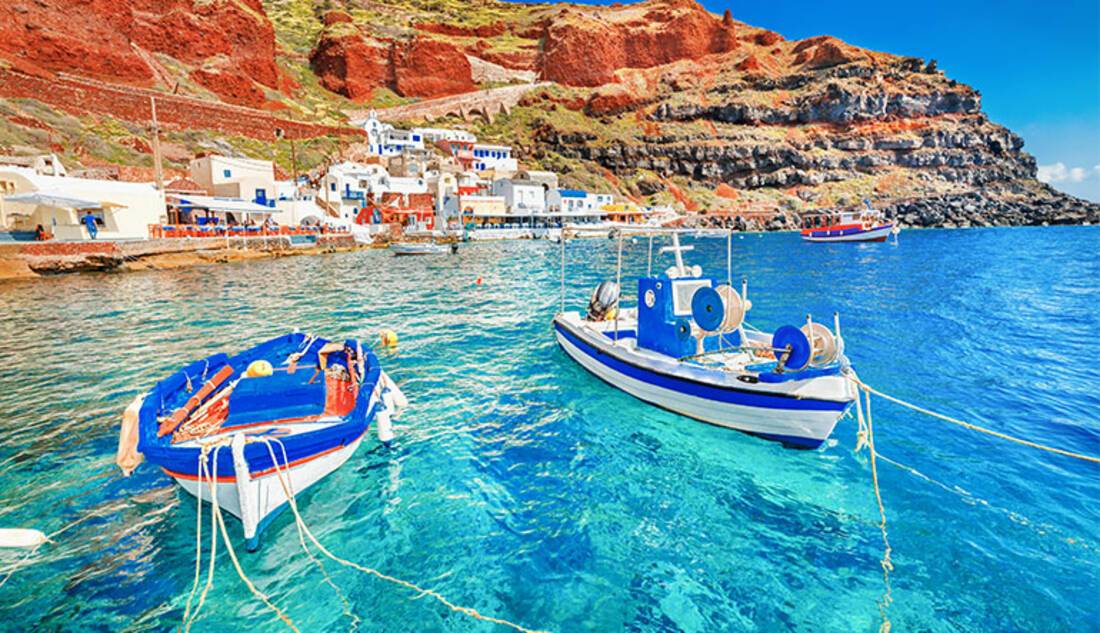 Try Greece's most traditional tipple
If you're looking for Greece's most traditional tipple, ouzo tops the list. This unique anise-flavoured liqueur is very popular and brought to locals from old distilleries such as Barbayanni Ouzo. Ouzo is believed to have originated from tsipouro, a Greek brandy, which was allegedly flavoured with anise by monks. The beverage eventually became known as ouzo.
Traditionally mixed with water to form a cloudy, white appearance, ouzo is usually only served with ice along with mezes, essentially the Greek version of tapas. If you're eager to sample some of Greece's freshest food including small fish, olives and feta cheese, ordering a meze is one of the best ways to do so.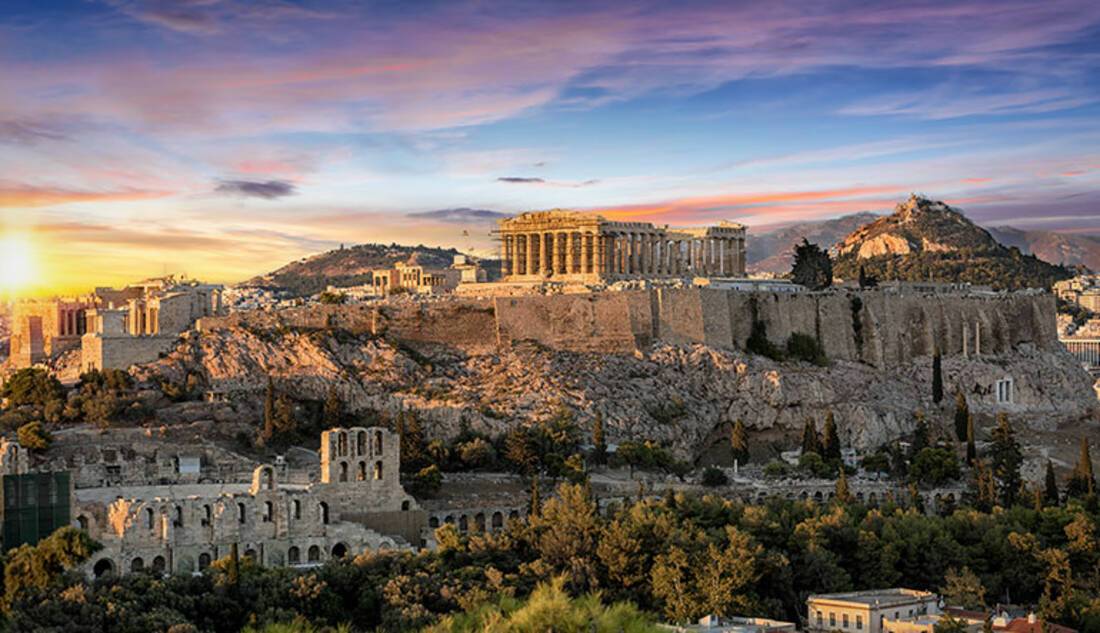 A culinary journey through Athens
In Athens, Culinary Backstreets take visitors on guided food walks to tell the story of the city. Editor Yigal Schleifer told us, "we like to think of our work as serving as a culinary briefing that helps visitors and locals better understand a city's bigger stories (while also getting into some great food spots).
"Our food walk brings together Athens' ancient and modern history in one edible package. Greece has a long culinary history - it could even be considered the birthplace of gastronomy, considering how much the ancient Greeks wrote about food - and our walk is a great way to dive into some of that background.
"We like to support small, family-run businesses and backstreet eateries with a long and rich history - the kinds of places that help give a true sense of place."
We asked Yigal which dishes he'd recommend, "there are so many dishes I could recommend! It really depends on which part of Greece and what time of year since Greek cuisine varies so much by region and season. But there are many must-tries. Pies (sweet and savoury) are a huge part of Greek cuisine and each region has its own version. Grilled lamb or lamb chops are another dish that somehow just taste better in Greece. Dishes made with the traditional avgolemono (egg and lemon) sauce are also highly recommended.
"For dessert, there's Greek baklava prepared with honey, strained yoghurt with honey or spoon sweets and Galaktoboureko – a custard pie with a honey syrup. Of course, no visit to Greece would be complete without a taste of some of the country's exceptional wine!"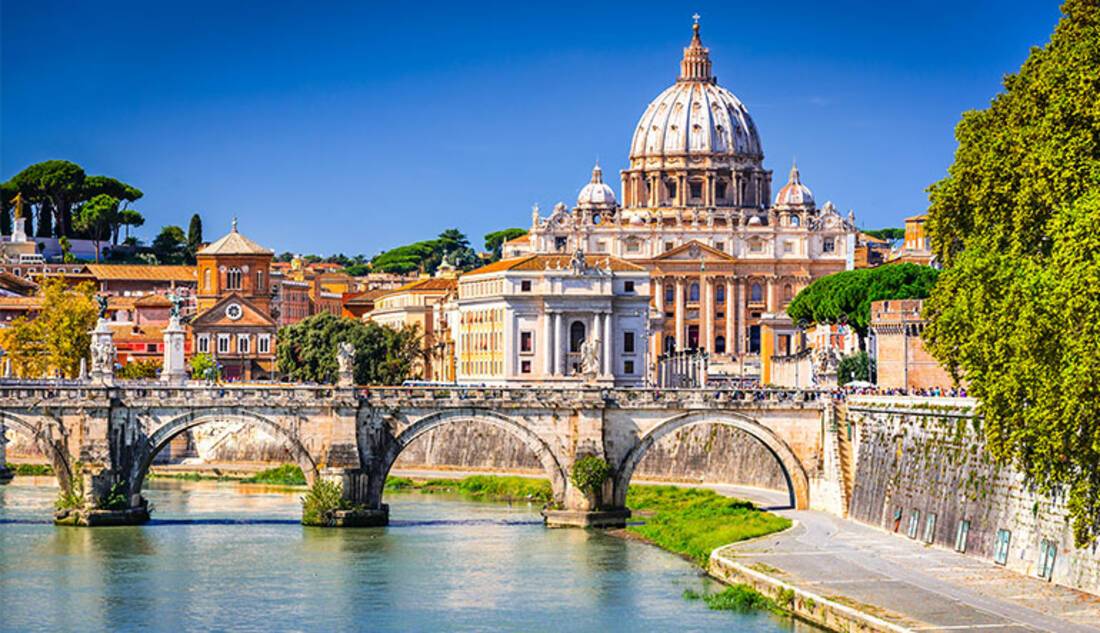 Italy
Naples is famously the home of pizza. Created in this ancient city, Neapolitan pizzas are world-famous but Naples has taken measures to protect the authenticity of its dish. The True Neapolitan Pizza Association was founded in 1984 to promote and protect true Neapolitan pizza both in Italy and worldwide.
Food is taken very seriously in Italy. In 2017, the port city of Genoa granted special airport waivers for those who wish to take traditional Genovese pesto home on the plane. Luckily, this isn't a problem on a cruise.
Whether you're tucking into arancini (crispy stuffed rice balls with ragu, tomato and mozzarella) or osso buco alla Milanese (delicious veal shanks braised in white wine), Italy offers a world of spectacular dishes. Each region has taken popular national dishes to give it their own twist - take risotto, for example, originating in northern Italy, this mouthwatering meal has been altered across the country with a local twist. In Milan, it's made with beef stock, beef bone marrow, lard, cheese and saffron, while in Piedmont further north, it's made using red wine, sausage meat and Borlotti beans.
Italy's localised cuisine makes it a real adventure. Anyone setting off on a Mediterranean cruise can venture to the likes of Rome, Olbia and Florence on the ultimate food tour. Be sure to try authentic lasagne, prosciutto, ribollita (a traditional meal made with varying ingredients including white beans, meats and vegetables) and saltimbocca (slices of veal with prosciutto and herb leaves). For those with a sweet tooth, try a scoop of gelato, an indulgent tiramisu or torrone, a dessert made with honey, egg whites, toasted nuts and citrus zest.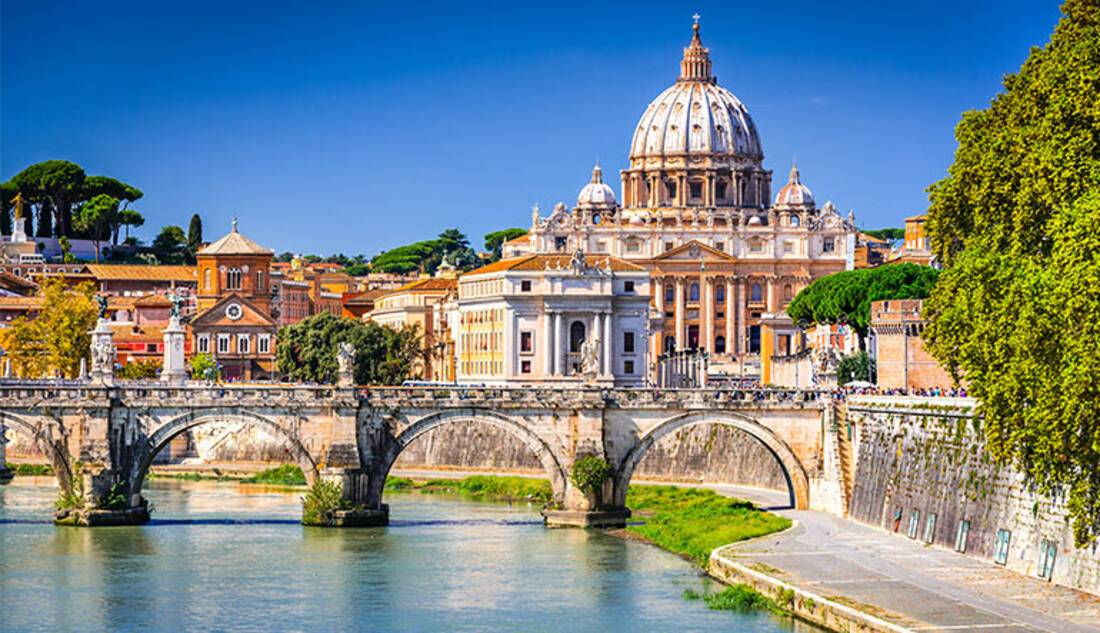 Take a food tour of Florence or Rome
Fancy sampling local cuisine? A food tour is for you! Eating Italy Food Tours (part of Eating Europe), offer incredible culinary journeys through Rome and Florence. Wibke, an organiser at Eating Italy Food Tours, told us, "our tours take people through off-the-beaten-path neighbourhoods, giving them a taste of the best that each city has to offer. All the while, they're having fun and learning about the foodie traditions and history that locals know about but most tourists never get the chance to explore.
"More than just a food tour, Eating Europe provides guests with a taste of daily life and an opportunity to feel part of the fabric of the community. Our food tours are generally 2 to 4 hours long and held in small groups of like-minded foodies and travellers."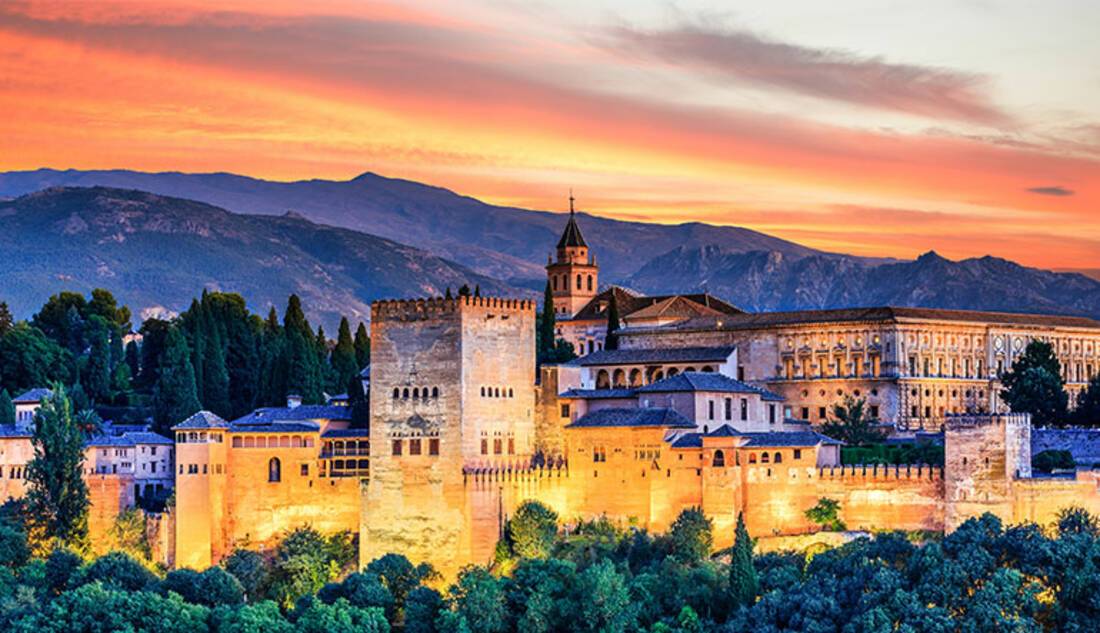 Spain
Spain's sunny Mediterranean coast attracts millions of visitors every year. Offering tourists the opportunity to bask in the sunshine with a crisp glass of wine and world-renowned seafood, it's easy to see why it tops the list for many as the ultimate foodie destination.
"Spain has diverse landscape and climates," Miguel from A Taste of Spain told us. "With a very large part of the country dedicated to farming, agriculture and fishing, Spain produces more olive oil and cured ham than any other country. Plus, it has the largest extension of vineyards in the world.
"From a culinary point of view, the traditional cuisine of Spain is particularly rich and varied, it takes advantage of great local products and the cultural heritage from Arabs, Jews and the Americas. It's not by chance that in the past 15 years Spanish restaurants are ranked consistently as some of the best in the world - San Sebastian, in the Basque Country, has more Michelin-starred restaurants per capita than anywhere else. If this is not enough, Spaniards are welcoming and love meeting new people and sharing their time, food, wine and traditions with visitors."
When you think of Spain, do you immediately think of tapas? Delicious cured meats coupled with seafood and spectacular wines make this part of the Mediterranean irresistible. Pablo from Spain Food Sherpas, a food tour company in Malaga told us, "Spain is very diverse. We have totally different products depending on the region you're visiting. Every village, even the smallest ones, have a speciality they claim to be the best in the world.
"The cultural and historic heritage our cuisine represents includes Arabian, Roman or Sephardic influence and we have some of the most special treats like rice fields in Valencia, sugar cane plantations on the tropical coast of Malaga and Granada for Saffron."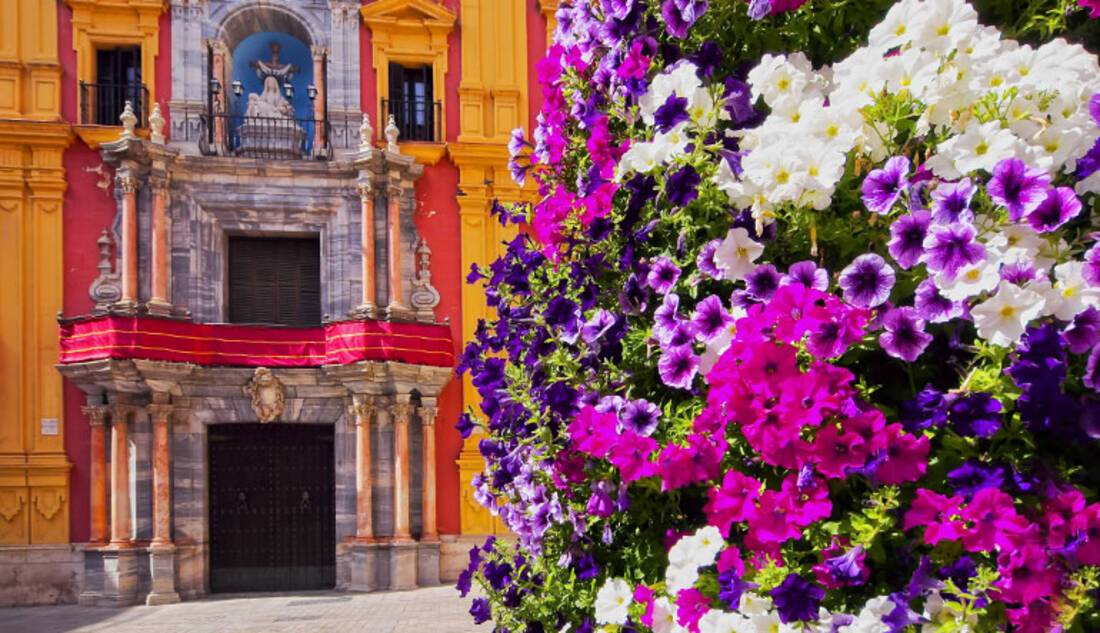 Take a food tour of Málaga
If you're spending just a day or two in Málaga, it might be worth considering a food tour to sample the best of the local cuisine. Pablo told us, "Spain Food Sherpas is a small, local company that was founded in 2013 in Málaga at the hands of a team of food lovers that wanted to reveal and share the hidden culinary and cultural treasures of the region.
"Our passion is stunning produce, grocery stores with lots of history behind them, talented chefs that create mouth-watering combinations (traditional and with a contemporary twist) and of course, the food markets are our cornerstone. We believe that one of the most enjoyable aspects of travelling is the opportunity to taste local cuisine and discover new flavours and like this, get a little bit closer to what the real essence of a place is - its culture, history and way of being through food."
So, what can you expect on a tour with Spain Food Sherpas? "Our tours are about visiting places most people wouldn't necessarily find on their own, like off the beaten track 'ultramarinos' and speciality stores. Another interesting aspect is that we offer dishes we know are tasty and representative of our region but we also try to make our clients experience food they wouldn't have ordered. Creations that combine sweet and savoury notes, different textures or presentations of some of our 'classics' or simply a really good pairing of food and drinks that get your taste buds going.
"Our clients will meet local people, learn about the history of the city and province and taste delicious food as they troll through the old town. There is much to learn about all the produce our region has to offer and we're very happy when we can share this knowledge with them, so their stay in Málaga is hopefully even richer and more profound. We strive to give insight into the local food and culture, exposing them to real local food and wine that 'Malagueños' eat."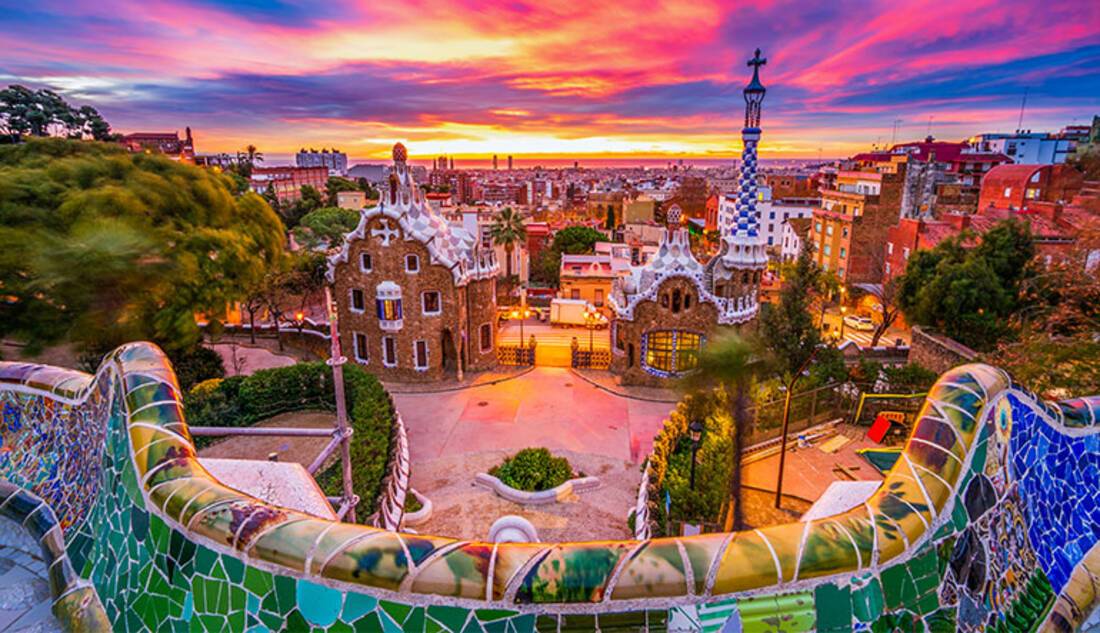 A culinary journey through Spain
For food tours and experiences in Barcelona, Catalonia, Andalusia, Galicia, the Basque Country and Central Spain, aptly named A Taste of Spain have got you covered. Specialising in designing and organising private culinary tours and activities for international foodie travellers, the agency launched in 1999 as the first tour operator of its kind.
Miguel from A Taste of Spain told us, "on our food tours and activities, participants get to know Spain and its culture through food and wine - not just enjoying great food but meeting local farmers, producers and chefs, visiting food markets and learning how Spaniards cook and share time around food as an essential part of their social life." As well as tours, A Taste of Spain offers cooking experiences. Miguel added, "we also organise hands-on cooking classes in Madrid, Barcelona, Valencia, Cadiz, Galicia and San Sebastian, as well as good workshops featuring Spanish products such as Iberico ham, olive oil and cheese."
Miguel told us which meals traveller should prioritise, "there are famous Spanish dishes and products such as paella, Spanish omelette, tapas, Iberico ham and sherry wines that shouldn't be missed but sometimes it's not easy for visitors to get to enjoy their authentic versions, particularly in tourist areas. The list of regional specialities and dishes throughout our country is endless, Spain is a true paradise for foodie travellers.
"Also beyond what one eats, we believe that getting to enjoy food in the way locals do makes a huge difference - tasting tapas is a good example, the experience becomes truly special if one has the help of a local who knows the right places, the people behind the bar, each bar's specialities, the best time to go, how to order."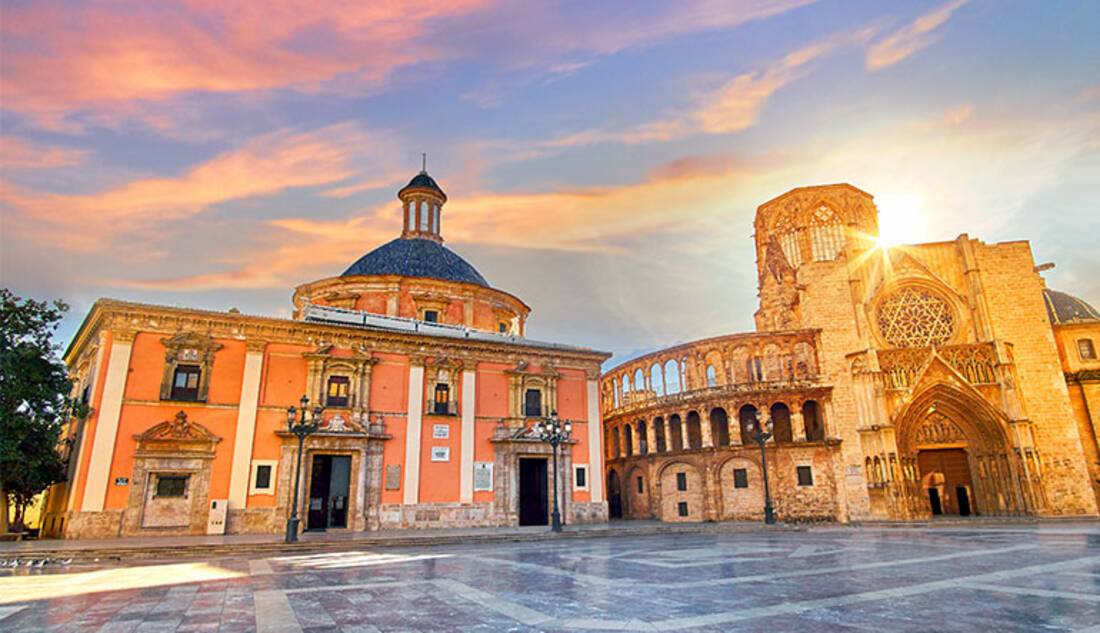 Try Spanish wine
Spain is the third-largest producer of wine in the world. The country's enormous variety of grapes (around 400) are harvested to create exceptional wines with every region producing its own speciality. In the rural landscape of Valencia, Vicente Gandia, a century-old winery, continues to produce exquisite Mediterannean wine. Founded in 1885, it is currently managed by the fourth generation of the Gandia family. Considered to be the largest winery in Valencia, Vicente Gandia's wines are enjoyed in more than 90 countries on five continents.
"Our winery remains faithful to its founding values," Paula told us. "It contributes to the progress and welfare of society and is committed to quality and innovation without forgetting the wine tradition of our ancestors.
"Vicente Gandia controls the entire production process, from harvest to bottle labelling, allowing us to leave our own stamp on the wines we produce without stripping away the essence of their region. Valencia consists of four sub-zones (Alto Turia, Valentino. Clariano and Moscatel) with altitudes ranging from 250m to 1100m, this is a region with great wine variety that can offer both young wines, whites and roses with great freshness and aroma and modern and innovative reds."
The landscape plays a huge role in the creation and development of Vicent Grandia's wines. Paula told us, "the Mediterranean climate conditions of this area with long hot summers and mild winters, result in high-quality wines with Mediterranean character. We are equipped with all the technology for getting the most out of the land without damaging it; respecting natural cycles, making the best of water, seeing each vine stock as something able to produce the multiple facets which, like a gemstone, some wines offer to delight all the senses."