Bangkok is known for its many incredible rooftop bars, and when you have a skyline as impressive as this city does, it's easy to understand why so many have cropped up. Those taking advantage of a cruise holiday offer have so much to look forward to in Bangkok but if you want to get a slightly different view of the city, we certainly recommend visiting one or two of these incredible bars while you're in town. With incredible panoramic views to be found, top drinks, and great food, you are destined for a memorable time. To help you out a little, we've put together this introduction to what's available in our guide to the best rooftop bars in Bangkok.
Sky Bar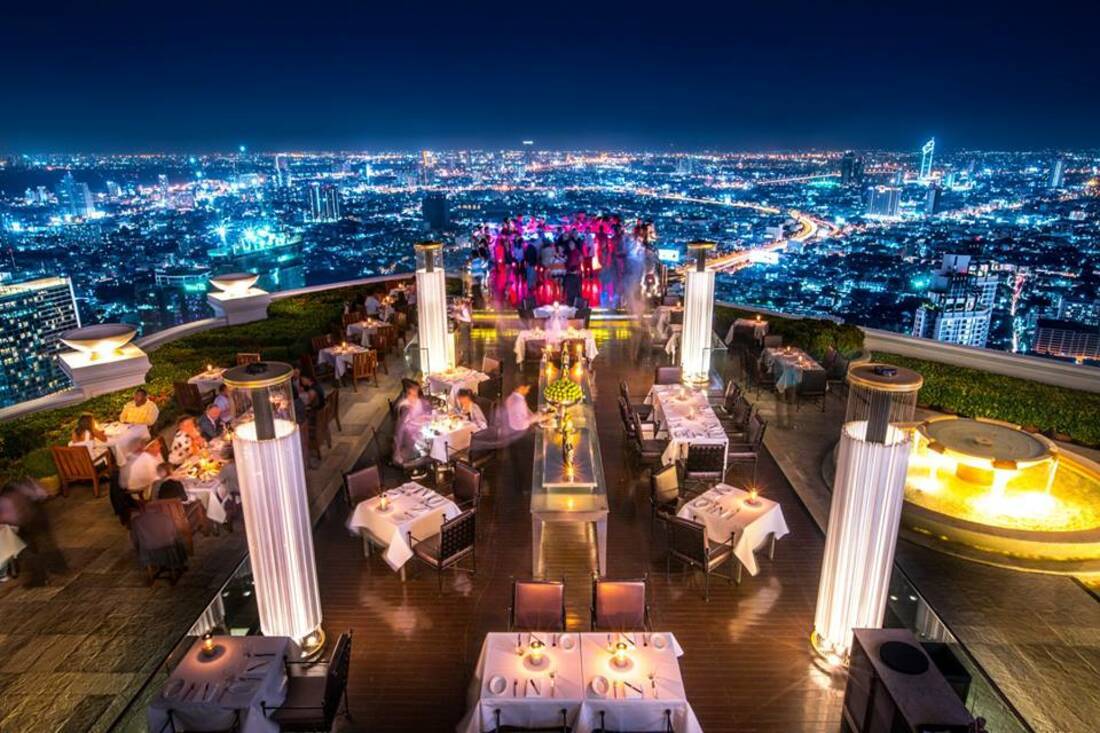 Image credit: Lebua Sky Bar
Noted for having some of the best river views in Bangkok, Sky Bar is a true sensation and has become even more popular thanks to its appearance in the film 'Hangover II'. Situated at Lebua State Tower, Sky Bar is a whopping 63 floors up and one of the hottest spots in town come sunset. You will certainly want to see what all the fuss is about during your holiday to Bangkok. While certainly a busy spot on a clear day, there's not much that beats the views on offer at 820 feet off the ground. Standing out with its golden dome, head on up for a night of innovative cocktails from their expert mixologists.
To help visitors gain a more vivid picture of what to expect, Katie and Ben from the travel blog Two Wandering Soles spoke to us about their evening at Sky Bar: "While the drinks at Sky Bar are good, the real star of the show is the panoramic view over Bangkok. It was quite a sight to watch the sunset and see the city come alive in the dark. If you are looking for a great view and a bit of luxury, Sky Bar is a good choice. Just know that there is a strict dress code and the drinks are not cheap (like most other places in Thailand!). If you go there knowing what to expect, you'll have a great time taking in the sweeping views."
And on the joys of visiting Bangkok in general, Katie and Ben told us: "We love Bangkok for its unapologetically chaotic character. While it can be overwhelming at times, there is truly never a dull moment in this city! We've visited Bangkok a handful of times and always find something new to do. We look forward to coming back again and exploring even more of this sprawling metropolis."
Above Eleven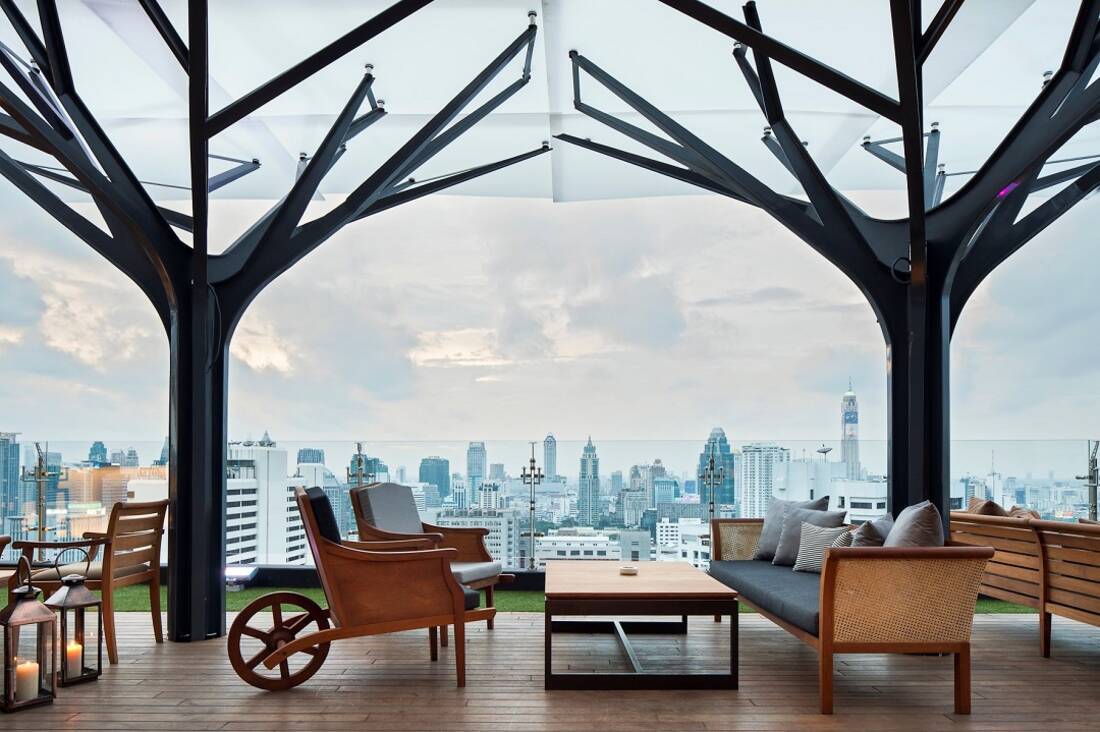 Sukhumvit Soi 11 is one of the most popular streets for nightlife and fun times in Bangkok, and 32 floors above it is the wonderfully relaxing and atmospheric bar and restaurant known as Above Eleven. Its funky atmosphere and striking décor certainly make this spot stand out from other rooftop bars in the city. Sitting on its comfortable sofas while enjoying its signature cocktails and delicious Peruvian cuisine, is made only more memorable by the spectacular view framed by two tree-like pillars. Talk about picture perfect! The first Peruvian-Japanese rooftop bar and restaurant in South East Asia, Above Eleven, is certainly a location that should be on your to-do list.
We made sure to ask Above Eleven what they think makes them such a wonderful rooftop bar in Bangkok: "We have everything you need to make the perfect rooftop bar experience. 1. Fantastic F&B (food and beverage): we specialise in Peruvian Japanese Cuisine, that is unique and yet familiarly delicious at the same time. We have anticuchos, sushi, sashimi, ceviche… memorable food! 2. Impeccable views of Bangkok's City Skyline. 3. Great Service: We make you feel comfortable and at home in our rooftop bar & restaurant. Our staff are friendly and accommodating, leaving you with an unforgettable experience of Bangkok's rooftop bar."
Speaking further about their incredible menu, Above Eleven said: "We have a wide selection of dishes - vegetarian, seafood, meat dishes - that complements everyone's dietary needs. Our food is unique, but familiarly delicious at the same time, with elements of western and eastern comfort food present in all the dishes."
The Speakeasy Rooftop Bar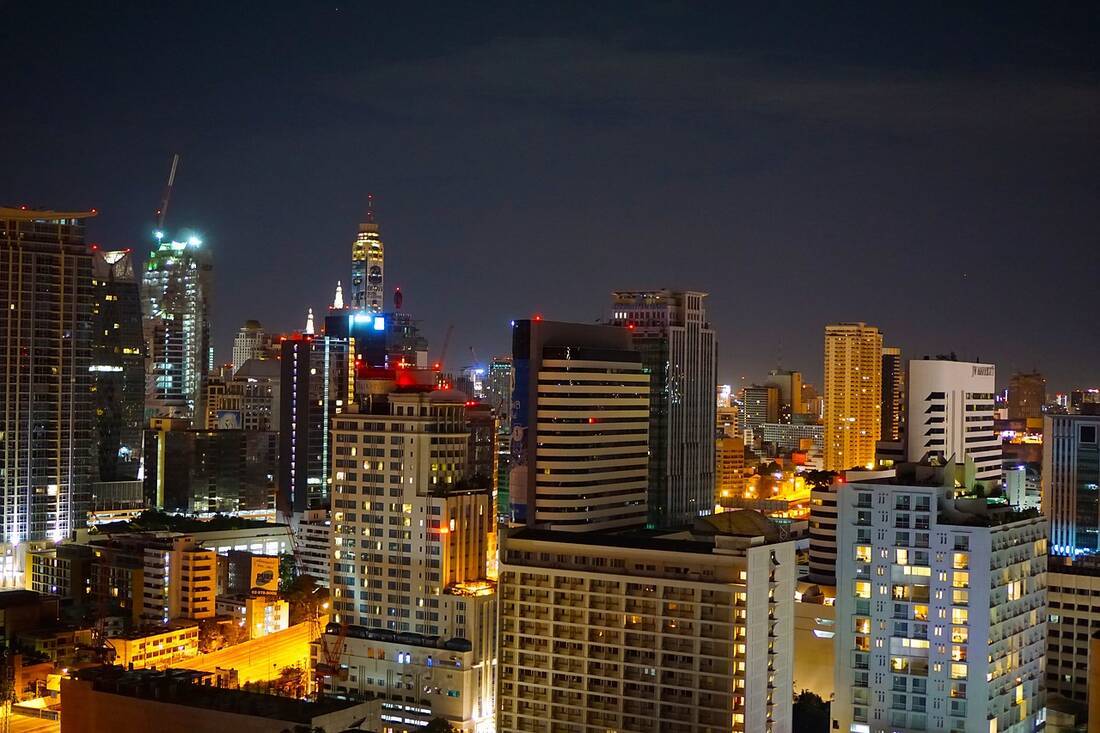 Inspired by the speakeasies of America in the 1920s and 30s, The Speakeasy Rooftop Bar on the 24th and 25th floor of the Hotel Muse is certainly a must-visit. Both elegant and sophisticated, there is a distinct atmosphere to be found here and a selection of cocktails to match. Also serving up gourmet dishes that are perfect for sharing and offering plenty of private areas for guests to enjoy, this bar has far more going for it than just a spectacular view. Gin enthusiasts will be especially attracted as The Speakeasy is home to 40 different premium gins, helping it be known as the best gin bar in Bangkok.
Samantha, of the travel blog Travelling King, thoroughly enjoyed her time at the Speakeasy Rooftop Bar and spoke to us about what makes it so special: "The Speakeasy Rooftop Bar is a wonderful rooftop bar because it offers a small garden in a crazy city like Bangkok. With its fake green grass underfoot, it makes you feel super relaxed and, of course, the views over Bangkok are incredible. I would highly recommend their Bacon old fashioned cocktail - get out of your box and try something new!"
Octave Rooftop Bar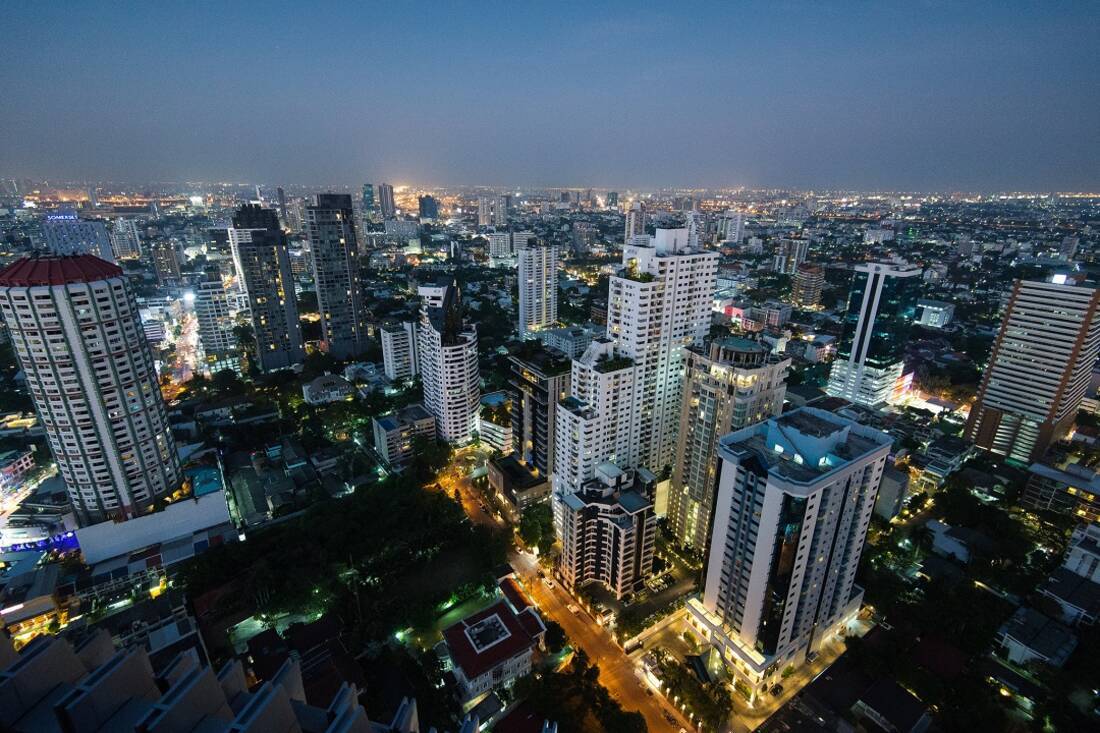 Found at the Marriott Hotel Sukhumvit, the Octave Rooftop Bar features a lounge and a 360-degree view of the breath-taking Bangkok skyline. Both comfortable and colourful, the 45th-floor space at Octave is truly impressive. The menu is comprised of new-age fusion food and a seafood bar, fine wine, and cocktails. For entertainment, guests can look forward to live DJs, composing the score for what is bound to be a memorable evening.
Sabrina, from the travel guide Just One Way Ticket, adores Octave Bar and spoke to us about why it is so special: "I love Octave Bar on Sukhumvit 57! The bar is located on the 45th floor on top of the Marriott Hotel. A comfortable setting with amazing 360-degree views over downtown. It's a great place to head in the early evening before the sunset. Also, note that there is a happy hour that makes it totally worth it to go there at 5 pm! Cocktails are half price until 7 pm, every day! Try the Lumpini Cocktail, it's very refreshing! If you're hungry, they offer some fusion food, Asian-style tapas platter, seafood, and even hot dogs!"
CRU Champagne Bar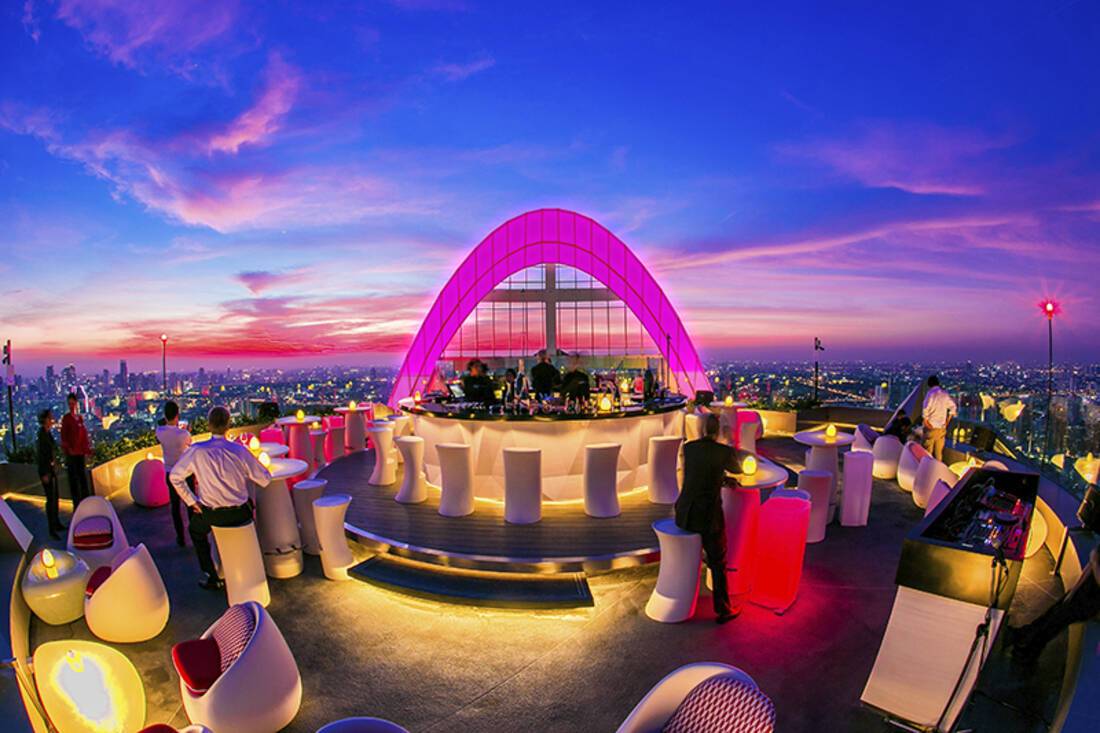 Image credit: CRU Champagne Bar
Vibrant and colourful, CRU Champagne Bar is an impossibly high rooftop bar and certainly one of the most striking in Bangkok. With truly remarkable views, this is the place to be for a fancy night out. Speaking to us about their establishment, the team at Cru Champagne Bar said: "Located on 59th floor of Centara Grand at CentralWorld, CRU Champagne Bar is 210 meters high above the ground and the only Champagne Bar in Bangkok with its 360° panoramic backdrop of the stunning Bangkok skyline, offering a refreshing place in the heart of the bustling city.
"The selection available at CRU includes the extensive range from G.H. Mumm champagnes, Perrier-Jouët, and other favourites, enough to satisfy the most discerning palates. And while the main focus at CRU is on the drinks, the menu also features an international array of bar snacks freshly prepared by the team of international chefs. Catch one of the amazing sunsets, meet for a romantic rendezvous, celebrate one of life's special moments, or simply indulge yourself after a hard day's work with a glass of fine bubbles."
Cielo Sky Bar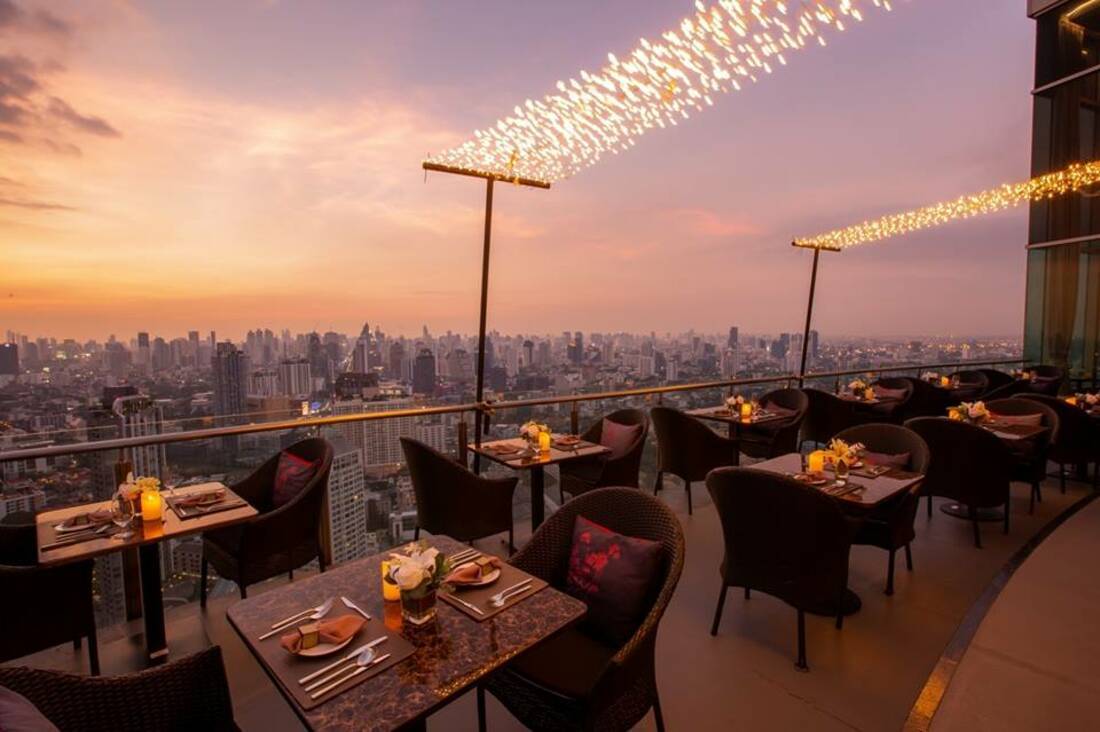 Image credit: Cielo Sky Bar
For a truly impressive yet affordable entry into our list, visitors to Bangkok should be sure to check out Cielo Sky Bar. Situated way up on the 46th floor, there are plenty of comfy seats on hand that are perfect for checking out the 180-degree view of the Bangkok cityscape – a sight even more impressive at sunset! At Cielo Sky Bar you will discover great style and an elegant 1960s aesthetic. Cielo isn't just a bar, it's also a wonderful restaurant, making it the perfect venue for either an end of evening drink or romantic meal. Their sumptuous menu can be found on their website if you wanted to take a peek.
Marble Bar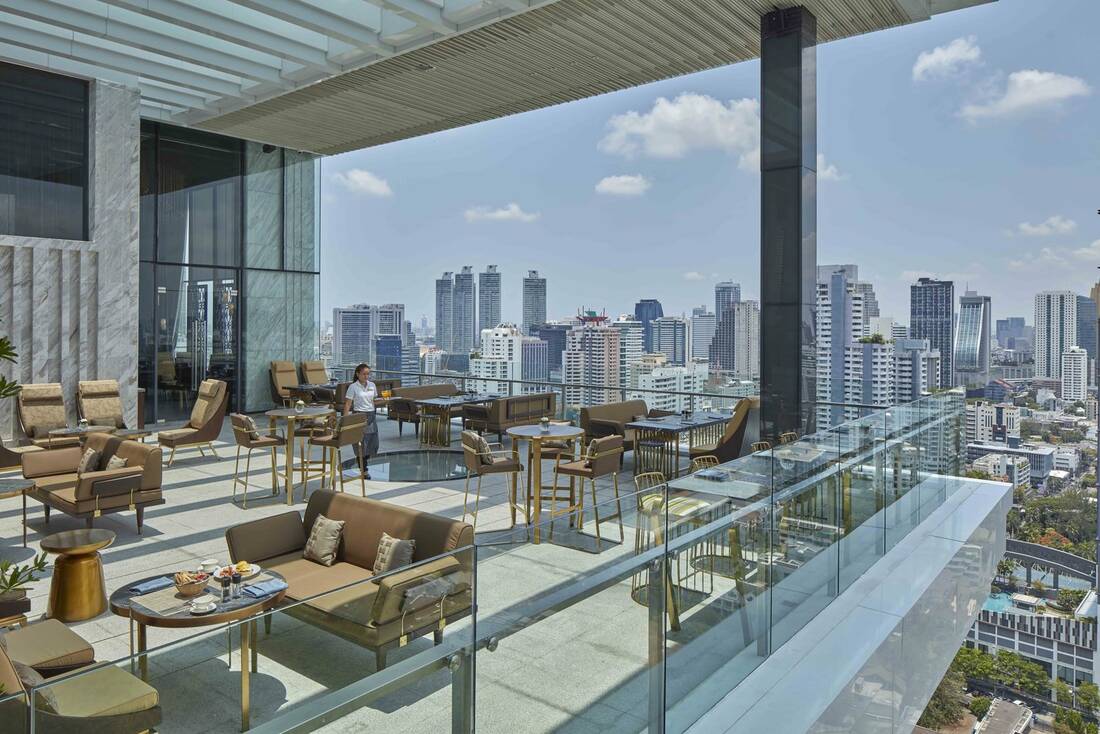 Image credit: 137 Pillars Suits & Residences
Marble Bar, as its name suggests, is an elegant and stylish rooftop bar that is decked in beautiful marble from head to toe, providing a look wholly unique to it across Bangkok's rooftop bar scene. Situated at 137 Pillars Suites & Residences on the 27th floor, visitors can look forward to a verified oasis, stepping out into its space to see the bar right next to an infinity pool. This upscale and trendy bar is blessed with some exceptional views and is known for delighting its guests with a mixture of light refreshments, fine wine, tasty comfort food, and passionately created cocktails.
Bangkok's best rooftop bars
Sky Bar
Above Eleven
The Speakeasy Rooftop Bar
Octave Rooftop Bar
CRU Champagne Bar
Cielo Sky Bar
The Marble Bar
This has been just a taste of the incredible rooftop bar experiences available in Bangkok. This beautiful and vibrant city is replete with sky tall dining options for you to choose from. No matter the style or atmosphere you are looking for, there is a rooftop bar for you. There is so much to look forward to on a holiday to Bangkok but by visiting one or two of the above hot spots you can really make your trip one that won't be forgotten anytime soon.
Image Credit: Marcus Andersson