Bears catching salmon, bald eagles soaring over mountains and miles of vast wilderness all come to mind when thinking of Alaska. But this majestic state is starting to draw crowds for a different reason – food. From traditional ingredients such as berries and salmon, to the more unusual caribou and whale, Alaska's cuisine is completely unique.
There are a surprising number of food festivals celebrating Alaska's extensive culinary culture. From gastronomic state fairs to festivals in honour of the state's native fish, ROL Cruise have created a guide to the ultimate Alaskan food festivals.
Alaska State Fair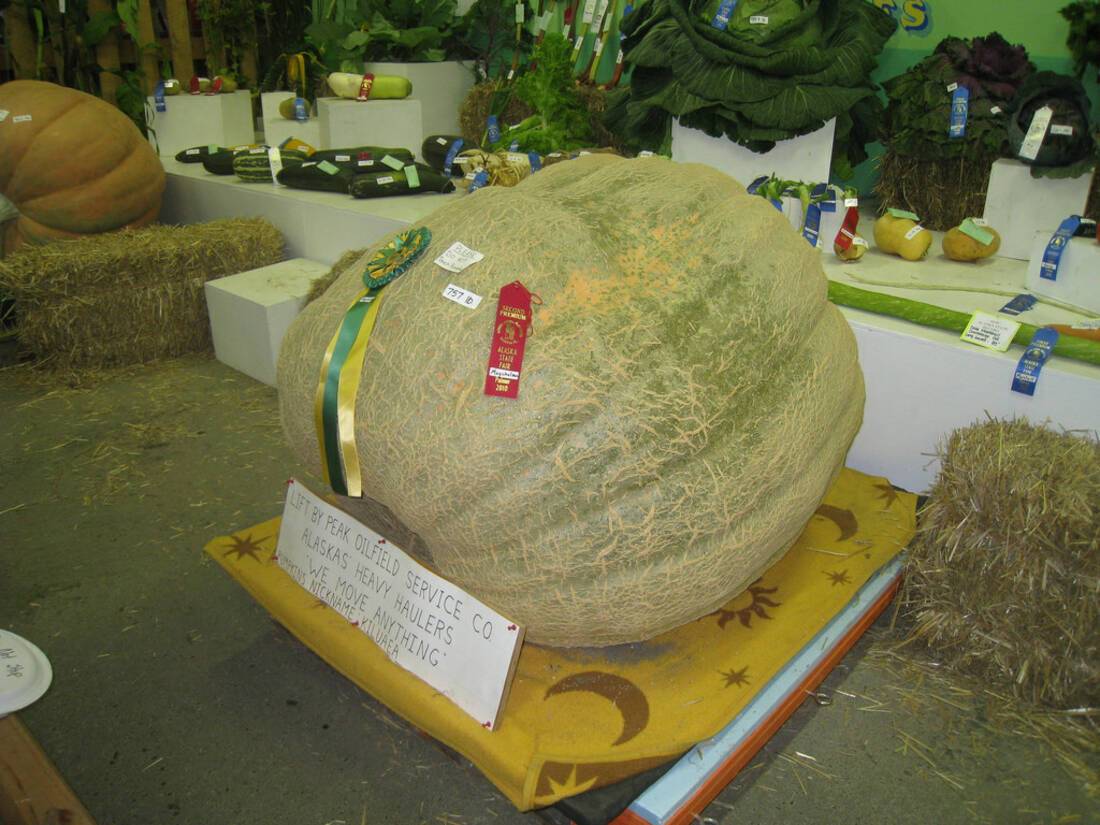 Deep-fried halibut, batter-fried cheese curds and salmon quesadillas are all on offer at the Alaska State Fair. This huge event draws crowds of over 300,000 people and celebrated its 80th anniversary in 2016.
For seasoned foodies, the event welcomes vendors serving a vast array of dishes, such as barbecue catfish, bison burgers and caribou steak sandwiches. As well as offering over 500 items on its menu, Alaska State Fair welcomes bands, musicians, carnivals and competitions.
Don't miss:
The giant fruit and vegetable contest. In 2016, a pumpkin weighing 1,469 pounds broke the fair's record.
Kodiak Crab Festival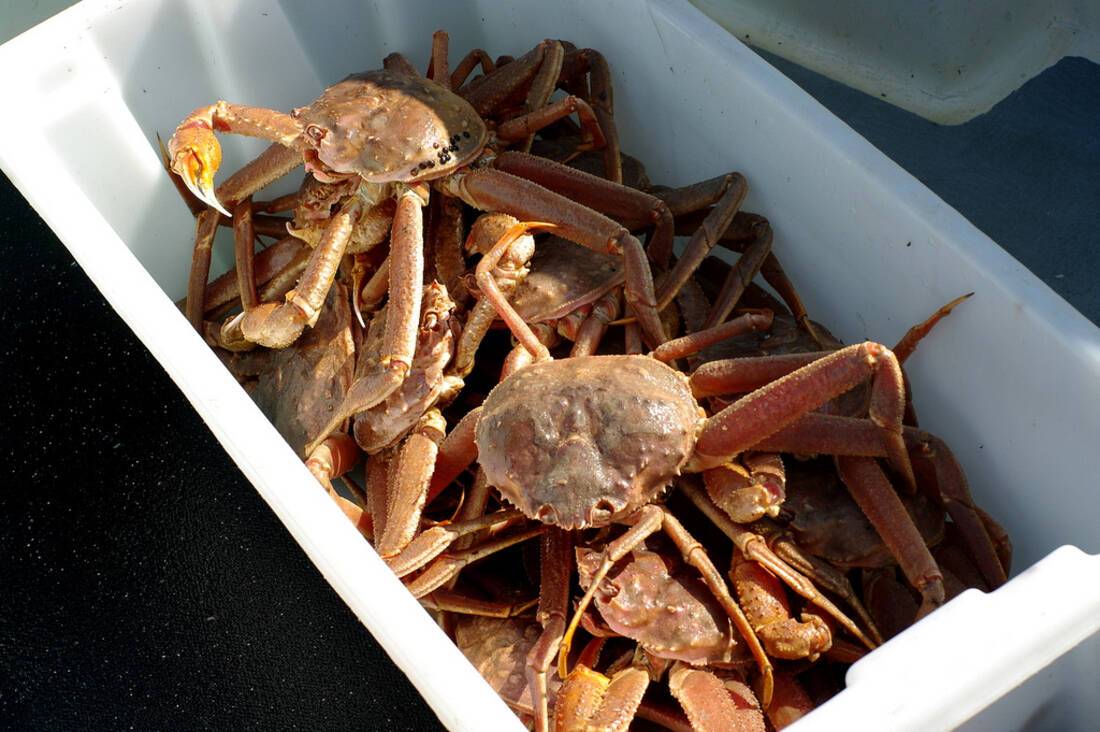 Kodiak Crab Festival, originally named the King Crab Festival, celebrates Alaska's bounty from the sea. Simply put, if you love seafood, you'll love this festival. But the culinary delights don't stop at crab, the festival's famous Bruin Burgers draw crowds every year.
The festival is a wonderful celebration of Alaska's deep roots with the ocean and marks the end of winter. Having run for over 50 years every Memorial Day weekend, this established festival is well worth a visit.
Don't miss:
The Bruin Burger - a hamburger with gooey cheese wrapped in dough, then deep-fried.
Great Alaska Craft Beer and Home Brew Festival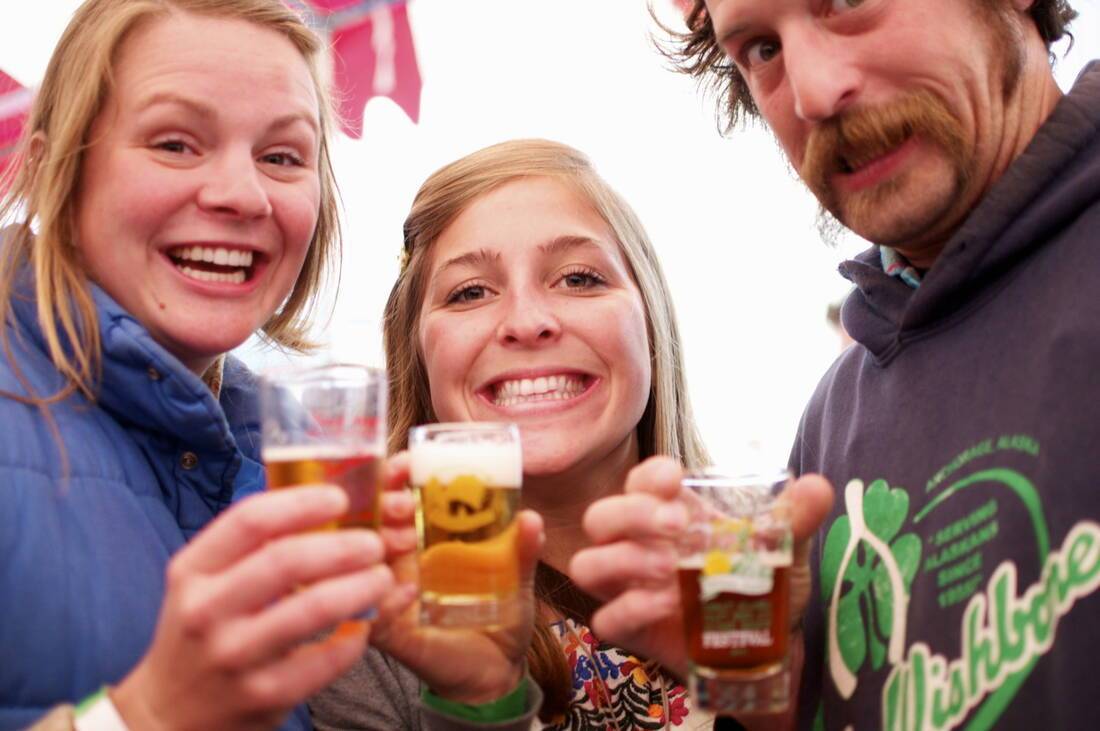 Known by locals as 'Haines Beerfest', this hugely popular festival began as a small gathering of local breweries in Haines 25 years ago and keeps growing every year, echoing Alaska's craft beer movement. Local vendors at the Great Alaska Craft Beer and Home Brew Festival include Alaskan Brewing, Haines Brewing, Skagway Brewing, Kenai River Brewing and plenty more.
Founded 17 years ago by Paul Wheeler and Jeanne Kitayama, Haines Brewing has deep roots in Alaska. You can catch up with the team at the festival over a glass of Captain Cook's Spruce Tip Ale, a refreshing ale with a subtle raspberry finish, Black Fang, a delicious stout with chocolate and coffee flavours, or any of the brewery's tasty beers. Haines Brewing can be found on 4th and Main Street with a spacious tasting room and beer garden.
The festival kicks off with a five-course gourmet dinner, featuring exotic dishes such as Alaskan pork cured with spruce tips and molasses, where each meal is carefully paired with a local craft beer. The next day, festivalgoers descend on the Southeast Alaska State Fairgrounds to sample Alaska's finest craft beer, home brews and delicious food.
"At the Beer Festival Tasting Event, 1,900 beer lovers gather to sample from more than 100 craft brews and taste treats such as fried cheese curds, oysters on the half shell and bacon wrapped dates," said Jessica Edwards, director of the Southeast Alaska State Fair.
"People can play games like an old-fashioned Hi-Striker and Smashed, where the object is to break beer bottles with rocks, listen to live music and hang out with old friends and new."
Don't miss:
One-to-one chats with the brains behind the brews.
Alyeska Resort Blueberry Festival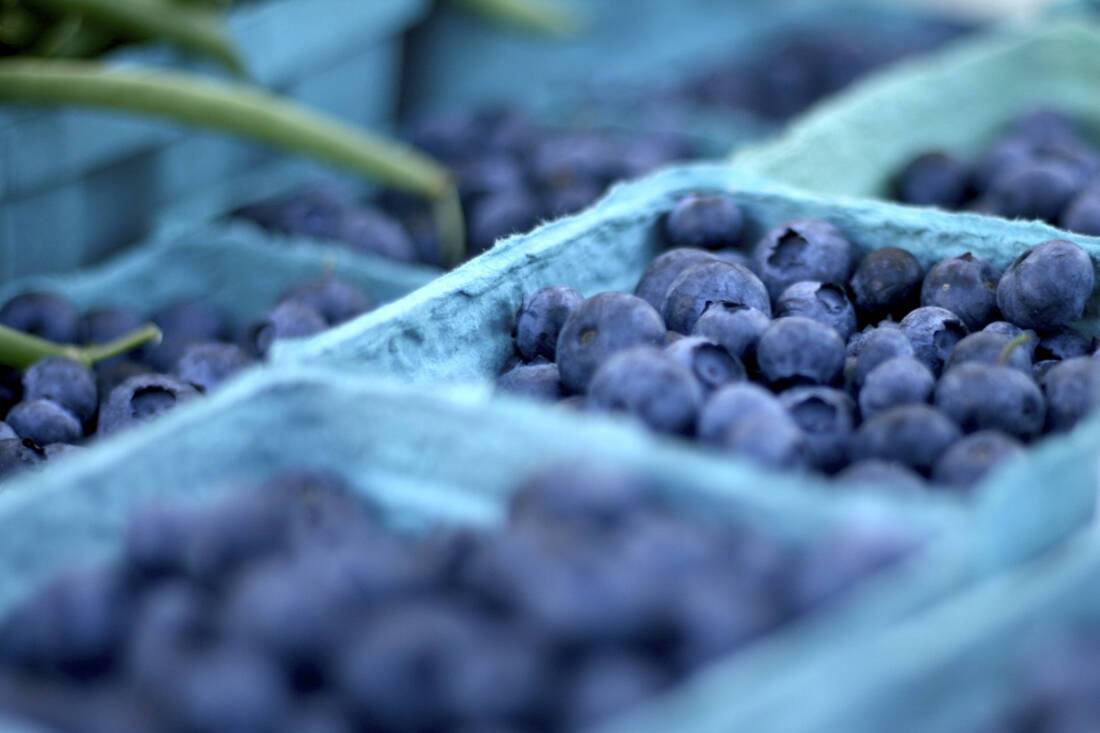 As its name suggests, this vibrant festival celebrates the lush blueberry season in Alaska. Every summer, Alyeska Resort rejoices with pie eating contests, creative blueberry creations and an informative blueberry trail, as well as a range of stalls selling blueberry-related gifts and crafts. This wholesome festival is perfect for families but also offers live music and a beer garden for adults.
Don't miss:
The chairlift ride up the hill to find the best blueberry stashes.
Valdez Pink Salmon Festival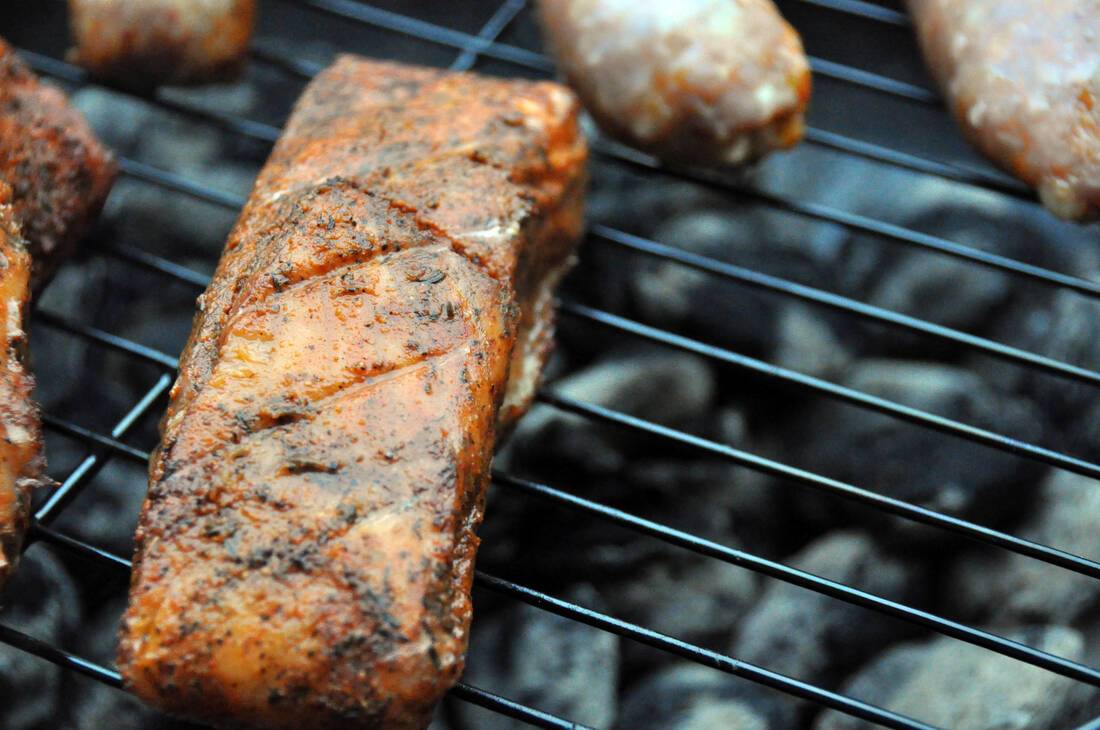 Every year, around 10-15 million pink salmon return to the rivers of Valdez. To celebrate this remarkable bounty and raise awareness of the pink salmon as a healthy and sustainable food source, this unique festival was created eight years ago.
Celebrating its eighth year, Valdez' popular festival includes a pink salmon cook-off, offering amateur chefs the chance to win thousands of dollars for their most creative recipe. Seafood lovers can gorge on as much pink salmon as they can manage, or gather inspiration from cooking demonstrations.
Don't miss:
The free community pink salmon fry. Here's your chance to tuck into wild Alaskan pink salmon, grilled to perfection!
Fairbanks Midnight Sun Festival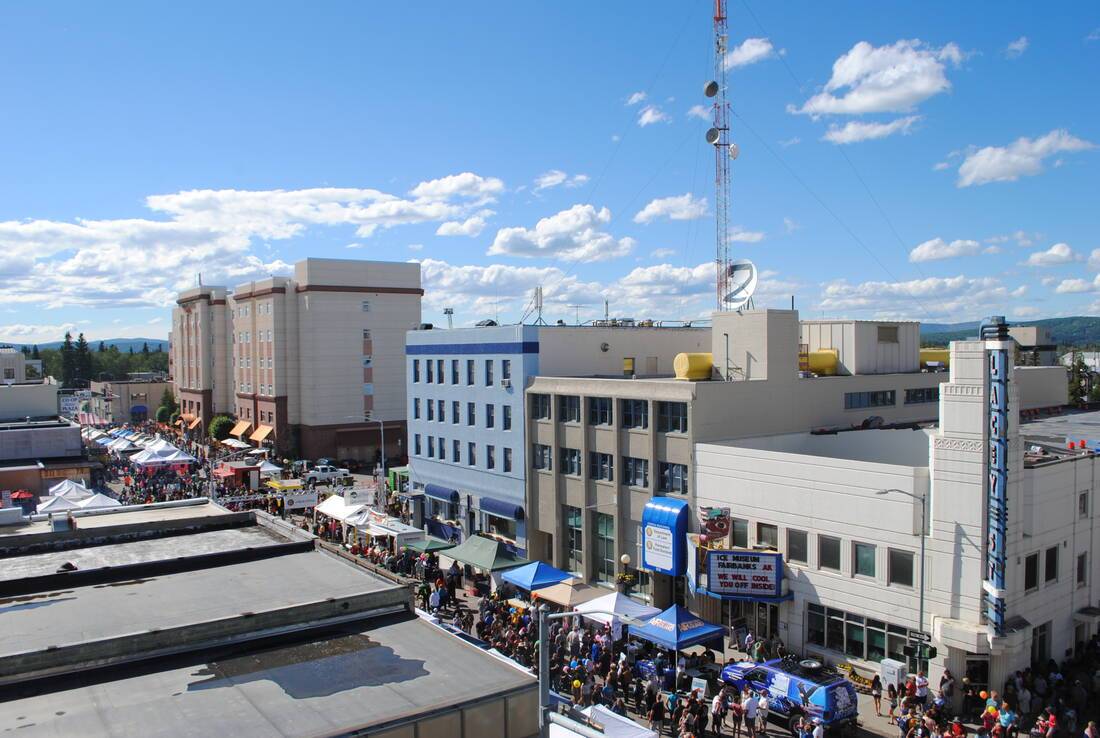 Said to be the largest single day event in Alaska with crowds of over 30,000, the festival takes over downtown Fairbanks in a huge community celebration of Summer Solstice. Fairbanks is so high in the Northern Hemisphere that the sun doesn't set until midnight. "The festival is the sub-arctic equivalent of a massive foodie event combined with the musical focus of a Coachella or SXSW," said Jeremia Schrock, communications director of the Downtown Association of Fairbanks.
"The local population are absolutely chuffed to get outside and have a party. Especially in a place like Fairbanks which is dark and cold for so much of the year, just this winter we hit -50 degrees! We live to get out there and celebrate the sunlight. In a very real way, local Fairbanksians are absolute sun worshippers."
The event welcomes more than 40 food vendors, serving dishes that utilise the flora and fauna of Alaska. That means ingredients such as blueberries, honey and reindeer meat, paired with delicious Alaskan beers. Midnight Sun Festival also offers visitors an international flavour, with Vietnamese and Thai food being a popular choice among locals at Fairbanks.
Don't miss:
The amazing live performances. Midnight Sun Festival hosted over 36 live bands, musicians and troupes in 2016.
Salmonfest

Every year, 6,000 people gather at a small village in the Kenai Peninsula to celebrate the deep-rooted connection between Alaskans and fish. Salmonfest transforms Ninilchik into a city "for three days of fish, love and music", according to the organisers. Over the weekend, Alaska's top food producers serve up delectable dishes, most popular of all - salmon.
The festival also offers tasty local beers and art, as well as over 50 live acts across four stages. Salmonfest is supported by the Kachemak Bay Conservation Society and aims to celebrate wild Alaska with everyone who makes the journey to Kenai. Why not book an Alaskan cruise to explore the area?
Don't miss:
Salmonfest's incredible line-up. The festival is famous for its amazing live acts.