Attracting millions of visitors, Oktoberfest is the highlight of the German calendar. One of the grandest festivals in the world, it is steeped in tradition. Stretching over 16 days, it has been an annual occasion in Munich for over 200 years, spawning multiple similarly inspired festivals around the world.
With the 184th Oktoberfest just days away, we have created the ultimate guide to a regular feature on many bucket lists, as we run-through the history, tents, beer and more.
The history of Oktoberfest
You can trace the history of Oktoberfest way back to 1810, when Crown Prince Ludwig married Princess Therese of Saxony-Hildburghausen on October 12th. Each citizen of Munich was offered an invitation to the celebration, and festivities which were held in the fields in front of the city gates.
The highlight of the wedding was the horse races, which concluded the day. These races continued the following year thanks to the overwhelming support and attendance. Added to this in 1811 was the first Agricultural Show in what was an aim to boost agriculture in Bavaria. The agricultural element is still maintained today, featuring every three years, but the races are not.
In 1818 the first carousels and amusements were added, with a small selection of beer and food stands to help fuel the visitors. These were then upgraded to beer tents in 1896 by local landlords looking to expand and profit from the growing event. At the same time the remaining area was beginning to fill out with more and more funfair attractions.
Now, Oktoberfest is the largest festival in the world, attracting visitors from across the globe. Though the modern version has certainly gone with the times, the presentation and delivery remains the same as it was way back in 1811.
The beer
Oktoberfest is of course an extremely significant event for the culture and history of Munich, Bavaria and indeed Germany. But the beers are a major part of the event. Served in "mass" glasses – one litre tankards – you can expect to pay between €9.70 and €10.10, though this figure does change each year.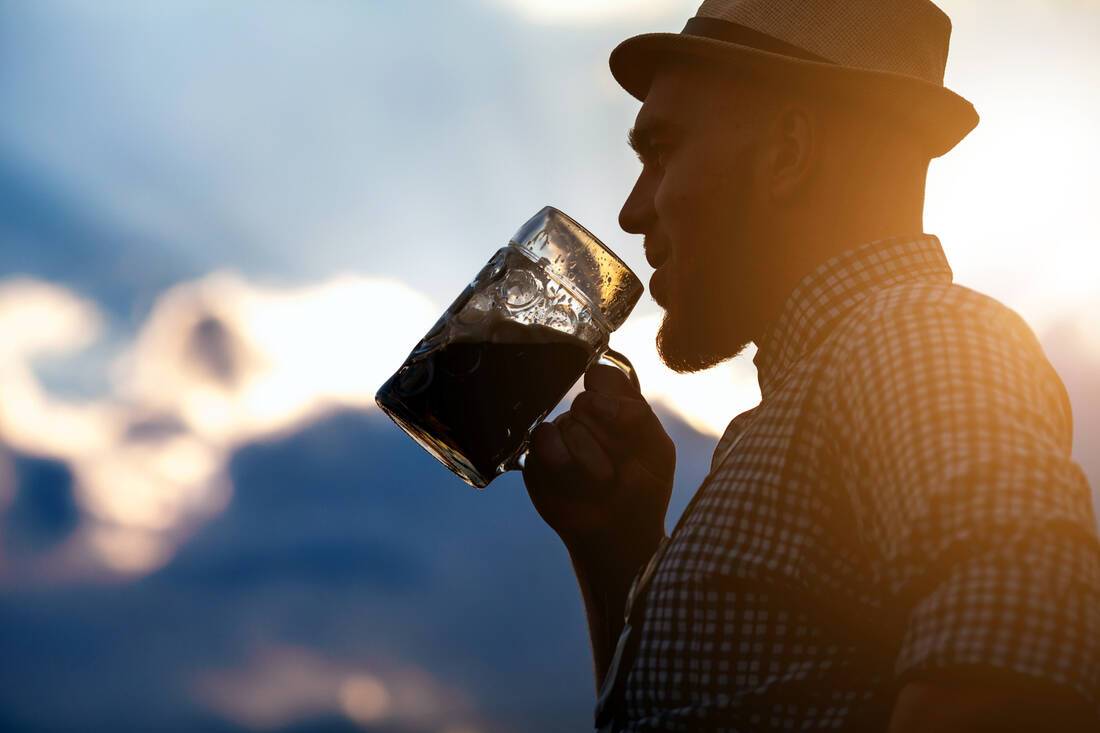 Ultimately Oktoberfest is what you make of it. You can go there to enjoy a couple drinks, brilliant food and soak up the atmosphere, or you can fully indulge yourself. It is up to you. Taps open from 10am and stop at 10.30pm during the week, but expect a 9am start and 10.30pm finish during the weekend and on holidays. This makes it a day-long event for many.
There are six breweries serving beer for Oktoberfest across the 14 large and 21 small tents:
Augustiner
Founded in 1328, Augustiner is Munich's oldest brewery. Serving up 6 per cent alcohol in its beers, it is the only brewer to still use wooden barrels for storage.
Hacker Pschorr
Hacker Schorr became Munich's leading brewery in the 18th century under the guidance of Joseph Pschorr and Maria Theresia Hacker. Founded in 1417 the lightest beer on offer weighs in with 5.8 per cent alcohol.
Hofbräu
The original Hofbrau brewery, which was opened in 1589, can be found in Platzl where you can visit the Hofbräuhaus, a real tourist attraction in Munich. The brewery has moved to München-Riem which boasts a beautiful beer garden. Try their strongest 6.3 per cent beer in the Hofbräuzelt at Oktoberfest.
Löwenbräu
Pouring their 6.1 per cent beer in Löwenbräu-Zelt and Schützenzelt at Oktoberfest, you can visit the brewery at Nockherberg where they hold their annual stout festival.
Paulaner
The youngest Munich beer available at Oktoberfest, Paulaner has been brewed at the Paulaner monastery since 1634. You can find their 6 per cent beer in the Winzerer Fähndl, the Armbrustschützen-Zelt and the Käferzelt, as well as the wine tents.
Spaten
The Spaten brewery can be found in Marsstraße, where the Sedlmayr family have been in control for the last 200 years. Head to the Schottenhammel, the Marstall, the Ochsenbraterei and Spaten-Zelt tents for their 5.9 per cent beers.
Each of these six breweries have to adhere to the Edict of Purity. Reinheitsgebot in German, the Edict of Purity was signed on the 23rd April 1516 and bound the breweries in Munich to strictly only use three ingredients: barley, hops and water.
Brewers who failed to follow conform to the demands could see their barrels confiscated without any form of compensation. Ultimately, the Edict of Purity was a binding way to ensure that no harmful substances could be used for the brewer's benefits, as well as limiting the ingredients so they could maintain the production of bread. In modern times this has been altered somewhat, but there continues to be "The Beer Law", which controls the production of beer across Germany and is heavily influenced by this original document.
The food
Alongside the brilliant beer comes some fantastic food. At an event where heavy drinking is the norm, you might think that the food on offer can suffer and be tailored to the blurry-eyed hungry for something greasy that they wouldn't even consider eating while sober. But this couldn't be further from the truth.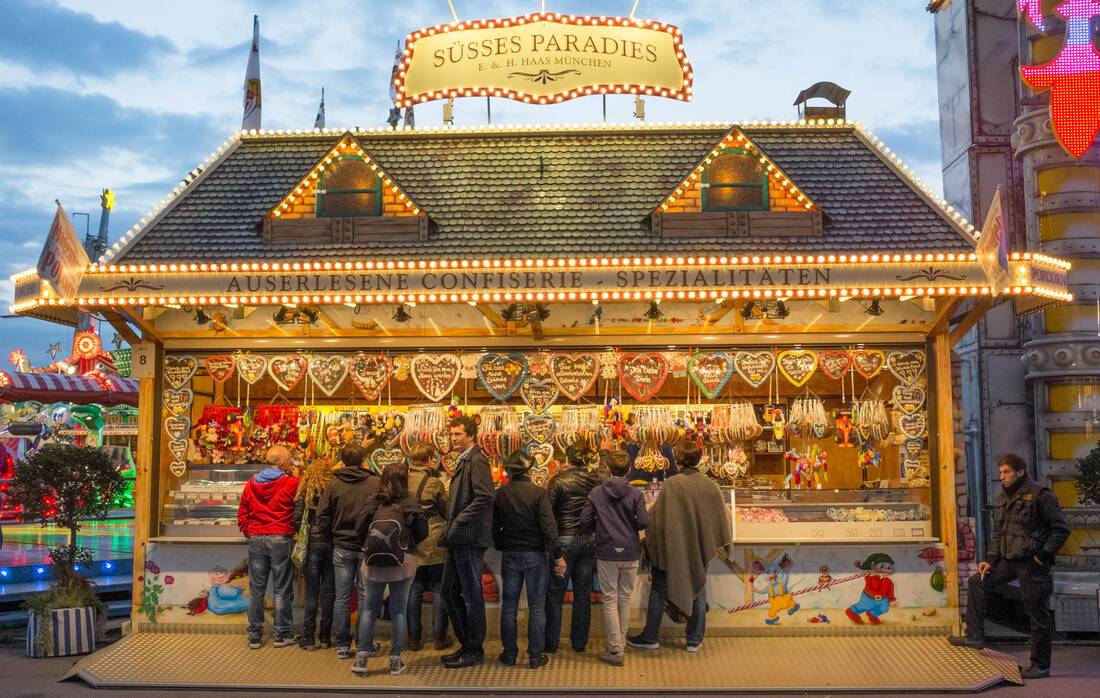 Inside the tents you will be faced with a varying selection of dishes which differ depending on where you are. You can be treated to anything from the classic bratwurst and roast chicken to pork knuckles and sweet desserts. Ashley Smith, owner and writer at My Wanderlusty Life gave us a taste of the food at Oktoberfest:
"For starters, you can't pass up a giant Bavarian soft pretzel. It's a staple, a rite of passage even; you can't not have one. As for a bigger meal, you can't go wrong with the traditional roasted half chicken. Most (if not all) tents have their own and they're simple, delicious, and will keep you going for another litre or two."
Away from the large tents there are a great selection of stalls and vendors offering up their own unique flavours and dishes. Here you can pick up smaller snacks or treats to keep you going as you wander around the festival. Or if you still want to keep hold of the atmosphere, simply head to a smaller tent. Here you will often find that the food is as valued as the beer, as you are surrounded by people interested in the best of both.
The tents
In all you will be able to wander between 34 tents at Oktoberfest. Some will be serving wine, others beer, some may not even be tents but houses. Ashley Smith told us all about the tents:
"Each of the Oktoberfest beer tents are sponsored by one of the six Munich breweries – Paulaner, Augustiner, Hofbräu, Spaten, Löwenbräu, and Hacker Pschorr – and have their own "themes", if you will. There's a Paulaner tent (the Armbrustschützenzelt) with a crossbow hunting theme, a Spaten tent with a carousel/horse theme (the Marstall Festzelt), and a Hacker Pschorr tent with the theme of Bavarian Heaven (the aptly named Hacker Pschorr festzelt), to name a few. There are large tents that hold up to 10,000 people and 'smaller' tents that can hold up to 5,000. Personally, I love the biggest tents like the Hacker Pschorr and Schottenhamel tents. Where else can you drink, sing, dance, and be generally merry with ten thousand other people? The band is playing, people are cheering, and the atmosphere is unlike anything you'll see anywhere on Earth."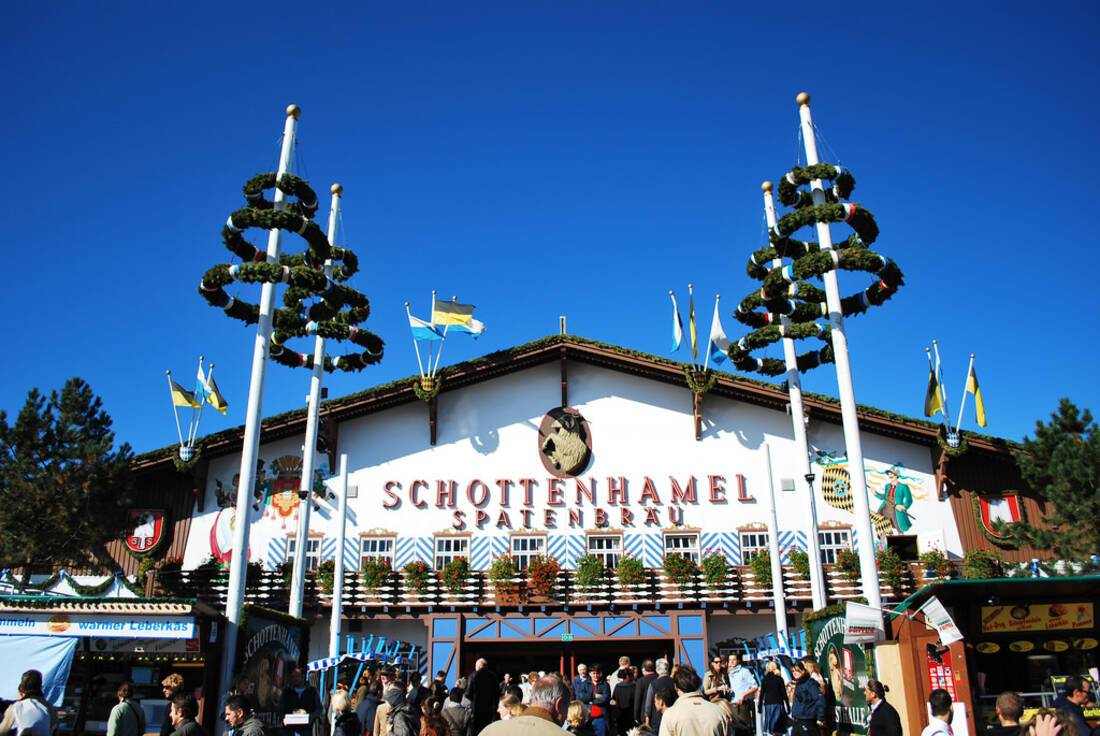 Each tent has its own unique style and atmosphere, but one thing they all have in common is how quickly their seats fill up. You should look to make a reservation well in advance of your trip, as each can only hold a certain number each day. Dani Heinrich from Globe Trotter Girls shared her top tip:
"My number one tip for Oktoberfest: If you want to snag a seat inside one of the tents, you have to get there either at 10am when the tents open or just before 5pm, when the second round of ticket holders is allowed into the tents and the first round has to leave their tables. During those times you're most likely to get a seat, even more so on a weekday. Don't be shy and ask people to join their table – Oktoberfest is all about the shared long beer tables, and drinking and singing together! The popular tents like Hacker Tent, Paulaner or Löwenbräu tend to fill up fast – try less famous tents like Schottenhamel or Bräurosl and you're more likely to get a seat."
Want to rub shoulders with celebrities? Traditional Bavarian bands playing what will become the soundtrack for your holiday? Or are you after amazing food to help soak up the beer? Well Oktoberfest is sure to have a tent for whatever desire you have. We've picked out some of the most unique tents for you to check out.
Käfer's Wies'n-Schänke
If you're hoping to brush shoulders with celebrities, then head to Käfer's Wies'n-Schänke. Run by Michael Käfer, who is well known for the up-market Käfer Delicatessen in the centre of Munich, this is the most exclusive tent at Oktoberfest. Seating just 1,000 people you will really need to be on the ball with reservations. Serving Paulaner, it is known to be open until 1am, though entry is unlikely unless you are a celebrity or are lucky enough to know someone on the door.
Armbrustschützen-Festhalle
With 5,830 seats inside the tent, Armbrustschützen-Festhalle guarantees brilliant service to every single person. Alongside the Paulaner beer and an excellent selection of food, this tent is home to the Oktoberfest crossbow competition.
Marstall
A fan of all things equine? Then Marstall is the tent for you. Meaning 'royal riding school' in old German, this tent includes carved wooden horses, a carousel with horses acting as a stage as well as a distinct carriage above the entrance. Serving Spaten-Franziskaner-Bräu, 3,200 can make the most of the live music and unique décor.
Hofbräu Festzelt
If you don't have a reservation or simply want to get right amongst the locals and the live music, then the standing area in the Hofbräu Festzelt will be right up your street. Including balconies, benches and a garden, expect to toast your Maß glasses with the most diverse collection of people at Oktoberfest.
Fischer Vroni
While Ochsenbraterei is the place for oxen, Fischer Vroni is for those hoping to sample the authentic fish on a stick. Nothing is done in half measures at Oktoberfest, take note of the 15-metre long skewers that grill the fish. Sit down amongst 3,000 punters enjoying the music of Sepp Folger over glasses of Augustiner.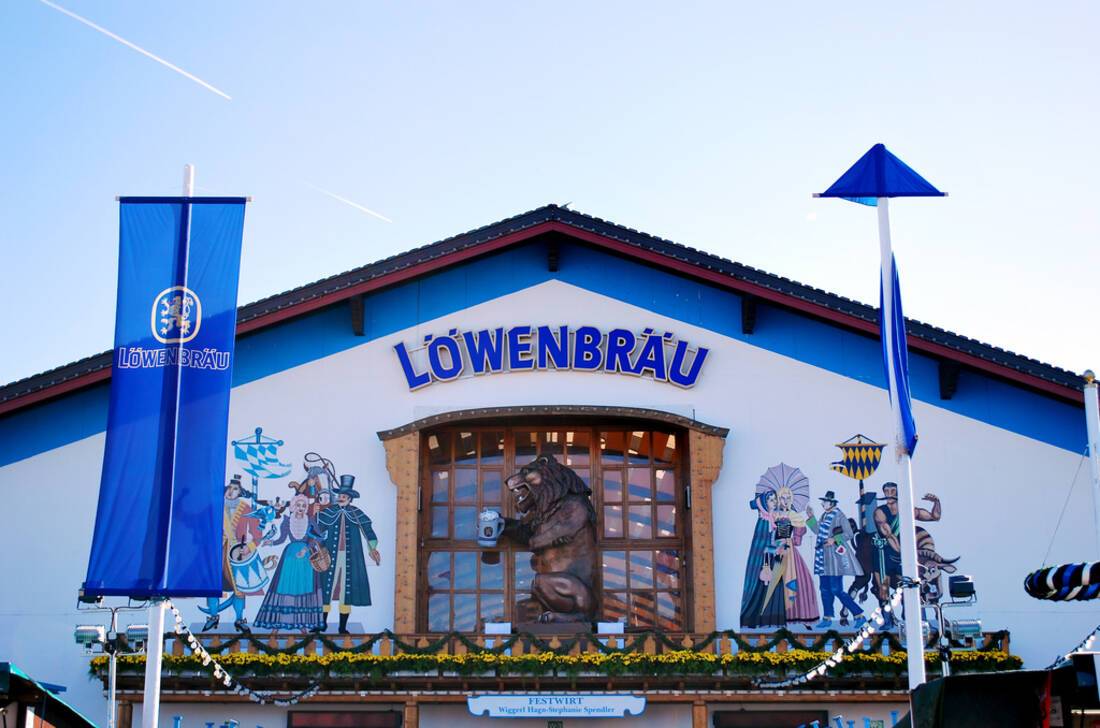 Löwenbräu-Festhalle
Visually and acoustically, Löwenbräu-Festhalle is one of the most interesting tents available to you at Oktoberfest. Note the four and a half metre tall lion that stands proudly above the entrance of the tent. With beer from Löwenbräu, more than 8,000 people enjoy fantastic service and a lively atmosphere.
Schottenhamel
While other tents may be favoured for their themes, Schottenhamel is certainly the most significant tent. This is where the mayor of Munich will tap the first key and proclaim "O'zapft is!" marking the start of Oktoberfest and only after this can the other tents begin serving beer. Back in 1867 it had just 50 seats. Now however this has grown to 10,000, predominantly young locals and tourists clambering for the best Oktoberfest-experience.
Pschorr-Bräurosl
Named after the daughter of the Prschorr brewery owner, the Pschorr-Bräurosl tent has been managed by the Heide family for seven generations. Singing, dancing and a lively atmosphere are all to be had here, with traditional Bavarian songs playing as the soundtrack to your time in the tent.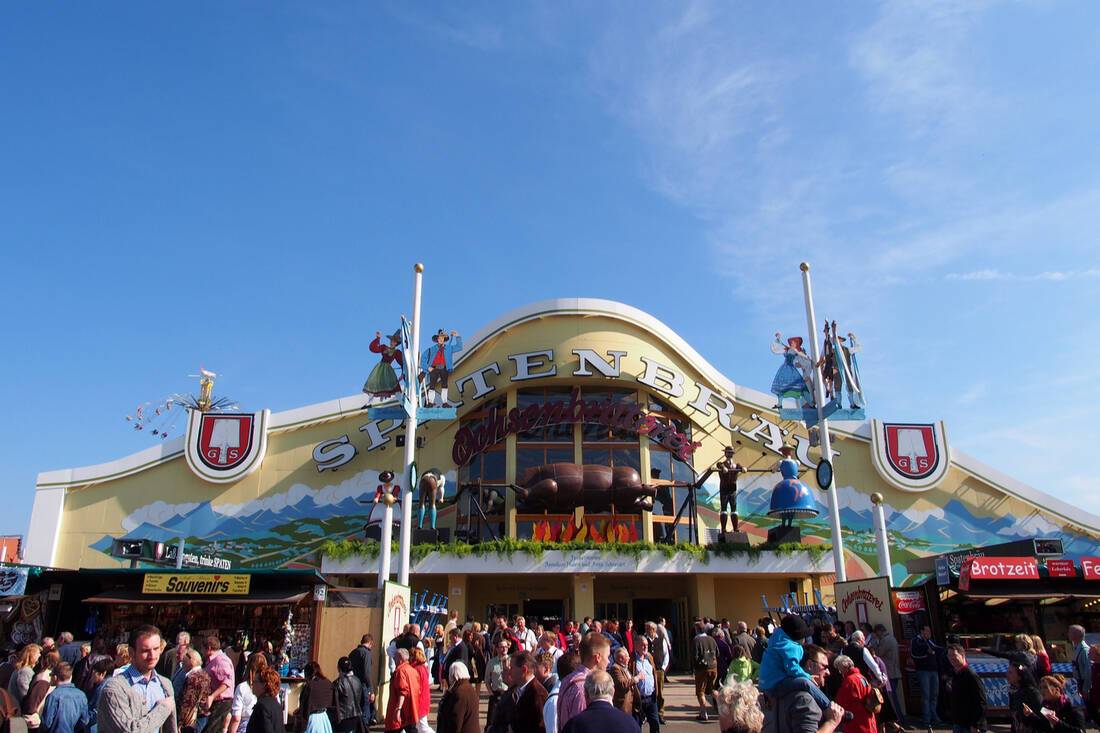 Ochsenbraterei (Spatenbräu-Festhalle)
You know when you're in the oxen tent. With a giant rotating ox statue over the entrance, this has been the go-to for food at Oktoberfest since butcher Johann Rössler opened his mechanical ox rotisserie in 1881. Serving more than 90 oxen each year, close to 7,000 people will sit down for some great food and Spaten beer.
Oktoberfest Top Tips
When to get there
Regardless of when you go, you're in for a brilliant Bavarian time. If you are however looking for a slightly quieter time then aim to visit on a weekday. The gates open at 8.00am and there can be a real rush to get seated, but if you reserve a table in advance then you can happily stroll in just after lunch. If however you are one of those looking to make a proper day of it, then listen to Ashley's advice:
"For the best chances at easily getting your tush in a tent, you'll want to get to the park early and preferably on a weekday. Think: 10am sharp – hey, it puts the 'good' in "good morning!" For everything else, you absolutely must: eat the food, learn the words to "Ein Prosit", and definitely, totally, without a doubt, wear the traditional outfits – dirndls or lederhosen, whichever you prefer.
As far as what not to do, don't wait until the last minute to start planning your trip (most people do this in November or December... of the previous year, yikes); don't stick to just one beer tent, even if you think it couldn't possibly get any better (you may be surprised); and, this is only a suggestion, don't ride the rides after you've already consumed a few litres of beer. There's just no way it can end well."
More than just beer
Sure, the majority of people visiting Oktoberfest are there for one main reason, but there really is a lot more to do than just drink. It is a festival after all, so head to the carnival rides and food stalls. You can even just walk amongst the different tents to see what else is going on, as Ashley describes:
"Oktoberfest is more than just a beer festival and you'll see that as soon as you get there if not miles before. The Theresienwiese turns into a full-on carnival with rides, games of skill, and souvenir vendors. There's also an entire schedule of events consisting of parades, concerts, folk dancing, and a crossbow shooting contest in the Armbrustschützenzelt that sounds like a really good time."
Making reservations
We have said it before, but we're going to say it again. If you have found your ideal tent then it is really important to book yourself some seats. Booking places in tents will guarantee you a place at the table and will prevent any long walks or standing. The beer tents often start taking bookings as early as March and spaces don't last long. That said, not being tied to anything allows you to wander around with freedom, opening up Oktoberfest in its entirety.
Dressing for Oktoberfest
If you are thinking about dressing up, then dress up! There are a lot of people who will go as they are, but equally as many dressed to the nines in traditional Bavarian attire. Avoid the half-hearted middle ground. You will not look out of place in a lederhosen or dirndl, but they can be quite expensive.
Tipping
Everyone knows the frustration of being lent up against a bar waiting for service as people around you come and go cradling their drinks. One top tip is to, well, tip. Whether you are in a group or a couple, whoever goes and gets the first round should tip the bar staff handsomely. Balance this with a smile and a sincere "Danke" and you will do your reputation no harm. If this person goes and gets the second round do similarly, tipping a lower amount.
If you are generally ungrateful and don't tip then expect a long wait. But do remember, you are there having fun, these men and women are providing the fun. They are working so you can enjoy yourself. Treat them well and they will return the favour.
Money
Oktoberfest is free entry, which is great, but make sure you bring plenty of cash to fully enjoy the festival. Beers cost around €10 per litre stein and food can vary between €12 and €20, though cheaper snacks can be had outside of the tents. As you can imagine, if you are planning a full day of indulgence then you can easily rack up a healthy expenditure. But it is worth it.
Hydration
This should be general advice for your day-to-day, but making sure you are fully hydrated is vital at Oktoberfest. It is easy to be swept up in the carnival atmosphere, surrounded by beer chugging punters belting out traditional songs glasses aloft and arms draped around each other. If you are planning on getting comfortable try to proportion how much water you consume to how much beer or wine you drink.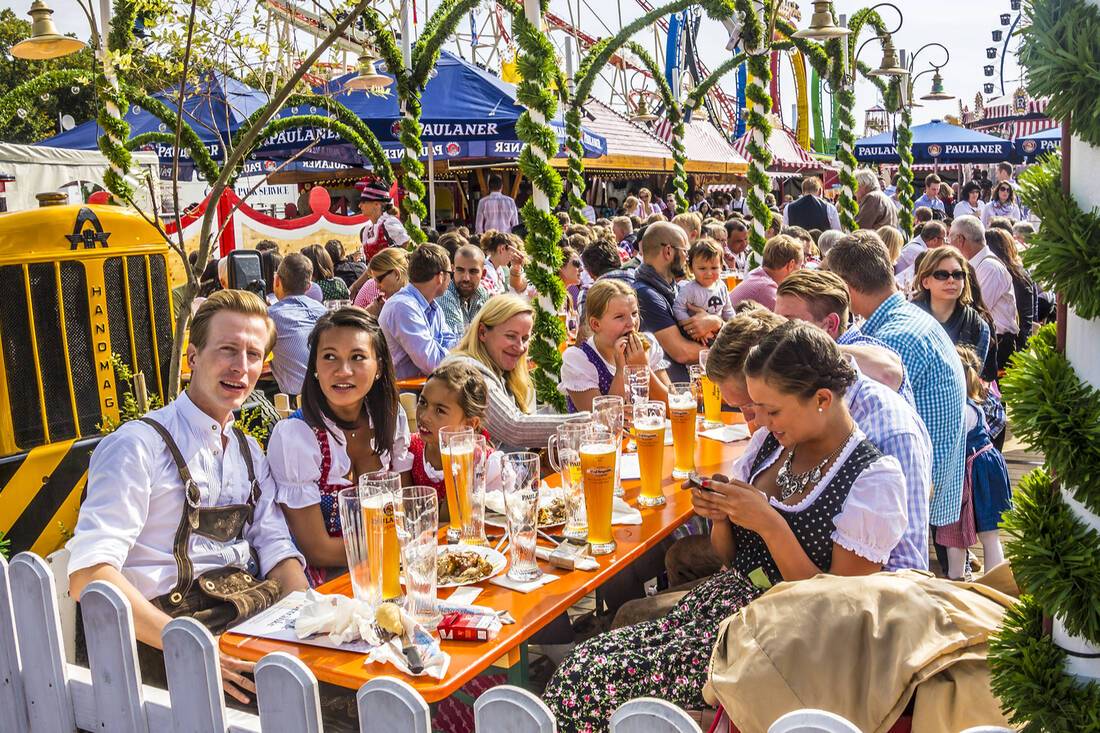 Fun facts about Oktoberfest
German efficiency at its best
The most experienced bartenders at Oktoberfest will be able to fill the litre steins in just 1.5 seconds. That is on top of the brilliant service. Oliver Struempfl, a waiter, once carried a record 27 beers in one go. That's 27 litres weighing in at 60 kilograms.
Lost and found
Each year there are roughly 5,000 pieces of lost and found property left behind. In the past this has included an electric mobility scooter, a Segway, smart phones, a wedding ring and pairs of teeth.
It is very, very popular
In 2016, 5.6 million people went to Oktoberfest, which is more than the entire population of Finland (5.5 million).
And they are very thirsty
On average, 7,000,000 litres of beer, 95,000 litres of wine, 300,000 litres of coffee, and 1,100,000 litres of water or lemonade are drank each year.
Don't think Oktoberfest is for you?
It might seem like a gluttonous, booze-fuelled week of over indulgence and fuzzy heads the morning after. But really this is one of the most significant events on the German calendar. Not only does it tip a hat to the history of Munich and Bavaria, it is a great advertisement for the warmth of the local people. They will welcome you with open arms, sing with you until the sun sets and provide you with unforgettable memories.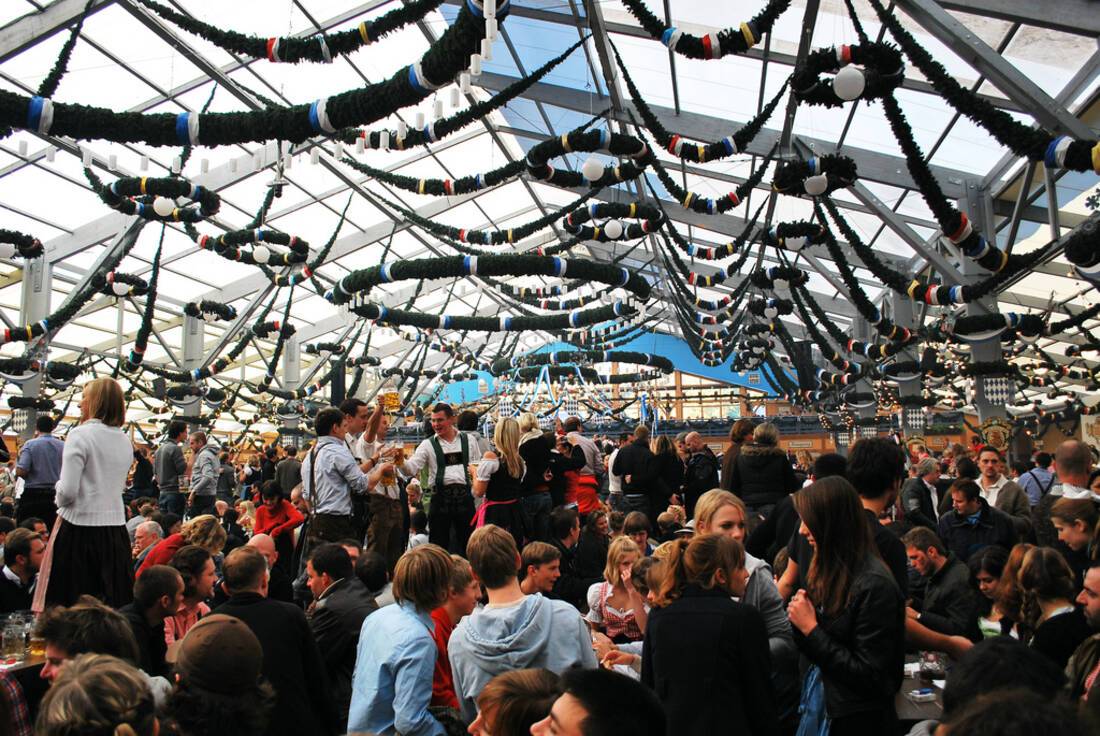 Still not sure? Why not listen to what Erin from Surviving Europe had to say:
"Oktoberfest is a well-deserved bucket list experience. People from all over the world - from all different cultures, backgrounds and ages as you sit with complete strangers. Prosting and singing like they've all known each other for years. With the most upbeat traditional music, the best German food and a never-ending flow of beer. You can't help but be in the best mood ever. The atmosphere warms your spirit.
"And it can't be compared to anything else. You could never duplicate this drinking experience at a concert or bar or any other festival because you're living a tradition in Munich, created for the sole purpose of celebration and fun, that's lasted hundreds of years. It makes you feel lucky to be a part of it.
"You'll leave with a million new friends, a smile on your face that just won't go away, and (probably) a hangover the next day that you could care less about. Oktoberfest is truly the happiest place on earth."
Who doesn't want to visit the happiest place on earth?! With a great selection of cruise deals offers available, you could be there sooner than you think.