Lisbon is a city often overlooked by tourists who instead opt for other European capitals like Rome and Paris, or different Mediterranean cruise destinations.
"Lisbon is fast establishing itself as one of the most exciting destinations in Europe. Beautiful architecture married with great food and a vibrant culture combine to make a city that should be at the top of everyone's travel list this year. Walk from the port to the city centre along the riverside, it's a beautiful walk and the perfect introduction to the city," said Julianna Barnaby, creator of The Discoveries Of, an online luxury travel magazine.
Here we will be giving you the ultimate guide to everything you can do in and around Lisbon's port: where to go, what to see and what isn't to be missed. Often when you arrive at a destination you are overwhelmed with the options available to you. This guide will help you discover all of the wonders within easy reach of your cruise.
Lisbon's city centre is no more than a ten minute car journey from the port, giving you no excuse not to go out and immerse yourself in one of Europe's most stunning cities. But if you don't wish to venture far from the port, you still have plenty of options in and around the area.
What to see and do
São Jorge Castle
Towering above central Lisbon is the Castelo São Jorge, the ancient seat of Portuguese power for over 400 years. With unmissable views of the city, river and port, the castle is now one of Lisbon's finest landmarks and a must for anyone visiting the city.


Despite being reconstructed in the 1920s, the layout has stayed the same since its 11th century design and as Marek Bron from Indie Traveller describes, it should be at the top of your to-do list:
"Most cruise ship visitors to Lisbon will disembark in Alfama, and while this is a very nice part of the old city, there is a lot more to see. A great thing to do straight away is to head to São Jorge castle."
Marek considers Lisbon to be one of his favourite destinations and talks of the pastel colours, views and cobbled streets in his ultimate city guide. He went on to talk about Sao Jorge:
"Perched atop one of Lisbon's seven hills, the views from its towers offer an amazing introduction to the city. From there you can meander your way back down to Baixa, a neighbourhood with historic cafés, fashionable boutiques, and the triumphal Rua Augusta arch. As of 2017 you can now go inside the arch, climb to the roof, and stand next to its statues for a perfect view of Praco do Comercio, which was once the commercial heart of the city in colonial times."
Belem
It can take half a day to experience all of Belem's sights, but there are a few stand-out attractions that can't be missed, as Juliana describes:
"A trip to Belem, with its beautiful Jeronimos Monastery, Belem Tower and Monument to the Discoveries is a must," said Juliana, who went on to say:
"Wandering around the monastery is like stepping back in time. Alternatively, LX Factory shows the modern face of the city, complete with some of Lisbon's coolest shops, cafés, bars and street art."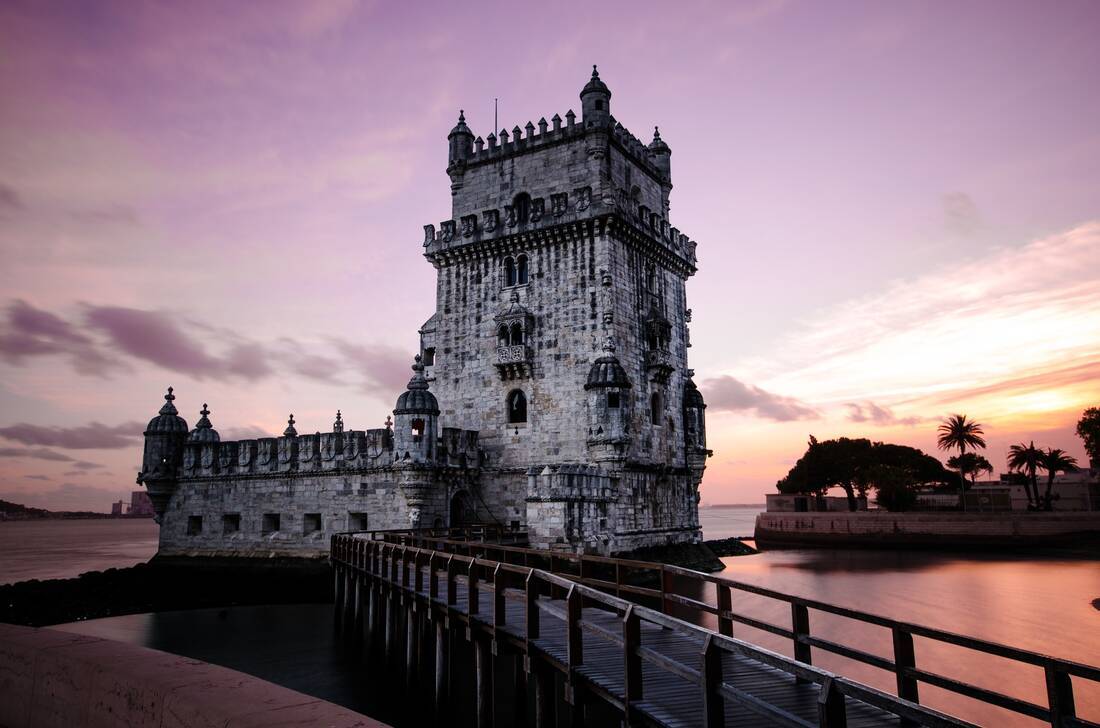 Belem is the epitome of picturesque. Previously the home for Lisbon's elite to escape the depravity of the inner city, it now plays host to many of the Portuguese capital's most highly regarded tourist attractions.
Belem Tower was built to guard the city from any sea bound attacks. Strategically positioned in the centre of the Tejo Estuary, the tower has moved on the banks of the river due to its flow. Completed in 1521, it became a symbolic image of home and hope for explorers and their crews.
While much of Lisbon is adored for its typically Portuguese buildings, the Jeronimos Monastery is arguably the country's ultimate nod to its power and wealth during the Age of Discovery. Built in 1502, the monastery was built to commemorate the voyage undertaken by Vasco da Gama and his crew to India and as a thanks to the Virgin Mary.
There are few finer examples of European Gothic architecture than this. Created by Cottinelli Telmo (1897-1948) and sculptor Leopoldo de Almeida (1898-1975), the Monument to the Discoveries was temporarily erected in 1940 during the Portuguese World Exhibition. It was later reconstructed in 1960 to mark the 500 years since the death of the Infante Dom Henrique (Henry the Navigator). It is an iconic image that recognises Portuguese seafarers and explorers who were among the first in the western world to sail the globe during the Age of Discoveries.
Food and Drink
Portugal has been shaped by its affinity with the sea. The 800 kilometres of coastline doesn't just make for stunning beaches, it also means that you can try some of the best fresh seafood anywhere.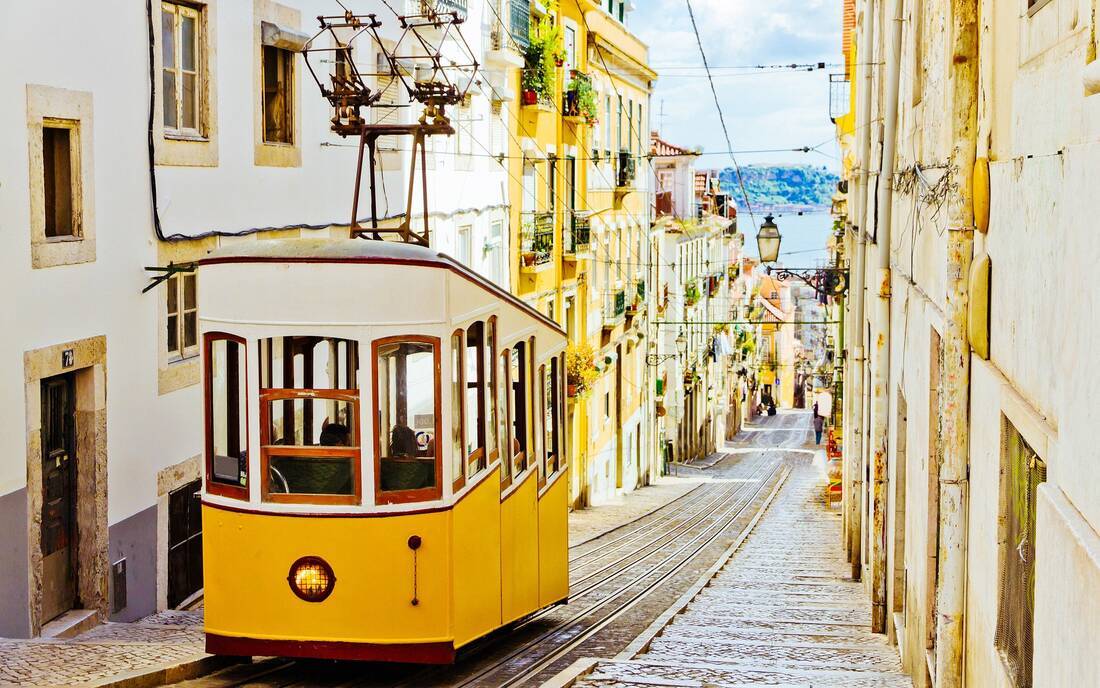 Sardines are a staple of Portuguese seafood and are best enjoyed in the summer months. There are plenty of restaurants and cafés in Lisbon serving these little fish on a warm slice of sourdough bread with salad.
Frankie from As the Bird flies is one of the many travellers who fell in love with Lisbon's cuisine:
"Lisbon is the perfect city for a warm weekend break in Europe and it has plenty to offer in terms of history, culture and food! My favourite place to grab lunch is the Mercado da Ribeira, a huge indoor food market with dishes from all over the world. At night, I love the atmosphere in Bairro Alto - Patio do Bairro is a fun restaurant - or head to the climbing streets of Alfama, the oldest part of the city, for local food and live performances of fado. And don't forget to queue up for your Pasteis de Belem, a bit of a tourist spot, but these secret-recipe custard tarts are worth the wait and the crowds."
Pastel de nata – custard tarts – are readily available across the city. The deliciously indulgent little treats are best enjoyed with a coffee at the many street-side cafés.
Lisbon is fast becoming the on-trend-destination this year and a significant reason for this is cost compared to similar European and Mediterranean cities. The city's streets are lined with authentic cafés and restaurants regularly frequented by the locals, as well as high-end restaurants and local markets, as Julianna says:
"If you're visiting Lisbon, make sure that you sit down to some of the freshest seafood in the city at Cervejaria Ramiro, or grab a glass of Portuguese wine and sample food from some of the city's best chefs at the Time Out Market. Good food and drink is plentiful in Lisbon, from the beloved pastelerias to laid-back bars dotted throughout the historical area of Alfama."
For foodies, sun-seekers, history buffs and lovers of fine architecture, Lisbon is a dream holiday destination. Readily available Mediterranean cruises and last minute cruise deals will allow you to explore one of Europe's most fashionable cities right now.
Image Credit: Antonio da Silva Cruz