From India to Morocco, Turkey to Vietnam, spice markets are a popular sight all over the world. The hustle and bustle of an authentic market or souk can be overwhelming, as traders entice customers with tempting treats and deals. To help you narrow down your search, take a look at our guide to the world's best spice markets.
Rahba Kedima
Marrakech, Morocco

Known as 'Spice Square', Rahba Kedima is the place to be to find authentic flavours of Morocco. Stallholders have created spice and herb blends for flavouring fish and meat, so be sure to ask if you're eager to cook with these flavours at home. Expect piles of fresh cinnamon, cumin, coriander and star anise, but if you're looking for the highest quality saffron, ask to see the fresh strands rather than the ground spice.
Spice Bazaar
Istanbul, Turkey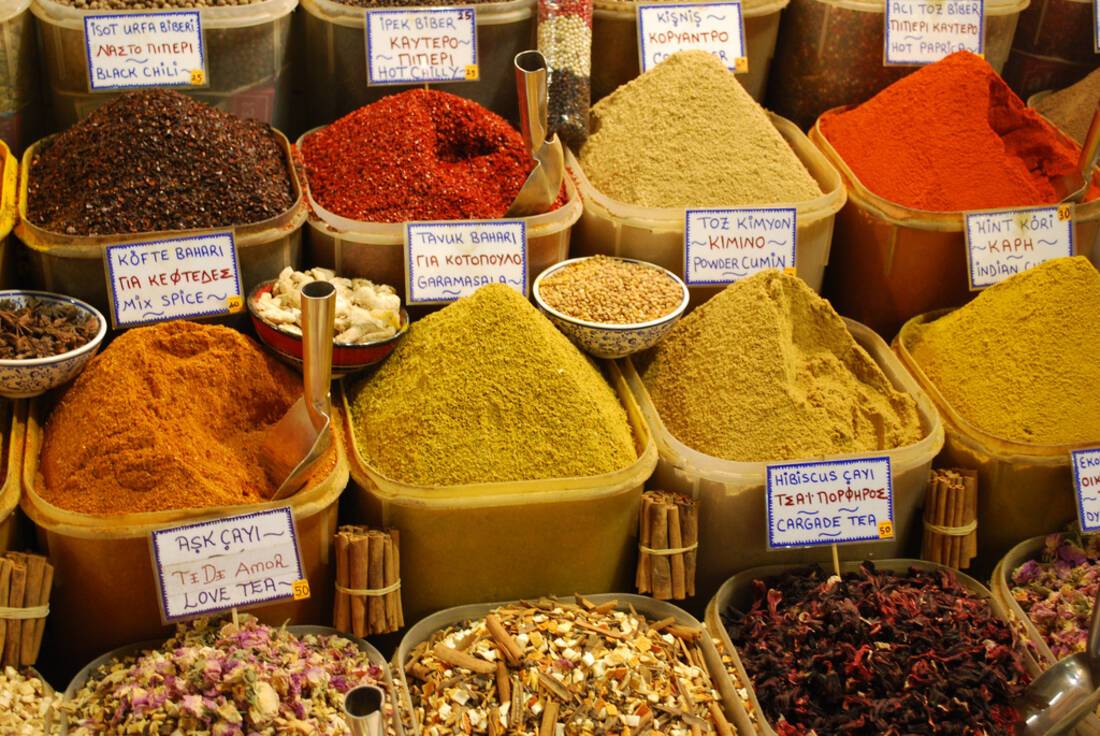 Built in the 1660s as part of the New Mosque, Istanbul's spice bazaar has deep roots in the city. The rent from the spice stalls funded the mosque's upkeep and it was historically the final stop for camel caravans completing the Silk Route from places such as India and China. Today, as well as vibrant mountains of herbs and spices, the market is lined with stalls selling irresistible sweet treats. The only trouble you'll have is trying not to eat all your souvenirs on the rest of your cruise holiday.
Laura and Scott, bloggers at Eat Your World, shared their fond memories of the Spice Bazaar: "We just loved ogling the colourful spices and tasting all the goodies on offer, from local pistachios to stringy cheese. We particularly loved trying (and buying) the lokum, or Turkish delight, there – we were so surprised at the rainbow of colours and flavours available, and how delicious it all was!
"The bag of dried fruit (papaya, guava, kiwi, pineapple, strawberry, apple) we purchased sustained us on the weeklong road trip we took once we left the city.
"Our top tips are to try before you buy, as quality and freshness varies. But do buy and support the vendors!"
Long Bien Market
Hanoi, Vietnam

Despite Hanoi's Old Quarter getting most of the attention in Vietnam when it comes to spices, it is worth taking a trip to Long Bien Market. Set on the banks of the Red River, the market starts at 4am, so you'll need to be prepared for an early start. Unlike many of the world's most famous spice markets, Long Bien is a working market and virtually unattended by tourists. But you can pick up fresh lemongrass, mint, ginger and many other herbs and spices and the experience is much more authentic.
Jessica Norah, travel blogger at Independent Travel Cats, said: "The Long Bien market is a fruit and vegetable wholesale market in Hanoi, Vietnam. It is located next to the historic Long Bien Bridge and is one of Vietnam's busiest markets.
"In addition to fruits and vegetables you can also find meats, fish, spices, flowers and other food goods. If you want to visit, you'll need to get up early as the best time to get there is between 3am and 5am and by 6am the stalls start closing down. You can read more about our early morning visit to the Long Bien market on our blog."
Dubai Spice Souk
Deira, Dubai

On the other side of Dubai Creek, away from the futuristic skyscrapers and malls, the district of Deira is home to one of the world's best spice markets. Scents of cloves, cardamom, nutmeg and turmeric waft through the air at this bustling souk, making it difficult to resist picking up one, two or ten bags of delicious herbs and spices. As well as its myriad of spice stalls, the market is also home to the largest gold bazaar in the world. If you are looking for an authentic experience on your Dubai cruise, Deira is the place to be.
Khari Baoli
Delhi, India

Khari Baoli can be found near the iconic Red Fort in Old Delhi. Dating all the way back to the 16th century, the market sells spices, nuts and dried fruits from northern India and across the border in Afghanistan. As well as the prominent herbs and spices, Khari Baoli is an excellent place to pick up dried mulberries. Be sure to stop for snacks, as this is Asia's largest wholesale market and can be difficult to navigate on an empty stomach. Don't forget to stock up on treats to take home or to enjoy on your cruise.
La Boqueria
Barcelona, Spain

La Boqueria is one of Europe's largest and most famous food markets, but it's relatively unknown as a spice market. Before lunchtime, the market is in full swing with hundreds of stalls selling meats, cheeses, dried fruits, fish, spices, sweets and more. It has a unique atmosphere, being in the heart of Barcelona. Although it's a far cry from the chaotic Grand Bazaar in Tehran, La Boqueria is exciting in its own way. Look up and you'll see colourful structures overhead and detailed patterns from the market's beams.
Mahane Yehuda Market
Jerusalem, Israel

Best known as 'The Shuk', Mahane Yehuda dates back over 100 years. More than 250 vendors can be found at this famous spice market in Jerusalem, welcoming locals and tourists to sample and haggle over produce. There are hundreds of herbs and spices on offer, so be sure to ask for recommendations. Sumac is an Israeli delicacy and would make a unique souvenir. If the thought of entering the market without a plan seems a little daunting, there are official tours available to help you find your way around. Eateries are dotted throughout the market selling traditional cuisine including falafel and hummus.
Wherever you decide to explore on your next world cruise holiday, be sure to visit the local markets. They are often the lifeblood of the town or city, packed full of culture and delicious food. Have you visited a spice market on holiday? If so, we'd love to hear about your experience!