History, beauty and romance combine to create one of Europe's most charming destinations. With a maze of canals threaded through the city and hints of history to be found on every corner, it's easy to see why Venice tops the charts as a must-see destination time and time again. On a cruise to Venice, your trip to the city may only be fleeting so we've done all the hard work for you and created three itineraries to choose from. Which will it be?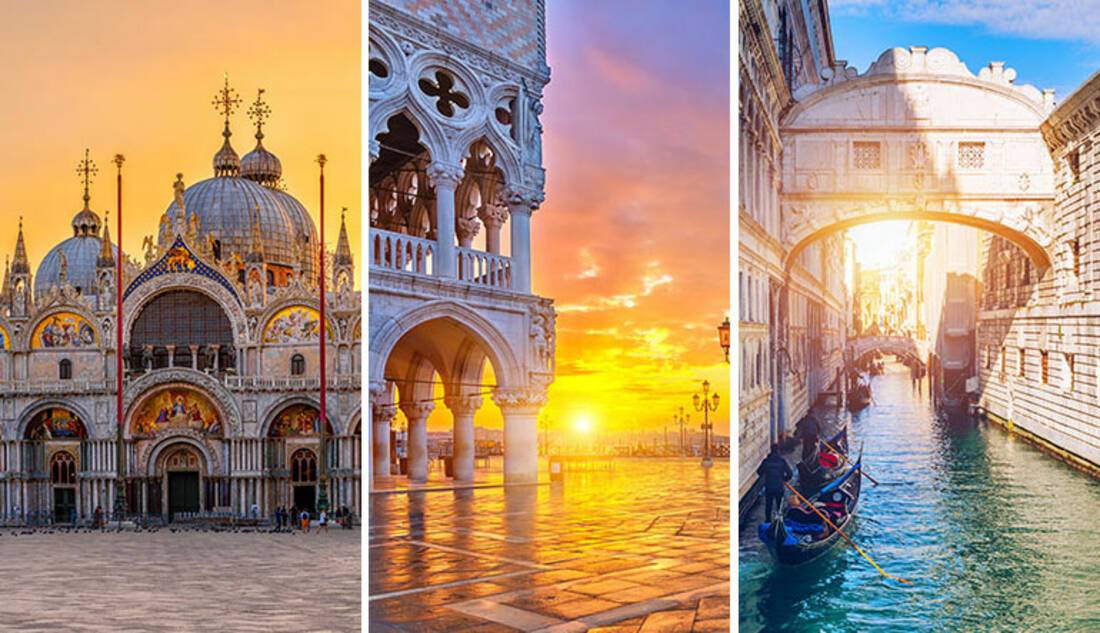 Option one
Explore Piazza San Marco
Marvel at Palazzo Ducale
Visit Ponte dei Sospiri
Explore Piazza San Marco
Considered by many to be the heart of Venice, Piazza San Marco or St. Mark's Square is the largest square in the city. The perfect place to begin your tour of Venice, the ever-bustling square is packed with pigeons and sightseers and lined with café's, shops and restaurants waiting to be explored. From here, you can easily visit many of Venice's main attractions, like Basilica di San Marco.
Basilica di San Marco is one of the world's most recognised churches. Dating back to the 11th century, the basilica was originally the Doge's private chapel. 4,240 square metres of gold mosaics cover the domes and walls and the majestic architecture makes this landmark a visual wonder that should not be missed.
Marvel at Palazzo Ducale
Just a one minute walk from the centre of Piazza San Marco, Palazzo Ducale or Doge's Palace has a rich history within the Venetian empire. For centuries, the building served as the home of the Doge (a supreme leader who was elected by Venetian nobles to govern Venice), the seat of the government and a palace of justice. Today it is a fascinating museum that allows you to step back in time.
Step inside and the palace is just as impressive internally. Weave through a series of immensely decorated rooms that all have original details, furniture and artwork. We'd highly recommend booking tickets for Doge's Palace in advance.
Visit Ponte dei Sospiri
The Ponte dei Sospiri or Bridge of Sighs may look romantic but it has a relatively dark history. The bridge, which was constructed in 1600, was built as a way to connect Doge's Palace with its prison and questioning rooms. The Bridge of Sighs' name derives from the fact it was the last thing convicted criminals saw before their incarceration - apparently, many sighs could be heard as they walked over the bridge, resigning themselves to their imminent fate.
Thankfully, you don't need to be a prisoner to see the bridge. During your tour of Doge's Palace, you'll have the opportunity to walk across the bridge - make sure to peep through the gaps for an even more unique view of Venice.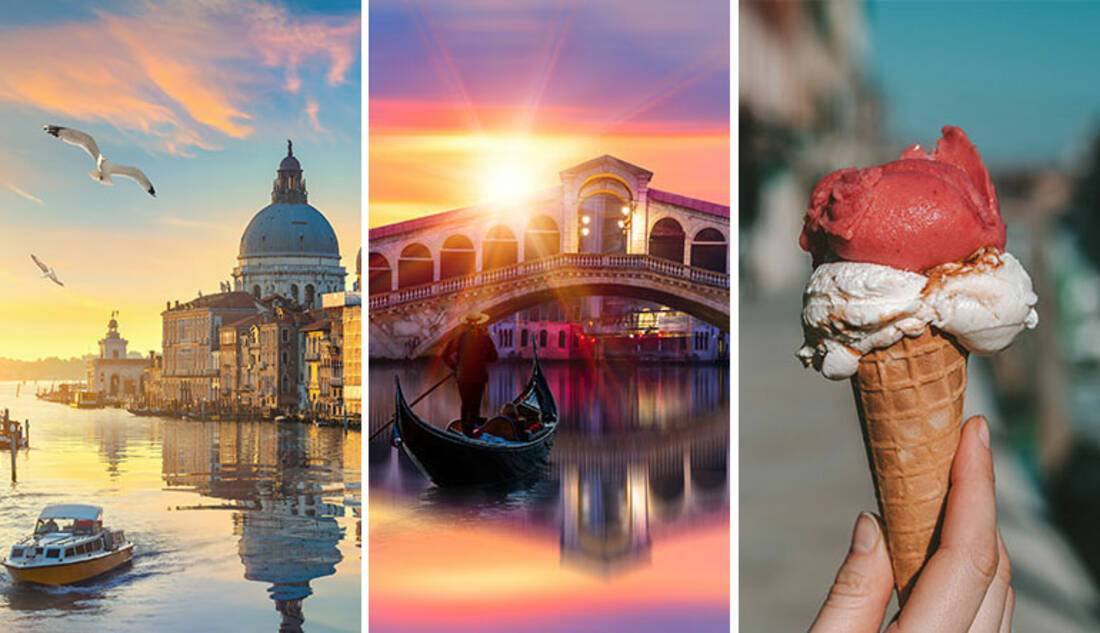 Option two
Travel along Canale Grande
Cross Ponte di Rialto
Enjoy gelato at Gelatoteca Suso
Travel along Canale Grande
The Grand Canal was once the address of choice for anyone who claimed influence in Venice. The s-shaped 2-mile canal is lined with close to 200 buildings, some of which were constructed as long ago as the 13th century. Travel along Canale Grande in a boat, gondola or water taxi (some of which serve champagne as you sail), and look out for the showy Venetian Gothic and Early Renaissance facades that face the water.
Many claim the best time to sail the Grand Canal is at night when the lit waterway highlights the ceiling frescos and grand chandeliers of the surrounding beauty. However, we think the Grand Canal is magical at any time of day.
Cross Ponte di Rialto
Only four bridges cross the Canale Grande, one of which is Ponte di Rialto. Built in 1588, some 150 years after the collapse of a previous wooden bridge, this stone arch supports two busy streets and is the gateway to the famous Rialto Market. Here, vendors sell fresh-picked produce, freshly caught fish, spices and much more.
Once upon a time, Ponte di Rialto, which is more commonly known as Rialto Bridge, was the only way to cross the Grand Canal. Today, crossing the bridge will put you in the heart of Venice's crowds - both locals and tourists alike.
Enjoy gelato at Gelatoteca Suso
A cruise to Italy is incomplete without a few scoops of gelato. The frozen dessert is as much a culinary staple of Italy as pizza and pasta. Just a two-minute walk from Rialto Bridge, Gelatoteca Suso is a family-run business passionate about satisfying each and every customer's taste. The friendly service and delicious gelato go hand in hand here - it would be a shame not to try every flavour!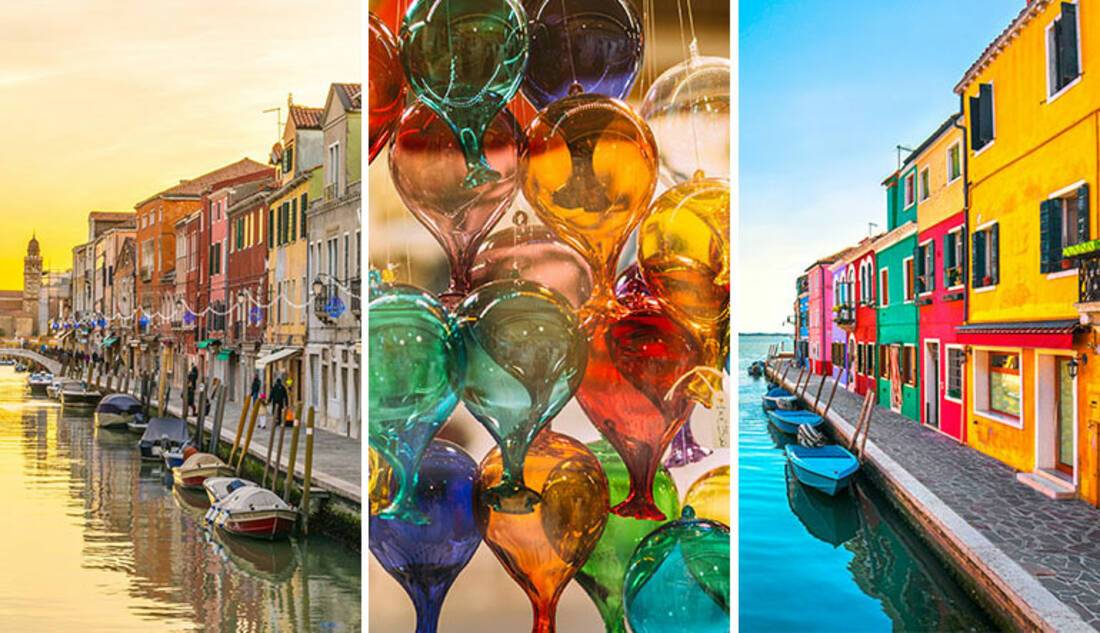 Option three
Head to Venice's neighbouring islands
Learn to blow glass in Murano
See Burano's famous colourful houses
Head to Venice's neighbouring islands
The body of land that Venice rests upon is comprised of 118 tiny islands. Most well known are Murano, Burano, Lido and Torcello. While on a cruise to Venice, why not head to the city's neighbouring islands to further immerse yourself?
Learn to blow glass in Murano
Hop on a water taxi from St. Mark's Square to Murano to attend a glass-blowing class. Venice's fabled glassworkers were sent to Murano in the 13th century to decrease the risk of fire sweeping across the city. Or so they say. It's just as likely that they were sent away to keep the secrets of glassblowing a Venetian monopoly.
In 1454, Venice's Council of Ten decreed, "If a glass-blower takes his skill to another country to the detriment of the Republic he shall be ordered to return; should he refuse, his nearest relatives shall be thrown into prison so that his sense of family duty may induce him to return; should he persist in his disobedience secret measures shall be taken to eliminate him wherever he may be."
See Burano's famous colourful houses
Known as one of the world's most colourful cities, Burano is a lagoon island just a short boat ride from Venice. According to historians, Burano's brightly coloured houses were painted technicolour so that fishermen returning home in the fog-filled lagoon could see through the mist.
But colourful houses aren't the only thing Burano is known for. Needle lace of the Renaissance period is what originally put Burano on the map. The island's historic lace museum, which is housed in the Burano Lace School, will guide you through rare and previous works of lace from its origin to the present day.