YOUR MCKINLEY EXPLORER HIGHLIGHTS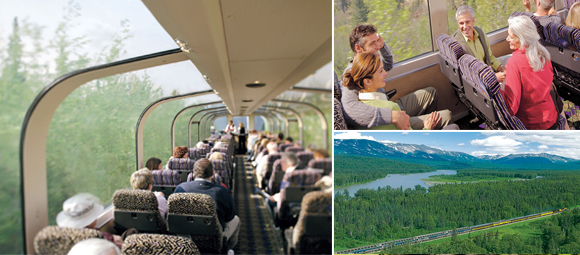 Relax and experience the wild beauty of Denali aboard the McKinley Explorer in a deluxe glass dome rail car.
Be sure to keep an eye out for wildlife, including bears, moose, wolves and many more, plus the magnificent views of Mt. Denali. Within a few hours the trip marks one of the most spectacular views of McKinley, be sure to have your camera ready as this is one of the route's best photo opportunities. North of Talkeetna, you will cross the startling 918-foot Hurricane Gulch trestle, towering 296 feet above the creek below. Before arriving at Denali National Park you will pass though Broad Pass, the highest point on the Alaska Railroad at 2,363 feet! Sit back, relax and enjoy the views of this truly incredible land.
---
Nestled within the 60 acre McKinley Chalet Resort at the gates of Denali National Park, you will find Denali Square. With a three night stay in this exceptional destination you can take advantage of all that this Alaskan hotspot has to offer.
---
Karstens Public House
Karstens Public House restaurant is the bustling heart of Denali Square. With soaring ceilings and magnificent two storey park views, this spacious restaurant is the perfect setting for a delightful meal, a refreshing glass of beer or wine, or a delicious grab-and-go lunch.
---
Gold Nugget Saloon
In the evenings, visit the "Music of Denali Dinner Theatre" at the Gold Nugget Saloon and get ready for a thoroughly entertaining show and a raucous good time. After the performance, settle back, relax and enjoy a drink and some live music.
---
Artists-in-Residence
Artists have come to national parks for inspiration since the 19th century. Today, there are more than 50 residency programmes across the country. The new Artists-in-Residence Cabin will house artists creating Denali-inspired work. Drop in and watch as they work.
---
Watch & Learn
The new centrally located amphitheatre is a comfortable place to take in lectures by National Park rangers and naturalists, as well as locally themed demonstrations and musical performances.