The waters of the Baltic Sea lap on the shores of nine different countries in Europe. With beautiful beaches, charming towns and picturesque ports, there are plenty of reasons why a Baltic cruise should be next on your cruising wish list.
We spoke to bloggers to find out their top tips to ensure you get the most out of your cruise around the Baltic Sea.
Why choose a Baltic Sea cruise?
A Baltic Sea cruise is a fantastic alternative for travellers who have already experienced locations of warmer climes, or for those who simply prefer to stay in Europe.
The climate and scenery you can experience on this type of cruise are unlike any other. Northern Europe is a real smorgasbord of architectural phenomenon which oozes character. From the 14th-century spires of buildings commonly found in Tallinn to the imperial grandeur of St Petersburg with its colourful and eclectic style, you are bound to be impressed by the complex engineering in this part of the world.
Ports of call to explore
Similarly, with many cruises, a Baltic Sea cruise gives you the opportunity to experience a variety of locations thanks to the number of ports you will visit during your trip.
St Petersburg: Places of interest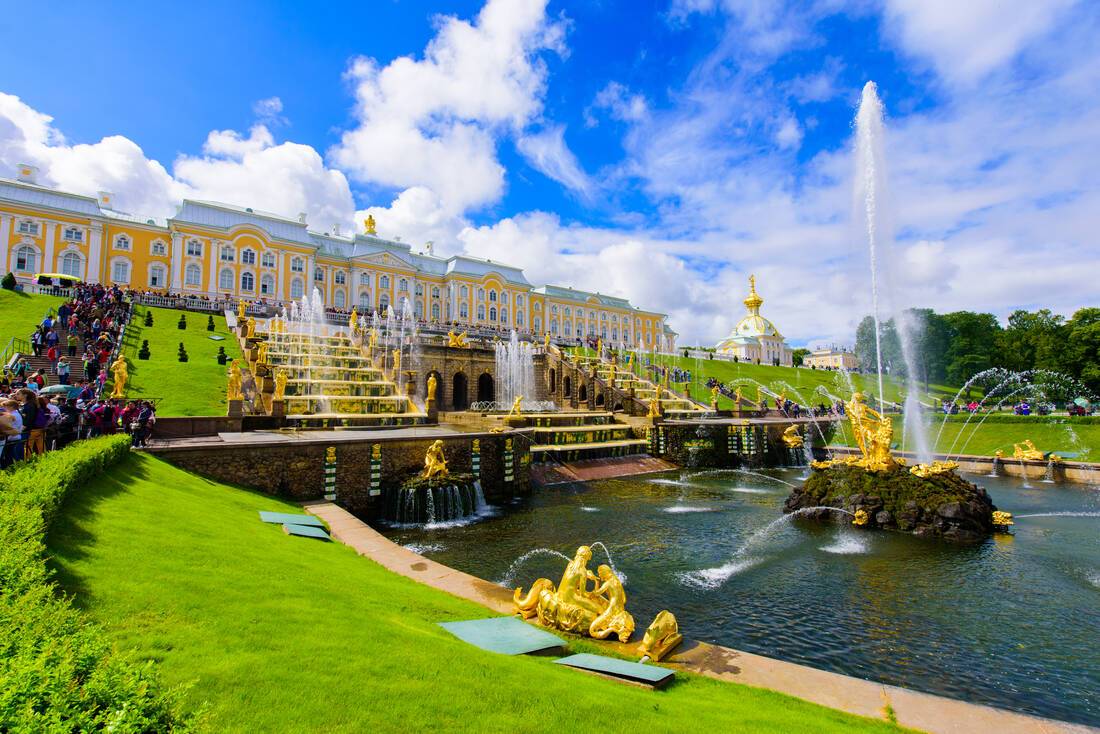 St Petersburg is Russia's second-largest city after Moscow and has been dubbed the Venice of the North thanks to its beautiful rivers, canals and spectacular architecture.
From world-renowned opera and ballet productions to quaint cafes, this city has all the ingredients for an unforgettable travel experience as Judi from Traveling Judi explains: "My favourite stop by far was St Petersburg.
"With only two days it was very hard to choose which excursions to take. I took the Behind the Scenes at the Hermitage, which was an eight-hour tour with an outstanding guide, and on the other day, I rode the incredible Metro system and was wowed by the underground stations. I would love to go back on another Baltic cruise to see more of Russia including St Petersburg again and Moscow."
The Metro is not just a means of transport, it is also known for its architectural ingenuity and visitors enjoy marvelling at the intricate detailing which is prevalent throughout the many stations. Avtovo, for example, boasts grand columns and marble interiors as well as sparkling glass décor while Pushkinskaya Station is home to a statue of the famous poet Alexander Pushkin.
Veruska from The Foodellers told us all about the highlights of St Petersburg: "I went on a tour of the markets and the underground stations because I believe this is one of the most important ways to get in touch with a community. Once in St Petersburg there are a few things you cannot miss such as the Church of the Saviour on the Spilled Blood, the Hermitage Museum, Peterhof Palace and the Peter and Paul Fortress. A Baltic cruise is one of the most interesting cruises in Europe because it's filled with history and allows you to visit places one rarely thinks about visiting."
What to eat while in St Petersburg
As well as its fantastic transport links, St Petersburg is known for its hearty food and rich desserts. Beef stroganoff is a firm favourite for locals and tourists alike and is a must-have when exploring the area.
You can expect to find sautéed beef, mushrooms and vegetables in a sour cream sauce served alongside various side dishes such as rice. Those with a sweet tooth simply must try a portion of pyshki which are St Petersburg's variation of doughnuts and are best served hot with a freshly brewed coffee.
For a light bite, it is worth trying some blinis which are thin, crepe-like pancakes usually served with a host of accompaniments such as jam, sour cream, smoked salmon and caviar.
Bergen: Places of interest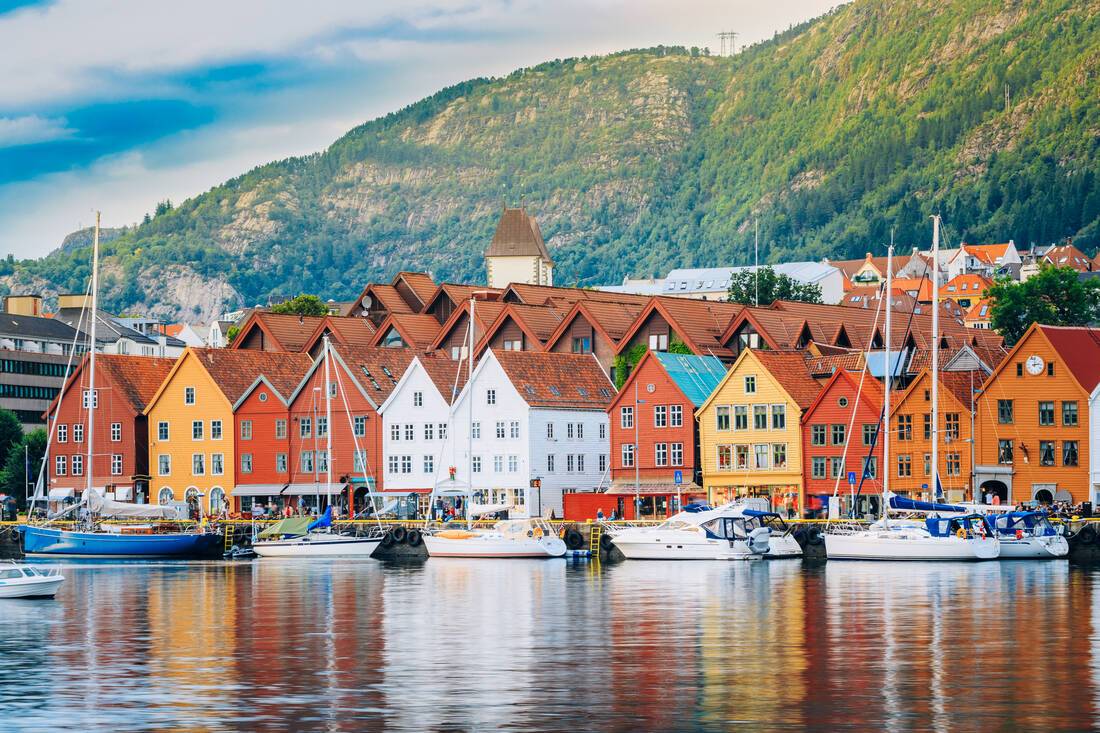 Striking fjords and seven snow-capped mountains await in the scenic port of Bergen in Norway.
Embarking on a mountain expedition via a cable car during a port day will give you the chance to marvel at the outstanding views of the city below. You can also ascend the mountains by foot via the numerous hiking trails before visiting one of the lakes where various water sports including canoeing can be enjoyed.
Alison, from Little Blog of Positivity, told us about her experience of Bergen when she set sail on a Baltic Sea cruise: "Bergen was very pretty and although it's classed as a city it was compact and easy to explore on foot. It had a bustling atmosphere and we particularly enjoyed visiting the fish market and the iconic colourful wooden houses and shops on the harbour. The funicular railway up the hillside from the city centre is also a must, the views are spectacular.
"Cruising to the area was a different type of journey for us having previously been on cruises in the Mediterranean. We enjoyed the change and would thoroughly recommend a cruise which includes Bergen as the scenery is so spectacular. The air also feels very pure which is brilliant for recharging your batteries."
By far one of the most iconic sights to greet cruisers is Bergen's colourful façade of Bryggen. The old Hanseatic wharf was first established in the 14th-century and provides perfect opportunities for an Instagram worthy picture. The wooden structures were rebuilt in 1702 after being ravaged by fire, and later became recognised as an integral part of the city's heritage. It achieved UNESCO World Heritage status in 1979 and continues to amaze tourists as they approach the port.
What to eat while in Bergen
In 2015 Bergen became a member of the UNESCO Creative Cities Network in gastronomy for its focus on health nutrition: "Bergen thrives on organic food, the production of which is supported by more than 3,000 farmers and 200 artisan food entrepreneurs. In addition to this, another 6,500 people are employed by the aquaculture industry and fisheries", says UNESCO.
This focus on organic food and sustainable seafood are at the core of the city's identity, which means you are never far from experiencing a culinary delight. Wandering around the beautiful city of Bergen will work up quite an appetite, so visiting cafes and restaurants to tuck into some tasty Norwegian cuisine is essential during port days.
Traditional Norwegian cuisine is rich in sweet treats – think pastries and puddings flavoured with spices like cinnamon and cardamom. Popular pastries to enjoy at a café or on the go include lussekatt (saffron bun) wienerbrød (Danish pastry) and bløtecake (cream cake).
Bergen boasts some of the most beautiful restaurants serving up delicious cuisines. You can expect to find menus full of seafood items such as flavoursome ceviche and melt-in-the-mouth pan-fried scallops. Norwegian reindeer hotdogs served with crispy onions and lingonberry sauce are also a popular choice for food-on-the-go.
Tallinn: Places of interest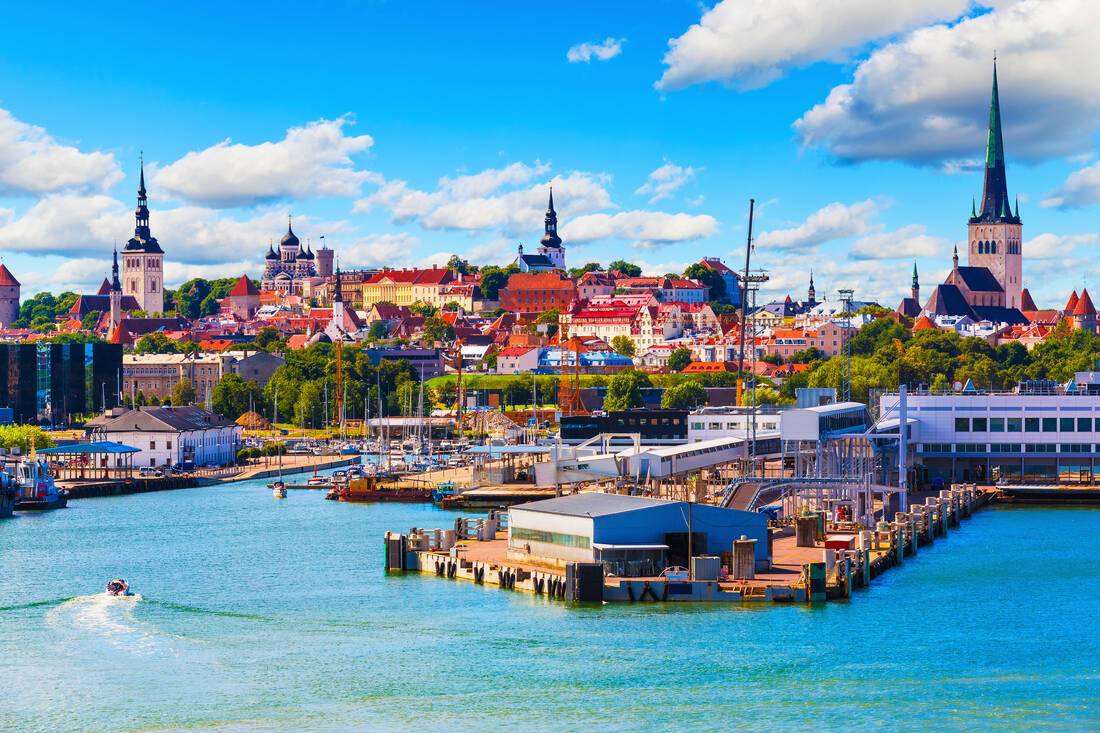 Tallinn is the capital of Estonia and visitors will be enchanted by the rich mixture of architecture and culture.
The lower part of the Old Town is perfectly preserved and a stroll down the winding cobblestone streets will leave you in awe as you marvel at the beauty of the Gothic spires, galleries and museums. Unlike many other capital cities in Europe, Tallinn has preserved its Medieval and Hanseatic roots and was given UNESCO World Heritage status in 1997.
Take a tour down the streets where you will see Medieval churches, merchant houses, barns and warehouses. A must-see during a port day is the square with its Town Hall and Tower. Traditionally it served as a market and meeting place and it remains a hot spot for a host of activities including open-air concerts, craft fayres and markets.
Jamie Edwards, who writes at Explore with Ed told us that he enjoyed the history and culture of the city during his Baltic cruise: "Inside the vast fortress walls of Tallinn you'll find tonnes of medieval charm and character. You can walk along the fortress wall for fairy-tale views of the city spires and visit Café Maiasmokk, the oldest operating cafe in Estonia for coffee and cake."
After visiting Café Maiasmokk for a helping of their famous mango-lime creamed curd dessert, head to the Kohtuotsa viewing platform which is located on the north side of Toompea Hill. You will be greeted with a picture-postcard vista of the red roofs and towering spires of the Old Town as well as the contrasting high-rise buildings which form the modern part of the city.
What to eat while in Tallinn
Fresh seafood is popular in Tallinn and visitors can expect to find an array of fish dishes on restaurant menus. Favourite fish include whitefish, flatfish, perch, sprat and Baltic herring – which is the national fish of Estonia.
A popular and simple lunch of Kiluvõileib, otherwise known as a sprat sandwich, is a must-eat while in Tallinn. The dish consists of rye bread, sprat, boiled eggs and a sauce to complement the flavoursome fish. Another must-try is kissel which is a popular dessert soup typically made from berries such as red currents.
Be sure to stop off at a local supermarket to grab a bar of Kohuke. These chocolate-covered cheese curd bars are a popular snack and can be found in many grocery stores. These curd snacks come in a variety of flavours such as vanilla and caramel topped with fruit, seeds or chocolate nibs. Kohuke is hard to find outside the Baltic states, so be sure to taste one during a port day in Tallinn.
Stockholm: Places of interest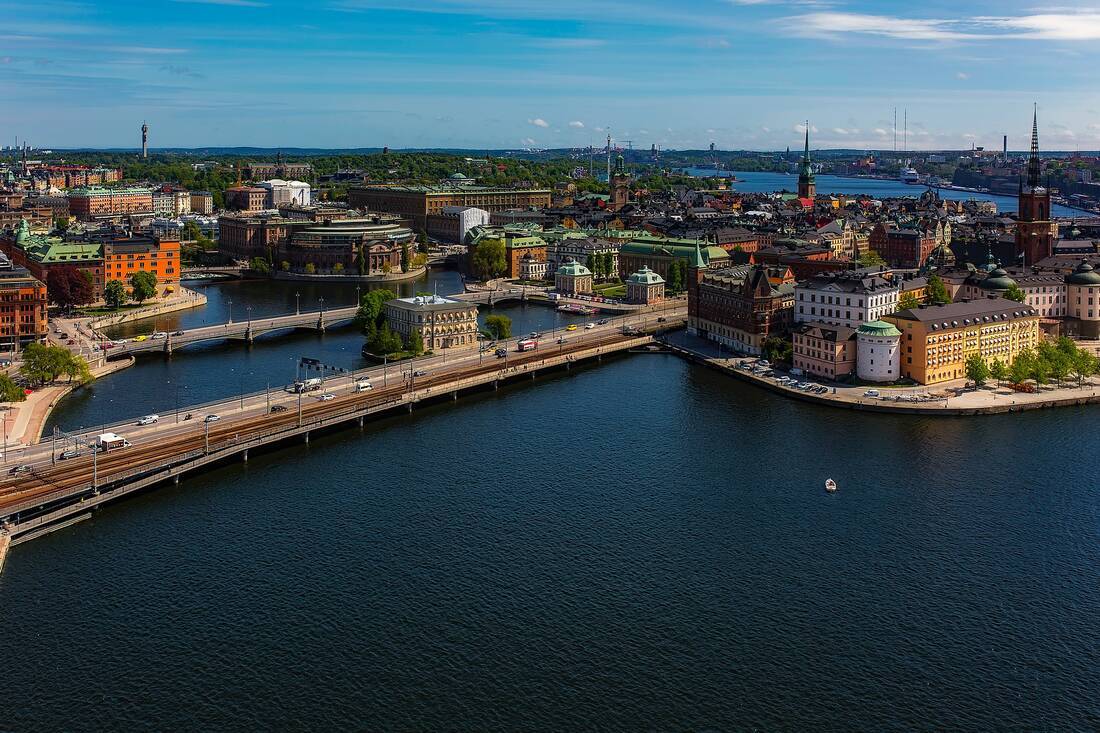 Sweden's capital city is Stockholm and is a port of call you will definitely want to explore.
The cosmopolitan city is perfectly intertwined with the characteristics of the old town giving visitors the best of both worlds. Whether you are a fan of food, fashion or history, this city offers something for everyone and is full of art galleries, museums, vibrant bars and restaurants to visit.
Jamie gave us some sightseeing suggestions while in Stockholm: "Built on a cluster of islands, Gamla Stan is where you'll find the grand Royal Palace and Old Town, a hub of colourful buildings containing charming cafes and restaurants where you can sit back and watch the world go by."
Gamla Stan, the Old Town, is one of the largest Medieval city centres in Europe and is at the forefront of Stockholm's highlights. The Old Town is a cornucopia of shops, cafes and bars as well as places to buy crafts and curiosities.
There are many beautiful churches and museums in Gamla Stan, including Stockholm Cathedral and the Nobel Museum. Be sure to visit the magnificent Royal Palace to marvel at its 18th-century Baroque style décor as well as the daily changing of the guard.
Becky from The Lifestyle Blogger UK has enjoyed a Baltic cruise and recalls Stockholm as one of the highlights from her trip: "The port we docked at was a little further away from the centre, which was fine as there was a bus which went right into the city centre. Stockholm City Hall is a stunning building if you like taking photos, especially if you can get it on a day where the water is still as the reflection in the water is amazing.
"The attractions in Stockholm are quite spread out so make sure you plan ahead of time. The Royal Palace is stunning both inside and out, however, if this isn't your kind of thing, there is also the open-air museum which has a zoo inside it."
Becky said a Baltic cruise is a great option for all kinds of travellers: "I found going on a cruise was a great way to see various places without having to worry about how you were going to get from one place to the next. During my cruise, I didn't feel like I was on a ship at all because they are so big and had so much inside. I definitely recommend you go on at least one cruise in your life."
What to eat while in Stockholm
There are plenty of gastronomic delights to be enjoyed in Stockholm, from kjøttboller (Swedish meatballs) and crayfish to cinnamon buns and glogg (similar to mulled wine).
For a taste of traditional Swedish food, husmanskost is a must while visiting Stockholm: "Translated into "house owner's food", husmanskost was the middle-class working man's meal. A hearty blend of potatoes and root vegetables gathered from fields, meat from farm or wild animals, fish from the North and Baltic Seas, and herbs pulled out of gardens. They were simple and inexpensive yet filling meals and it wasn't until the early 1900s that husmanskost started making their way from grandma's table into taverns and pubs called krog", says Slow Travel Stockholm.
For a hearty brunch try raggmunk which are pancakes made from grated potato usually served with thick rashers of bacon and a fruit preserve. Local game such as reindeer, moose and boar dishes are also available on restaurant menus throughout Sweden.
This is just a snapshot of some of the amazing ports of call to be experienced during a trip to the Baltics. Those searching for cruises for solo travellers or people looking for family friendly cruises will not be disappointed with the number of things to experience on a holiday to the Baltic states.