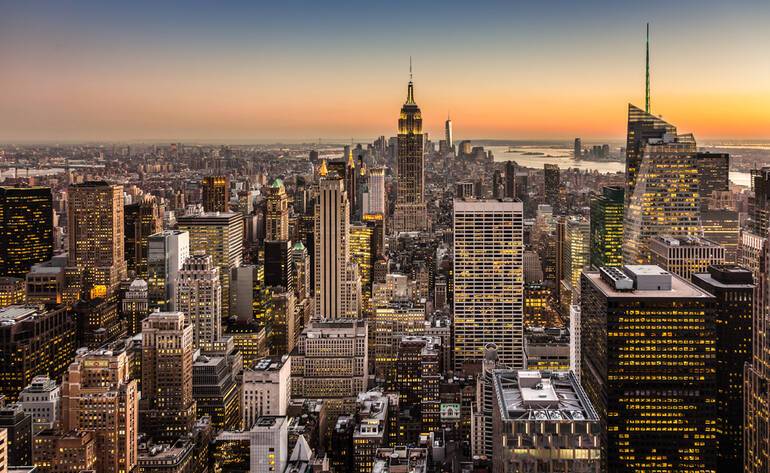 New York, the city so good they named it twice. A city so iconic that even those who haven't been there are able to recognise it instantly thanks to its distinctive skyline. When visiting the city on one of our cheap cruises from Southampton, you'll not know where to visit first. In this article, we look at some of the most unique and iconic buildings there, talk about their history and what can be done there.

Share This Image On Your Site
Statue of Liberty
A greeting to the city, the Statue of Liberty stands tall looking over the Upper Bay from her home on Liberty Island. Although so close to Manhattan, she doesn't actually live in New York at all and is just tucked into the next state, New Jersey. We suggest standing on deck as your ship pulls in and trying to get a glimpse of her if not, there are frequent ferry tours available to get up close and personal with one of the most famous women in the world.

Gifted to the US by France in 1886, the statue is designed to represent freedom and democracy and is located where it is so visitors to the country and city see it as they arrive. If you want to go above and beyond, you can even visit the crown, and after 377 steps you'll ride an elevator to the top and get an incredible view of the Manhattan skyline.
Ellis Island Immigration Building
Tucked behind The Statue of Liberty is Ellis Island. Famous for being the main gateway into the US between 1892 and 1924, over 12 million immigrants are thought to have crossed this island in search of a better life. The Ellis Island Immigration Building tells their stories and recounts the moving tales of these people. For anyone interested in the history of America, this is an unmissable stop.
If you spend some time here, you're bound to find yourself fascinated by the stories you are hearing. Although unimposing at first glance, Ellis Island is one of the USA's most significant historical sites, and once you leave, you'll never forget your visit.
One World Trade Center
Also known as the Freedom Tower, One World Trade Center is a new addition to the New York skyline, but an unmissable one. Built metres from the footprints of the Twin Towers, One World Trade Center is an important part of this city's history. This building was constructed with purpose and highly considered, standing at 1,776 feet tall to reflect the year the United States Declaration of Independence was signed – 1776. At the top is One World Observatory, the highest observation platform in the city.
As well as the Freedom Tower, the World Trade Center consists of the 9/11 memorial plaza and museum. Memorial Plaza is a sanctuary and place to remember, with two large pools set in the footprints of the original Twin Towers. The Memorial Museum is a considered learning experience that pays homage to the victims on 9/11. A thought-provoking and unforgettable experience, for those who wish to learn more about what happened here, a visit to the World Trade Center is a great way to do that and pay respects.
We spoke to Lyla Gleason, a New York native known online as the Globetrotting Mommy, who told us about her experience at One World Observatory: "Our visit to One World Trade Center was quite memorable. The views from downtown New York are spectacular and there is so much information to take in as you read about the various New York City neighbourhoods. I loved that we weren't rushed at the top as is the case with some other tourist attractions."
Lyla then told us why she believes everyone should visit here: "From the history-filled elevator ride to the spectacular 360-degree views, One World Trade Center is a must for New York City visitors. Seeing the city from above gives visitors a really great perspective and a great way to get their bearings. The glass floor viewing area is especially fun for children."
30 Rockefeller Plaza
Famous for its elaborate Christmas tree, romantic ice rink and unique art-deco style, 30 Rockefeller Plaza, nicknamed the Rock, is a great place to visit whilst in the big apple. Despite being at its most popular around the holidays, all year round you'll fall in love with this area. Built by John D. Rockefeller Jr, not only the Rock, but another 14 buildings were constructed in this art deco, style – giving the area a completely unique feel. The Rock is popular as it's observation deck, although lower than the Empire State Building's, offers great views of Central Park and the Empire State.

We spoke to Keri, co-editor of Ladies What Travel, a blog dedicated to celebrating travelling females. She told us about her experiences visiting the Rock: "I really enjoyed my trip to the Rockefeller Center - I've visited in both winter and summer, so have got to see it in all its festive charm, with the skaters out front and then in summer I got to enjoy lunch outside in that very same spot. It's always busy but even when you're queuing to get up to the 'Top of the Rock' you can't get bored as there's so much interesting info to read about the building's history - and you can even recreate that famous photo!"
"I think everyone should visit the Rockefeller Center when they visit NYC as it's one of those iconic buildings that you just can't miss. The panoramic views make it a perfect way to see the city in all its glory, above the noise and most of the buildings. If you make it on a clear day you can literally see for miles! In my opinion, the best time to go is a little prior to sunset, you then get up there for that magic hour and can take some absolutely wonderful photos."
We also spoke to fashion blogger Sarah Tripp from Sassy Red Lipstick. She told us "The Rockefeller Center is an iconic landmark in NYC and one of the best photo opportunities! It's worth the trip (and the money) to see the views and snaps a few photos."
Empire State Building
An icon of New York, and America, The Empire State Building is one of the best-known buildings in the world. Adored by architects worldwide, The Empire State Building is instantly recognisable thanks to its unique silhouette. Offering an unobscured view over Manhattan, the observation deck is visited by over 3.5 million people every year, making this an essential part of anyone's first New York visit.
We spoke to Nastasia, a blogger at Dame Traveler, who told us about her first visit: "When I first visited the Empire State Building, I was overwhelmed with the beauty and awe of the sprawling city below me. New York is just magical. It sets my heart ablaze. I truly believe that there is no other place that can come close to my love for this city. I may not have been born here, but it is truly my home. Seeing New York City there in front of you, glimmering, expansive, and begging to be explored - it's a must do."
Nastasia told us why a visit to the Empire State Building is a must: "Visitors should be sure to visit the Empire State Building so they can experience the magic of New York's skyline for themselves. Besides the beauty, the building itself has such a rich history in the city and is something worth learning about as well! Truth be told, there are only so many iconic buildings in our country. It's important to learn about any place's background and iconic architecture - whether you're from there or not!"
Flatiron

As one of the most unique buildings on this list, the flatiron is something everyone who visits the city should try and see. Measuring only 6 meters wide at its smallest end, when it was being constructed locals believed it may not last in a large gust of wind. Built-in 1902, it was thought to be completely ground-breaking, and it is still as unique and interesting as it was then. The area around the building is perfect for brunching and it's right next to Madison Square Park, the perfect spot to sit with a coffee and plan your day.
Chrysler Building
Built on the east side of the city, the Chrysler Building is most recognisable for its art deco architecture. Although not a tourist building, it is still a very distinctive part of the city and for good reason. Built-in 1930 by Walter Chrysler, head of the Chrysler Corporation, it was the tallest building in the world for a mere 11 months before being knocked off the top spot by the Empire State Building in 1931. The Chrysler is only a block away from Grand Station Terminal, so can easily be visited in tandem with that.
Brooklyn Bridge
The Brooklyn Bridge's distinctive style makes it instantly recognisable. Used to link the Brooklyn Borough of the city to Manhattan over the East River, this bridge has been operating for 135 years. In 2016, estimates put the daily traffic across it at 105,679 vehicles a day, but pedestrians can also walk across the bridge. If you want to see Manhattan from a unique perspective, or just be able to say you've walked across this unique bit of engineering, we suggest wrapping up warm as it can be windy.

We spoke to Amber, a blogger at Roam the Gnome, who spoke to us about the bridge: "The Brooklyn Bridge is a favourite of ours because it leads to a new and marvellous world of New York that's just for kids. There's so much to do on the other side - parks, playgrounds, and kids museums galore. Visiting the Brooklyn Bridge in New York City should be near the top of every tourist's cruise bucket list - the views of the skyline are spectacular but for us, we love it because the bridge gives us an insight into Brooklyn and NYC locals going about their daily lives."
We also spoke to Ruth, blogger at Tanama Tales, who spoke to us about the Brooklyn Bridge: "Even though it is considered a tourist attraction, I walked the entire span of the Brooklyn Bridge during my last visit to New York City. I was lured by the incomparable aesthetics and wonderful views of Manhattan. However, the visit ended revealing a lot more.
To start with, there are several fascinating facts related to the construction of the bridge. Do you know a woman aided the work's supervision? Or, that the president of the United States crossed the bridge during the inaugural ceremony?
In addition, the neighbourhoods at both ends of the bridge deserve exploration. On the Manhattan side, get ready to discover the City Hall, the Borough President's Office and a residential building designed by Frank Gerhy.
On the Brooklyn side, take a peek at the colourful brownstones of Brooklyn Heights or stroll the different parks overlooking the river. Other options include a stop by Jane's Carousel, a museum or a trendy restaurant.
One way or another, a visit to the Brooklyn Bridge can be taken to a level beyond expectations. Go and experience it by yourself!"
Desperate to see NYC for yourself? Take a look at our transatlantic cruises from Southampton and book yourself a trip to the big city.