Anthem of the Seas raises the bar in every aspect. As the eighth largest cruise ship in the world, she enthrals her 4,180 passengers with her exquisite range of activities, facilities and entertainment. What's more, Anthem's impressive dining venues leave guests spoilt for choice. But where to begin? We've (hopefully) made things a little easier for you by collating this list of her complimentary and speciality dining options - prepare to feel hungry by the end of this post!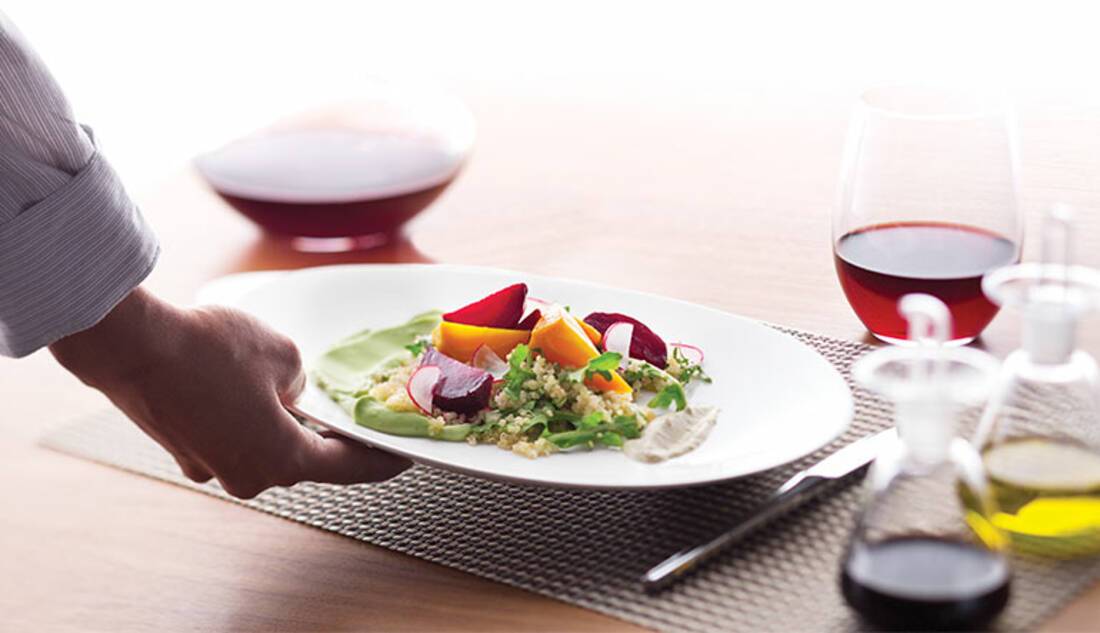 Complimentary dining options
From perfect slices of pizza to delicious hot dogs with a twist, Anthem of the Seas has a variety of complimentary dining options all included in the price of your fare. Here are some of our favourites:
Café Promenade
Coastal Kitchen
Dog House
Main Dining Room
Sorrento's
The Café @ TWO70
Windjammer
Café Promenade
Open 24-hours a day, Café Promenade offers quick and easy come-and-go eats in the perfect spot for people-watching. It's worth stopping by here regularly as some sandwiches, antipasti and desserts rotate daily. Menu staples include a croissandwich which is stuffed with deli meats and crisp lettuce, the New Orleans style muffuletta, piled high with cold cuts and cheese and decadent mud cakes.
Coastal Kitchen
Exclusive to suite guests and Pinnacle Club members, Coastal Kitchen fuses Mediterranean influences with farm-fresh Californian flavours. Start your day with decadent French toast, enjoy the signature Margherita flatbread at lunch and the roasted veal tenderloin at dinner. The menu here rotates frequently but that doesn't mean you can enjoy your favourite dish - simply ask the waiter for the chef to prepare it for you.
Dog House
Carefully crafted hot dogs with a twist are served up daily at Dog House. Whether you like yours the classic way, between toasted buns with a drizzle of mustard, ketchup and relish or course-ground and sprinkled with sauerkraut, Dog House has the hot dog for you. You can even customise your hot dog using a variety of condiments and toppings which are all available at self-service.
Main Dining Room
Exceptional multi-course menus are available for breakfast, lunch and dinner in Anthem of the Seas four main dining options; Silk, Chic, The Grande and American Icon Grill. The menu in each rotates daily which means you could go a whole week without repeating a course.
Sorrento's
Open late, Sorrento's serves up the perfect pizza all day long. Offering everything from the classics such as Marghertias to speciality pies like the meat-loaded carnivore, Sorrento's takes the title for the best pizza at sea. Royal Caribbean has spent years perfecting the recipe here, so a cruise on Anthem of the Seas would be incomplete without a stop at Sorrento's.
The Café@TWO70
The Café@TWO70 is a gourmet marketplace where every meal comes with a side of captivating views. Open for breakfast and lunch, you can choose from a vast array of savoury hot-pressed sandwiches, crisp custom made salads, homemade soups and even sweet treats.
Windjammer
Taste your way around the world at Windjammer. This global buffet, open for breakfast, lunch and dinner, serves up tantalising flavours from around the world. Enjoy scrambled egg Bhurji served with roti for breakfast, fish and chips for lunch and Caribbean goat curry for dinner. There are also plenty of gluten-free and vegetarian options available.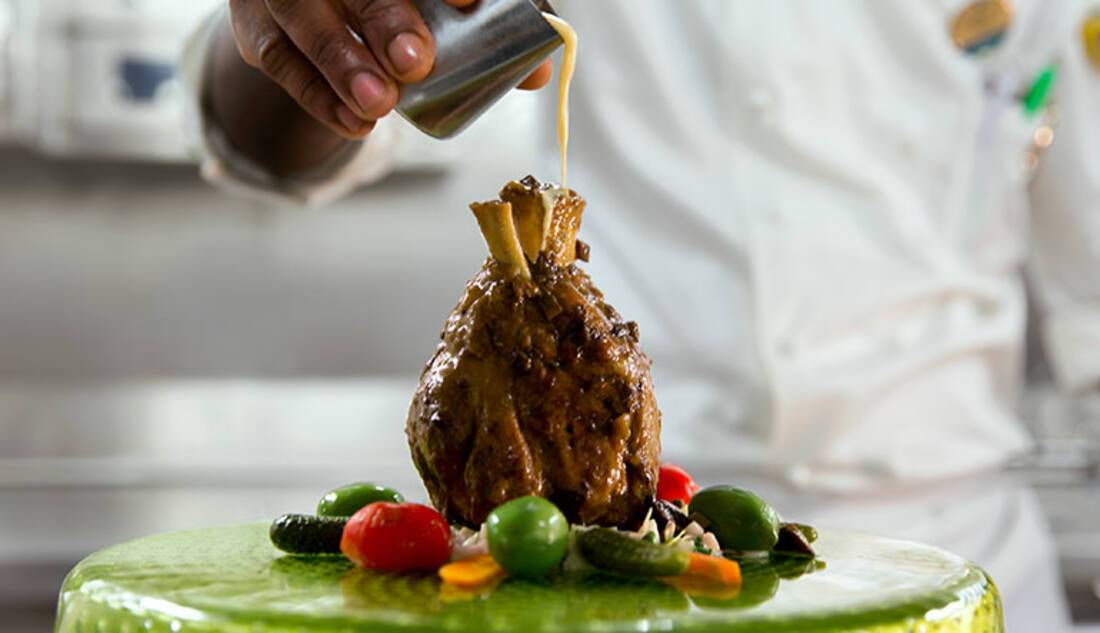 Speciality dining options
Anthem of the Seas' speciality restaurants offer a dining experience for every taste. Whether you enjoy traditional Italian fare or innovative Asian-inspired cuisine, there's a dining option for you. Opting for one of Royal Caribbean's Speciality Dining Packages will enable you to enjoy great savings in multiple speciality restaurants. Here are a few of Anthem of the Seas speciality dining options:
Chef's Table
Chops Grille
Izumi
Jamie's Italian
Johnny Rockets
La Patisserie
Wonderland
Chef's Table
Deck 5, $$$
Chef's Table is the most exclusive dining experience on Anthem of the Seas. Here, you'll join an intimate group of fellow foodies on a private epicurean journey led by the ship's Executive Chef and Sommelier. Enjoy scallop carpaccio served with yuzu vinaigrette and crispy quinoa, Maine lobster salad flavoured with pineapple, cilantro and vanilla dressing and peanut butter ganache, Valrhona chocolate mousse and salted caramel gelato.
Chops Grille
Deck 5, $$$
Anthem of the Seas signature steakhouse, Chops Grille brings a contemporary flair to traditional steakhouse offerings. Open for lunch on sea days only, the chefs at Chops Grille have perfected their hallmark hand-cut steaks for over a decade. Dine on beef carpaccio with fresh arugula, parmesan cheese and truffle mustard dressing, tender filet with creamed spinach or be wowed by one of the signature seafood towers.
Izumi
Deck 5, $$$
Calling all sushi lovers, Izumi is Anthem of the Seas exotic Asian-inspired dining experience. Here, you'll be wowed by the fresh ingredients, delicate flavours and gorgeous plating of Izumi's sushi, sashimi and Ishi-yaki plates. If you're dining with little ones, ask for the children's menu - it's got plenty of smaller-sized versions of Izumi's sushi, Tonkotsu, ramen and even teriyaki.
Jamie's Italian
Deck 5, $$$
Crafted by one of the UK's most famous chefs, Jamie's Italian delights with Tuscan-inspired cuisine. Seasonal ingredients meet authentic recipes in family-style dishes that range from homemade pasta and classic Italian starts to contemporary creations infused with rustic influences. Make sure to try the garlic bread - warm artisan buttermilk buns are served with herby garlic butter, veggie parmesan and rosemary.
Johnny Rockets
Deck 14, $$
Serving delicious American fare since 1986, Johnny Rockets is a staple on Royal Caribbean ships. Offering fast, casual food, Johnny Rockets' menu features fresh made-to-order hamburgers, sides, shakes and desserts. It's a great option if you fancy a quick bite to eat or want to enjoy a shareable snack with friends. We'd highly recommend trying out the milkshakes - you can mix and match flavours to make a unique but delicious drink.
La Patisserie
Deck 4, $
Fancy a freshly baked croissant for breakfast or an afternoon pick me up? La Patisserie is the place for you! Serving up French confectionary perfection, La Patisserie will take your sweet tooth on a decadent journey through an exciting assortment of flakey macaroons, tantalising petits-fours and rich artisan chocolates. It also boasts a vast range of coffees, from tasty espressos to frothy cappuccinos - you can even ask for your favourite drink with a shot of chocolate liqueur!
Wonderland
Deck 5, $$$
Wonderland offers the most imaginative cuisine at sea. This speciality restaurant is all about pushing the culinary envelope; dishes are designed to tantalise your taste buds and present a visual feast. The interactive fun pushes past the cuisine though. Using a paintbrush, you'll brush your menu to watch each dish appear on the page before your very eyes; expect to see dishes based on five natural elements: earth, sea, fire, ice and sun.