This big, crazy, bustling metropolis is one of the most desirable cities in the world. A hub for fashion, finance and design, New York City is a luxurious cruise holiday destination for those hungry for culture and entertainment. What if you are trying to make your money stretch as far as you can during your Silversea cruise holiday? Well we have come up with the best free things to do in New York City, for fashionistas, green fingered nature lovers and so many more.
Visit the Fashion Institute of Technology
New York City and fashion come hand-in-hand. Home to the Fashion Institute of Technology (FIT), every week is Fashion Week here. The museum itself showcases a brilliant collection of more than 50,000 garments from the last 200 years. Steven Bibb is the Media Relations Assistant at the Museum at FIT and was kind enough to talk us through its history and what you can expect when you visit:
"The Museum at FIT, which is accredited by the American Alliance of Museums, is the only museum in New York City dedicated solely to the art of fashion. Best known for its innovative and award-winning exhibitions, the museum has a collection of more than 50,000 garments and accessories dating from the 18th century to the present. The museum's mission is to educate and inspire diverse audiences with innovative exhibition and projects that advance the knowledge of fashion."
"It is a part of the Fashion Institute of Technology (FIT), a State University of New York (SUNY) college of art, design, business, and technology that has been at the crossroads of commerce and creativity for over 70 years. With programs that blend hands-on practice, a strong grounding in theory, and a broad-based liberal arts foundation, FIT offers career education in nearly 50 areas, and grants associate, bachelor's, and master's degrees. FIT provides students with a complete college experience at an affordable cost, a vibrant campus life in New York City, and industry-relevant preparation for rewarding careers."
Its thought provoking displays and exhibits offer a fascinating insight into the development of fashion throughout the ages. Even if you don't regard yourself as someone who is particularly interested in the subject, you will certainly find more than enough to surprise and inspire you.
Central Park
Central Park is one of the most iconic destinations in New York City. From above it is an incredible sight, as this 3.5 square miles of greenery is bordered by the dense metropolis of Manhattan. Six times larger than Monaco, the most famous park in the world is free for you to enjoy on your Silversea cruise holiday.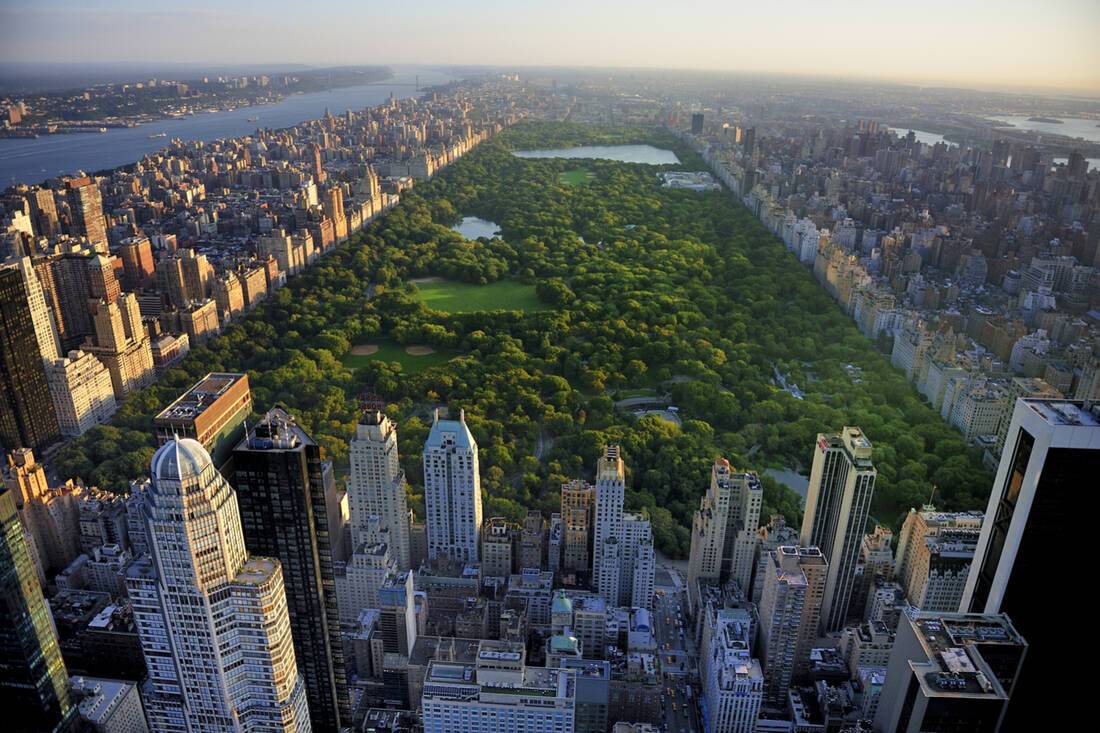 New York City's playground, there is more to Central Park than admiring the lawns, trees and picnic spots. You can discover your new favourite band or singer at Rumsey Playfield or Summer Stage, or for a quieter experience why not check out Belvedere Castle, or row around the lake?
The park is full of interactive attractions, as well as a zoo for animal lovers. More than 37 million visitors head to this green space every year, making it the most visited urban park in the United States.
Brooklyn Botanic Garden
Around 100 years ago, this area was nothing more than a marshy wasteland. Now, it has been transformed into one of New York's most beautiful parks. Committed to educating visitors about conservation, the Brooklyn Botanic Garden spans 52 acres of Manhattan real-estate and houses more than 10,000 types of plant.
Founded in 1910, the gardens came from an 1897 New York State legislation, which reserved 39 acres of land to be used as green space. Thirteen years later Charles Stuart Gager – a botanist- founded the Brooklyn Botanic Garden, and later went on to become the director.
The garden is a tranquil escape from the hustle and bustle of the city. A walk around the paths and through the wonderful exhibits and displays will make you forget you are right in the heart of one of the world's busiest and most developed cities.
Grand Central Terminal
Way back in 1831, New York City welcomed its first rail line – the New York and Harlem Railroad. In the five years that followed, a station was built to accommodate the line, occupying an entire block. The Grand Central Terminal, as we know it, was officially opened at 12.01am on Sunday 2nd February 1913, with 150,000 people there to witness it.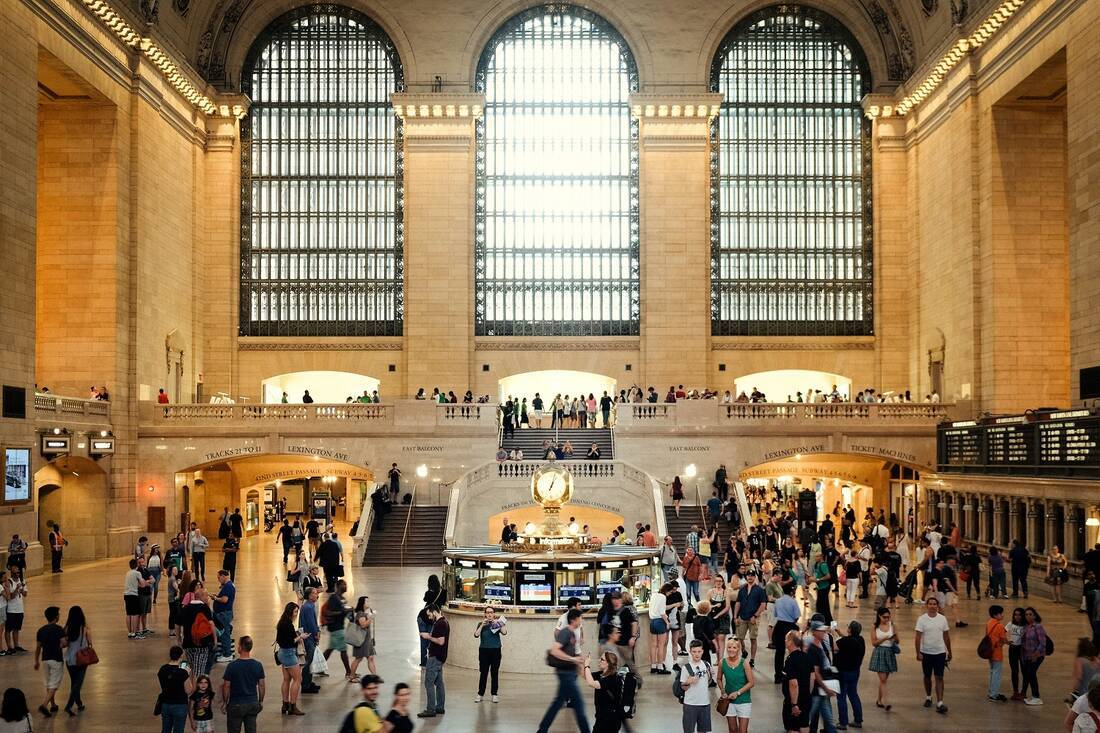 Today you can visit the 60 shops and 35 eateries that make up this iconic Beaux Arts landmark. With 44 platforms – more than any railroad station in the world – it welcomes 750,000 people every day. The Grand Central Terminal has now become a destination, not just a stop.
There are numerous guided tours that can reveal the history behind this staggering structure. One such sight is the constellation ceiling, which some believe has been put on backwards by the original owners of the station (the Vanderbilt family). Or why not try out the whispering gallery. In a particular corner beneath the 2,000 square-foot alcove with domed ceiling you can whisper and the design will replicate an echo effect. One person can whisper from one corner and you will be heard from the opposite side.
Walk the High Line
Back in 1980 the High Line was nothing more than a disused rail track, until its resurrection back in 2009. Now, this 1.45 mile-long strip has been transformed into one of the city's best-loved parks. The High Line winds through streets and blocks thirty feet above our heads on Manhattan's west side. It is an intimate and unique way to experience New York in the 21st century, as well as bygone eras.
Like Central Park, this is a serene escape in the midst of a sprawling urban jungle. You walk along the pathway, ushered by lines of bushes and flowers that buzz with wildlife through history and some of the best sights in the city. If you are visiting between April and October, head up to the High Line on a Tuesday evening. Here you can join the Amateur Astronomers Association of New York partaking in some stargazing before the park closes. There are also concerts and performances along the walkway, as well as tours and art projects. Or you can just kick back on the loungers and admire your surroundings.
Times Square
The flashing lights, huge billboards promoting the latest movie or product, costumed characters and eclectic musicians help to make Times Square one of the most popular tourist attractions in the Big Apple and one of the best free things to do in the city.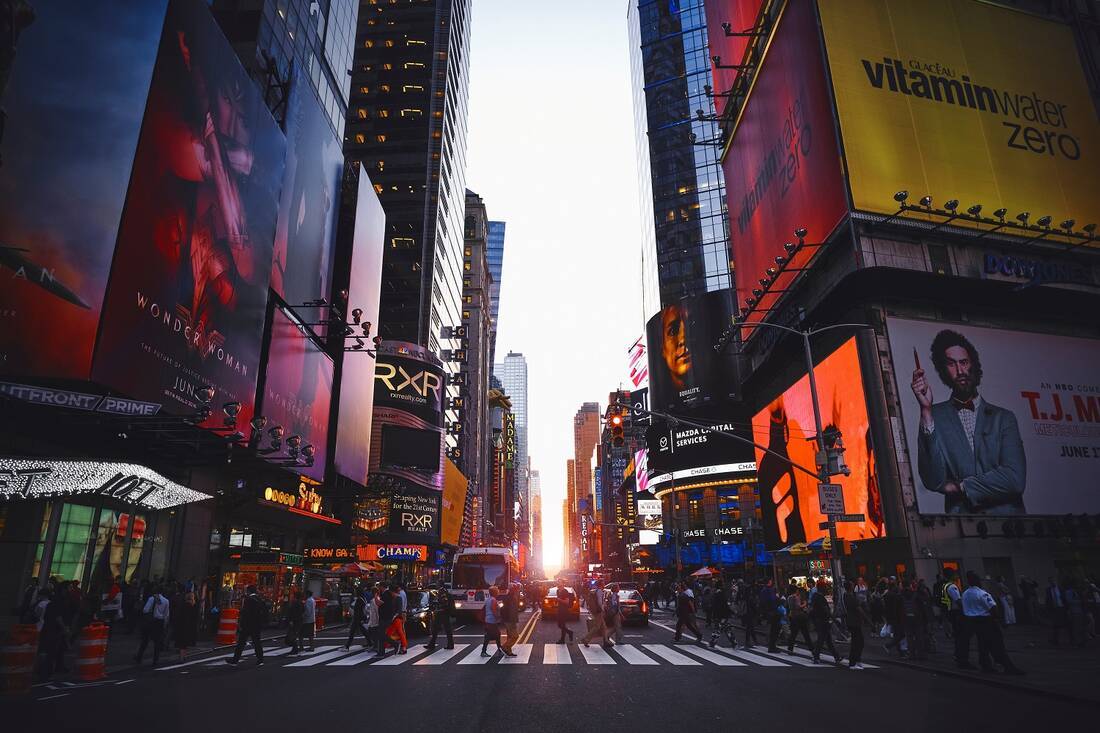 Known right the world around, for many, it is the epicentre of New York. Within just a few steps you will find some of the finest bars and restaurants serving up a range of dishes and beverages. And of course, it is the scene of iconic celebrations during the Christmas period and New Year's Eve.
International Center of Photography
Founded in 1974, the International Center of Photography was the brainchild of Cornell Capa, who wanted to preserve his brother's humanitarian documentary work. The museum retains its roots and has continued to exhibit a range of photographical works through the ages, including pieces on the Iraq war, gang life in Los Angeles and even the global phenomenon of selfies.
It is now the leading institute for photography and visual culture in the world and from 6pm on Thursdays, you can marvel in exhibits on a pay what you wish basis. The centre is spread across a number of buildings in New York, including one at Mana Contemporary in Jersey City, which includes a lab that is dedicated to the development of new projects. Elsewhere, you can visit the library, the museum itself or the school, which educates 3,500 students each year.
GrowNYC
Since its creation over 40 years ago, GrowNYC has become world famous for its efforts in improving the quality of life in New York and its environment. Its success has been incredible, as the programme has spread across the city, Communications Specialist for Greenmarket – GrowNYC, Catherine Crawford explains: "First launched in 1976 with just a few farmers, GrowNYC's Greenmarket program has grown exponentially over the years. Today there are 51 Greenmarkets operating throughout all five boroughs of New York City.
"Our mission is two-fold: to promote regional agriculture by providing small family farms the opportunity to sell their locally grown products directly to consumers, and to ensure that all New Yorkers have access to the freshest, most nutritious locally grown food the region has to offer.
"Over 250,000 customers frequent GrowNYC Greenmarkets every week in peak season, inspired by the opportunity to buy fresh, local food from the people who produce it."
GrowNYC focuses on four programs: Greenmarket, Recycle – where five boroughs have been introduced to resources and training, Garden – community schools and gardens are built and Education – 30,000 children are taught about the natural environment each year.
The Union Square Greenmarket is open year round, six days a week. You can walk around and admire all of the efforts of this brilliant initiative, as well as buy and support the local vendors in their efforts.
Free walking tour
Trying to absorb everything that New York has to offer during your Silversea cruise isn't easy. Fortunately for you, you can take a free walking tour with Free Tours by Foot. Their tour guides will educate you on the history of the city on tours that "cover most areas of NYC that tourists and newbies to NYC are interested in discovering," according to Stephen at Free Tours.
"Each tour starts in a unique location, but essentially, they start in the neighbourhoods or districts that they cover," said Stephen. "We started these tours because the internet allows for us to reach people without having to pay commissions to concierges or third party travel websites or paying lots of ad money. Because of this, we don't need to charge anything upfront and we can allow the visitor to name his or her own price."
Visit Brooklyn Bridge
Without question one of New York's most recognisable landmarks and for many, a symbol for the city, the Brooklyn Bridge has been coveted in poetry, films and in song. This marvel of engineering was completed back in 1883 and was the first roadway to connect Manhattan with Brooklyn – previously separate cities. 10,000 tourists and locals walk the 6,000 foot long footbridge everyday beneath its gothic towers and steel cables.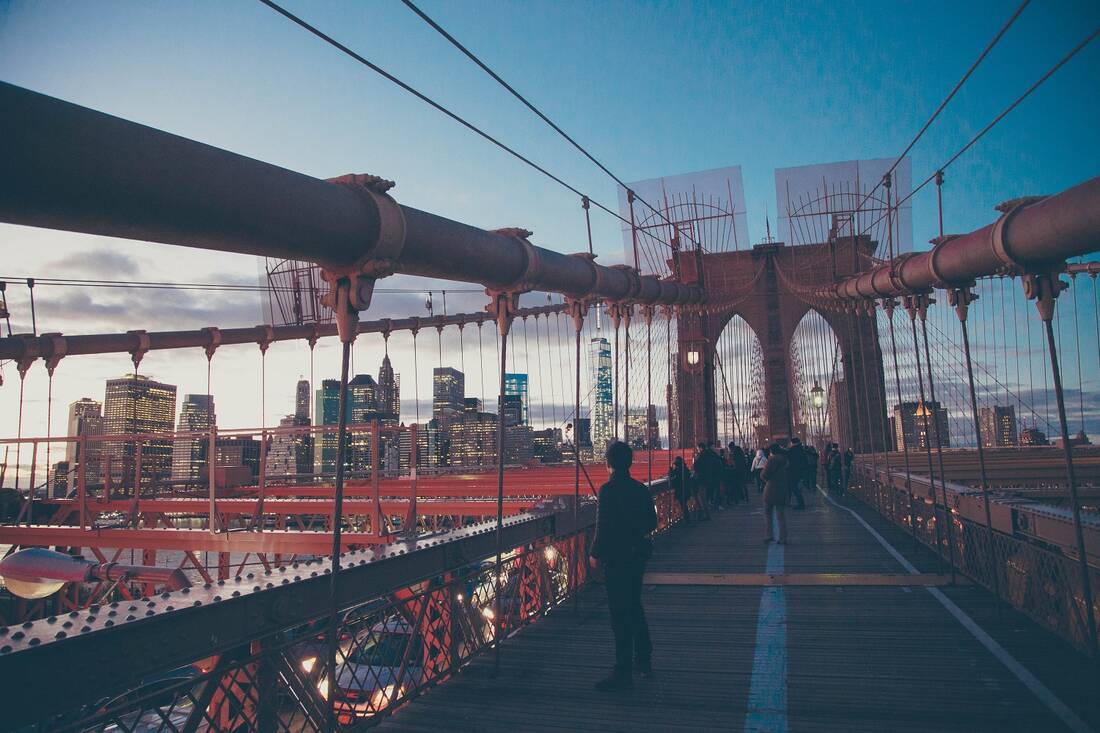 It is a spectacular location come day or night, but don't scoff at it as one of the best free things to do in New York until you have been there. Lucy Dodsworth, of On the Luce, chose it above all else as a highlight for anyone visiting the city: "For one of the best views in town, head across the Brooklyn Bridge and into Brooklyn just before sunset. Brooklyn Bridge Park stretches over a mile along the waterfront with million-dollar views across the Manhattan skyline, all for free. Pack a picnic, arrive just before dusk and grab a bench to watch the sun set behind the skyscrapers, the ferries coming and going and the lights come on across the city."
You can easily be consumed by a lavish spending spree when you visit the Big Apple. The abundance of luxurious dining, shopping and events are there for us all to see and if that is your prerogative, then great, you will have an amazing time. But for those looking to keep a closer eye on their budget, then as you have seen, there are just as many brilliant free things to do in New York City.
Image Credit: Fashion Institute of Technology Anthony DELANOIX Jad Limcaco Luca Bravo ben o'bro