London has so much to offer; fascinating history, rich culture, incredible diversity and most importantly, delicious food. Dock at London Tower Bridge and you'll experience one of the most exclusive cruise ports in the world. Head into the capital for a day of exploring and stop off at one of these breakfast, lunch or dinner options along the way:
Breakfast in London
Dishoom
Duck & Waffle
The Wolseley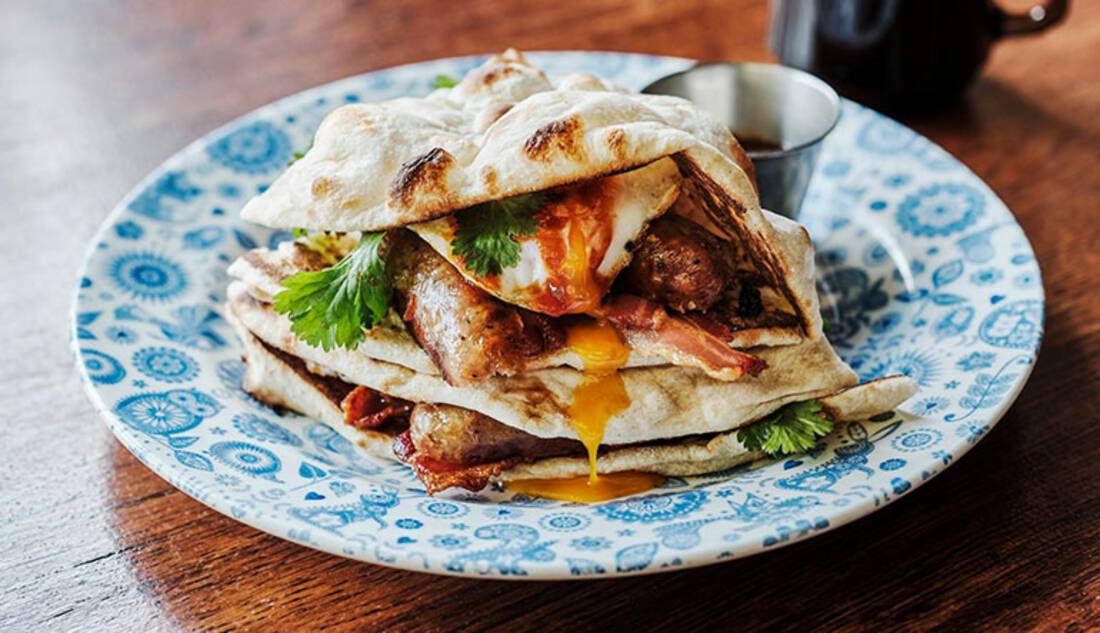 Dishoom
Multiple venues
Since opening in 2010, Dishoom has become incredibly popular with Londoners and tourists alike. The restaurant chain pays homage to the Irani cafés that were opened in Bombay by Zoroastrian immigrants early last century where "people from all walks of life shared tables, rubbed shoulders and broke bread together."
Dishoom is one of London's most sought after breakfast haunts with the bacon naan roll attracting eager queues of early bird city dwellers vying for a table. Luckily, there are five London locations for you to choose from; Carnaby, Covent Garden, Kensington, King's Cross and Shoreditch and booking is advised. The menu is fresh and innovative with a unique take on breakfast with Indian inspired dishes - plus, cups of chai are refilled for free!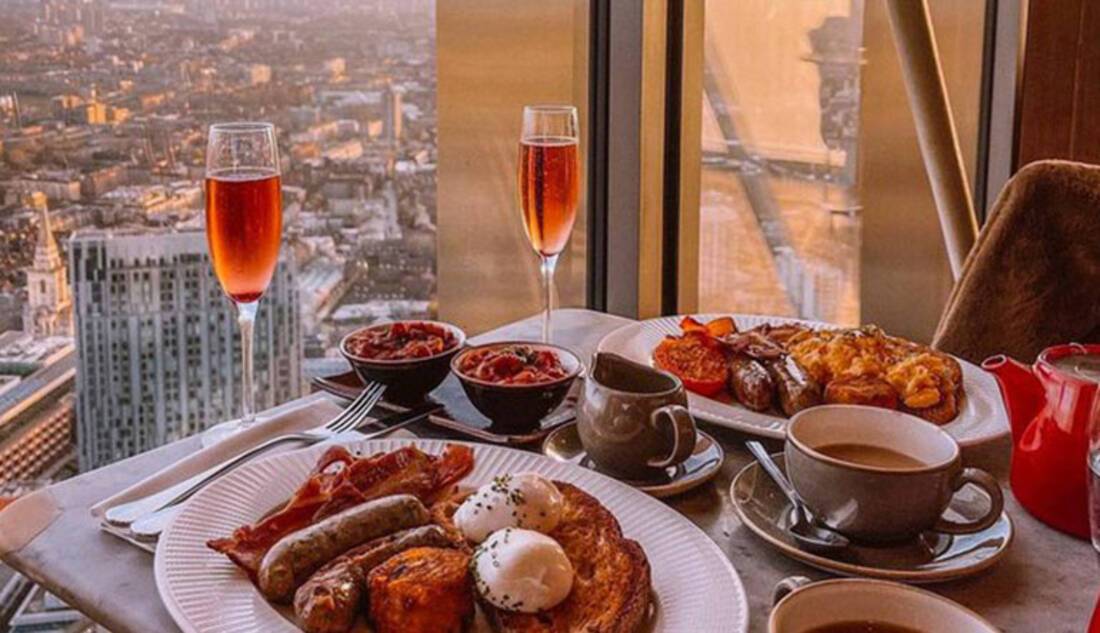 Duck & Waffle
110 Bishopsgate, London, EC2N 4AY
High up in the Heron Tower sits Duck & Waffle, a restaurant designed for sampling and sharing delicious dishes. Offering a playful take on traditional British cuisine with broad European influences emphasising local, rustic, seasonal and sustainable ingredients, Duck & Waffle is most well-known for its signature dish, Duck & Waffle.
Crispy confit duck leg is served with a fried duck egg and a fluffy waffle, topped with mouthwatering maple syrup. Sounds a bit strange, right? But it works! Other dishes on the indulgent menu include Duck Benedict and Lemon Meringue Waffle. We highly recommend breakfast at Duck & Waffle if only for the incredible views of London.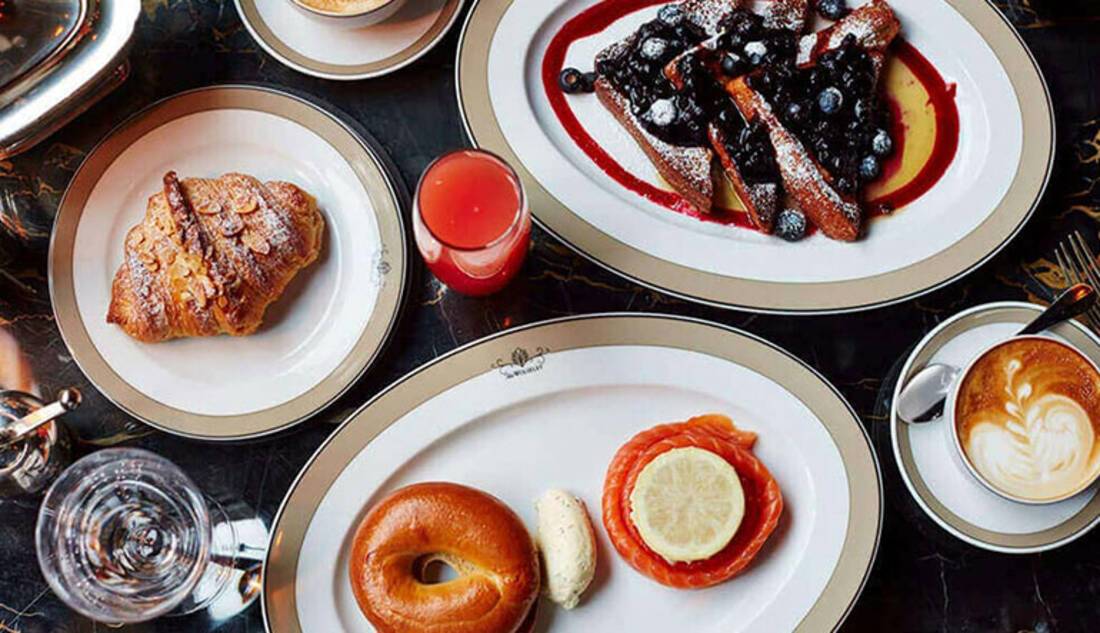 The Wolseley
160 Piccadilly, St. James's, London, W1J 9EB
Start your day with a sense of occasion by eating breakfast like a king at The Wolseley. A London institution, The Wolseley is an iconic art deco grand cafe famous for having the best eggs benedict in the capital. Housed in a former bank, the grand European interior is as impressive as the impeccable food.
Expect to see french toast, smoked salmon and scrambled eggs and creamed porridge oats with fruit compote as well as lots of vegetarian options on the menu. All of which will be served silver-style.
Lunch in London
Bocca Di Lupo
L'Escargot
The Good Egg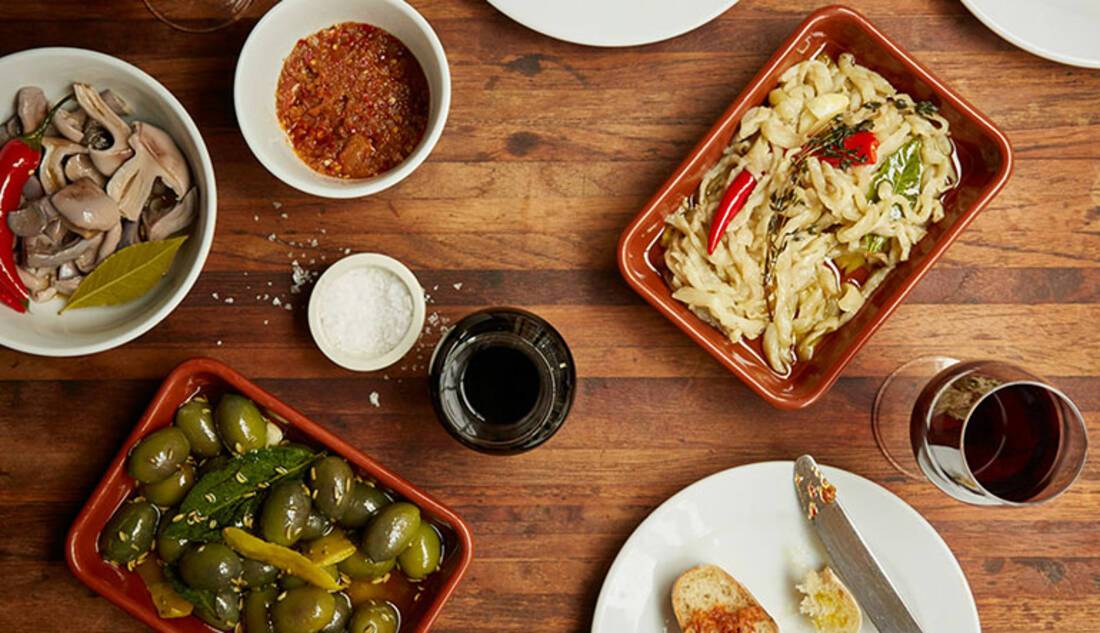 Bocca Di Lupo
12 Archer Street, London, W1D 7BB
Since 2008, Bocca Di Lupo has been serving some of the best regional Italian food in London. The restaurant has received many awards and accolades for its stripped-down, honest cuisine. Bocca Di Lupo, "specialise in obscure and delicious food and wine from all across Italy's twenty regions." They make almost everything themselves (including gelati, bread, sausages, salami, pickles, mostarda and pasta) and the rest is carefully sourced from Italy.
Their menu changes every day, twice a day in order to keep up with the changing seasons. Expect to see plenty of seafood, pasta and grill options.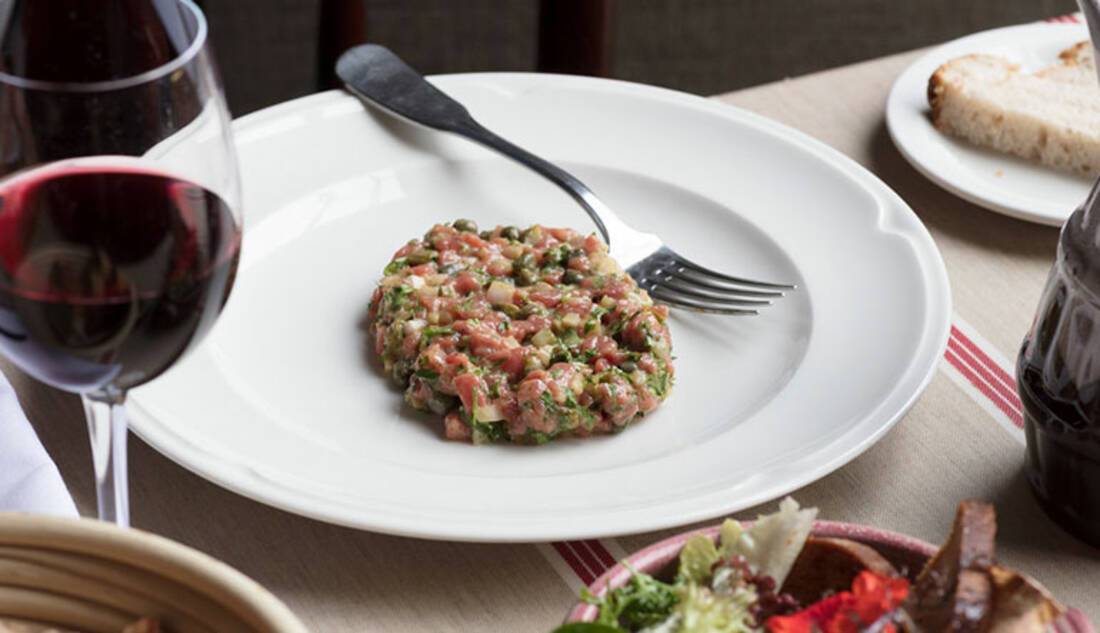 L'Escargot
48 Greek St, Soho, London, W1D 4EF
As the oldest French restaurant in Soho, L'Escargot is an institution. Conveniently located near London's greatest theatres, L'Escargot is housed in a magnificent Georgian townhouse that dates back to 1741. In 1896, M. Georges Gaudin established a restaurant called Le Bienvenue which became famous for its snails. By 1927, the restaurant had moved to 48 Greek Street and had been renamed L'Escargot, after its most popular dish.
The menu is inspired by typical French cuisine and features some of the finest French delicacies including lobster bisque, steak tartare, steak frites and duck confit as well as the world-famous escargot with garlic butter.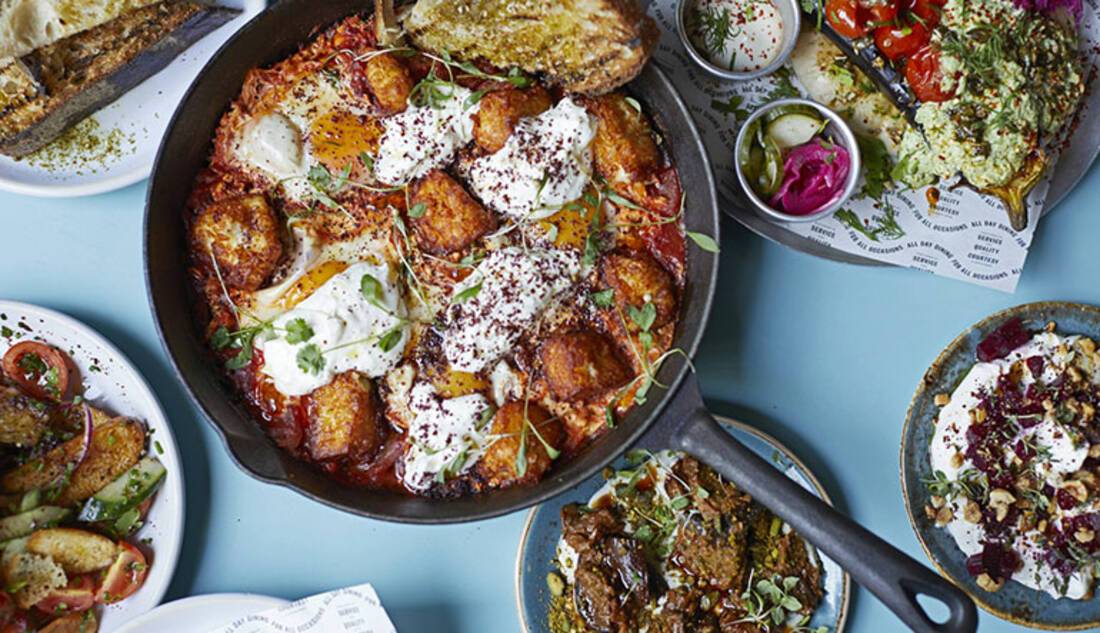 The Good Egg
Multiple venues
Inspired by Middle Eastern cuisine, The Good Egg (created by three friends) started off as a street food stall. Since then, it has turned into a popular restaurant with two locations, one in Stoke Newington and the other in Kingly Court. The menu represents the food that Joel, Alex and Oded enjoy and each dish offers a step back in time.
Both restaurants serve a selection of Jewish and Middle Eastern options such as orange and juniper octopus, shakshuka and babka. The menu is wallet-friendly and offers something for everyone.
Dinner in London
Casa do Frango
Circolo Popolare
Sketch Lecture Room & Library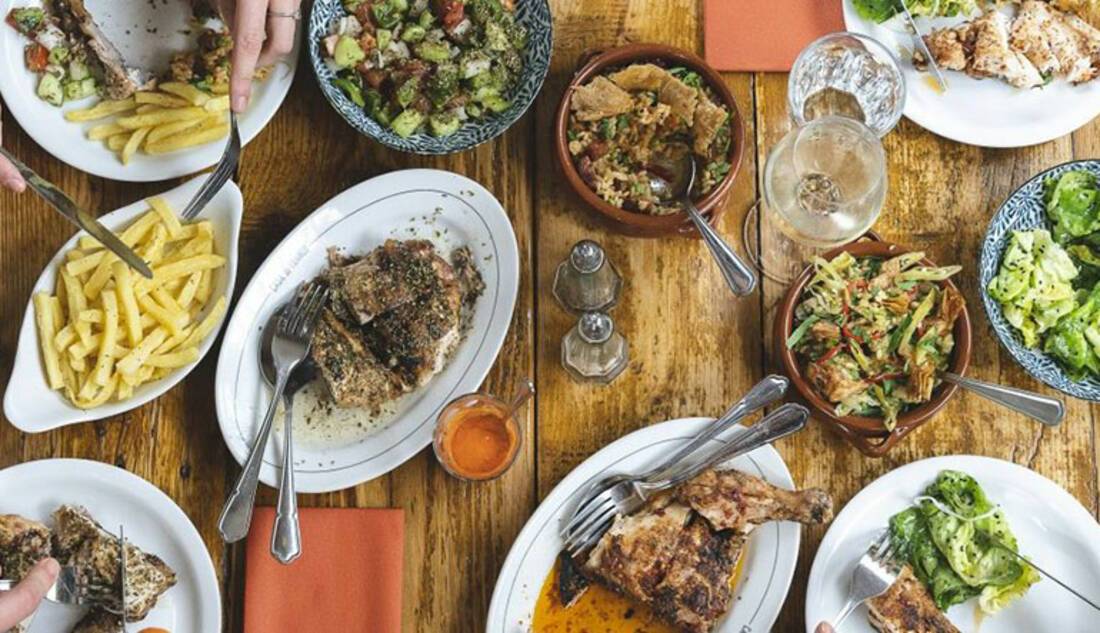 Casa do Frango
Multiple venues
With two locations (Borough Market and Shoreditch), Casa do Frango has become a firm favourite for Portuguese-inspired cuisine. The restaurant believes that the quality of the final product can only be as good as the quality of the ingredients which is why they aim to work with the best suppliers in the industry.
The menu pays homage to the many delights of the Algarve, with traditional sides and sharing dishes highlighting the variety of Portuguese cuisine from classics with a twist to seasonal favourites and a range of vegetarian and vegan dishes. We highly recommend the Peri-Peri chicken (it's so good they named it twice).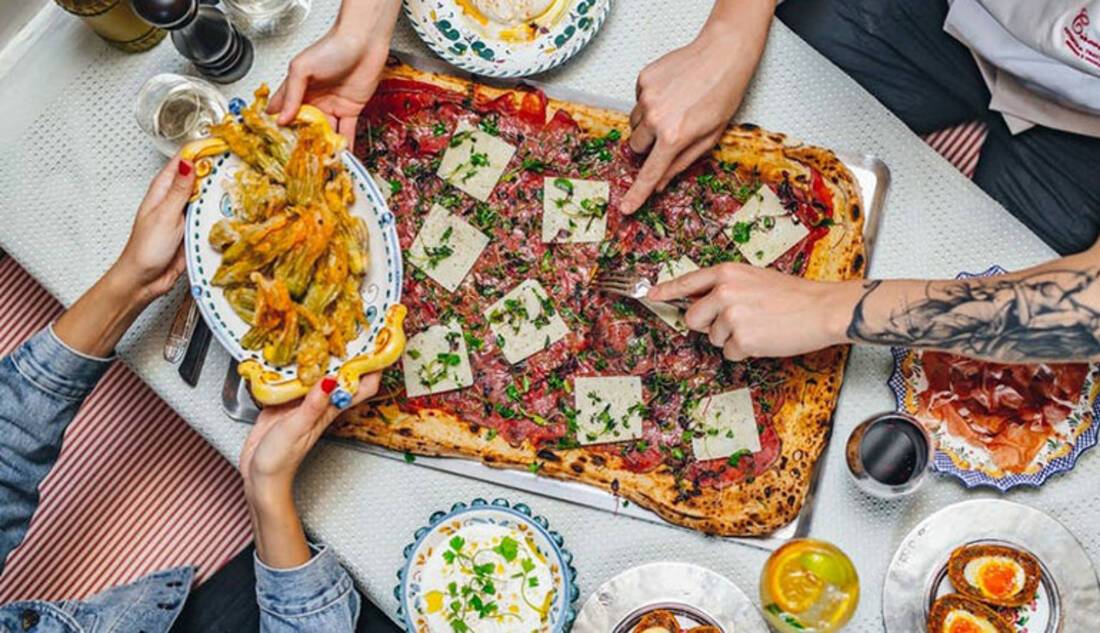 Circolo Popolare
40-41 Rathbone Pl, Fitzrovia, London, W1T 1HX
Situated in the heart of lively Fitzrovia, Circolo Popolare is a sunny Sicilian trattoria. Part of the well-known Big Mamma Group, Circolo Popolare and sister restaurant Gloria are not known for their subtlety! Think gigantic pizzas (as above), carbonara tossed into a wheel of cheese and lemon meringue pie with a marshmallow-like topping.
The picture-perfect setting (thousands of fairy lights and empty bottles) is what's put this restaurant on the map but the food is truly out of this world - a trip to London would be incomplete without dinner at Circolo Popolare.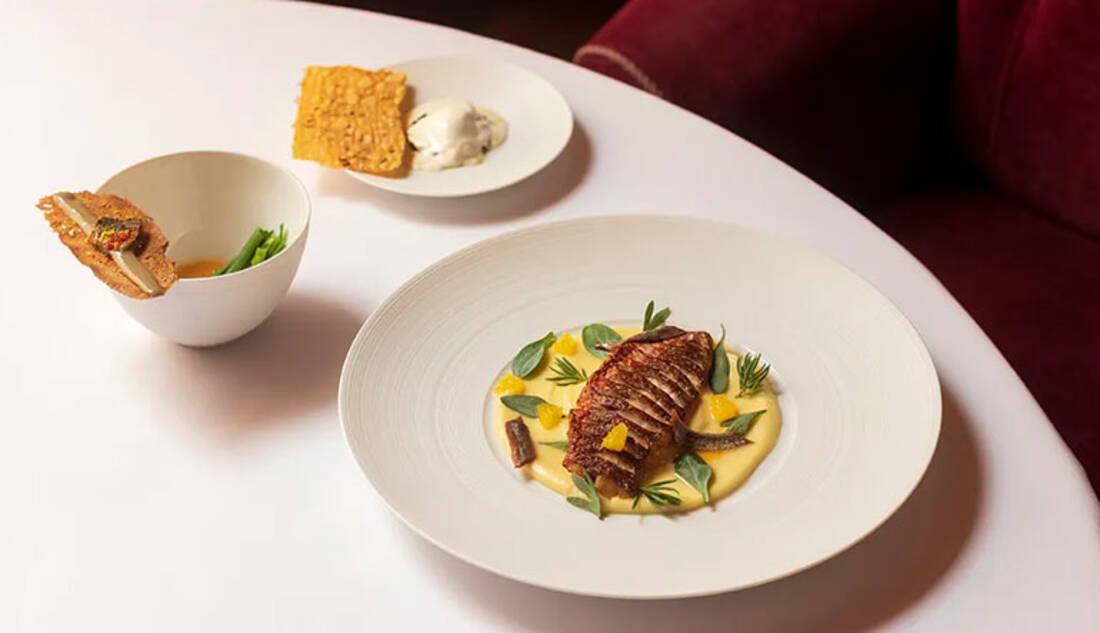 Sketch Lecture Room & Library
9 Conduit St, Mayfair, London, W1S 2XG
With the most photographed toilets in London (yes, you read that right), Sketch is known worldwide. In the Michelin Guide 2020, the restaurant was elevated to the maximum three stars, placing it in an elite group alongside Alain Ducasse at The Dorchester and Restaurant Gordon Ramsay.
Situated within what used to be the headquarters of Christian Dior, Sketch is flamboyant, colourful and exceptionally clever. Diners can choose between a seven-course tasting menu and a full a la carte menu, both of which feature dishes influenced by French cuisine with European creativity. If you go anywhere on this list, go to Sketch.