Earlier in the year, Liam Oliver, Concierge Sales Manager at ROL Cruise, had the amazing opportunity to travel with Rocky Mountaineer on their First Passage to the West. Travelling from Vancouver to Calgary on a 7 day itinerary, here he shares his experience: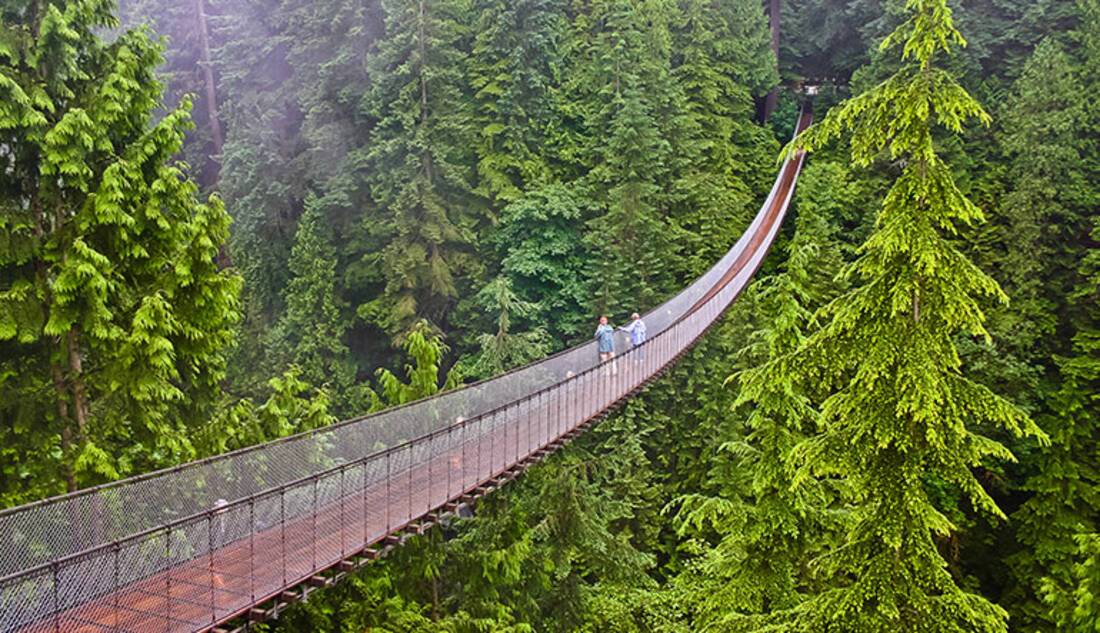 Day 1 & 2 – Vancouver
We spent the first day and a half exploring Vancouver. The city is buzzing with life, from eateries, bars, shops and things to do. We also spent time in Granville Island where we shopped and had a bite to eat. Here there were craft markets, local produce and a brewery. What there wasn't was chain shops – something they pride themselves on.
Whilst in Vancouver we took part in two organised activities. Capilano Suspension Bridge, originally built over 120 years ago to join the 2 sides of the Capilano river, has been reinforced and strengthened over the years. The bridge looks like something you'd see in a movie. Not being a great lover of heights, I hesitantly crossed it and to my surprise it was very sturdy. Home to lots of wildlife and birds, expect to see eagles and owls on display. We even saw a banana slug! Other attractions have been added over the years such as totem poles, a cliffside walkway and bridges through the treetops.
We also took part in a virtual 4D experience which was located on the waterfront. Sitting in what I can only describe as a rollercoaster seat with a bar across the lap for safety, the theatre experience was amazing. A 15 minute video from the view the cockpit of a plane flying over Canada, with seats that moved and wind blowing to create a ride I will never forget.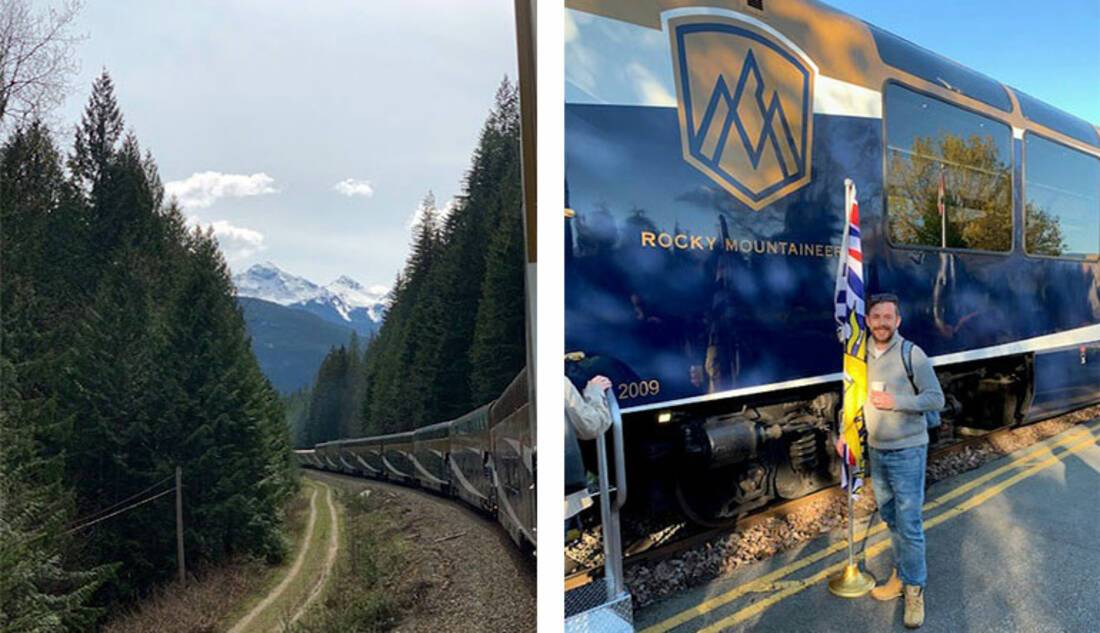 Day 3 – Vancouver to Kamloops
On day 3 we embarked Rocky Mountaineer. The best way to experience the majestic Canadian Rockies, Rocky Mountaineer has welcomed nearly 2 million guests on board since its inception in 1990. We were lucky enough to do so in SilverLeaf.
What is Rocky Mountaineer SilverLeaf? SilverLeaf Service gives you everything you need and more to experience the majesty of the mountains in luxury; panoramic views, delicious meals and beverages brought right to your seat and friendly hosts.
Those travelling in SilverLeaf class will not be disappointed; the exceptional service complimented by the comfortable seats and hot food made this a very memorable first day. One thing I hadn't realised was the size of the windows – which are seriously impressive – reaching from floor to ceiling. The food was great with fresh flavours and hot meals offered at both breakfast and lunch. Should you want some fresh air you can head to the back of the carriage (in between the cars) where a small area opens up.
We witnessed amazing views throughout our journey, with fascinating commentary explaining the history of Canada, the railway and wildlife. We even got to see a bear, but sadly I wasn't quick enough to catch her on camera.
The end of our journey brought us to Kamloops. Here we were transferred to our hotel, The Plaza. A very comfortable hotel with all the required amenities for a great night's sleep. We arrived late on in the day but had enough time for a nice local dinner and early night for our second day aboard Rocky Mountaineer.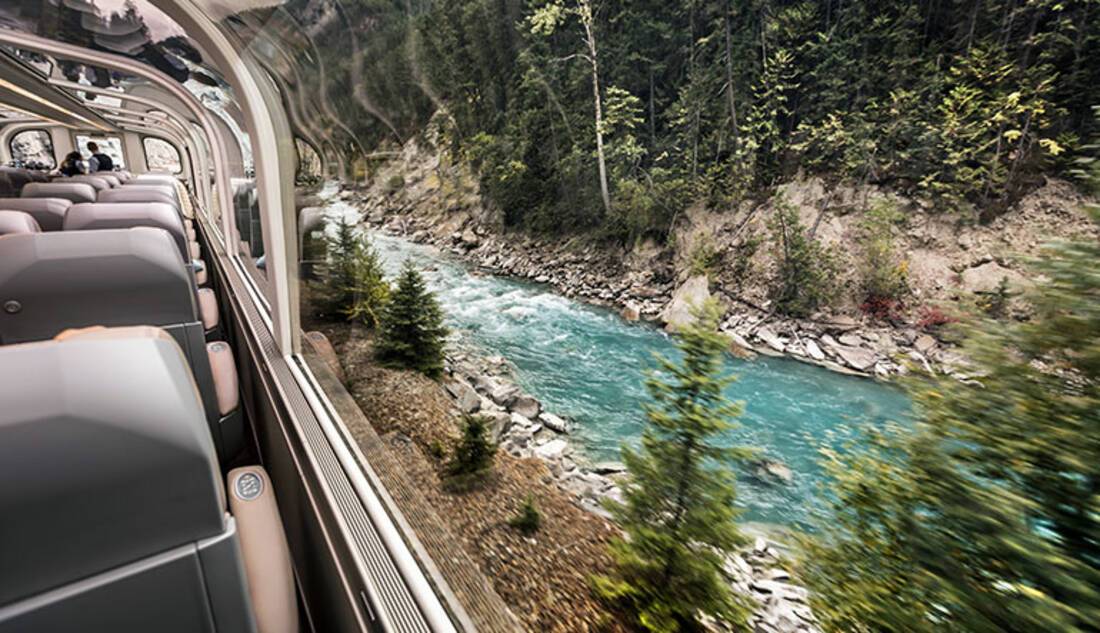 Day 4 – Kamloops to Banff
Day 4 began early, as we transferred to Rocky Mountaineer ready to travel in GoldLeaf. GoldLeaf Service enables you to indulge your senses with gourmet meals created by Executive Chefs and prepared by the full on board culinary team. You can also enjoy expansive views through the panoramic windows of a bi-level glass dome coach.
Upon entering GoldLeaf, you immediately get the feeling of class. The upgraded carriages boast finesse and style, and everything has been thought about thoroughly. The glass domes on the second floor, for example, have a slight tint to keep the glare from the early morning sun hurting your sleepy eyes. The seats in GoldLeaf are incredible, not only are they heated but they recline within themselves so not to encroach in other travellers' personal space.
The first floor is where food is served in the dining area with proper tables and chairs. The waiter service is professional, swift and courteous. I was interested to know that they can cater to a range of dietary requirements.
The outside viewing platform – at the back of the dining room – is fairly large (you could probably fit 10 people) and we were able to get some amazing photos. Much like SilverLeaf, the commentary in GoldLeaf was fascinating.
We arrived in Banff late in the day and had a short walk from the train to our hotel, the Ptarmigan Inn. A centrally located hotel, the Ptarmigan Inn offers comfortable rooms, hot pools, a sauna and steam room and a nice variety for breakfast.
Banff is a beautifully quaint snow dusted town and ski resort. There are a lot of small independent shops offering locally made crafts and big-name ski brand shops. Nice eateries (lovely buffalo wings!) and a couple of breweries. Banff was our base for two nights while we travelled to the Columbia Icefields.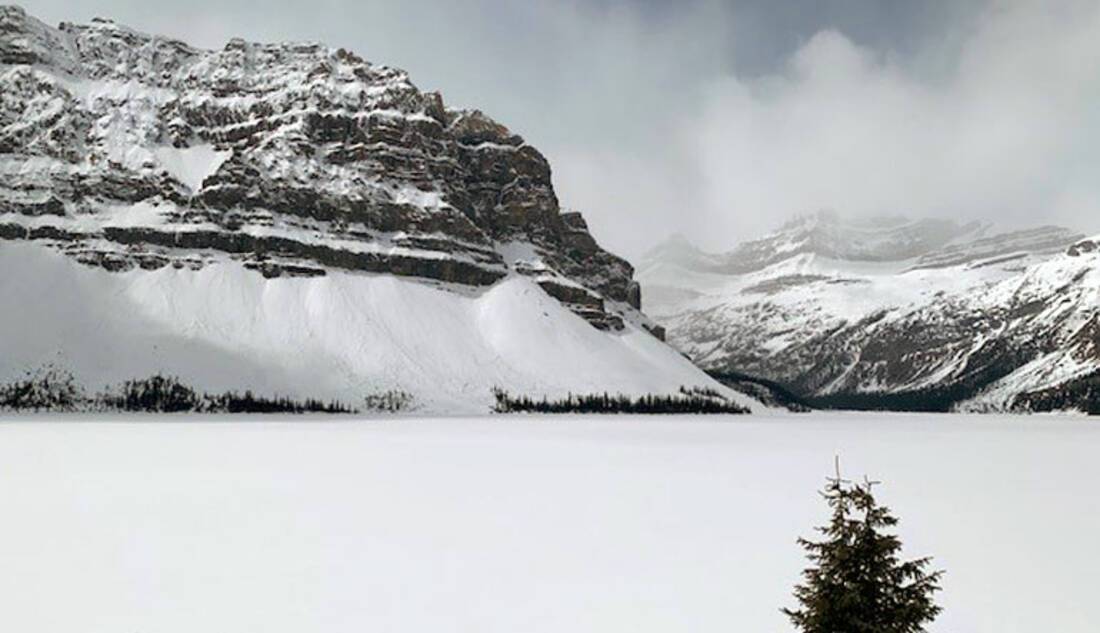 Day 5 – Columbia Icefields
We were picked up from our hotel by coach to make our way to the Columbia Icefields. Before reaching our destination, we stopped off at Lake Louise, where the water was still frozen over. We walked right out onto the middle of the frozen lake which offered some amazing photo opportunities.
We arrived at the Culombia Icefield. To get to the top of the discovery centre base camp we had to take a cable car to the top of the mountain – 3,000 metres high! Here, we learned of the history of the mountains, heard stories of old explorers, discovered details on how the glaciers move and form and found information on wildlife in their natural habitat. The discovery platforms roof made for a perfect viewing platform, providing the opportunity to take pictures of surrounding mountain tops.
We had lunch in the café and before we knew it, it was time to head back to the cable cars so we could make our way to the Athabasca glacier. We travelled to the glacier in an Ice Explorer, this was a rugged all terrain mini bus.
After a short 10 minute journey, we arrived at the glacier and were able to get out and take a picture – very carefully, may I add! As it was icy it was very hard to walk without fear of slipping over. We spent about 20 minutes on the ice before it was time to head back to our hotel. The evening was ours to do as we please, so I had dinner and took the opportunity to have an early night.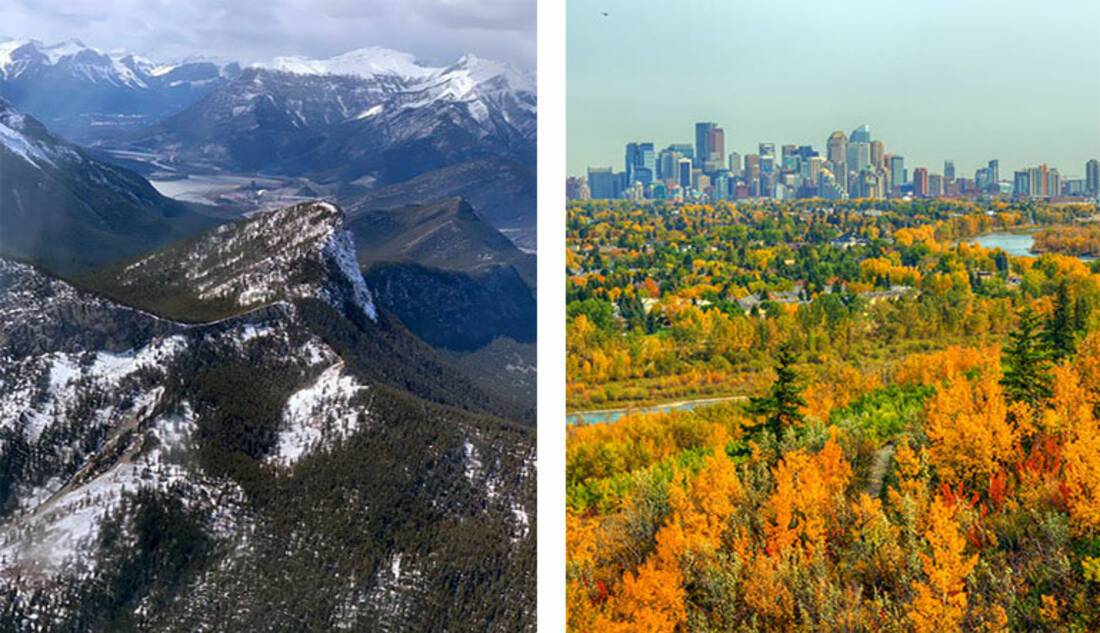 Day 6 – Banff to Calgary
On day 6 we travelled from Banff to Calgary by coach. But before reaching Calgary we had one more thing to do, a helicopter ride! Arriving at Stoney Nakoda Casino we went straight into our flight safety briefing. We went up in the helicopter in groups of 4 and the flight lasted for 15 minutes. We were taken high above the mountains and were given some spectacular views.
On arrival in Calgary we headed straight to our hotel for check in. Our final stay of the trip was at the Hyatt Regency Calgary, a magnificent hotel, elegantly appointed with a huge television on the wall, amazing swimming pool and steam room.
In the evening we had our final dinner. A guest speaker from Calgary joined us and we learned all about Calgary Stampede – we were even given our own official cowboy hat!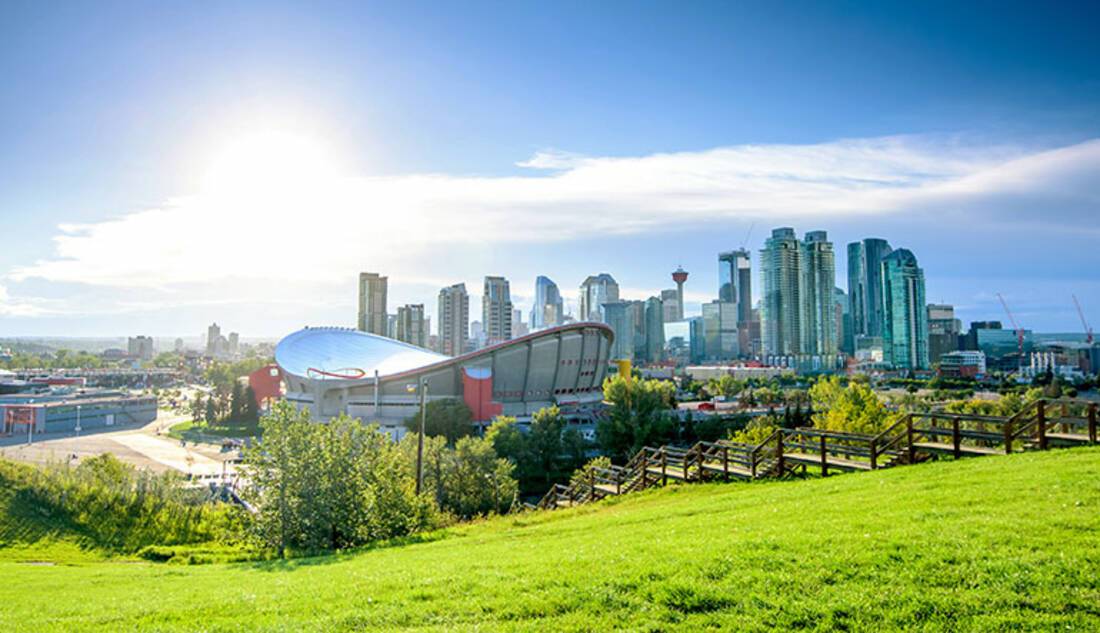 Day 7 – Calgary
Our final morning was spent at the Calgary lookout tower which offers phenomenal panoramic views of Calgary. There's the option to listen to a talk through an iPod which provides you with insights into the history and evolution of Calgary and how the Calgary Stampede became their locations celebrated tradition.
A fantastic conclusion to our trip, it was time to head home.