Found only 200 years ago, Antarctica is a vast expanse of ice shelves and mountain ranges. As noted on BBC's Seven Worlds, One Planet, Antarctica is a land of survivors enduring the most hostile conditions on earth. 98% of mainland Antarctica is covered by ice on which virtually nothing can live, even the sea freezes over. The wildlife, including king penguins, humpback whales, albatross and elephant seals, allow for spectacular and surreal close encounters, all waiting to be discovered on a cruise to Antarctica.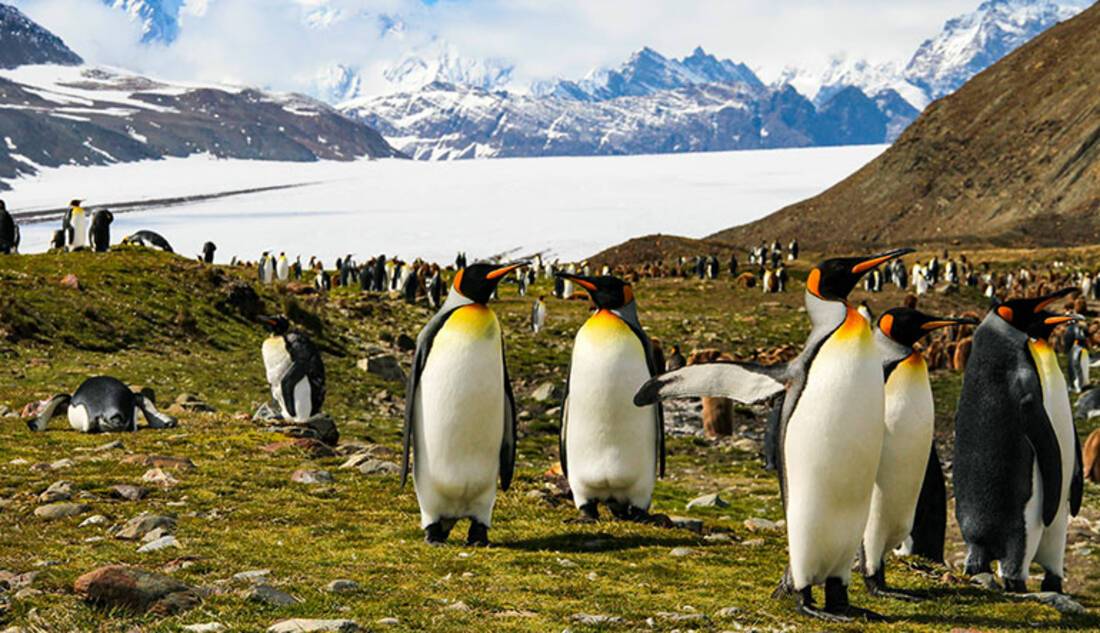 King Penguins
King penguins are the second largest species of penguin at an average weight of 15kg and an average height of 3.1ft. With colourful feathers around their necks and heads, king penguins are one of the most recognised of all penguin species.
Unlike their relatives, king penguins do not make a nest. Instead, they lay only one egg at a time and carry it around on their feet covering it with a flap of abdominal skin called the brood patch. The incubation period on average takes 55 days, with the egg being shuffled from one parent to the other every 6-18 days. Once hatched, king penguins' chicks are covered in thick brown down, so different from their colourful parents, that they were once thought to be a different species.
Holland America Line cruise
Spend four days of your 26-night cruise exploring Antarctica on Holland America Line's voyage to South America & Antarctica. Take the most scenic routes through the bays and channels of the Antarctic Peninsula where your ship, MS Westerdam, will edge up to colossal glaciers. Watch regal king penguins as they toboggan along with the crisp white snow and dive into the sea for their latest catch.

Elephant Seals
There are two species of elephant seals, the northern elephant seal and the southern elephant seal. Southern elephant seals are native to Antarctica due to the brutally cold waters that are rich in the fish, squid and other marine foods they enjoy.
Southern elephant seals are the largest of the species. Males, with their trunk-like nose (from which the species gets its name), can be over 20ft long and weigh up to 3,000kg, while females range between 300kg and 900kg (dependent on whether they are pregnant).
With the ability to dive up to 2km and breathe underwater for up to 2 hours, male elephant seals forage mainly on the Antarctic continental shelf whereas females forage in more pelagic areas within the pack ice or near the Antarctic Polar Frontal Zone.
Celebrity cruise
Visit Elephant Island (named after the migratory elephant seals sighted by early explorers) on the All-Inclusive Maiden Antarctica Discovery with Celebrity Cruises. The uninhabited Elephant Island is a well-placed area for nature lovers, a great place to look out for elephant seals as they cruise the shore hunting for food.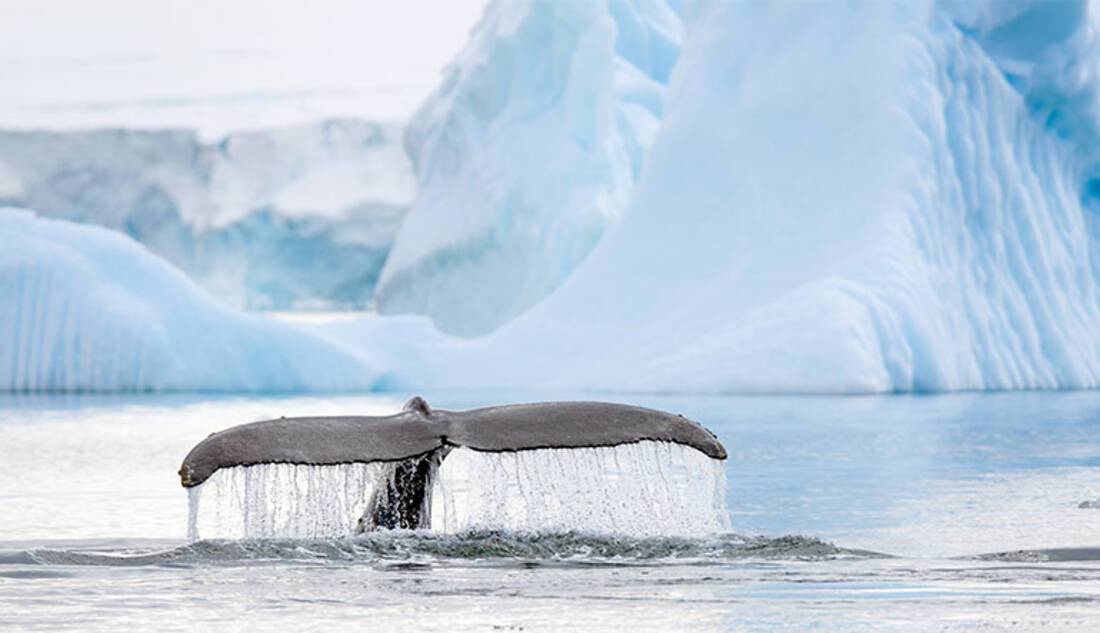 Humpback Whales
Humpback whales are found across every ocean in the world. Their Latin name megaptera novaeangliae means "big wing of New England" which refers to their giant pectoral fins which can grow up to 16 feet long as well as their appearance off the coast of New England, where European whalers first encountered them.
Humpback whales are well known for their magical songs, which travel for great distances across the world's oceans. The howls, moans, cries and other noises are relatively complex and can often continue for hours on end. Though scientists are yet to decipher the exact meaning of the songs, it is most likely that humpback whales make these sounds to communicate with others and attract potential mates.
Scenic cruise
Explore Antarctica in depth on Scenic Ocean Cruises newest ship, Scenic Eclipse. Venture out on Zodiacs, kayaks, helicopters and submarines to spot humpback whales, listen out for their song and see their fins fluke.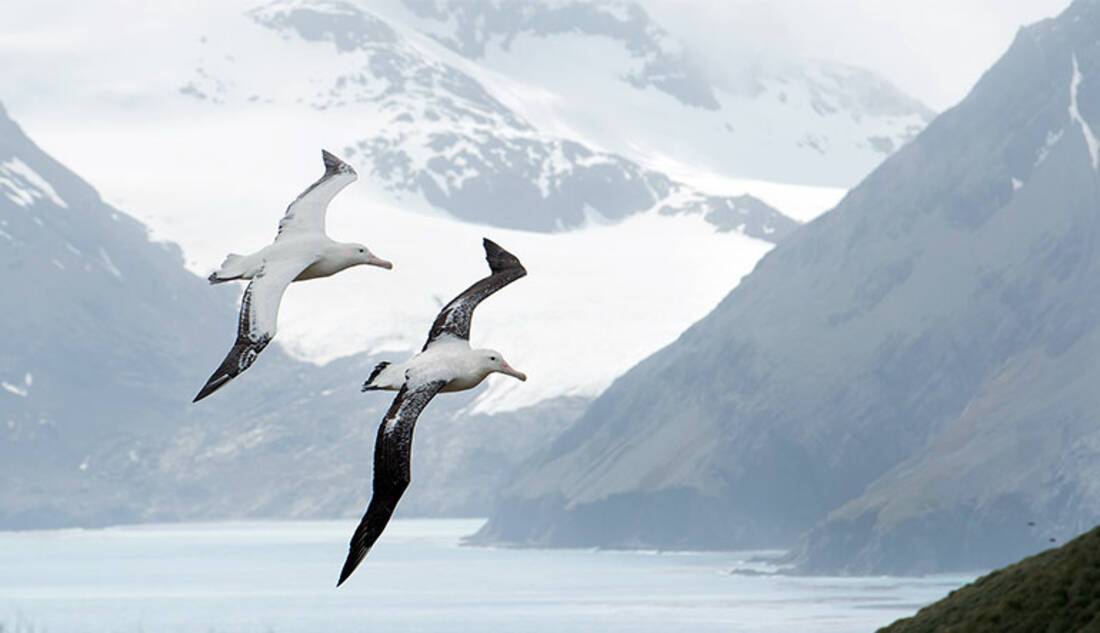 Albatrosses
An albatross in flight is a spectacular sight. With the longest wingspan of any bird (up to 11 feet!), albatrosses use their formidable wings to ride the ocean winds and sometimes glide for hours without rest. They cleverly float on the surface of the sea - though the position can make them vulnerable to aquatic predators – and primarily feed on squid or schooling fish.
Albatrosses are rarely seen on land and gather only to breed. Much like king penguins, mating pairs produce a single egg and take turns caring for it. Young albatrosses usually fly within three to ten months and leave land behind for some five to ten years until they reach sexual maturity. Some albatross species mate for life.
Hurtigruten cruise
Antarctica is one of the best places in the world to spot albatross. Discover why with Hurtigruten's Maiden Voyage to Antarctica & The Falkland Islands on MS Fridtjof Nansen. MS Fridtjof Nansen is one of the very first hybrid powered cruise ships, taking adventure travel to the next level.
Please note: Wildlife sightings are not guaranteed on any of the cruises mentioned.