When the opportunity arose for us to spend 7 nights in Norway aboard P&O Cruises' newest ship Iona, we grabbed it with both hands. What could be better than a dazzling new ship and a country we've always dreamed of visiting? Here's a diary of our time aboard:

Day 1 - Southampton, United Kingdom (embarkation day!)
Embarkation day can only mean one thing… the beginning of an amazing journey and that certainly was the case for us! Iona departed from Southampton's brand-new Ocean Cruise Terminal which was specifically built for the Carnival brands. As with most cruises nowadays, coming prepared is essential. P&O Cruises provide ample instructions before departure including details on the required paperwork. It is worth noting that, at present, masks are required during embarkation but as soon as you get onto the ship they are optional and only required in specific areas (namely the cinema, theatre, medical centre and spa).
One big change for our cruise was the requirement to arrange a private antigen COVID-19 test the day before departure in order to receive a fit-to-fly certificate that needed to be presented at the terminal. From our own experience, this greatly improved the embarkation process as it reduced queuing time at the terminal. It meant that we were on the ship in under an hour!
Following muster station attendance, we set off to familiarise ourselves with Iona whilst we waited for our cabin to be ready. You enter straight into the Grand Atrium which is an impressive space spanning three decks and the large glass windows allow for panoramic 360-degree views of the ocean.
It didn't take long for our Standard Balcony Cabin (#12.727) to be ready, so we headed straight to the place we'd call home for the next 7 days. Our cabin was extremely homely and had a beautiful nautical colour scheme. It was well-equipped with complimentary tea, coffee and biscuits (which were replenished daily), as well as ample storage, a mini-fridge and The White Company toiletries. Iona's Standard Balcony Cabins are perfectly suited to a Norway cruise, as each morning you can throw back your curtains to unveil stunning scenery that quite literally takes your breath away.
On our first evening aboard, we dined in Opal Restaurant on Deck 6. The menu offered a fantastic variety and we thoroughly enjoyed our choices (three courses on the first day is a must!). For our evening entertainment, we headed to The Club House on Deck 8 where a delicious cocktail - or two - added to the experience.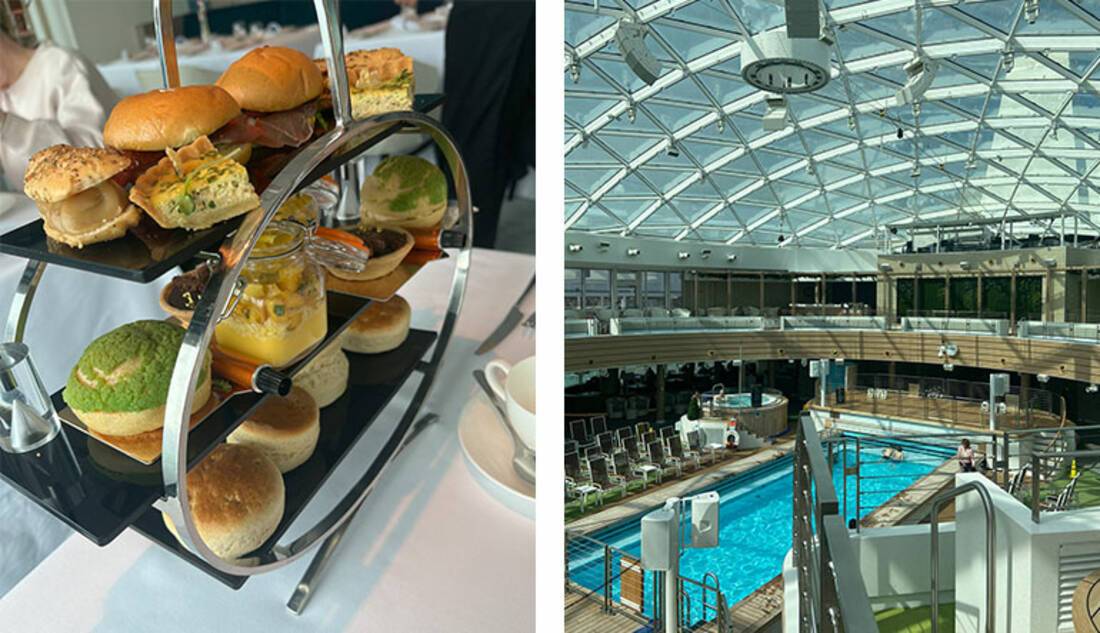 Day 2 - At sea
Ready for our first full day aboard Iona we headed to Coral Restaurant for breakfast. Here, you can choose from a large variety of breakfast options from a full English to a smoothie.
As we were at sea, setting course for Norway, the shops at The Avenue Shopping on Deck 7 were open. Guests can delight in daily deals and tax-free purchases (which we certainly took advantage of!)
Before we set sail, we were determined to enjoy P&O Cruises' famous afternoon tea. So, we took advantage of our first day at sea and booked afternoon tea in The Epicurean on Deck 17. What awaited us was tiers of tantalising treats, handcrafted for a truly unforgettable culinary experience. The Epicurean, which offers a fine dining experience, charges a small fee of £12pp but guests can also enjoy complimentary tea daily in Aqua Restaurant on Deck 6.
This evening was Celebration Night so it was time to get suited and booted for a wonderful evening. We each received a complimentary glass of fizz to toast the occasion and later indulged in a truly spectacular 5-course gala meal at Pearl Restaurant. To cap the evening off, we visited the Skydome on Decks 16 and 17 for a unique aerial acrobatic performance with 360-degree viewing opportunities.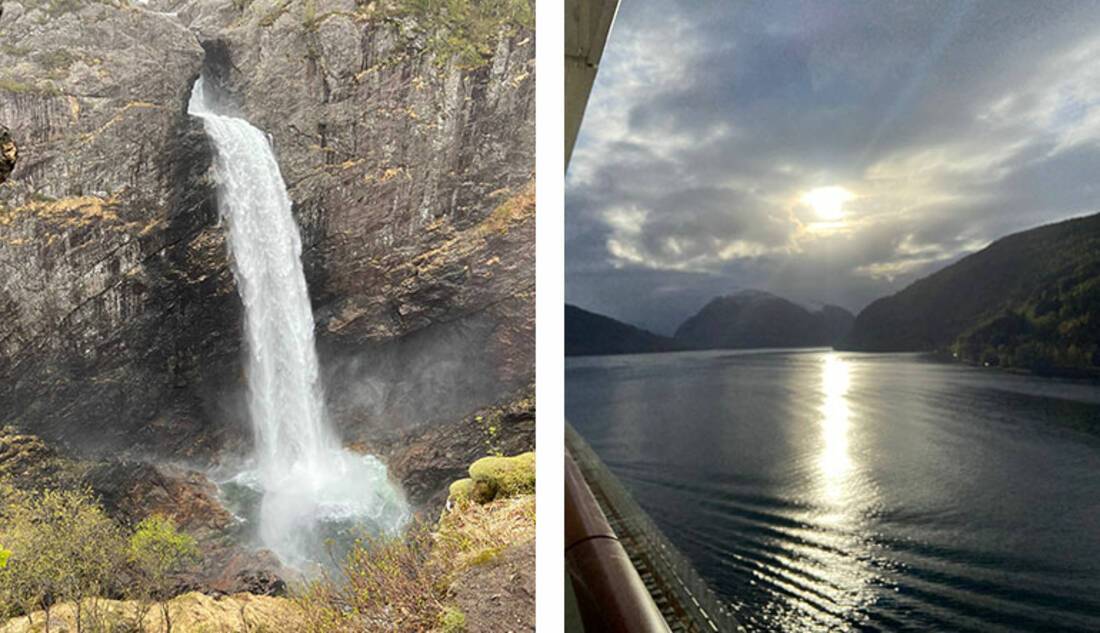 Day 3 - Stavanger, Norway
Today marked our arrival in Norway! We booked an excursion for today to make the most of the spectacular Norwegian landscape (which to truly experience, you have to go off the beaten track). P&O Cruises offer a wide variety of excursions that cater to all abilities and tastes. We opted for a rather high pace activity - a hike to Manafossen Waterfall, the seventh-largest waterfall in Norway.
We had an extremely knowledgeable English-speaking guide who provided us with lots of information on Stavanger's history on our way to Manafossen (which is about an hour's drive out of the city). When the excursions say 'high activity level,' heed that warning! While we thoroughly enjoyed climbing a mountain, it was incredibly steep and demanding at times. So, if you're concerned about your own abilities, we'd recommend opting for a low or medium activity level excursion, of which there are plenty to choose from.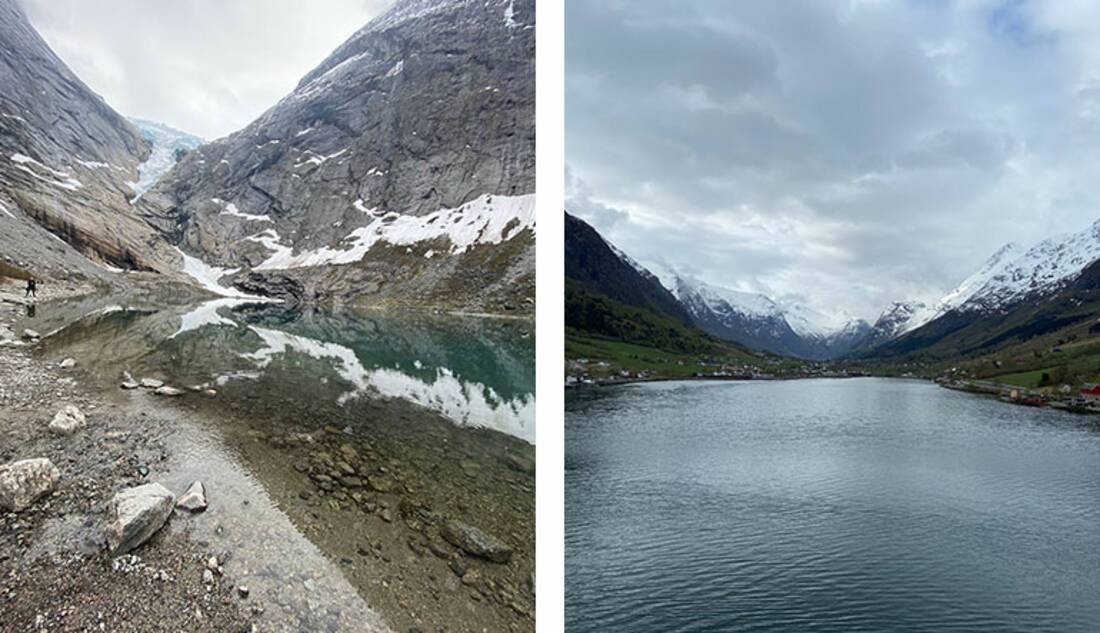 Day 4 - Olden, Norway
When you imagine the fjords, what usually comes to mind is the picturesque vista of Olden. This tiny hamlet, which is home to around 400 people, is hidden deep within the valleys of the fjords. We highly recommend rising early in the morning to witness the impressive sail into Geirangerfjord. Glistening waterfalls, snow-capped peaks and still waters await.
The fresh air, crystal clear waters and great green peaks that tower high into the sky make you feel a real sense of peace and tranquillity. It is quite unlike anywhere else in the world.
We chose another shore excursion for day four - a trip to the Briksdal Glacier which is roughly a 30-minute drive from Olden's port. Here, there are a couple of shore excursions available. If you're feeling more adventurous, you can hike to the glacier which takes about an hour each way and involves steep climbs. Or, if you'd prefer, you can take a troll car to the top of the mountain to view the glacier. When at the top, you'll notice how the light reflects off the glacier and how the landscape changes around you. It truly is something that needs to be seen to be believed.
Back on board Iona, we enjoyed a meal in one of the speciality venues, The Olive Grove. Situated on Deck 8, The Olive Grove offers delicious Mediterranean cuisine - just don't forget to reserve a table ahead of time! Only certain dishes here require a surcharge, but the majority of the menu is included in your cruise fare.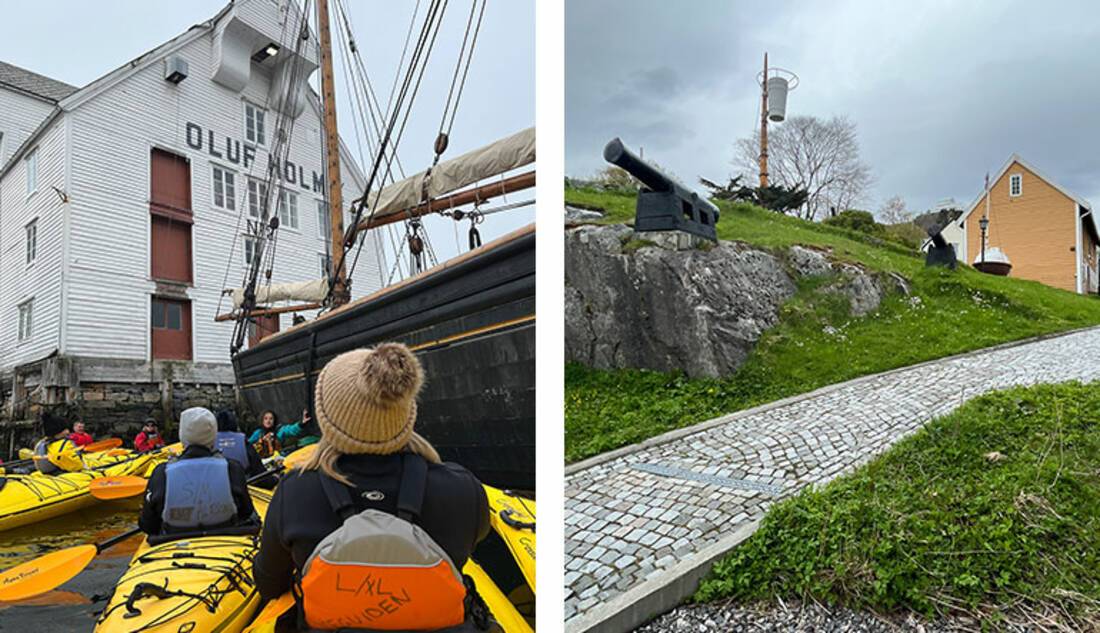 Day 5 - Ålesund, Norway
Ålesund is a key port in Norway. Here, you'll find a thriving, bustling city split across many islands that are connected by bridges. You feel a real connection between the people and the ocean here and interestingly, one of the area's key exports is salmon. As 90% of Ålesund burned down a few hundred years ago, it was rebuilt in an Art Nouveau style, so the architecture found here is unlike any other place in Norway.
There are many ways to spend your time in Ålesund, you could visit the Atlantic Sea Park and even witness the views from the top of Mount Aksla. We opted to kayak through the city centre so we could view the impressive architecture alongside the quay and keep an eye out for seabirds (like the kittiwake which is a protected species).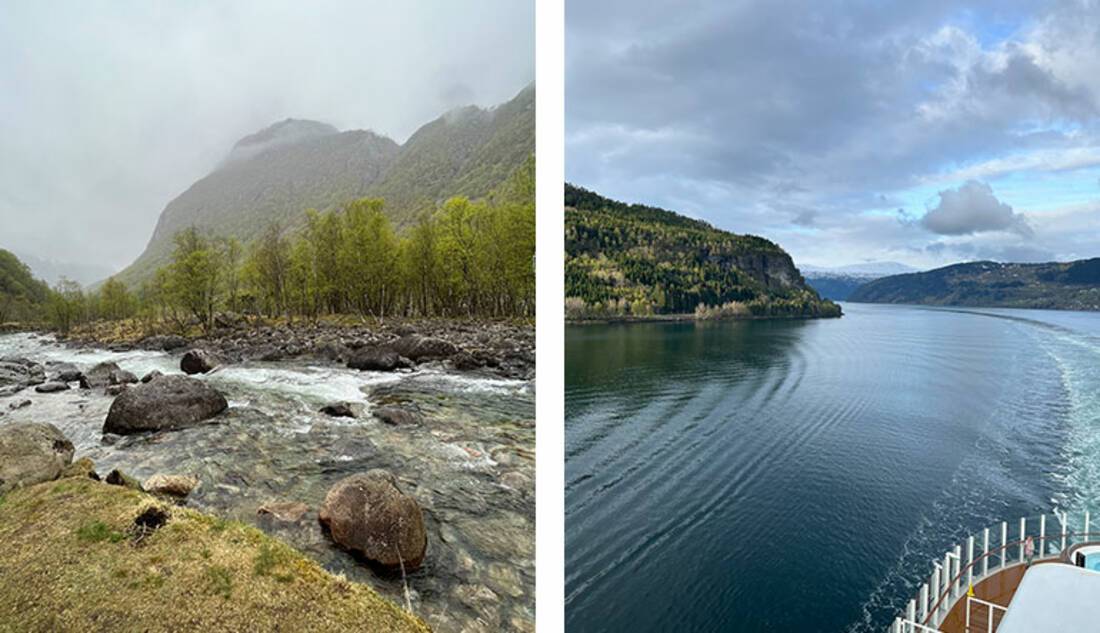 Day 6 - Haugesund, Norway
Although Haugesund is a more industrial port of call, there are still lots of shops - the longest stretch of shops in Norway, no less! It makes it the perfect spot for a relaxing morning spent ambling around and picking up souvenirs. We'd recommend, however, choosing an excursion to really make the most of Haugesund. What's more, Langfoss Waterfall and the spectacular Akrafjord are only a stone's throw away.
This evening, we booked into Sindhu on Deck 8 which is Iona's speciality Indian restaurant. If you've cruised with P&O Cruises before, Sindhu will be a familiar name to you. Even if it's not, we'd highly recommend making a reservation here as the food truly is exquisite.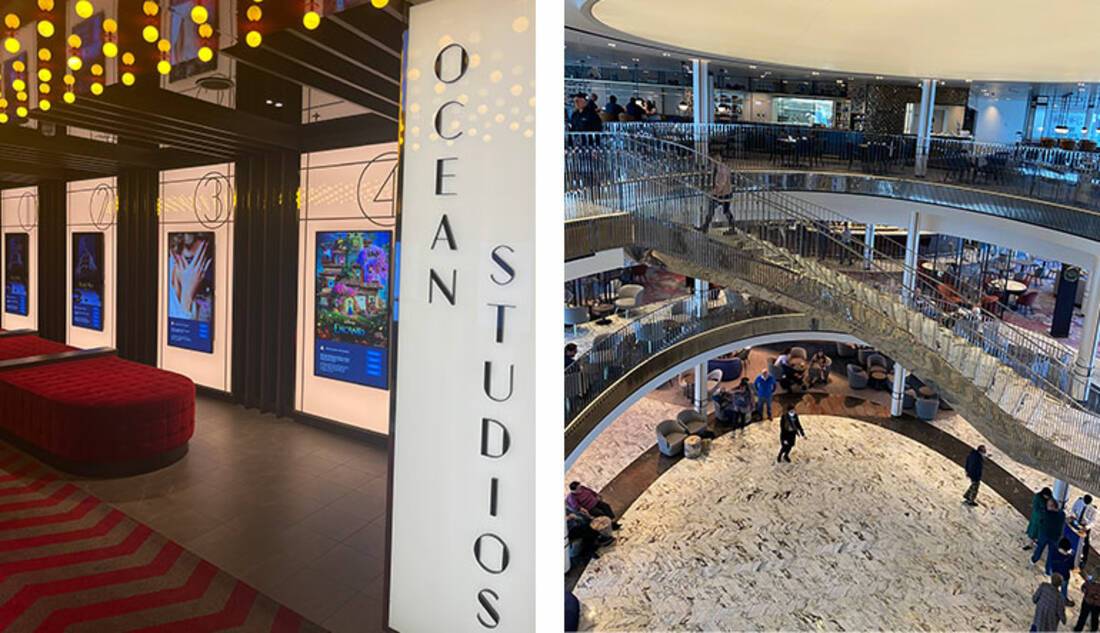 Day 7 - At sea
Our final day aboard Iona! Luckily, there are plenty of things to do on sea days. The complimentary cinema Ocean Studios shows many different blockbuster films, the sports arena has a plethora of deck sports as well as a driving range, and you can even enjoy an incredible production in the Headline Theatre. So much to choose from, you will really be spoiled for choice!
We thoroughly enjoyed our time on Iona and we can't wait to get back on board another cruise to Norway.