If you've been lucky enough to explore China and experience its divine culture for yourself, you're sure to have fallen in love with its sacred traditions, spellbinding architecture and not to mention its otherworldly cuisine. But even if you haven't visited China, that doesn't mean you can't explore its unique offerings elsewhere.
With myriad Chinatowns all over the world, experiencing that authentic taste of China is well within reach, no matter where you are. Whether you're in Paris or Singapore, those familiar red lanterns, exquisite Paifangs and golden embellishments can be found the world over, with each Chinatown's offering as unique as the next.
With the Chinese New Year finally here, we've picked out our favourite Chinatowns from across the globe that you won't want to miss.
Bangkok, Thailand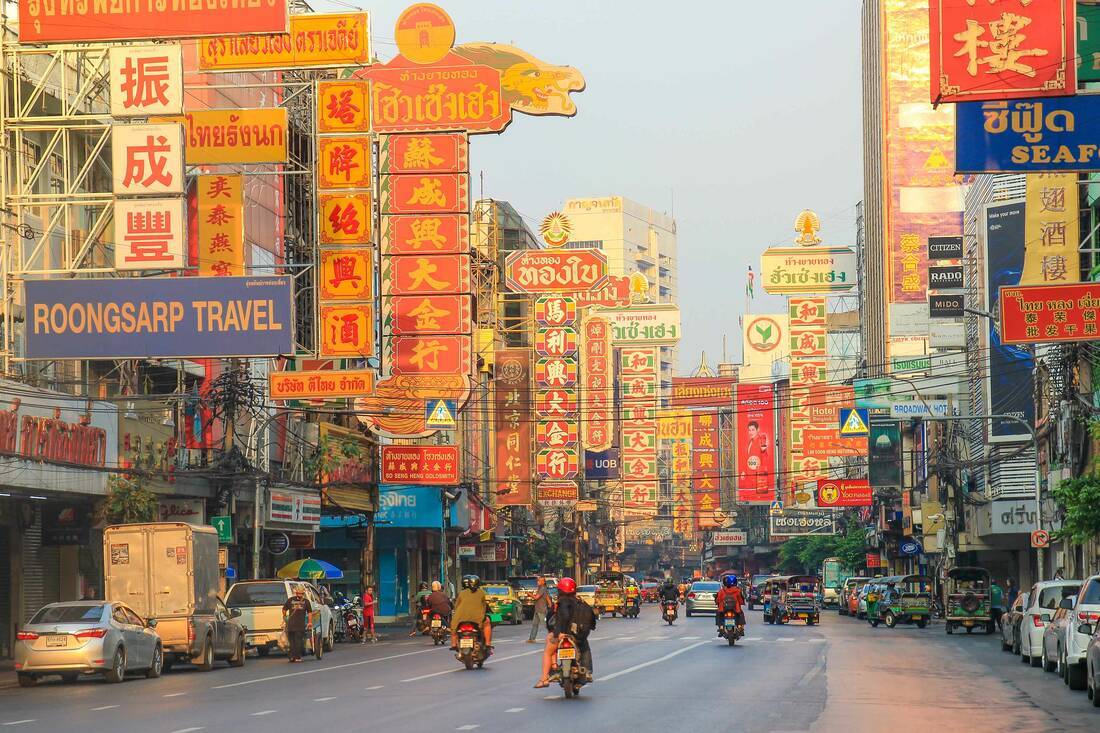 The largest Chinatown in the world, we couldn't keep Bangkok's infamous Chinatown off the list. But what makes it so standout?
"Bangkok's Chinatown is certainly one of the city's most exciting neighbourhoods in town and for sure, one of the coolest Chinatowns in the world," travel blogging duo Martina & Jürgen from PlacesofJuma told us. "Visitors are fascinated by the hustle and bustle, the many shining lights and the impressive colours, the pretty Chinese temples and the huge range of delicious street food.
"At any time of day there is something interesting going on here. During the day, you can shop until you drop at the winding market alleys and in the evening Bangkok's Chinatown turns into a huge street-food market. A visit to Chinatown in Bangkok is a real highlight of every trip to Southeast Asia and should be high up on any travel bucketlist!"
Sydney, Australia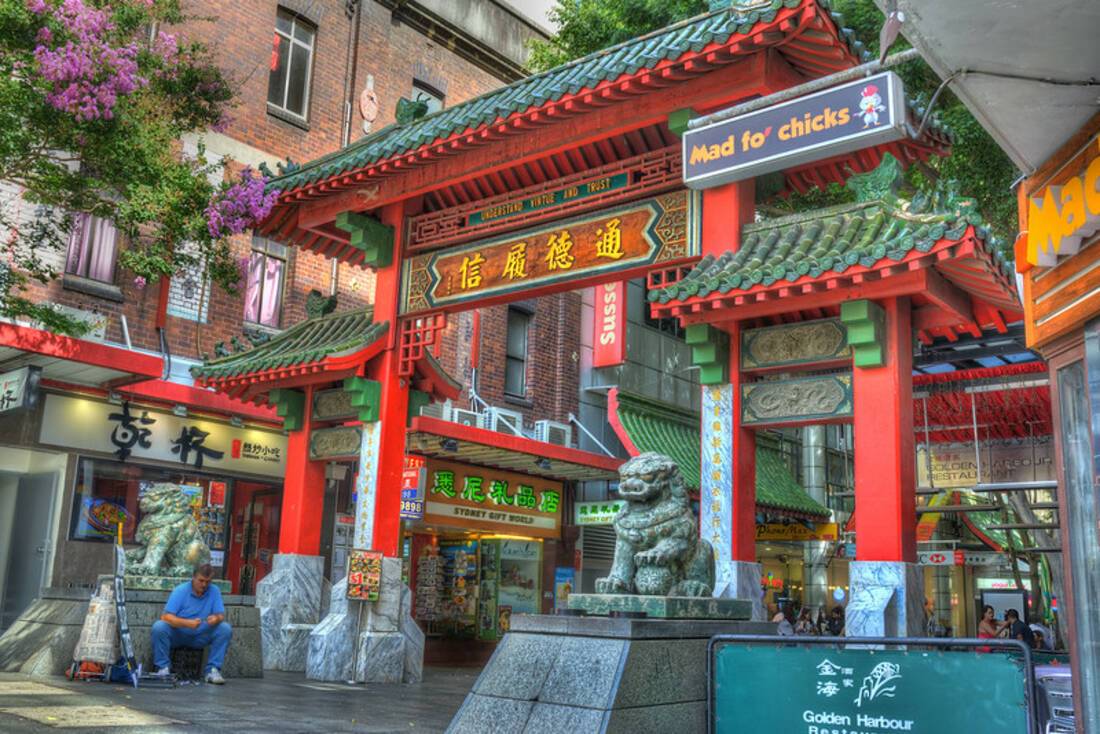 The largest Chinatown in Australia, you'll certainly want to explore the offerings in Sydney's much-loved Chinatown. Sydney Chic blogger Deb told us what sets it apart from other Chinatowns.
"Sydney's Chinatown is unique in that it is close to the Sydney CBD, offering entertainment, shopping, restaurants and the stunning Chinese Garden of Friendship which boasts beautiful gardens and a wonderful tea room. Market City, the heart of Chinatown, has a huge variety of retail stores and food outlets as well as an entertainment area. Paddy's Market (below Market City) is popular with locals to buy their fresh produce and grab bargains ranging from clothing, tech, watches and more from the stallholders.
"Visitors wishing to experience great shopping, Chinese culture and food should put Chinatown on the agenda for a great day out. It's easy to get to from Circular Quay if you are visiting by cruise liner; just hop on the new Sydney Trams from Circular Quay to Chinatown. An Opal card for tap-on and tap-off is necessary and can be obtained at most newsagents or railway stations."
Yokohama, Japan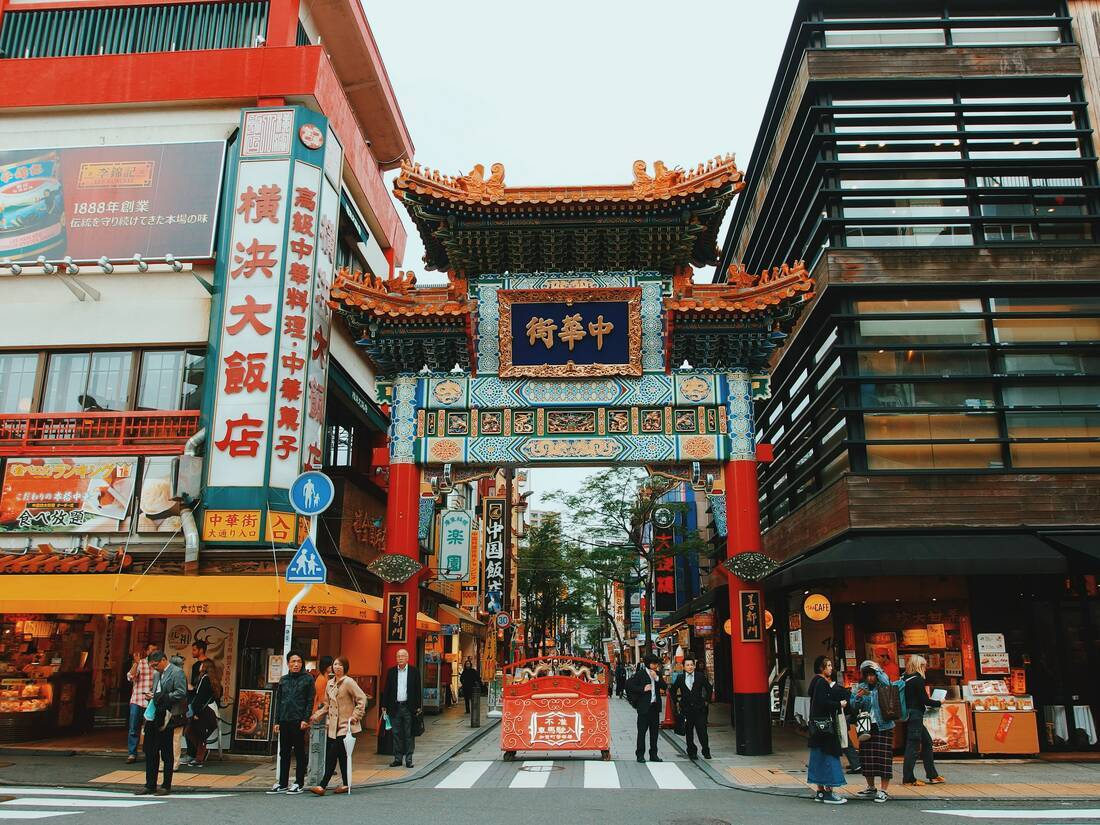 Just south of Tokyo you'll find Japan's second-largest city, Yokohama. A vibrant city teeming with culture, a visit to the country's biggest Chinatown comes highly recommended.
Peter, Marketing Manager at Japanese tour group TripleLights, told us what you can expect when visiting this impressive part of the city.
"Located south of Tokyo in the bustling port of Yokohama, Yokohama Chinatown is the largest Chinatown in Japan, and one of the largest in the world. A unique aspect of Yokohama Chinatown is its distinct architecture, which is visible in the elaborate Kanteibyo Temple and Masobyo Temple. The intricate and vibrant design of these Chinese temples stands out from the typical Japanese temples and shrines that most tourists see. Visiting these temples gives you a sense of the cultural differences between Chinese and Japanese temples and local worship. These temples also make for a unique photography experience."
Peter also gave us his top recommendations on what to do in Yokohama's Chinatown.
"While in Chinatown, I would highly recommend trying the local street food. With well over two hundred shops in the area, it can be overwhelming. Don't know where to start? Try the Xiaolongbao, a type of soup dumpling, filled with pork, scallop and cabbage. But be careful when taking a bite, as these dumplings are freshly served and hot, and the soup inside the dumpling can make a mess, especially for the inexperienced."
Paris, France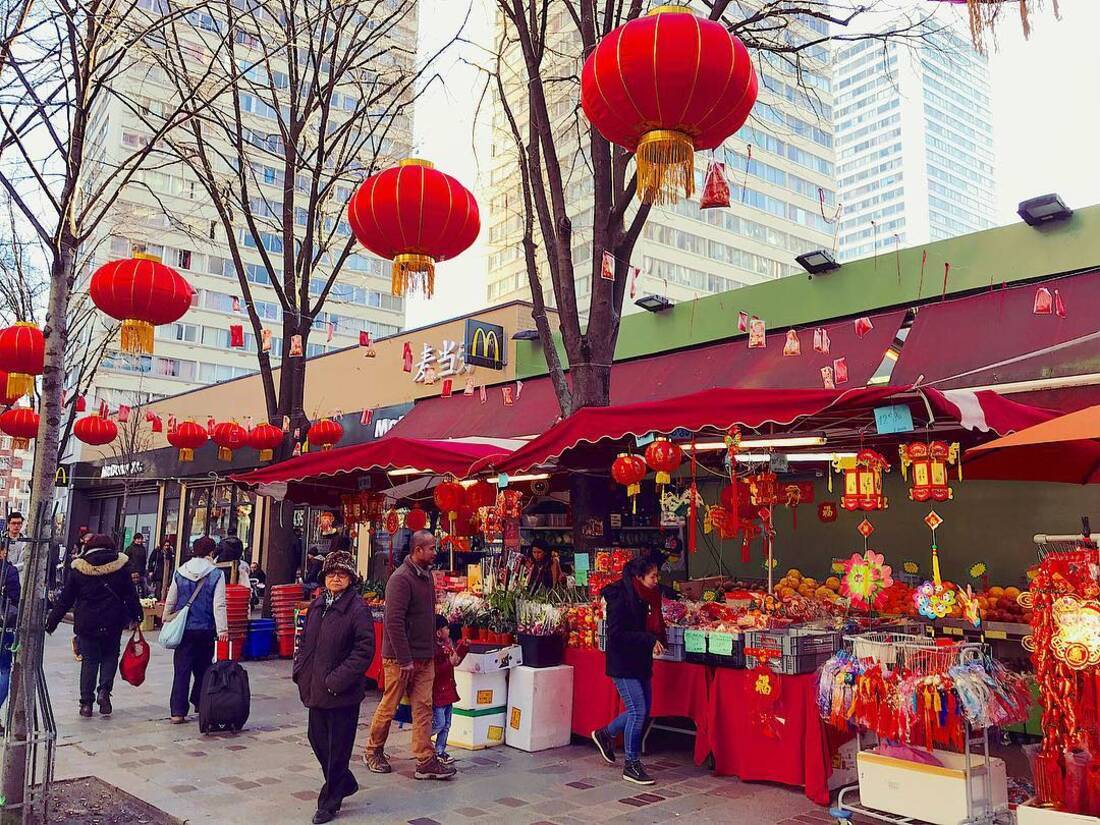 The largest Chinatown in Europe, Paris' Quartier Chinois offers a fantastic window into Chinese culture, complete with a Buddhist temple. Although Paris is actually home to three Chinatowns, Quartier Chinois is by far the most exquisite – even the McDonald's here has been decked out in traditional Chinese flair.
"Paris' Chinatown is effortlessly unique; its sheer size makes for a labyrinth of East Asian culture, cuisine, and camaraderie not comparable elsewhere on the European continent," says Natalie, documentary photographer and travel writer at Discover Walks. "I am always quick to recommend a visit to the 13th arrondissement to anyone with an open itinerary. There is something to be said about the ways in which these oriental communities have been able to settle and coexist within French customs, while never losing sight of their own.
"In the same breath, one doesn't have to be well acquainted with the cultures of the Far East to appreciate Paris' Chinatown. Lovers of Chinese, Vietnamese, Cambodian, and Laotian foods need only meander the cluster-streets until a respective eatery makes itself known. You'll almost never have to queue for a table (something that can't be said for the rest of Paris!), and you'll experience a cuisine of your choosing pretty much fresh off the boat.
"It's escapism, it's a tangible challenge on Eurocentrism, and it's without a doubt the best place for dim sum in the French capital."
We also spoke to Jessika, travel blogger at Another Blonde Traveller about what makes Paris' Chinatown so compelling.
"When you get out of the metro at Porte de Choisy, you quickly can see that Paris Chinatown is like no other. Unlike any Chinatown around the world I have seen, there is not a fancy gate welcoming you. Yet you somehow still know you are entering the Parisian Chinatown. With a mix of Parisian buildings, tower of apartments and traditional Chinese shops, your nose is instantly submerged with the amazing smells of Asian spices cooking all around you.
"Your eyes are travelling through the amazing street art, unique architecture and international crowd. Found in the 13th arrondissement of the city of love, this hidden gem is definitely a must-see for a foodie or anyone seeking a traditional Parisian experience."
Birmingham, United Kingdom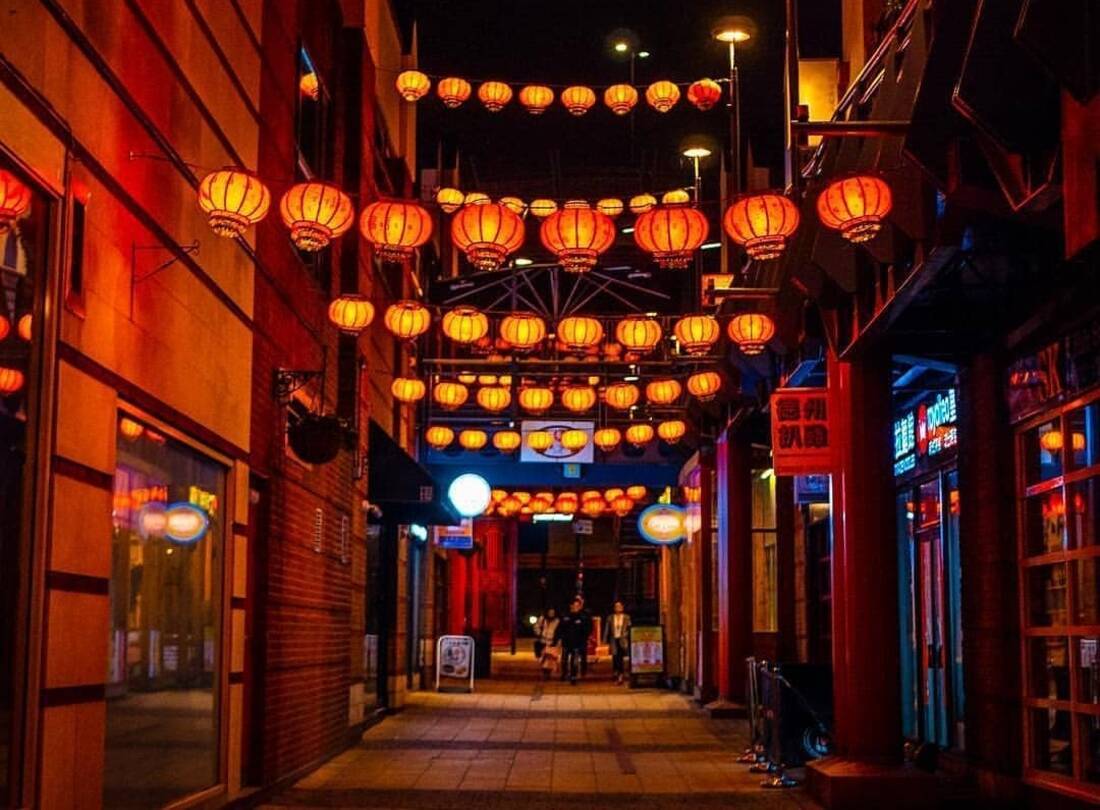 Although there are actually five Chinatowns in the United Kingdom, one that you should look to visit is Birmingham's. This Chinese Quarter is home to some fabulous architectural flourishes and serves up a range of cuisines alongside traditional Chinese fare, including Vietnamese, Japanese, Indian, Korean and Mediterranean.
Erica, family blogger at Nine to Three Thirty, told us a bit more about Birmingham's Chinatown and what makes it so special.
"Birmingham's Chinatown is in the vibrant, arty Southside area of Birmingham's city centre and is only a few minutes' walk from the main train station. With lots of Chinese architectural features this area really stands out from the usual city centre buildings: there's a stone pagoda and lots of Chinese-style roofs, as well as murals with a Chinese theme. The biggest event of the year here is, of course, Chinese New Year."
And Erica's personal foodie recommendation?
"Don't miss the China Court Bakery which sells cakes, sweet buns and savoury buns. Try the custard milk bun which is a bit like a custard doughnut, it's delicious!"
Vancouver, Canada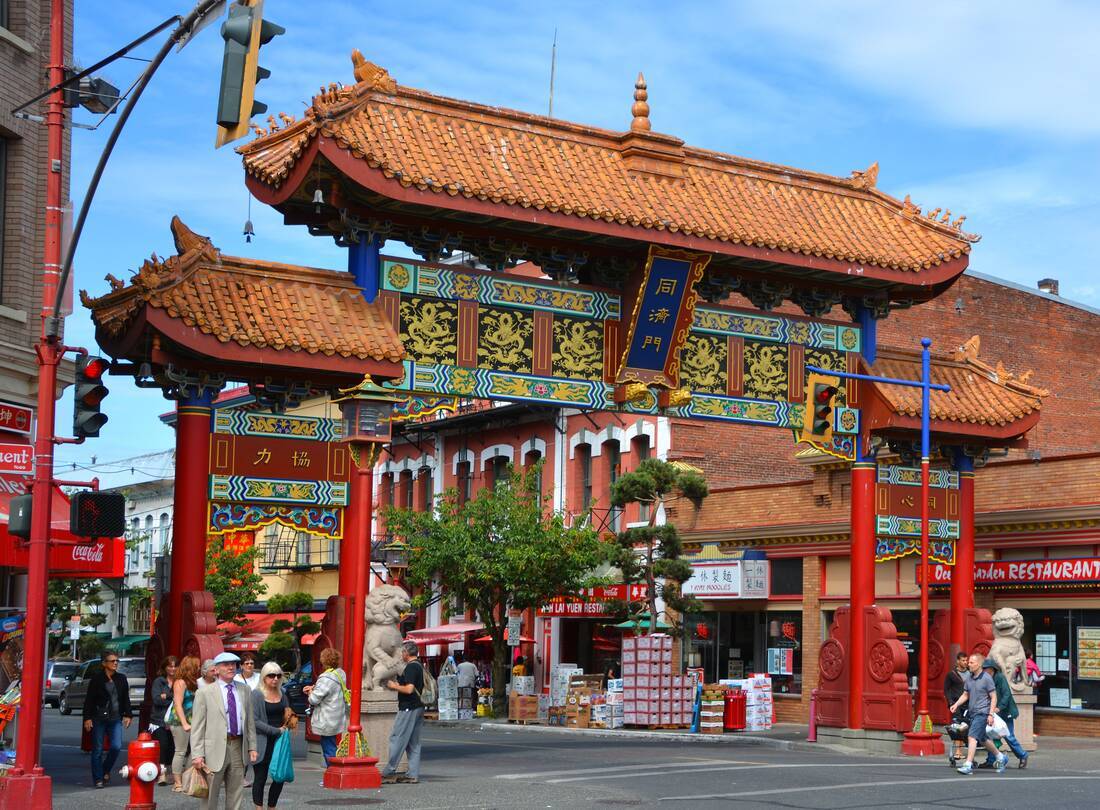 Canada's biggest Chinatown in Vancouver is more than a century old. From historic architecture to exotic cuisine, this compelling Chinese district has something for everyone.
"Vancouver's Chinatown is steeped in rich history. Magnificent buildings, alleyways, murals and Chinese artwork is in abundance telling stories of the past," says family and lifestyle blogger Rachel Bustin. "Its cultural history is very much appealing to locals as well as tourists. The beautiful Millennium Gate is at the entrance to Chinatown and not to be missed as you go through.
"One thing I would recommend doing in Vancouver's Chinatown is trying the food - you can find delicious authentic Chinese food in restaurants and cafés on Keefer Street."
Outram, Singapore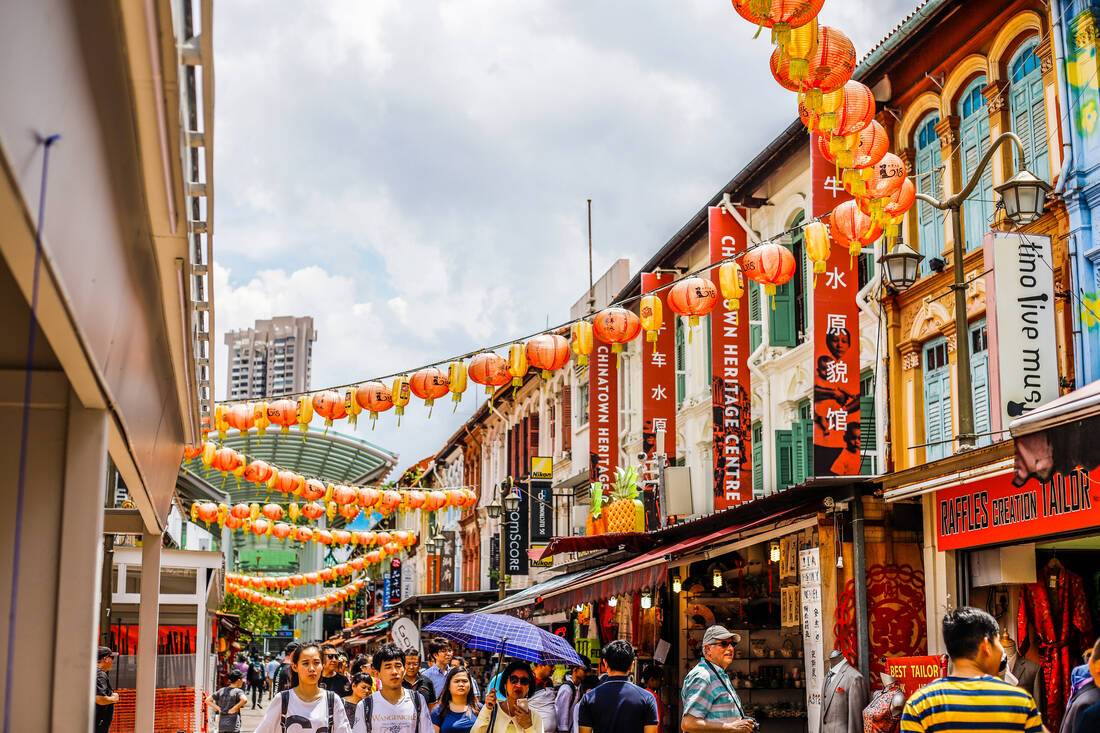 Vibrant shopfronts, heavenly cuisine and a lively atmosphere, Outram's Chinatown boasts a unique Chinatown experience that shows the bright and colourful side of Chinese culture.
"Singapore's Chinatown is a bustling hive of people (especially during Chinese New Year, when I visited!) – its narrow streets are a vast departure from the sleek, modern aesthetic of the Marina Bay area of the city," says cruise and foodie blogger Francesca from Gluten Free Horizons.
"Singapore is a truly international city, and Chinatown is no different, with a mixture of Buddhist and Hindu temples lending variety to the area. The air is thick with the smell of incredible food, with traditional hawker fare available just steps away from upmarket.
Francesca told us about one place in particular that she recommends visiting in Outram's Chinatown.
"Visitors should definitely try and visit the Buddha Tooth Temple. It's an incredibly ornate four-storey building quite unlike anything I've ever seen before, with walls lined with mini Buddha statues and offerings. Just bear in mind that you need to have your shoulders and knees covered to come into the temple but don't worry, they give out scarves to cover yourself appropriately if you're in shorts and short sleeves (and let's face it, in the heat of Singapore, you probably are!)."
Have we inspired you to visit one of these fantastic Chinatowns on an unpack-once China cruise? Get in touch with our cruise specialists today for details on a wealth of cruise holiday types, including family friendly cruises and more.