For couples who are looking for something extra special for their next vacation, there is no better holiday than a cruise. With stunning views 24/7, amazing dining options, romantic suites and an endless list of activities, cruises offer the perfect holiday for couples looking for a fuss-free getaway. You can spend your days exploring far-flung destinations or spend them lying by the pool. Perhaps you'd rather take a class together, or just sip on cocktails as you watch the world go by. No matter what your travel style is, on a cruise, you can do all of this and more.
And, whichever cruise line you decide to go with, you'll get something unique. From the amazing entertainment options on some ships to adult-only opulence on others, in this article, we reveal the best cruise lines for couples.
Azamara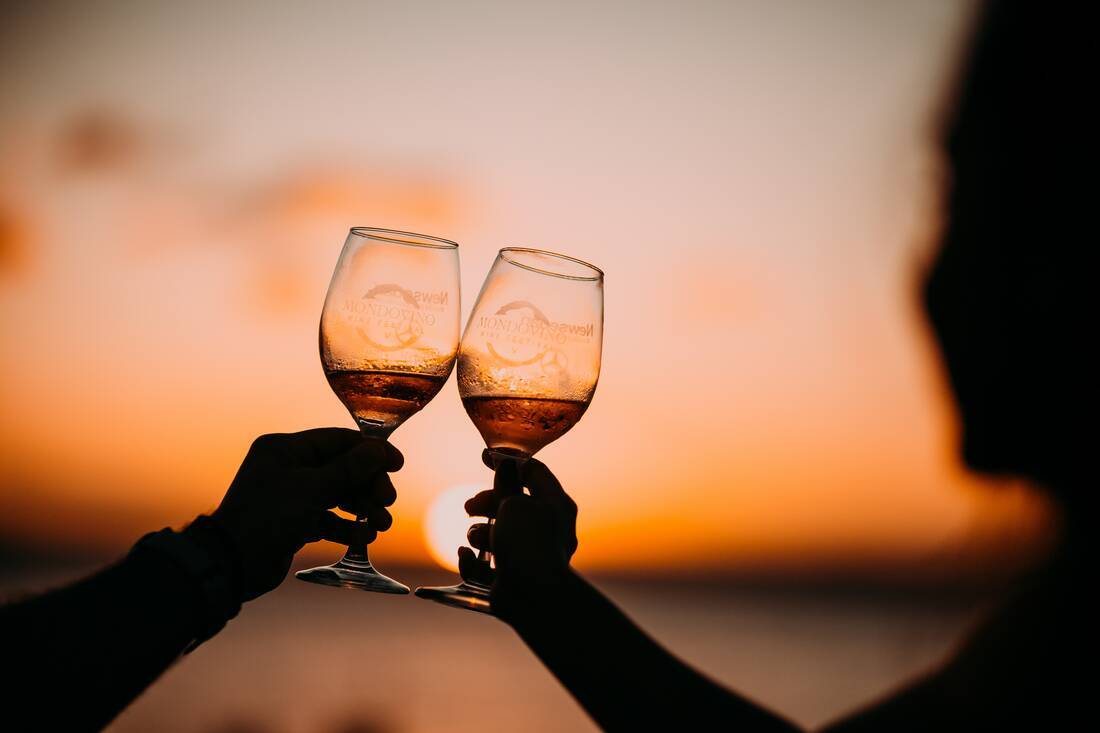 With Azamara, exploration takes precedence. This fantastic cruise line puts your experience at the fore of their packages to ensure you have the holiday of a lifetime. For couples who are interested in seeing the most remote corners of the world, Azamara is the ideal candidate.
Its fleet of smaller ships can access ports off the beaten path, and thanks to their AzAmazing Evenings initiative, guests have longer to stay in port. So, if you are looking to fully embrace each port on your cruise and collect sunsets on your holiday, you'll be able to do so with no hassle.
Celebrity Cruises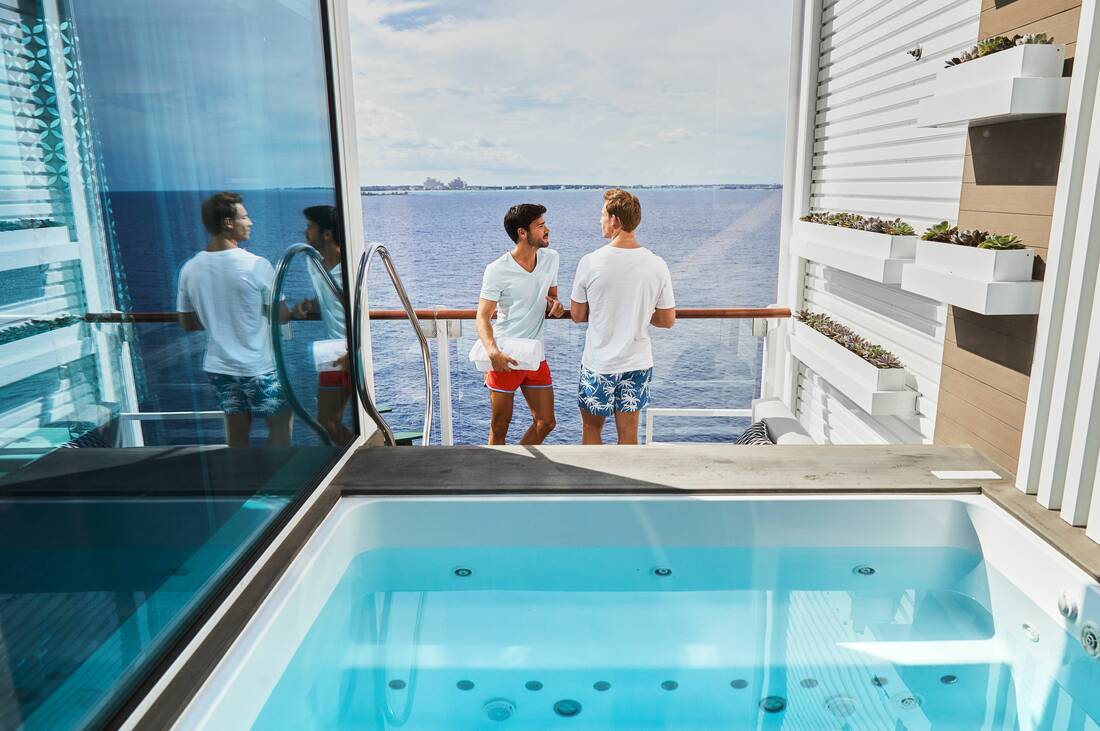 Image Credit: Celebrity Cruises
Celebrity Cruises are trendsetters in the industry and their expansive fleet has a special allure. Here, luxury comes as standard and despite sharing the ship with hundreds of others, you'll feel an intimacy onboard. Whilst on the ship you can experience a range of dining options and entertainment, perfect for both a quiet night together or a special celebration.
Ilana from Life Well Cruised has been cruising with her husband for over 15 years now. As well as blogging about the most romantic things to do on a cruise, she also blogs about the world of cruising. We asked her what cruise lines she would recommend, and she told us: "While every cruise has the potential to be romantic, a Caribbean cruise with Celebrity Cruises offers one of the best of romance at sea and adventures onshore.
"With a focus on rejuvenation, dining, and quality entertainment, there are so many opportunities for couples to relax and enjoy time together. Add in relaxing beach days or exciting tours and excursions in a variety of Caribbean islands for memories to last for years!"
Emerald Waterways Europe Limited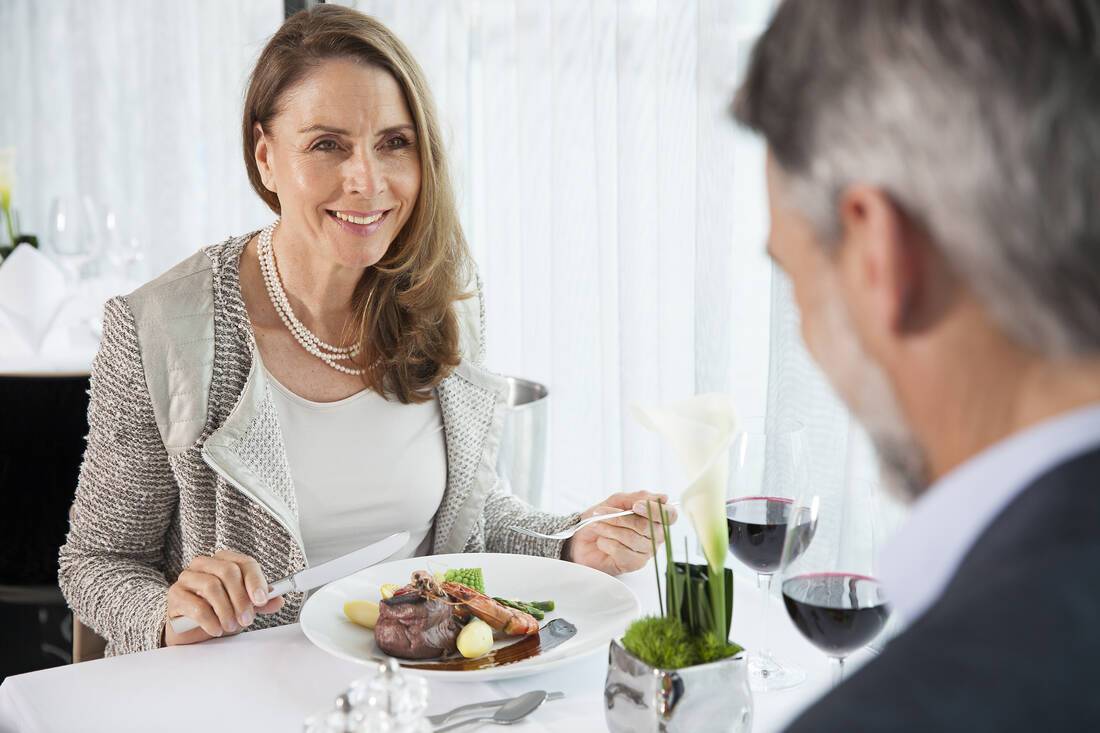 Image Credit: Emerald Waterways Europe Limited
For those who enjoy river cruising over the open ocean, Emerald Waterways Europe Limited offers cruises like no other. On an Emerald river cruise, you'll be able to amble up rivers and cruise to the real heart of a destination. Although the ships are smaller to allow them to navigate rivers, it doesn't mean you have to compromise on luxury. In fact, the smaller vessels often provide a more intimate atmosphere where it's easier to mingle with the other passengers while letting the staff get to know you and your preferences and exploring the full ship.
Holland America Line
For 5-star service, look no further than Holland America Line. For those couples who want that extra touch of luxury, this is a cruise line that delivers. Offering premium cruise packages, Holland America makes sure that every level of its service is bespoke.
If you have a taste for the finer things, then stepping onboard a Holland America Line ship is for you. With opulent decorations and a focus on ensuring a good space-to-passenger ratio, you'll feel as though you are cruising in a grand hotel.


When it comes to destinations, Holland America offers a great range, but there is one that stands out as being perfect for couples – Half Moon Cay in The Bahamas. This private island is owned by the cruise line, so it means you can enjoy uninterrupted paradise. Sipping fresh cocktails on the white sand beach, snorkelling amidst the turquoise reefs and exotic sea life and eating fresh food (all already paid for) are just a few of the things you can do here.
Oceania Cruises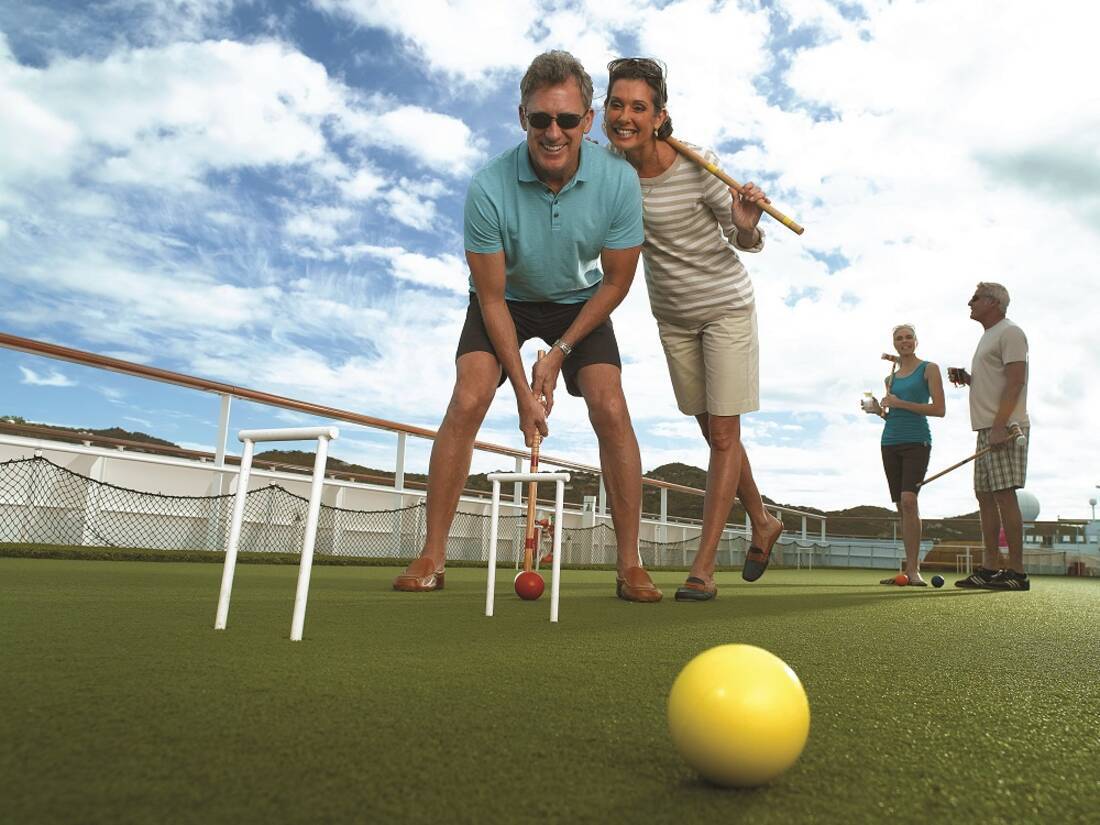 Image Credit: Oceania Cruises
A luxury cruise from Oceania Cruises means that romance is always on the table. Specialising in smaller and more intimate ships, Oceania visits boutique destinations and keeps a close eye on the details. The staff pride themselves on remembering your personal preferences and you'll soon feel right at home onboard the ship.
As well as having dedicated staff, Oceania also offers a great range of onboard activities. Its ships culinary centres are second to none and can give you and your partner the chance to learn some new skills to bring home with you. Master chefs lead the workshops and you can learn how to cook a range of dishes. The classes even go one step further where you can accompany the instructors onshore to local markets, learning all about local ingredients and sampling the esteemed fare of the area.
P&O Cruises
With cruises all around the world, P&O can take couples wherever it is their hearts most desire. And, with amazing entertainment and dining options onboard, the journey is bound to be just as unforgettable as the destination.
For parents, one of the best things about a couples' cruise is taking time for just the two of you away, and you can do that and more when travelling on the Arcadia. As an adult-only ship, there is no need for creches or kids' clubs, so the entirety of the ship has been designed with adult enjoyment in mind. Whether that's the ship's cocktail bars, luxurious spa, art gallery, variety of restaurants and more, couples can enjoy adult entertainment with no distractions.
Princess Cruises
With Princess Cruises, you'll be able to enjoy 55 years' worth of cruising luxury. The large fleet means that you'll have no shortage of voyages to choose from, and the onboard touches mean you'll have a seamless trip. The Ocean Medallion is a new feature from Princess that comes as standard. This small medallion allows you to open your suite, purchase things around the ship and even get food, drink, extra towels or whatever you need, delivered to your location.
One of the nice touches Princess offers is the ability to have your own private breakfast delivered to your cabin. So, you can enjoy a lazy morning in bed and stay in your robes to enjoy some fresh orange juice and breakfast. Whether you eat it out on the balcony while admiring the ocean vistas or in the comfort of your room, this is a wonderful way to spend some private time together while planning your day.
Regent Seven Seas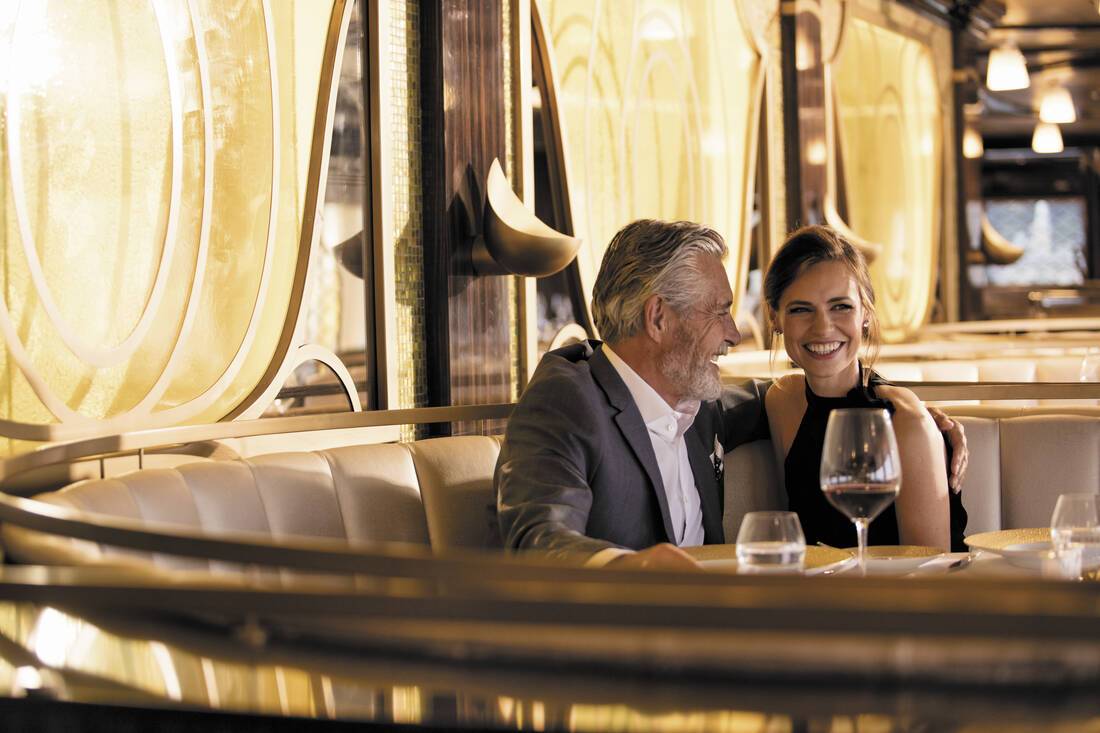 Image Credit: Regent Seven Seas
With five ships travelling to over 450 destinations, Regent Seven Seas Cruises can take you around the world in their luxurious vessels. With ultra-luxury aboard every ship, as you walk around the deck and explore the ship below you'll be in awe of the careful thought and opulent design these ships benefit from.
The Seven Seas Explorer and soon-to-launch Seven Seas Splendour are two vessels that really stand out for couples. The Explorer has previously been billed as the 'most luxurious ship ever built' thanks to its divine decoration. With marble and granite finishes, just under 500 chandeliers and works of art including those by Picasso and Chagall, you'll feel the grandeur as you explore the ship. Described by the line as 'luxury perfected', the Splendour takes this one step further, with every detail of the ship being well thought out and beautifully executed.
So, whether you want to opt for luxurious finery onboard your cruise or would rather focus on long port days and boutique destinations, there are myriad options for you and your partner to choose from. And, with our cruise deals, you'll be able to receive a great saving on your couples' cruise.