Influenced by Spanish, Portuguese, African and Italian cuisine, South America's dishes are some of the most exciting in the world. Using traditional methods and rich, flavourful ingredients, South American's have developed a plethora of mouth-watering snacks that you simply cannot miss.
Lori, from travel blog TravlinMad, visited Chile in 2016 and spent just over a month exploring the remote Atacama Desert, Santiago and the Central Valley. We asked what she made of the local cuisine, "Chile's cuisine is so diverse! The cuisine in the northern country is similar to what you'd find in Peru and Bolivia. Lots of grains and quinoa dishes typical of the Altiplano. Given the length of its coastline, it's not surprising that seafood and seaweed is such a part of the local cuisine in Chile."
We also asked Lori which Chilean snack she would recommend, "cochayuyo is a thick seaweed - or kelp - that you'll see floating in large piles along the coastline. It's a staple food that's popular among locals and has a heavy fish flavour, even after it's cooked. It's sold at markets in dried bundles and must be soaked for hours before it can be used in stews and casseroles. It's also dried in sticks and flavoured as a chewy and highly nutritious snack."
Best snacks in South America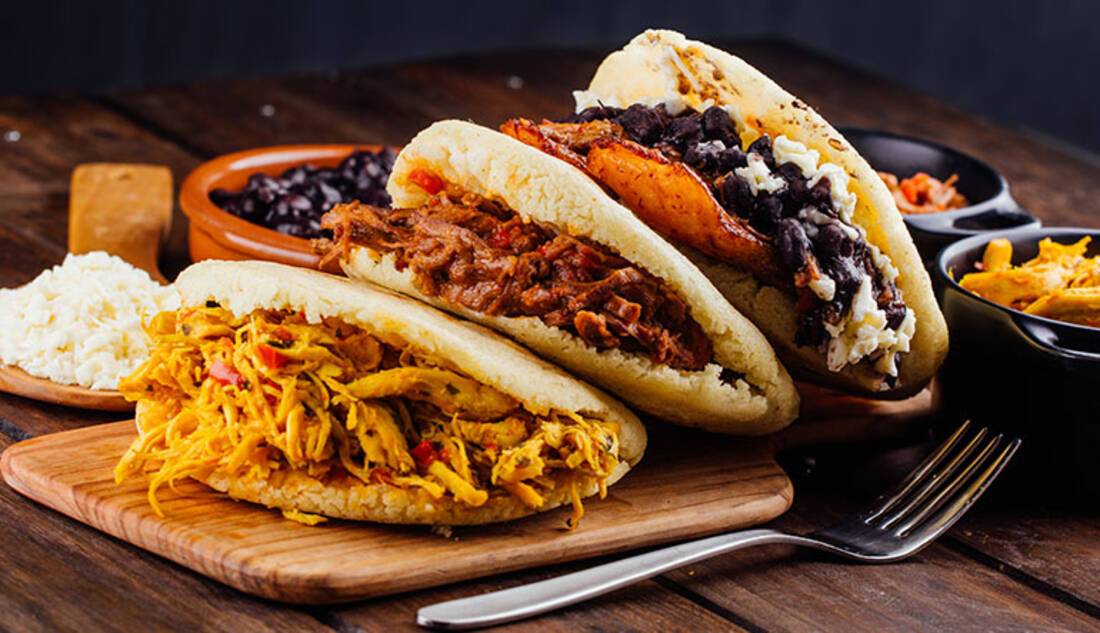 Arepas
Place of origin: Venezuela and Colombia
Arepas are flat, round patties made with ground maize dough, particularly prevalent in Colombia and Venezuela. The patty is traditionally stuffed with cheese, avocado and vegetables, however, variations can be found throughout the continent. In many households, arepas are eaten every day for breakfast, lunch or dinner. While there's no right or wrong way to enjoy an arepa, it's highly recommended that you try it with local fresh cheese.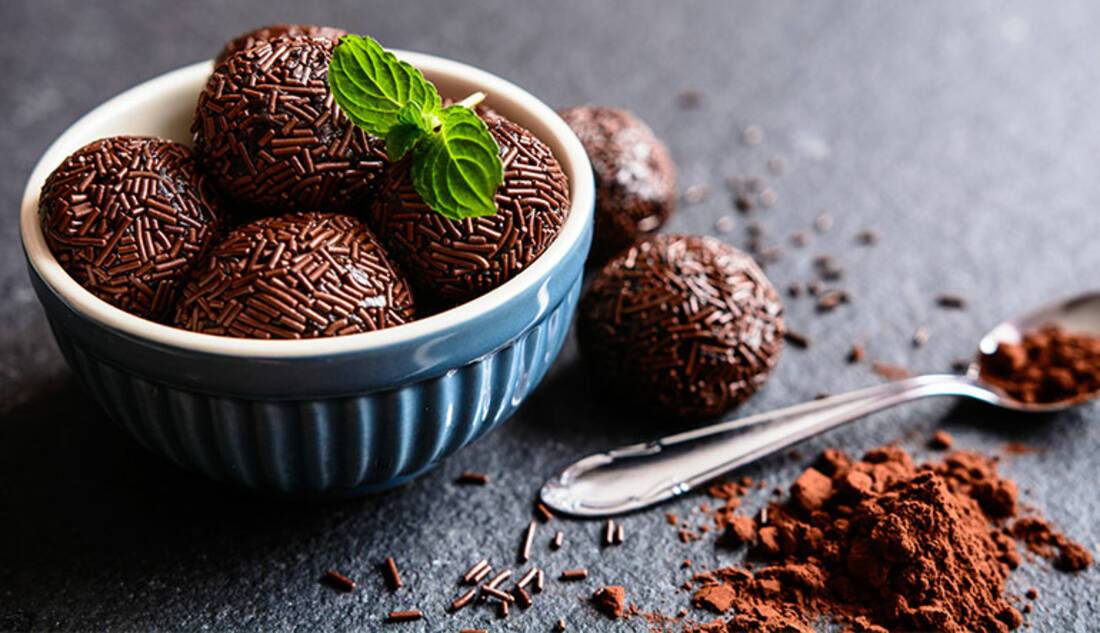 Brigadeiro
Place of origin: Brazil
Sweet-toothed travellers won't want to leave Brazil without trying brigadeiro. These delicious desserts are made with condensed milk, cocoa powder, butter and chocolate sprinkles to create a truffle-like snack. In 1945, shortly after the end of World War II, Brazil was in the midst of campaigning for a new president. Candidate Eduardo Gomes, who was a Brigadier (brigadeiro) in the military, was very successful and his most dedicated voters designed this truffle, which became directly associated with Gomes. Thus, the brigadeiro was born!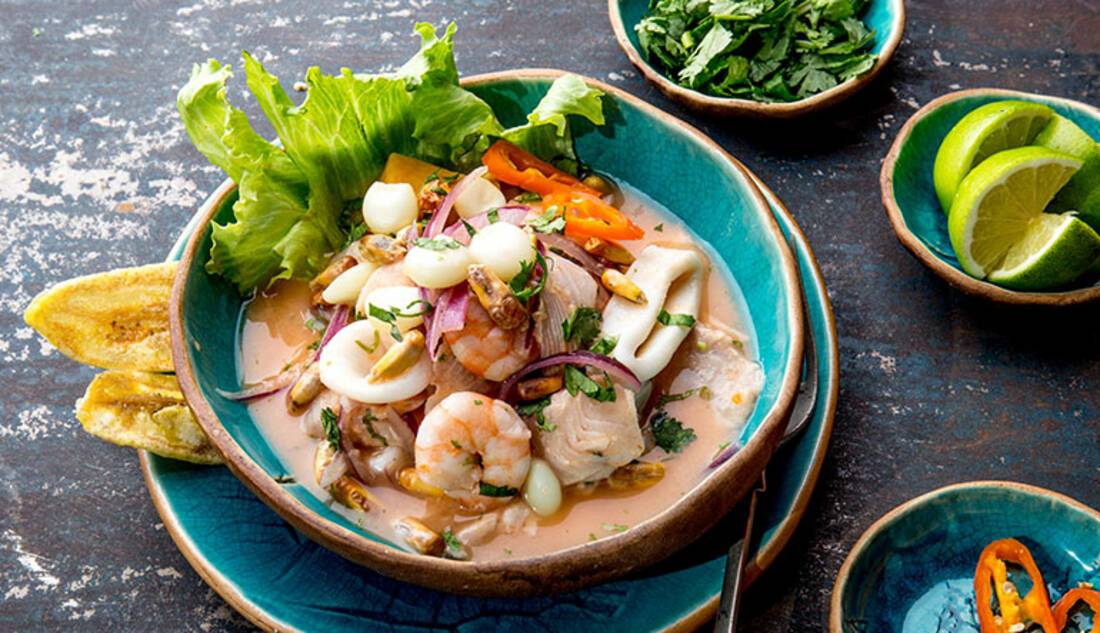 Ceviche
Place of origin: Peru
Ceviche, pronounced cebiche in Spanish, is a seafood dish made with fresh raw fish cured in citrus juices. Paired with chilli peppers, chopped onions and typically coriander, ceviche is a staple of South American cuisine. The dish is particularly popular in the Pacific coastal regions of the continent, though its home is considered to be Peru.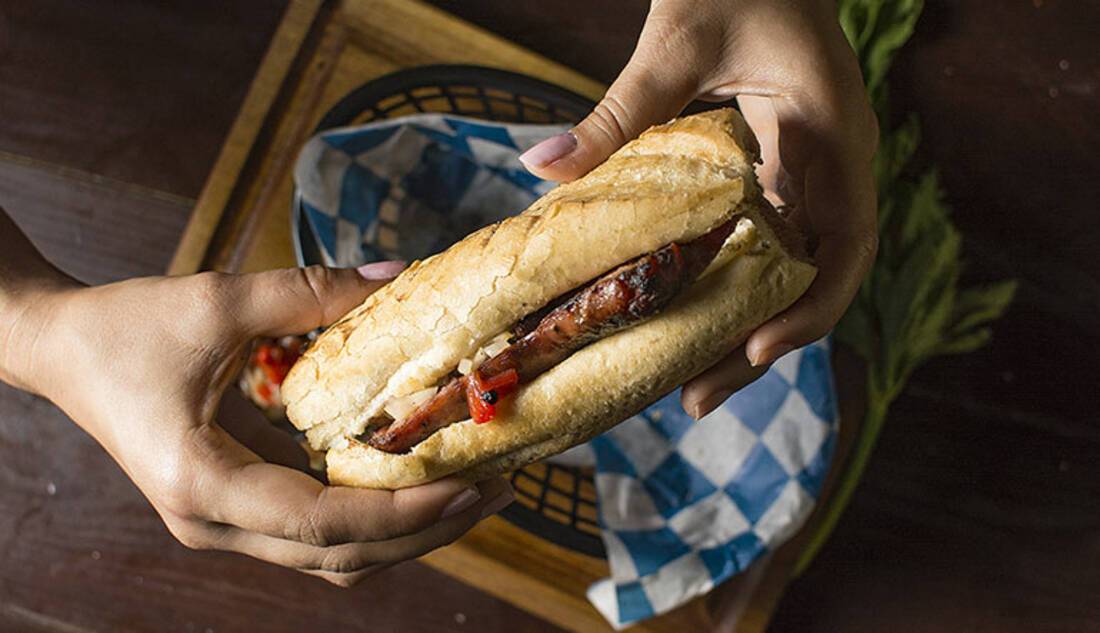 Choripán
Place of origin: Argentina
A choripán is a chorizo-filled sandwich that is typically found in Argentina and Uruguay. For all meat lovers, the choripán is a must-have when visiting South America. The sandwich is made with a chorizo sausage split down the middle and served in a crusty roll. It is customary to add sauces, such as chimichurri, made with finely chopped parsley, minced garlic, olive oil, oregano and red wine vinegar. The choripán is traditionally eaten on the go, so keep an eye out for this iconic sandwich while you wander the streets.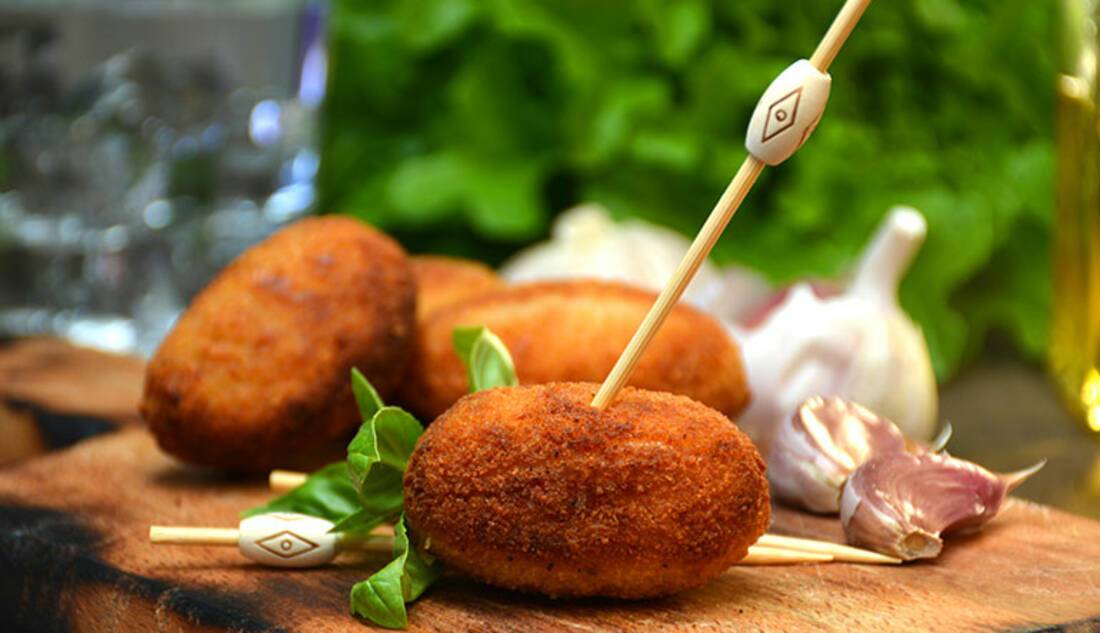 Croquetas
Place of origin: Spain
Most people associated croquetas with Spain, but they are a hugely popular snack in South America too. Crispy on the outside and wonderfully gooey on the inside, croquetas are one of the most iconic snacks in South America. Made with thick bechamel, croquetas are a staple on most Spanish tapas menus, but variations of the dish can be found throughout South America. In Brazil, 'croquettes' are traditionally made with beef, while in Uruguay, they resemble Spanish versions greatly. Look out for these delicious snacks during your visit to the continent - you won't regret it!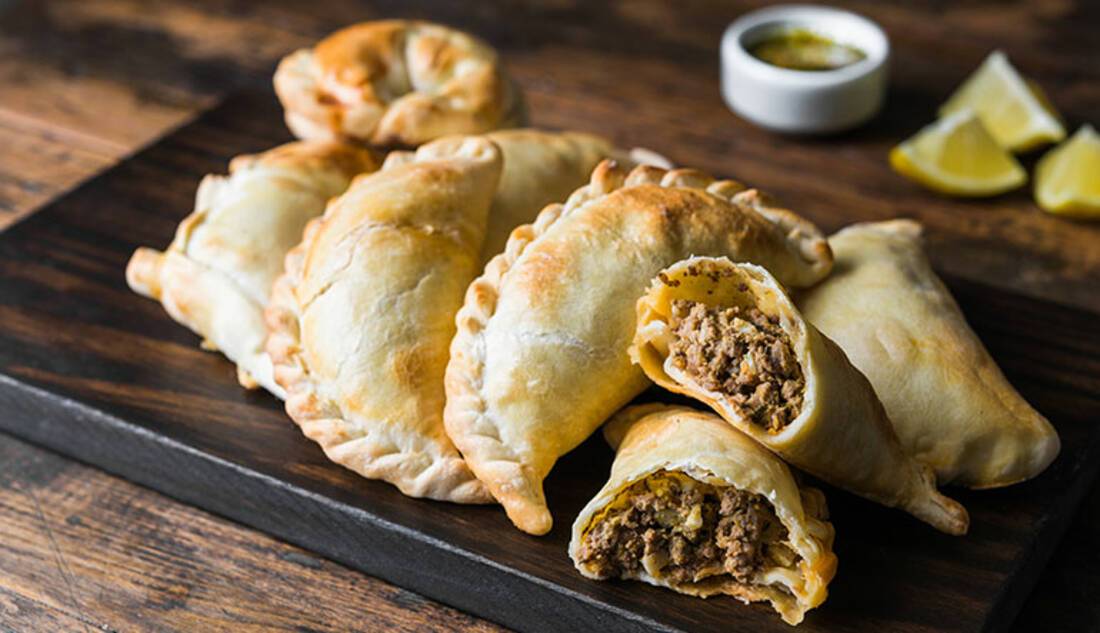 Empanadas
Place of origin: Argentina
Not dissimilar to a traditional Cornish pasty in appearance, the humble empanada is a firm favourite in South America. Originating in Argentina, these savoury parcels are typically filled with meat, vegetables and potatoes but variations also include fish. To find out more, we chatted to Rosemary and Claire from Authentic Food Quest, "Argentine empanadas are considered to be some of the best in the world and they are one of our favourite South American snacks. These small 'croissant' shaped pies are filled with different, mostly savoury stuffing.
"In Argentina, the best empanadas are usually baked. We recommend empanadas salteñas from the Salta Province which are simply baked without the addition of fats or oils. Tiny and tasty, you easily devour them in just two bites. Empanadas in Argentina have a special fold or seal which usually indicates the filling. This technique is called repulgue and it comes in handy when looking to distinguish the various types of empanadas.
"The most common empanada is the carne or meat. This one is generally stuffed with meat, onions, vegetables and in some cases, eggs or potatoes. You'll find a variety of fillings including ham and cheese, chicken, eggs, vegetarian empanadas and many more. A symbol of national pride, each province in the country has their own way of making empanadas. On your travels to Argentina, get to know the country through its empanadas. Savour the flavours and appreciate the national heritage through these delectable treats."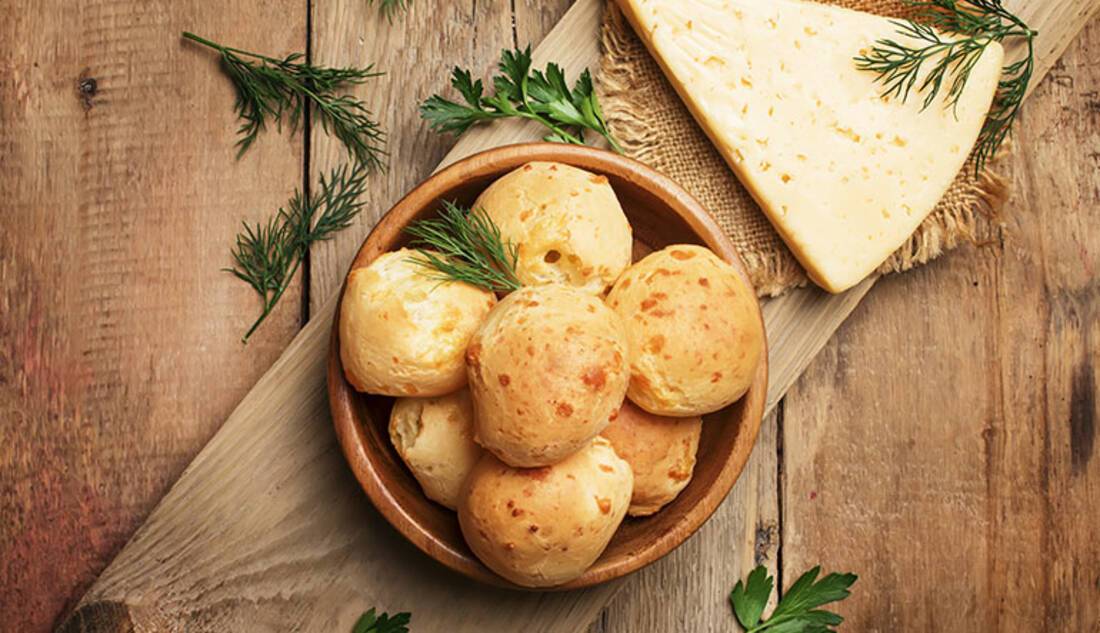 Pão de queijo
Place of origin: Argentina
Stopping in Rio de Janeiro during your cruise? Look out for pão de queijo - a traditional Brazilian baked cheese roll. This popular South American snack is believed to date back to the 18th century. Each bread roll is around 3-5cm in diameter and every bite is utterly delicious. The recipe does not stray too far from the original however, you may find a variety of cheeses, from mozzarella to parmesan.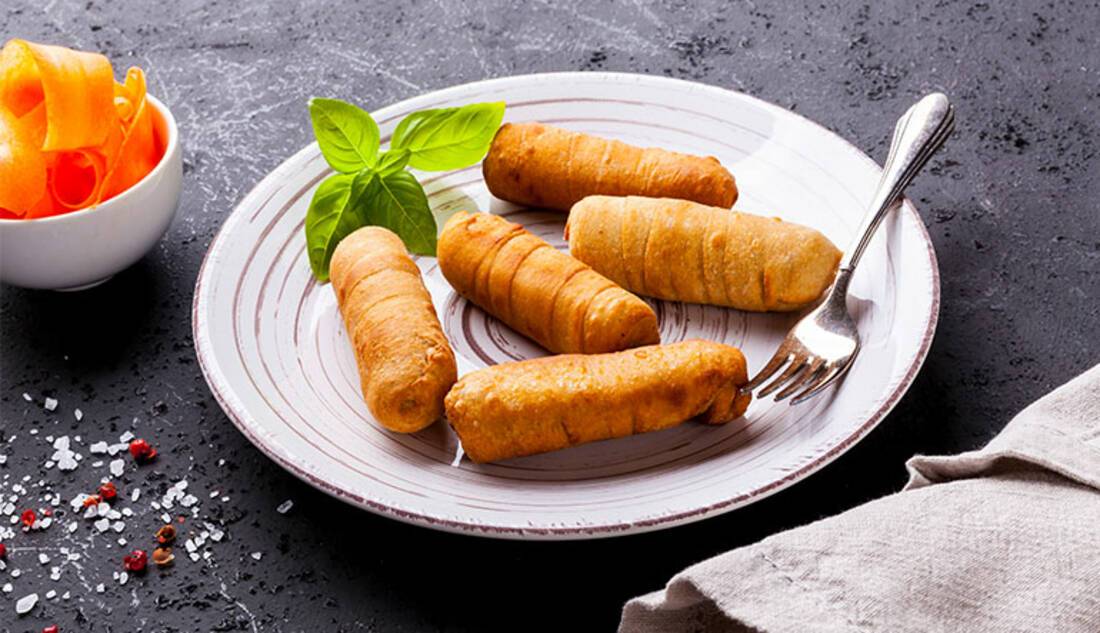 Tequeño
Place of origin: Venezuela and Colombia
Tequeños are fried breaded cheese sticks typically filled with a light cheese. These savoury treats are hugely popular in Venezuela, though can be found in other Latin American countries. Tequeños are enjoyed at breakfast and served as a starter or side at restaurants. This tasty cheesy parcel is well worth seeking out during your cruise holiday.