Earlier this year ROL Cruise was invited to be the very first Cruise Specialist to take part in the 2017 Transport Edition of The Parliamentary Review designed to showcase specific organisation's best practice as a learning tool to the public and private sector, in particular to leading policymakers and executives in transport. The key idea of the Review is to demonstrate how determined leadership and innovative thinking can turn around organisations or highlight how organisations or individuals have become outstanding leaders in their field.
We were of course delighted to take part and Jeremy Dickinson, CEO & Sarah Wikevand, Commercial, Marketing and Media Director were very pleased to attend the official Launch of the Review at the Houses of Commons on the 13th September 2017. This included speeches from notable parliamentary figures, including The Rt Hon Iain Duncan Smith MP.
The Review has been distributed to over 250,000 leading policymakers including MPs, Peers at the House of Lords, Government Agencies and Senior Officials in the Transport sector. We are very proud to be part of Transport edition of the 2016/2017 Parliamentary Review and we hope you enjoy the full article below:
The Parliamentary Review: Highlighting best pratice with ROL Cruise
ROL Cruise has differentiated itself in the competitive cruise holiday industry by working as a strategic partner to cruise liners rather than as a generic holiday agent. Jeremy Dickinson, CEO of Colchester-based ROL Cruise since 2009, says adopting this strategy has helped the company establish itself as one of the biggest independent cruise retailers in the UK.
In a cruise industry comprised of cruise liner operators, a saturated distribution channel of travel agents and specialist cruise liner promoters, ROL Cruise has placed itself in a more unique, specialist category. For the past decade, rather than being categorised as a distributor, we've actively looked to establish ourselves as a strategic partner working with the industry leading cruise operators.
This philosophy hasn't changed since the company's change in ownership in early 2014, which saw company founder Peter Beadles sell the business to a management-led buyout. While there were some growth areas we looked at, including exploring the underutilised international city river cruise segment, investing in a customised concierge VIP service along with a greater emphasis on TV advertising, the company's approach towards the partnership model has remained the same.
Not just another cruise agent
What makes us unique in this strategy is that while many companies sell cruises, there are few others who adopt the partnership approach. Proposing this quite radical approach during the early stages meant some of the cruise liner operators took some persuading. Our real breakthrough was being able to show them the value of adopting the partnership approach. This spanned across a few areas, including proposing ROL as being the ones to advertise a cruise liner's requirements rather than merely pushing what ROL was looking to sell. By meeting the needs of our cruise liner operator partners, we've managed to build and maintain longterm relationships with the big players of the industry, including P&O Cruises, Cunard Line, Celebrity Cruises, Fred. Olsen and Silversea Cruises
Standing out from the crowd
Our ethos is to sell on value rather than price. One way we have done this is by tailoring our service to encourage customers to book cruises around two years in advance. Our message is for customers to book early, protect the price and get their desired suites in advance. This is a step change to one of the dominant industry trends since the financial crisis of 2008, where a lot of cruise specialists are looking to maximise capacity on their ships by selling cabins at a cheaper price.
Our Cruise Miles loyalty programme has also been an effective and successful way to reward customers since its introduction, giving them points with every booking made to go towards upgrades on future deals. We've established that this has far more attraction than simply providing the customer with £50 off a £5,000 cruise, for instance.
Empowerment of staff
As a sizeable employer in the Colchester area, we place great focus on the development of our staff. ROL has taken a unique approach to this. We've actively strived to be different in the way we ensure as much staff empowerment and engagement as possible, giving them a high level of accountability for the success and failure of their part of the business. In 2009, we established our award-winning 'A Signature of Distinction' (Academy of Cruise Excellence), an in-house initiative set up to nurture talent and recognise high performing staff members. This was motivated by a belief that success goes above simply making a profit and should be rewarded in its various forms.
We've also strived to showcase our staff by holding an annual awards night recognising their achievements.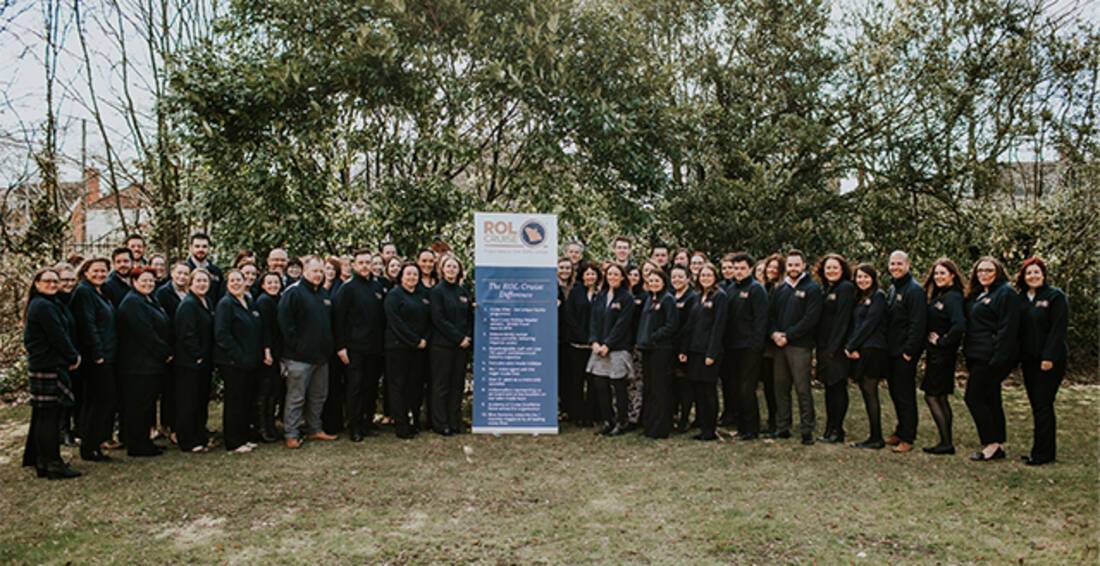 To date, this has proved successful in terms of staff retention, with around 70% of our 125-strong workforce having been with us for at least five years. It's about proving ROL Cruises is a viable option for a long-term career and not just a job. Industry recognition of our business has also occurred with regularity. In the past five years alone, ROL has amassed more than 30 major industry awards.
Positioning ourselves in a growing cruise industry
These strategies have served us well in an industry that is continuously evolving. New ships are being built at very high production rates to such a level that order backlogs have formed. This shows the extent of global demand for cruising. While the traditionally popular regions such as the Caribbean and Mediterranean are likely to remain in-demand places to sail, other parts of the world such as North Africa are growing in popularity with UK holiday makers.
While our customer volume is steadily going up by the year, most recently resulting in over £120 million of sales for the 2016/2017 financial year, our vision will continue to be built on how we deal with customers rather than how many of them. The wider industry is robust and we fully intend to lead from the front in the face of further growth. Market options are increasing and cruises have become more customised and themed depending on a number of factors varying from location, customer age, interests or group size.
Tailoring trips to add on events to an increasingly aspirational customerbase, whether that's factoring in a Formula 1 Grand Prix, an African safari or even additional extras such as stays in luxury hotels, are becoming increasingly popular options. It's about attracting new people into the equation, and getting those customers who may not have previously considered a cruise buying one. In my experience, a high number of people who go on cruises for the first time tend to do so again. The challenge which we must look to meet is to attract new customers rather than rely on repeat ones.
Facts about ROL Cruise
» Established in Colchester, Essex in 1995 as Reader Offers Limited by Peter Beadles
» Rebranded to ROL Cruise in 2016 with a new logo, strapline and website
» Has strategic partnerships with industry cruise liner giants P&O Cruises, Cunard Line, Celebrity Cruises, Fred. Olsen and Silversea Cruises
» Employs 125 staff
» Has won more than 30 cruise awards since 2012.