As the second largest country in the world, deciding which part of Canada to visit can be a minefield. That's why choosing a land tour as part of your cruise adventure is the perfect choice for anyone wishing to take the stress out of planning an itinerary. Stop off at the most exciting locations in Western Canada, including the azure waters of Lake Louise and the dizzying heights of Banff National Park. Many cruise packages also offer you the opportunity to explore Vancouver, as the cruise itself often starts or ends in this seaport city.
1. Lake Louise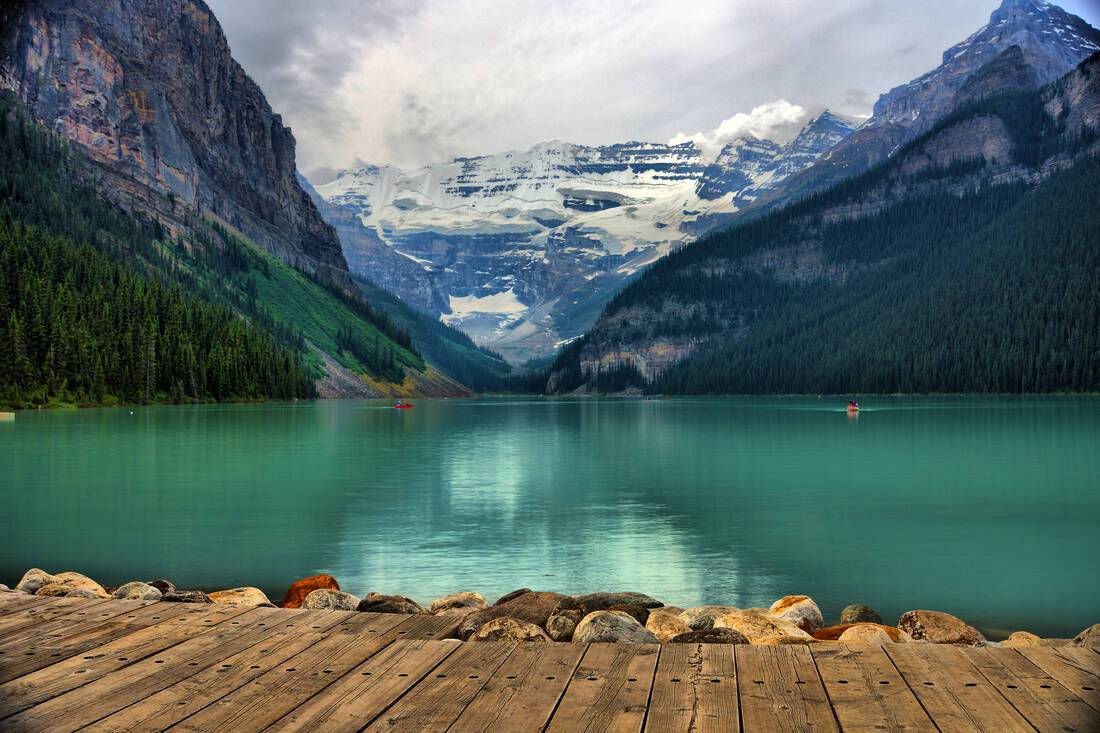 In the heart of Banff National Park, the serene, turquoise water of Lake Louise sits below towering mountains. Enticing hikers, photographers and wildlife enthusiasts, the area offers visitors the chance to explore one of Canada's most unique landscapes. Grizzly bears, golden eagles and other native wildlife can be seen roaming and soaring over this picture-perfect lake.
The lake and hamlet were named after the Princess Louise Caroline Alberta, the fourth daughter of Queen Victoria. In the peaceful hamlet of Lake Louise you'll find a few small shops - but as there's no more than 1,000 people, so you're guaranteed some peace and quiet. Although the spectacle of Lake Louise itself draws visitors from all over the world, many also visit the area to ski at Lake Louise Mountain Resort. If you're eager to explore the mountains beyond the lake, set off on a hiking or climbing adventure at Mount Temple, Mount Whyte or Mount Niblock. With plenty of guided tours available in the area, you'll be able to safely scramble up these snowy peaks.
2. Banff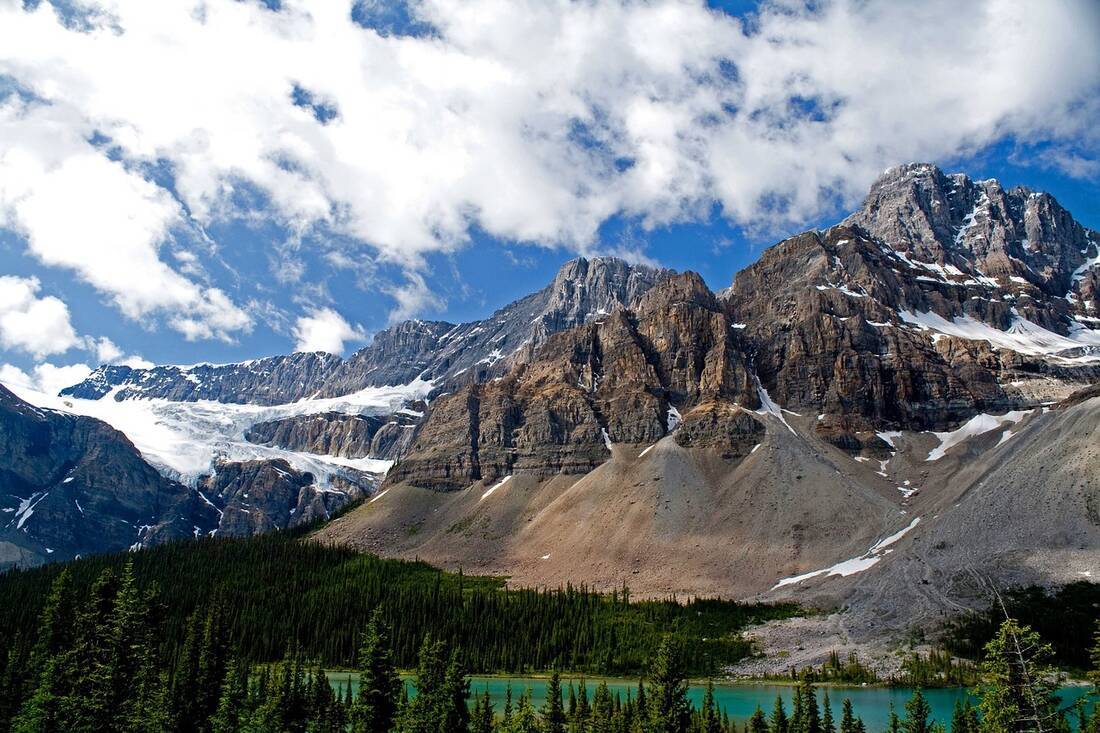 Banff is a town within Banff National Park in Alberta. Bordered by Alberta's Rockies, this remarkable town was the first municipality to join a Canadian national park. Now one of the country's most popular tourist destinations, it's easy to see why people feel drawn to Banff. Visitors can take a relaxing dip in the area's glorious hot springs, all the while gazing over snow-capped mountains.
Take a trip on the Banff Gondola to experience the dizzying heights of the summit of Sulphur Mountain, overlooking the wild, open scenery of Banff National Park. Once you reach the top at 7,500 feet, look out over the wilderness while tucking into some delicious Canadian grub at Sky Bistro. Back on level ground in Bow River Valley, Bow Falls is an impressive waterfall within walking distance of the town, perfect for a short stroll and picnic. The Hoodoos (beautiful rock formations) of Banff are also within easy reach of the town, jutting out of lush forests towards the sky.
Although remote, the town has plenty going on. Banff's restaurants offer an eclectic mix of traditional Canadian cuisine and international dishes. Head to Grizzly House to try some of its famous fondue. With its retro interior and unusual range of hot rock ingredients including beef, buffalo and rattlesnake, you'll feel truly wild dining out here. Decked out with bearskin rugs and wood carved bear sculptures, this is one of Banff's more characterful restaurants. For a blend of Canadian and French cuisine, head to Eden. With views over Rundle Mountain and Spray Valley, an individual cheese menu and over 17,000 bottles of wine to choose from, Eden is a fine choice.
3. Jasper National Park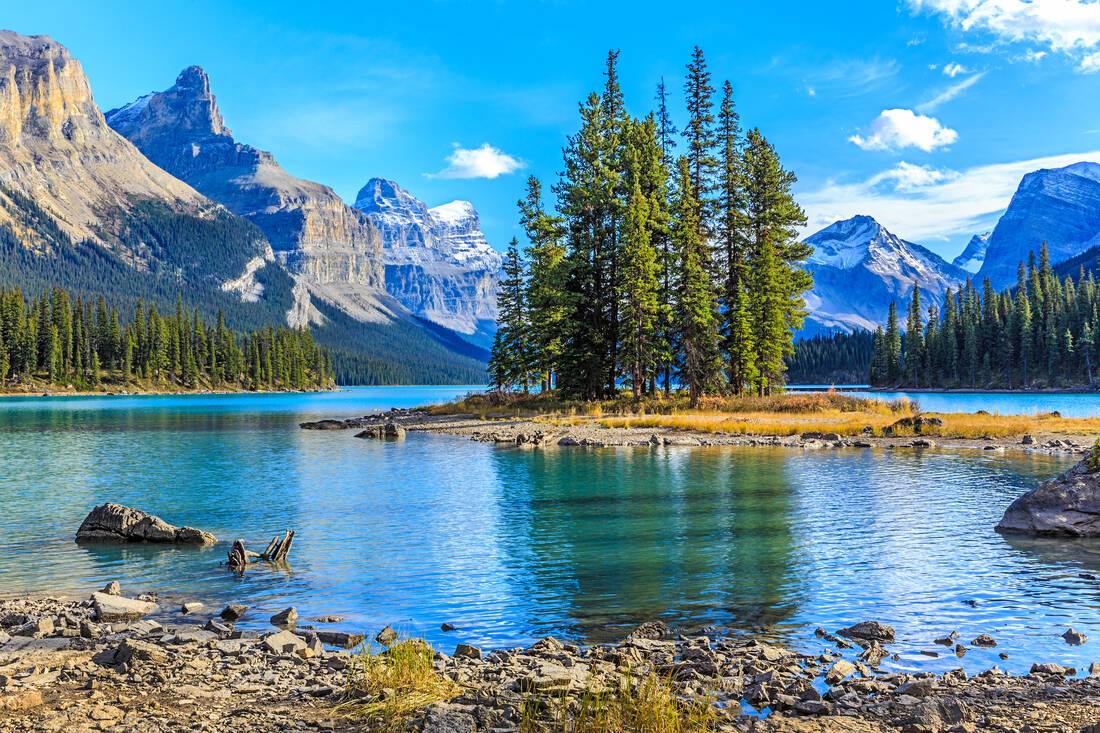 Jasper National Park is a UNESCO World Heritage Site and the largest national park in the Canadian Rockies. Spanning 4,200 square miles across the province of Alberta, Jasper is the perfect place to admire some of Canada's biggest glaciers and take in the fresh mountain air. The park was named after Jasper Hawes who operated a trading post in the region and was granted national park status in 1930. Crowds continue to flock to Jasper, with an estimated 2,100,000 visitors visiting the park in 2014.
Look out for elk, bald eagles and grizzly bears in the park. This diverse landscape of lush forests, winding rivers and rocky mountains makes it a haven for some of the world's most beautiful creatures. Be sure to keep your camera with you, especially when you visit Athabasca Falls - feel the spray of the falls as they plunge into the canyon below. If you're fortunate enough to visit Jasper on a hot, sunny day, brave the glacial waters of the park's many lakes and rivers to take a refreshing dip.
4. Rocky Mountaineer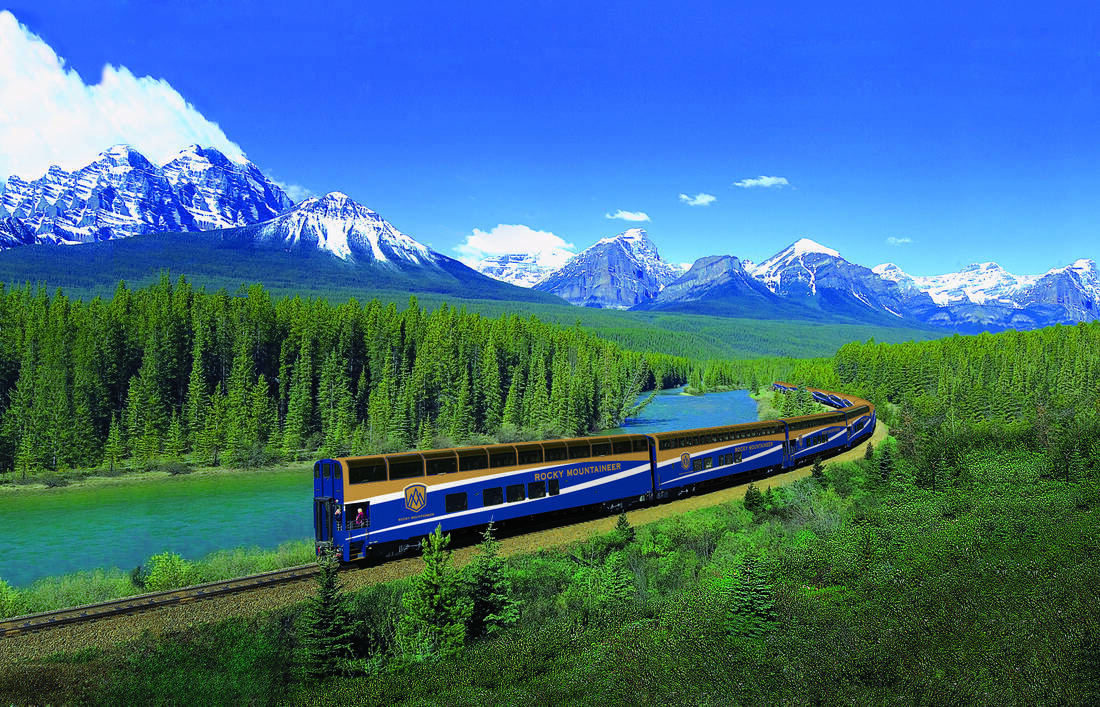 Wind your way through canyons and mountains on the Rocky Mountaineer. This unique rail experience gives you the opportunity to take in the sights of Western Canada from the comfort of a luxury train carriage. The Rocky Mountaineer sets off from Jasper in the Canadian Rockies towards Kamloops, in the heart of the British Columbia interior.
As you journey west and south through the Continental Divide, gaze out of the windows at the river valley of Monashee and the Cariboo Mountains. You can't miss the imposing peak of Mount Robson, towering 12,972 feet over the land. As the train continues to wind through dramatic canyons and wide open plains, you'll also spot Pyramid Falls, journey through Yellowhead Pass and along the North Thompson River. After a day of travelling, the Rocky Mountaineer stops for a night in Kamloops. This bustling city is home to many art galleries, museums and historic sites.
After your night in Kamloops, it's back on board the Rocky Mountaineer towards Vancouver. Watch the scenery change through the windows as you journey away from the desert-like landscape of the British Columbia interior through river canyons and dense forests. Admire the open scenery of the Cascade Range and the vivid green fields of Fraser Valley, and the thundering waters of Hell's Gate. Your Rocky Mountaineer adventure ends in Vancouver, where you'll enjoy a night's stay to explore what this cultural seaport has to offer.
5. Vancouver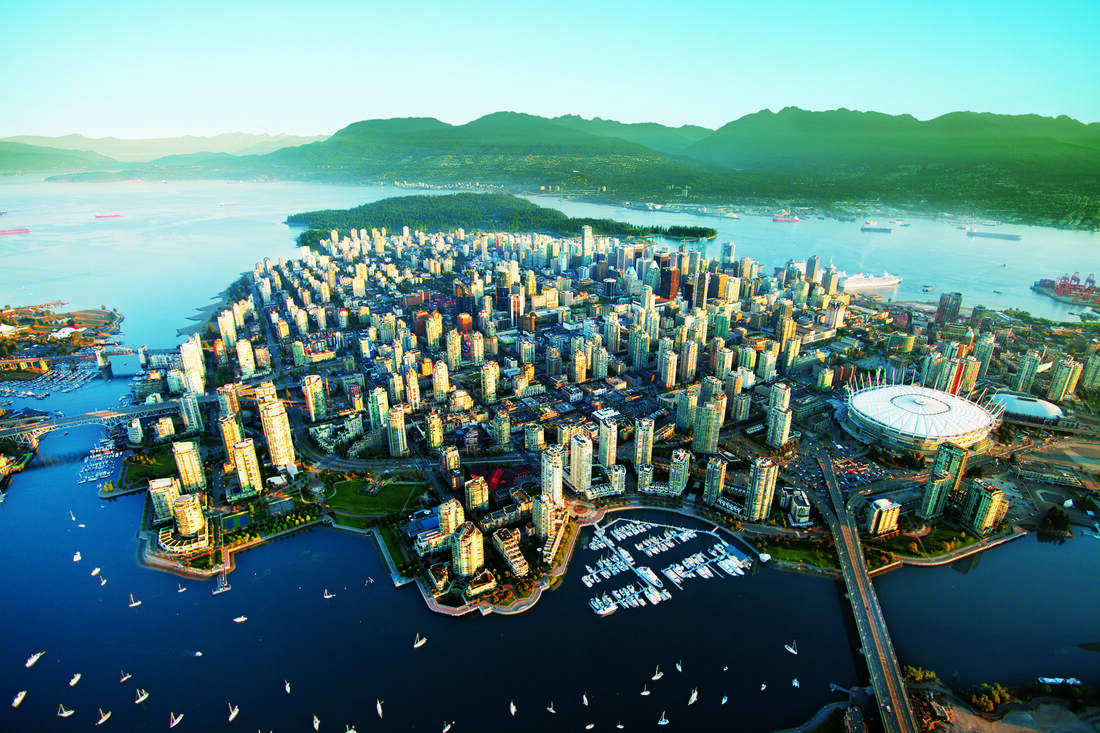 While much of British Columbia is peaceful and isolated, Vancouver is a vibrant hub of art and culture and has the highest population density in Canada. Whether you're choosing to spend some quality time in this seaport city at the beginning or end of your journey to the Pacific Northwest, there are a few things you shouldn't miss.
"Surrounded by spectacular mountains and the glittering Pacific Ocean, Vancouver is a sophisticated cosmopolitan city perched on the edge of nature," says Dayna Miller of Tourism Vancouver. "Spending time in Vancouver is a perfect way to complement an Alaska cruise vacation, and the city offers a blend of outdoor adventure and urban experiences.
"Nature lovers can cycle the sea wall around lush Stanley Park, kayak the calm waters of False Creek, or take an exhilarating walk across the famed Capilano Suspension Bridge. Passengers can also feel the pulse of city life in Vancouver's diverse neighbourhoods: taste your way through Granville Island's buzzing Public Market, shop in hip Yaletown, explore ancient Chinatown, or meander the cobblestone streets of historic Gastown. There is truly something for everyone in Vancouver."
Dining out in Vancouver is a unique experience. This North American city is famous for its Asian dining scene, with plenty of Chinese and Japanese restaurants to choose from. Of course, seafood is Canada's speciality, but you'll also find local delicacies including Fraser Valley duck and foraged morels.
Although the city is bursting with culture in the form of regular festivals, theatrical events, live music and public art, Vancouver's wild side isn't far away. From the city you can see the snowy mountains beyond, and they're only 30 minutes away by car if you want to ski. Of course, you can also laze on one of the port's many sandy beaches. From the city, you can continue your adventure on an Alaskan cruise, taking you to the wild and remote regions of Glacier Bay, Skagway and Juneau.
One of the reasons why cruising and land tours are so popular is the lack of planning involved. Let us take the stress out of your holiday and guide you through the best of Canada and Alaska.