"When I go on a world cruise, I pack clothing in three different sizes, all with elasticated waist bands – I walk on, and roll off!"
One of our customers (we'll call her Mrs Smith) said this to me around 11 years ago when I worked in the Reservations Team here at ROL Cruise, and I've never forgotten it.
Of course, at the time I thought she meant this in jest; no one could grow by three clothing sizes in the space of 80 days, could they? I mean, I thought we weighed less at sea?
Eight years later, I was in Crete, midway through a two-week Adriatic voyage, and I had to go ashore to buy some new dresses to wear during the evening (such a hardship, I know). Why? Because I wanted to fit in with the locals? Because Grecian dresses were fashionable?
No – I was forced to shop 'til I dropped just after one week of cruising because my formal wear no longer fitted.
Personally, I don't enjoy reading articles focusing on weight gain on cruises, as it gives the false impression that all there is to do on board is eat and that everyone on board eats themselves into oblivion – which of course is not true, but it is easy to overindulge (and I speak from experience).
That said, if you're someone who enjoys delicious food and you have enough willpower to use the gym facilities on board, you're onto a winner – and you can leave your 'cruise trousers' at home. I, however, will continue to pack my more forgiving formal wear, which I purchased from Greece, summer of 2016.
The reason I can't leave them at home? I know how good the dining experiences are at sea, and because I hate the gym. Cruising cuisine is no longer about lukewarm buffets in which cottage pie, noodles and melon balls collaborate on a plate; it's seriously good. Food is important, so it's no surprise that cruise lines go to quite some lengths to make sure we're writing home about it.
Here are some I (and a few of my colleagues) have… well, written home about!
Hot Rocks, Silversea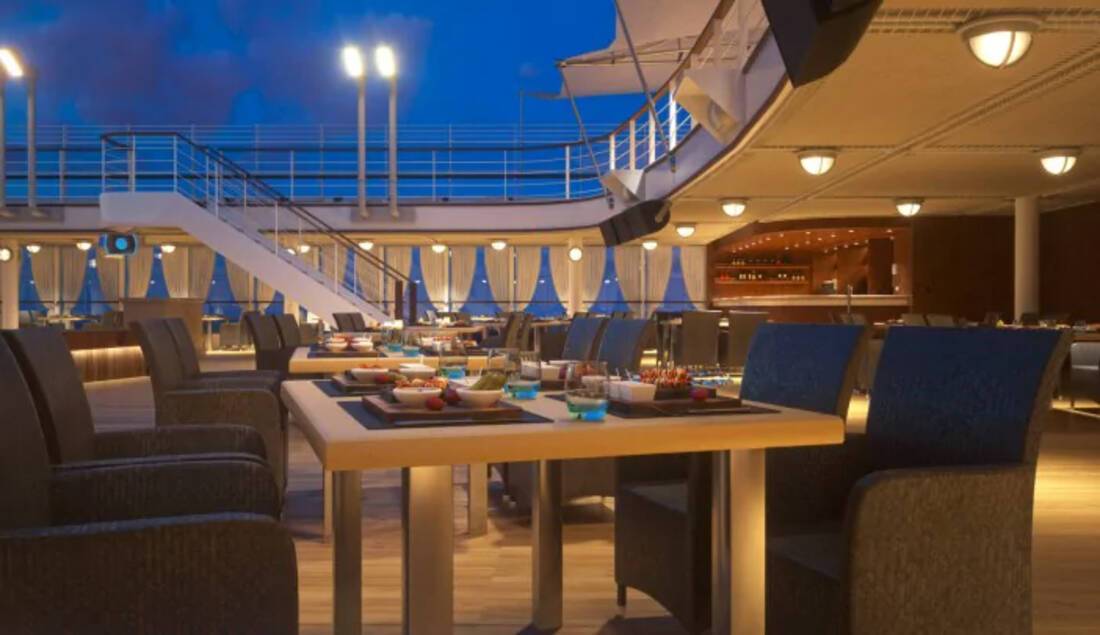 The Hot Rocks experience must be one of my personal favourites to date. I was lucky enough to try this aboard Silver Shadow in Alaska. Picture this: calving glaciers, icebergs, and frozen waterfalls as a backdrop and – while mother nature dazzles you with her show – you're dining al fresco wrapped in a cosy blanket.
Hot Rocks (as its name suggests) is all about cooking by lava stone, and it's great. Lava sourced from volcanic rock is heated to 400 degrees and placed on the table in front of you. Then, a fabulous selection of fish, giant prawns, meat and colourful vegetables are served to you, to place onto your lava rock, where you'll cook it to perfection. There are even little egg timers for you to use, so you can have your perfect medium/medium-rare fillet steak.
This is one version of self-catering you'll definitely want to try on a holiday!
Silversea is no amateur when it comes to fine dining, and their fantastic Relais and Châteaux restaurant Le Champagne should also be on the 'to dine' list of any cruiser. In fact, Douglas Ward, author of the Berlitz Complete Guide to Cruising, has included Silver Spirit's Le Champagne on his top restaurant list for 2017 - that's not a bad accolade!
Prime 7, Regent Seven Seas Explorer®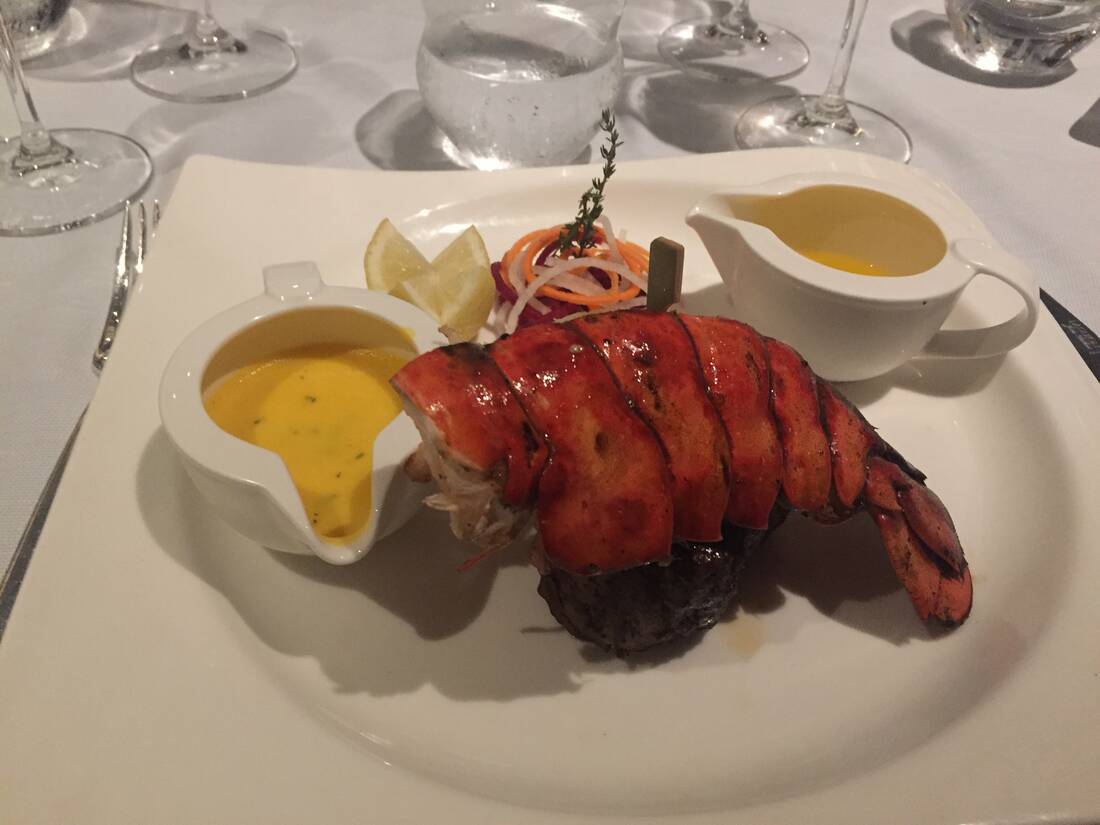 "The steaks at Prime 7 are worth every penny of the price tag for the cruises, and that is a rather bold statement, but one I'd happily put my name to", says Helen Smith, our very own Marketing Manager.
Helen was invited aboard Regent Seven Seas Explorer® for one of the ship's first voyages during the summer of 2016.
"The restaurant itself has a rather masculine feel, with its dark leather and monochrome marble. It has quite a formal ambience in the evening, which I liked, and it's open during the day too. The salads are delicious, and the clam chowder is to die for – the best I've ever tasted, on land or at sea!"
"It is all about the steak though: the filet mignon is very good, as is the surf and turf (with lobster of course) – I had to go back for a second time! Both visits were rounded off with a generous slice of 'the leaning tower of Valrhona chocolate sponge cake', which consisted of 14 layers of decadent mousse, super-light sponge and rich ganache - everyone needs to try it!"
Cruise Critic gives Regent Seven Seas Explorer® a 5/5, and the editor's review echoes Helen's when it comes to the steaks: "Dinner at Prime 7 is a real treat; it's truly one of the best chop houses at sea." If it's good enough for Helen and 'the critics', I'll happily add it to my 'must taste' list.
Ao Phang Nga Beach Barbecue, Thailand – Star Clippers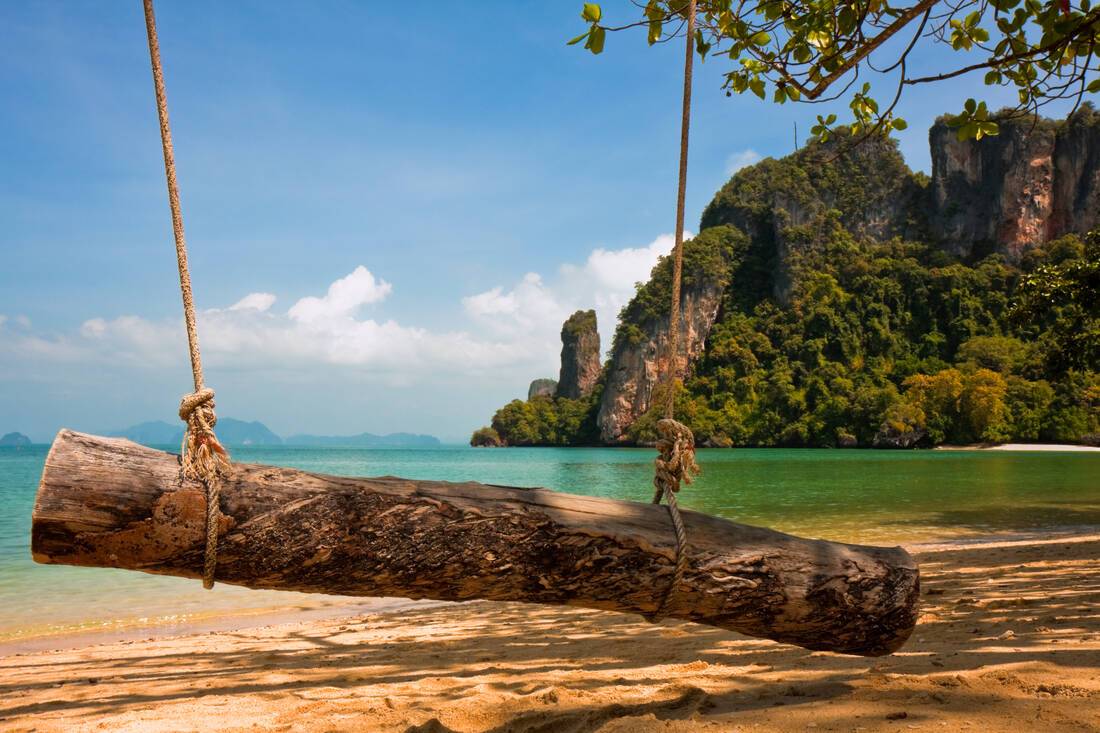 You don't always need Michelin stars a or celebrity-endorsed restaurant to create the dream foodie experience on a cruise. Star Clippers go all out to prove this, as my colleague Poppy and I have both been fortunate enough to experience.
The Asian Itineraries, which have returned for the 2016-2017 season, include visits to islands so remote, they're barely inhabited at all – only perhaps by the odd iguana that happily potters around on the rocks, or playing in the surf.
One of these islands is Ao Phang Nga, which Star Clippers have selected as the ideal setting for a beach barbecue – and it really is perfect. Surrounded by sea and sand, the staff unpack huge boxes containing everything from salads to steaks and the ingredients to make pretty much any cocktail you fancy.
It's a fun and casual way to spend a day in paradise; playing with the water sports equipment (included in your holiday cost), and visiting the dessert station where fresh local fruits are abundant. Plus, the healthy dessert options and yummy salads mean this is a dining experience in which guilt features nowhere on the menu!
Lido Market, Holland America Line Koningsdam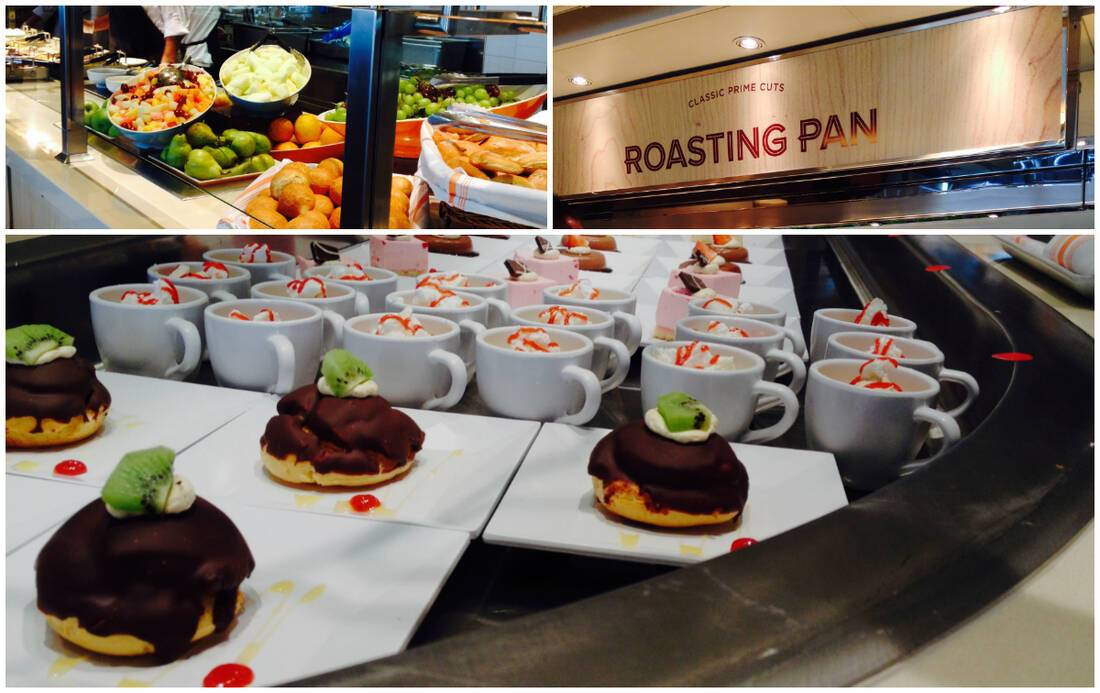 Self-serve or buffet style dining isn't usually for me, but there is an exception, and it very much deserves its place on this review.
MS Koningsdam joined the Holland America Line fleet in May 2016, and she's lovely. She's packed to the rafters with innovation, cool features and great spaces – and she's also home to the Lido Market.
The Lido Market is the kind of dining venue in which you need to do your research – choose wisely, because with every turn in this bright and airy marketplace, you'll see something else you wish you'd eaten.
Yes, it's self-service, but it's seriously colourful, seriously fresh and everything is seriously delicious.
Visit the breadboard station, where doorstop wedges of every type of bread meet dream fillings. Here, sandwiches, baguettes and bagels (all neatly resting in little paper bags) await peckish lunchers. Fancy a slice of freshly baked French stick and brie? No problem, it's all here, and you can smell irresistible aroma of the bread baking from afar.
Do also pop by Wild Harvest, the salad station featuring a rainbow selection of every salad you could possibly think of, all served in huge bowls and with a range of a delicious dressings. If there was ever a salad that makes your mouth water, it's served here.
Meanwhile, select joints of meat are resting at Roasting Pan (and not in the buffet sense you'd imagine - they're resting to ensure they're at their most juicy when they're hand-carved for you to enjoy). Fish, steaks, chicken, turkey… it's all available, and it's all amazing. Why not make your own doorstop sandwich? Or add some to your salad bowl?
But wait, what about Distant Lands, where you can enjoy flavours from around the world? And be sure to save some room for a desert from Sweet Spot!
My advice is to try a bit of everything, or just book a longer cruise so you can get around them all – simple!
I suppose I should finish here by listing the best-rated gyms at sea, but I'll leave that one to someone else I think...