A World Voyage remains one of life's greatest travel adventures and what better way to experience it than on the cruise line that started it all, Cunard? Since pioneering the world cruise in 1922, the cruise line has undertaken more world voyages than anyone else - refining this seafaring expedition to perfection.
In January 2022, 100 years after the cruise lines first-ever world cruise, Cunard's Queen Mary 2 will embark on an unprecedented 104-night voyage, sailing east to west through the Suez Canal and back again. Journeying across oceans and continents, she'll chart a fascinating path through Europe, the Middle East, Asia and Australia.
Where will I sail to?
Departing from Southampton on 10th January 2022, this unique itinerary includes the opportunity to step ashore in 27 ports in 16 countries, with the possibility to explore a combined 33 UNESCO World Heritage sites. Experience rich cultures and spectacular natural wonders, from the salt white sands of The Whitsunday Islands to the historic 'Rose City' of Petra. Several evening departures, coupled with overnight stays in Haifa, Dubai, Hong Kong, Singapore and Sydney, compliment leisurely sea days on board; allowing you extended time in port to explore these wondrous destinations. Promising beauty, intrigue and adventure across a host of captivating countries, Queen Mary 2's new World Voyage is sure to invigorate your senses and delight your soul. Destination highlights include: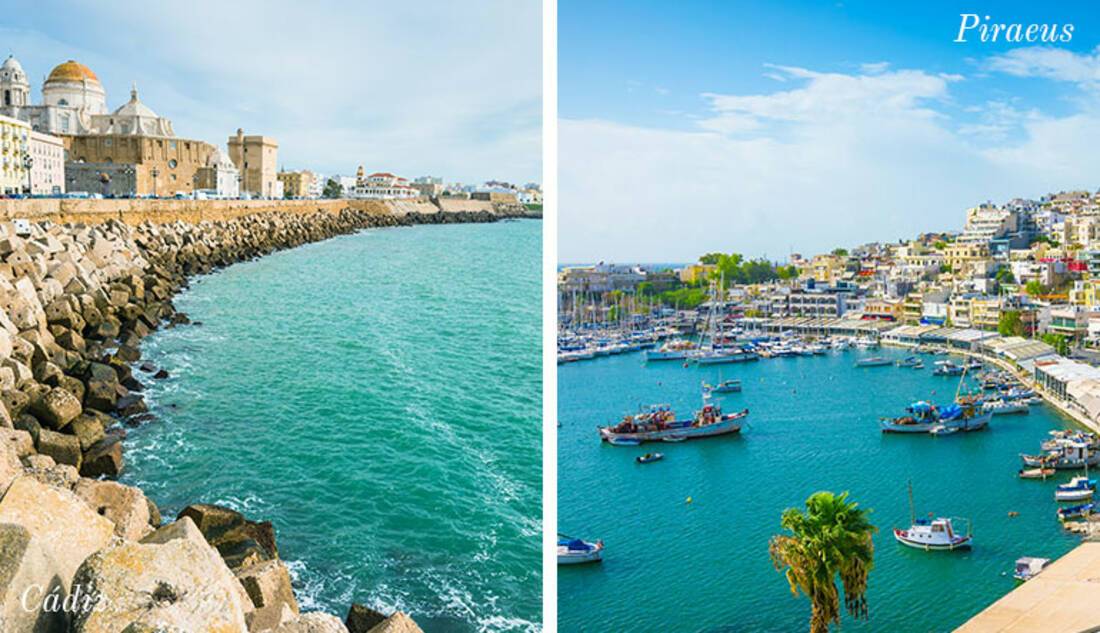 Spain
The passionate, sophisticated and somewhat diverse atmosphere that Spain offers gives it the stereotype of a land to live the good life. While here you'll visit Cádiz, a popular port that has acted as a base for exploration for over 3,000 years. The influence of its varied past makes it a fascinating city to explore. It's time to put away the guide book and allow Cádiz's narrow streets and picturesque alleyways to lead you on a carefree adventure.
Greece
With its ancient architecture still standing, Greece offers a history like no other. During your time here, you'll have the opportunity to visit the port city of Piraeus. Located within the urban area of Athens, Piraeus combines the fascinations of the ancient world with unique modern architecture. It is known to be the oldest city in Europe and the globally-renowned Acropolis is a constant reminder of just how much history stands in this part of the world.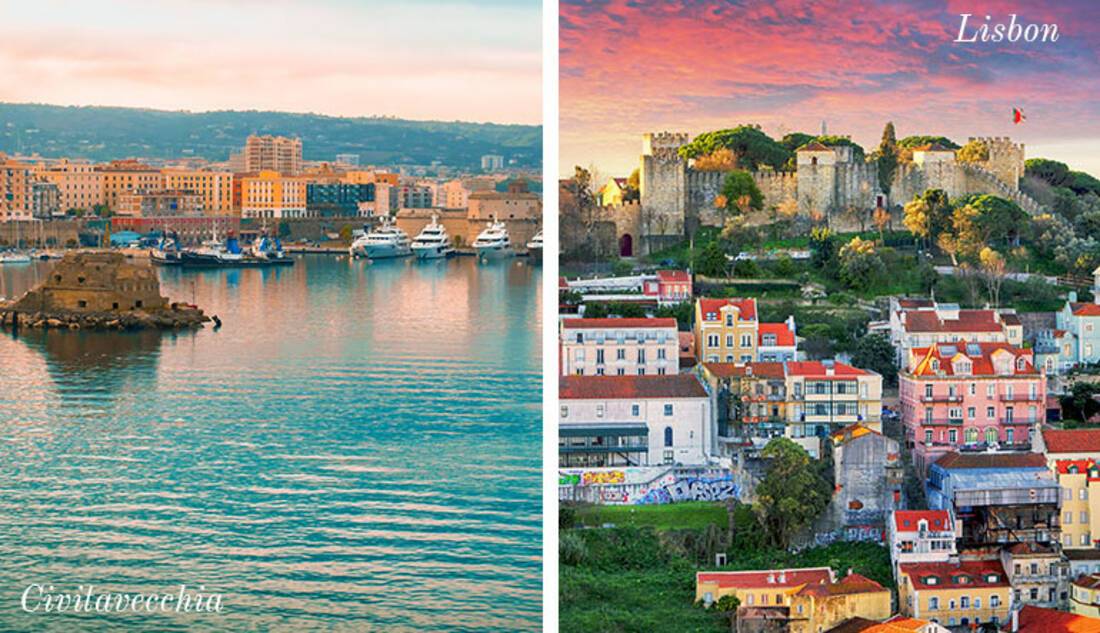 Italy
Italy is one of the most exciting cultural destinations in the world. Home to the Colosseum, leaning tower of Pisa, the canals of Venice and picturesque Amalfi Coast, it's easy to see why tourists flock to Italy each year. Head on a journey into the past as you sail into the port of Civitavecchia and discover the city of Rome. The Italian capital, Rome offers delicious food, stunning architecture and an enthralling past.
Portugal
A medieval adventure awaits in picture-perfect Portugal. From its cobbled streets and hilltop castles to its rugged coastlines and high-reaching cliffs, Portugal has an ancient history and has retained its medieval charm. It's capital, Lisbon, has an artistic atmosphere - follow in the footsteps of the world's greatest explorers as you wind your way through the cobblestone streets.
Sail away with Cunard
Pioneers of the World Voyage, Cunard has been at the forefront of ocean travel since 1840, elevating the experience through signature touches like Afternoon Tea and Gala Balls. Each of their ships is a destination in its own right, a world inspired by the legacy of their past, yet with all the modern comforts and conveniences that make the present so enriching. And what a world it is. Waiters wearing white gloves, expansive decks free from crowds and West End calibre theatre shows.
Explorers, authors and astronauts are regularly among the guest speakers on board, while their wine academy offers the opportunity to return home with an official industry accreditation. On roundtrip voyages, guests benefit from limitless luggage allowances, while complimentary wine in your stateroom is just the start of the warm welcome you'll experience on board.
Cunard's itineraries often feature an overnight or late departure to maximise your time in port, while sea days are yours to enjoy as you please; be it sunbathing by the pool or a guided gin tasting. This, combined with a curated selection of shore excursions only serves to elevate the destinations the ships call at, enriching guests experiences in each captivating port of call.
Queen Mary 2
Christened by Her Majesty the Queen in 2004, Queen Mary 2 is the world's largest and most renowned ocean liner. Adored by her passengers and crew alike, her reputation for splendour and elegance is unparalleled.
The experience on board Queen Mary 2 is unlike any other - the space she offers and the luxury for you to do as much or a little as you wish is what sets her apart. Immerse yourself in enthralling entertainment, be indulged in the Canyon Ranch Spa Club or simply relax with a book in her vast library, the choice is yours.