Since 1893, Hurtigruten ships have provided vital links between cities, towns and hamlets on Norway's shores, delivering post, local passengers, freight and today holidaymakers up and down the stunning Norwegian coast. When you sail with Hurtigruten, you are on an expedition with likeminded adventurers who value personal growth and exploring over luxury. On board enjoy a casual and relaxed atmosphere, great food, and all the quality equipment you need to explore new destinations.
The lights can start to make an appearance as early as September and as late as May, but it is the winter months between October and March when they are most visible, laying claim to the night sky.
WHAT YOU SEE IS WHAT YOU GET
The Northern Lights will usually appear at multiple times and at multiple locations during your voyage with Hurtigruten
Onboard announcements ensure you don't miss a single sighting
There are no hidden fees or separate excursions just to see the lights
There's no time limit either, so you can enjoy them to your heart's content for as often and for as long as they appear.
FRONT-ROW VIEWS
Travelling at sea under the auroral zone means that displays can appear right above the ship. Outdoor observation decks provide a clear line of sight to the sky, and the close-up view avoids the artificial ambient light common on land.
NORWAY'S COASTAL KITCHEN
While your eyes feast on the scenery, your tastebuds will be in for a treat too. Expect sumptuous seafood caught fresh that morning, local fare such as cured lamb from Hellesylt, roast reindeer from Finnmark, homemade cloudberry jam, and ice cream from a Lofoten dairy.
IMMERSIVE ADVENTURE
You won't find cinemas, shopping malls, or cabaret shows on a Hurtigruten ship. Instead, your entertainment is the wide range of seasonal shore excursions that bring you closer to the local culture and wildlife. The winter months feature over 35 optional extras at a supplement such as:
• dog sledding • a Viking feast • snowmobiling • whale watching • a trip to the North Cape • king crab safari • horse riding in Lofoten • guided city tours • mountain hikes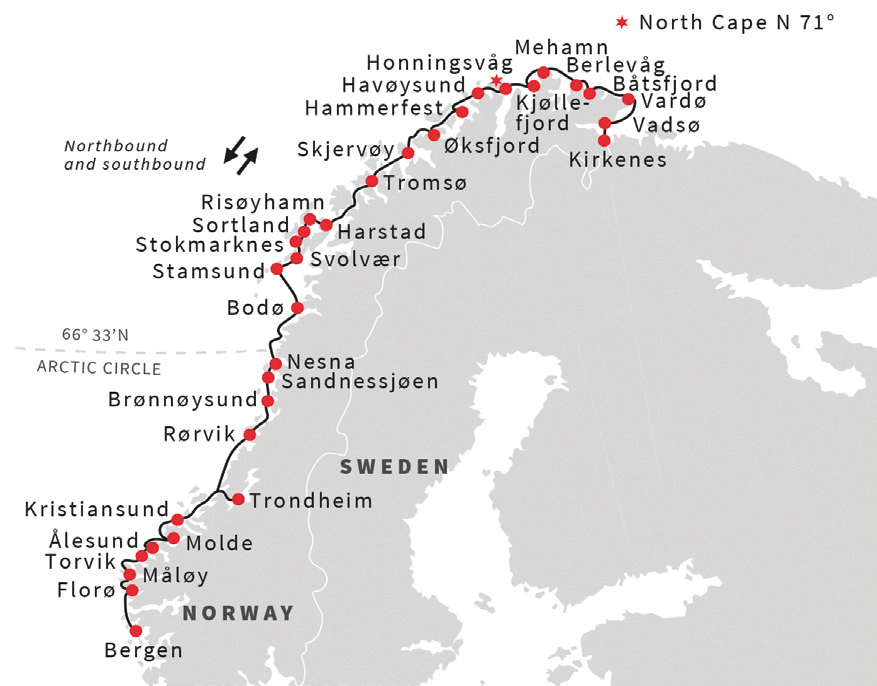 Request a Callback
View cruise deals