Perfect Day Island at CocoCay - Bahamas
Welcome to Perfect Day at CocoCay Bay, Royal Caribbean's private Island. Tackle the tallest waterslide in North America, Devil's Peak, take a selfie 137 metres up in the air in a helium balloon. Enjoy the swim up pool side bar, soak in the largest freshwater pool, Oasis Lagoon, in the Bahamas. Relax in your own private cabana, whatever you want to do, this Island is the perfect place to relax or be adventurous.

Rio de Janeiro, Brazil
Synonymous with 'The Girl from Ipanema', the dramatic view of Christ the Redeemer atop Corcovado Mountain and the famous carnival celebrations, Rio is also a city of stunning architecture , abundant museums and incredible cuisine.

Iguazu Falls, Buenos Aires, Argentina
Bordering the Argentinian and Brazilian border, the UNESCO World Heritage Site Iguazu Falls are awe-inspiring in their sheer size and beauty. A staggering 82 metres high and 2,700 wide they are vastly larger than the Niagara Falls and have an impressive 275 drops. The Iguazu National Park is a combined size of 252,982 hectares spanning the Argentine and Brazilian side and is home to a variety of animal species and flora which is an important part of the ecosystem in Latin America.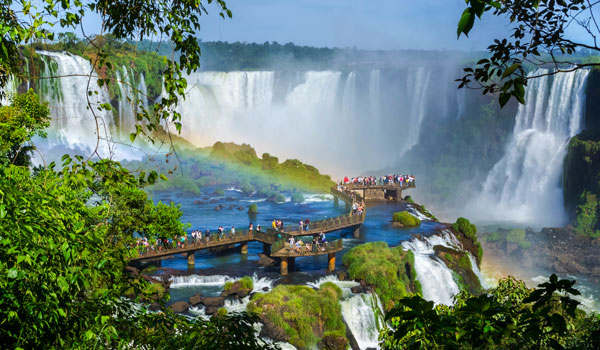 Machu Picchu, Lima, Peru
Discover the beauty of the heartland of the Inka Empire, known as the Sacred Valley. Of course, no trip to Peru could truly be complete without a trek to the world famous Machu Picchu.

The Great Barrier Reef
As one of the Seven Natural Wonders of the World, you'd expect great things from a visit here, and you can rest assured that you will not be disappointed! Larger than the Great Wall of China, this vibrant body of water is home to an abundance of wildlife and comprises of over 3,000 individual reef systems – an unforgettable experience for many, especially those who adore nature

Petra (Aqaba), Jordan
'The Lost City' of Petra, carved into the sandstone hill by the Nabataeans in the 2nd Century is still considered one of the greatest man-made Wonders of the World. The intricate enormity of this incredible monument will have you yearning to discover its secrets

The Great Wall Of China
Built about 500 years ago, this ancient series of walls and fortifications is around 13,000 miles long. Much of what remains of the wall was built during the Ming dynasty and is considered to be one of the most amazing feats of architecture and is one of the seven wonders of world.

Taj Mahal, Cochin, India
This UNESCO World Heritage Site was built in Agra between 1631 and 1648 in memory of the favourite wife of the Mughal emperor Shah Jahan. This enormous white marble mausoleum is the jewel of Muslim art in India and is favoured as a must see throughout the world.

Pyramids of Giza & Sphinx, Alexandria, Egypt
Alexandria, the second largest city in Egypt and known as "The Pearl of the Mediterranean", has an atmosphere that is more Mediterranean than Middle Eastern; its ambience and cultural heritage distance it from the rest of the country

Request a Callback
View cruise deals