Italy is synonymous with wholesome food, fine wine and a family-orientated vibe. In this article, we spoke to bloggers and business owners who shared their top tips on how to experience the very best food Italy has to offer.
Try a farm to table restaurant
Italy prides itself on fresh produce and you can't get much fresher than a farm to table restaurant as Kathy from Italia Outdoors Food and Wine explains: "My favourite restaurants to visit are those local places that specialise in the regional dishes and offer the unique seasonal specialities of the area.
"For example, on our Veneto tours, we dine one evening at Pulierin in Bassano del Grappa. A farm to table restaurant where you can begin with an extravagant array of cured beef from their own cows followed with pasta carbonara made with their goose eggs. In May you can experience the renowned white asparagus from Bassano in risotto, which can only be found locally. Enjoy it with the award-winning wines from their winery, Contra Soarda, including their white Vespaiola, a local grape you won't find anywhere else in Italy."
Show your appreciation for the fantastic food by doing some research and familiarising yourself with the food and drink local to the region you are visiting because "they are all extremely proud of the cuisine and culture of their home region", says Kathy.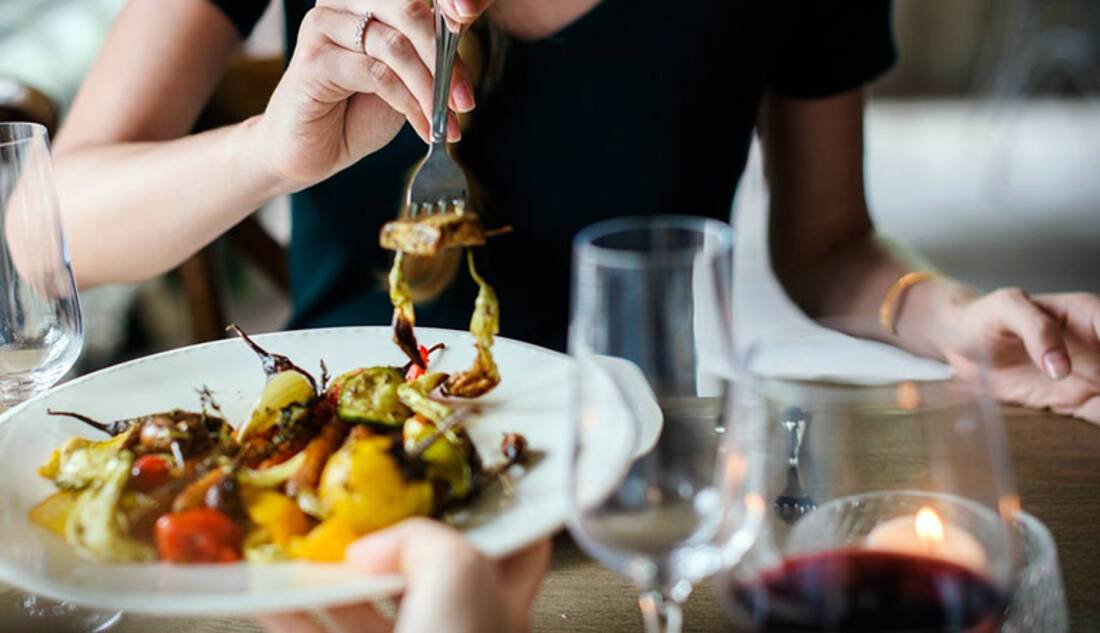 Try local specialities from the region you are visiting
Italy consists of 20 regions and each region boasts its own local specialities. If you decide to disembark once your Azamara cruises ship docks, take some time to wander around the area to get the lay of the land.
Find a restaurant which appeals to you and don't be afraid to ask what regional specialities they would recommend. Ishita from Italophilia told us: "In Italy, one must eat and respect the region they are in. For instance, if you are in Sicily and you ask for a plate of amatriciana pasta, you might get stared at. After all, amatriciana is Roman pasta. I would recommend reading a little before travelling to Italy."
Ishita said the street food in Sicily is a must if you are in the area, she describes it as "authentic, fresh and delicious", while in Palermo try the gelato con brioche and sfincione which is a focaccia bread soaked in olive oil with onions, tomatoes and pepper.
One of Ishita's favourite places in Italy is Ristorante Regina which is a stone's throw away from The Termini Station in Rome: "It is a family-run restaurant with old school interiors and an excellent service, Ristorante Regina is a place you should visit when in Rome. There's delicious home-made food served by a Roman family. I would recommend trying their fresh ravioli and artichokes. They also make amazing tiramisu. For a hearty meal, such places must be frequented. I love Ristorante Regina for everything simple that it offers and can't wait to return to say hello to the family again."
We also spoke to Paolo from Disgraces on the Menu who told us there are so many restaurants to choose from throughout Italy: "Favour those who are subject to a healthy dose of competition, that serve the cuisine that is traditional of their region, and that rely on returning customers."
When visiting several restaurants try different dishes, Paolo recommends: "Canederli in Trentino Alto Adige, Agnolotti del Plin in Piedmont, Risotto in Lombardy, Gnocco Fritto in Emilia Romagna, Cjarsons in Friuli, Gnudi in Tuscany, Carbonara in Lazio, Pizza in Campania, Orecchiette in Apulia, Arancini in Sicily. This is just to name a few, of course, the list is so long you can easily spend one month in each region never having the same dish twice."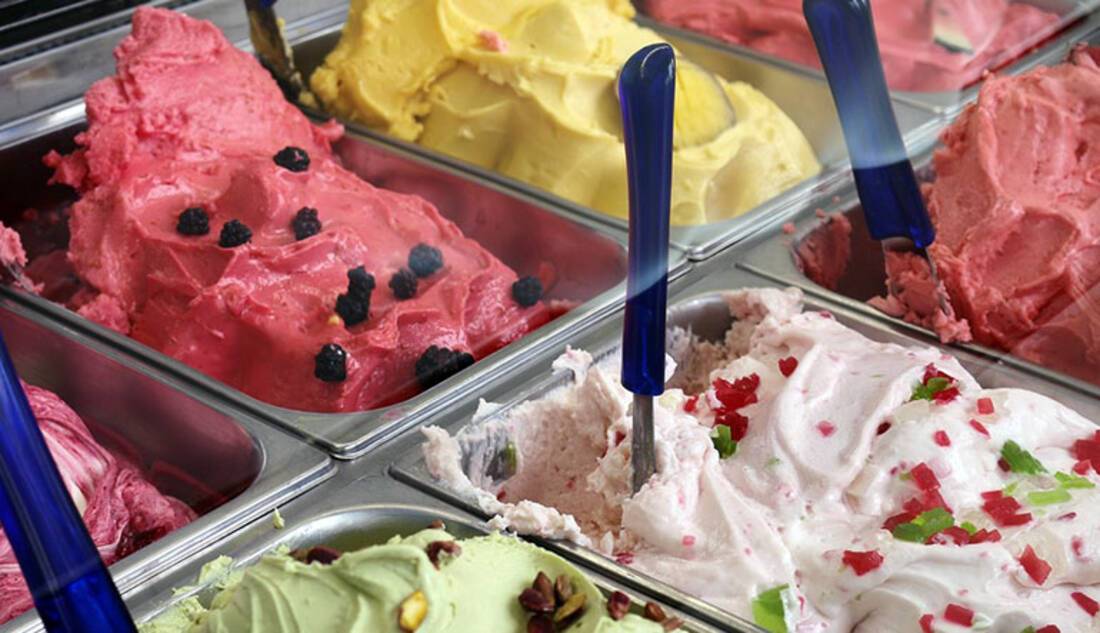 Trying gelato is a must for those with a sweet tooth
The frozen dessert is a popular and a refreshing treat which can be found throughout Italy. There are two types of gelato; cream-based (crema) and fruit-based (sorbetto). Cafes and restaurants can offer a wide variety of flavours including pistachio, chocolate, hazelnut and pineapple. Stracciatella is a variety of gelato which contains shavings of chocolate.
Maria from She Loves Biscotti said: "I highly recommend tasting the artisanal gelato that can be found in every city. Made with fresh and natural ingredients, your taste buds will thank you."
La Carraia in Florence has been serving up amazing artisan gelatos and desserts since 1990. They sell a range of "classic" gelatos including crema (custard cream), fiordilatte (milk) and variegate amarena (black cherry).
We also asked Maria where she recommends visiting to enjoy a delicious meal: "If you are looking for true Italian culture, in a city that is well connected to the rest of Italy, you must visit Salerno, which is in Campania, South-Western Italy. One of my favourite restaurants to eat at while visiting this entry point to the Amalfi coast is Pizzeria La Smorfia. Conveniently located across the Duomo, it has the best Neapolitan pizza restaurant outside of Naples."
Try a simple dish of pasta al Pomodoro
There are many sauces to accompany a pasta dish, however, Kate from Cooking and Carafes suggests trying a simple pasta al Pomodoro which is simply pasta and tomato sauce: "You won't taste a sauce as good. It needs no other additions as it's bursting with a flavour all of its own."
Kate also told us about a pre-dinner tipple she enjoys: "One of my favourite things in Italy is aperitivo, a drink before dinner often served with a plate of antipasti, made up of meat, cheese and olives. Most people will know Aperol Spritz as the drink to have but Campari with soda and a slice of orange is also the perfect start to an evening."
The style of the aperitivo will vary depending on which region you are in, but they all have the same intention; to whet your appetite and give you a chance to enjoy a leisurely catch up with friends before sitting down for your evening meal.
Kate also told us about her favourite places to visit in Italy and why: "You'll find amazing food across the country but some of my favourite foods come from Sardinia. Just off the scenic coastline of Santa Margherita di Pula, is the town Pula itself. It's a small but lively town with a host of good restaurants, bars and eateries. It is home to Su Furriadroxu, a family-run restaurant, tucked away in a beautiful courtyard with olive trees and a rustic Sardinian feel which is just off the main Piazza.
"It's known for its authentic Sardinian food but particularly the su porceddu, which is roast suckling pig, which is often saved for weddings and special occasions, but it's a daily feature on the Su Furriadroxu menu. There are also many other traditional dishes such as malloreddus pasta. Eating here is a real treat and a chance to taste the real Sardinia, food from a family who have been welcoming guests to their restaurant for many years."
There are many great reasons as to why a holiday in Italy will provide you with memories which will last a lifetime.
Kate summed up what makes the country such a fantastic place to visit: "Italy will carve a little place in your heart, whether it's the food, the wine, the people or the scenery - or all four together."