The United States is not short of National Parks with 59 protected areas operated by the National Park Service. Each of these National Parks has something different to offer in terms of geography, scenery and wildlife especially when you consider that the United States contains examples of nearly every global climate.
While California has nine National Parks in its perimeters, Alaska is a close second with eight, so if you get an opportunity to explore while on your Alaskan Cruise holiday, it is well worth the walking. Alaska also holds the largest national park in the United States, Wrangell - St Elias which is larger than each of the nine smallest states. Fourteen national parks are also designated UNESCO World Heritage Sites and many carry some of the most famous views that the United States is known for.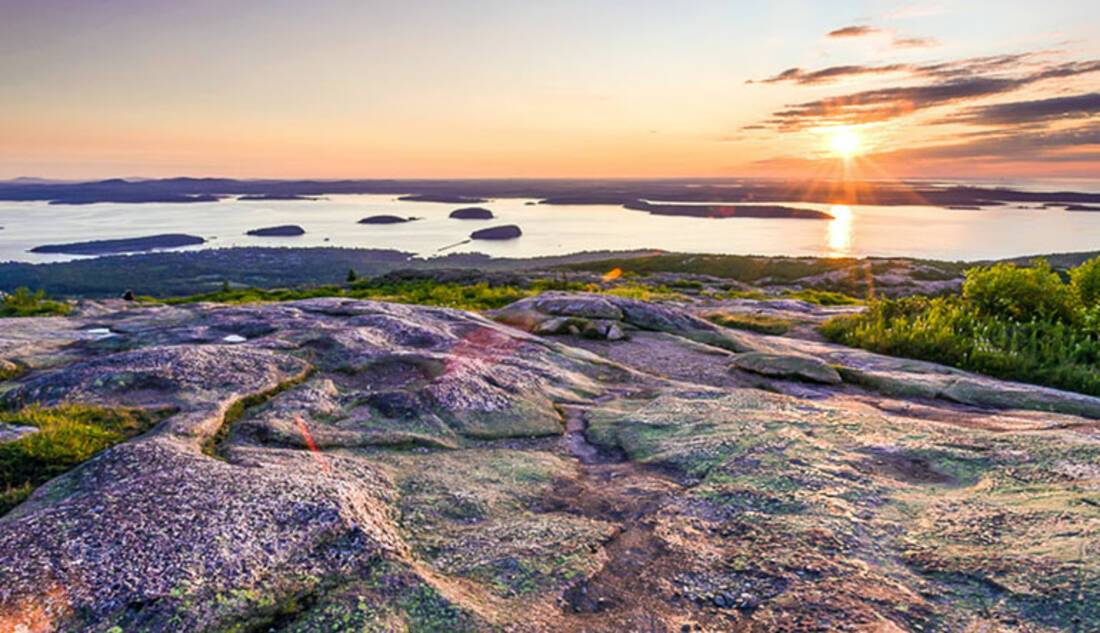 Acadia
Though Acadia National Park only covers less than 1% of Maine's area, it still manages to cover a wide range of landscapes. Cadillac Mountain is the highest point in Hancock County and through autumn and winter is the first point in America which sees the sunrise. James Kaiser, born in Maine and author of the bestselling book Acadia: The Complete Guide grew up exploring Acadia and revelling in the beauty of the area. When asked for his favourite view, James responded, "My favorite view in Acadia National Park is from Cadillac Mountain. At 1,528 feet it's the highest point on the U.S. East Coast, and in fall and winter it's the first place in America to see the sunrise. You can hike or drive to the summit, where panoramic views showcase Acadia's gorgeous mountains and lakes, as well as dozens of beautiful offshore islands in the Gulf of Maine. In summer you'll watch sailboats cruise past historic lighthouses. In autumn the surrounding mountains shimmer with fiery foliage. No matter when you visit, however, you'll enjoy some of the most spectacular views found in any national park."
The National Park Service range throughout the park maintaining and protecting its natural splendour and therefore many rangers know the park inside and out. When asked about the best views in Acadia, the national park staff struggled to come to a conclusive answer. "It is difficult to pick a best view in Acadia, since we are a coastal park and have so many areas that are beautiful", they said. "Among many iconic views are the coastline along Ocean Drive, Bass Harbor Head Lighthouse and the views on top of Cadillac Mountain. Those are only three of the many."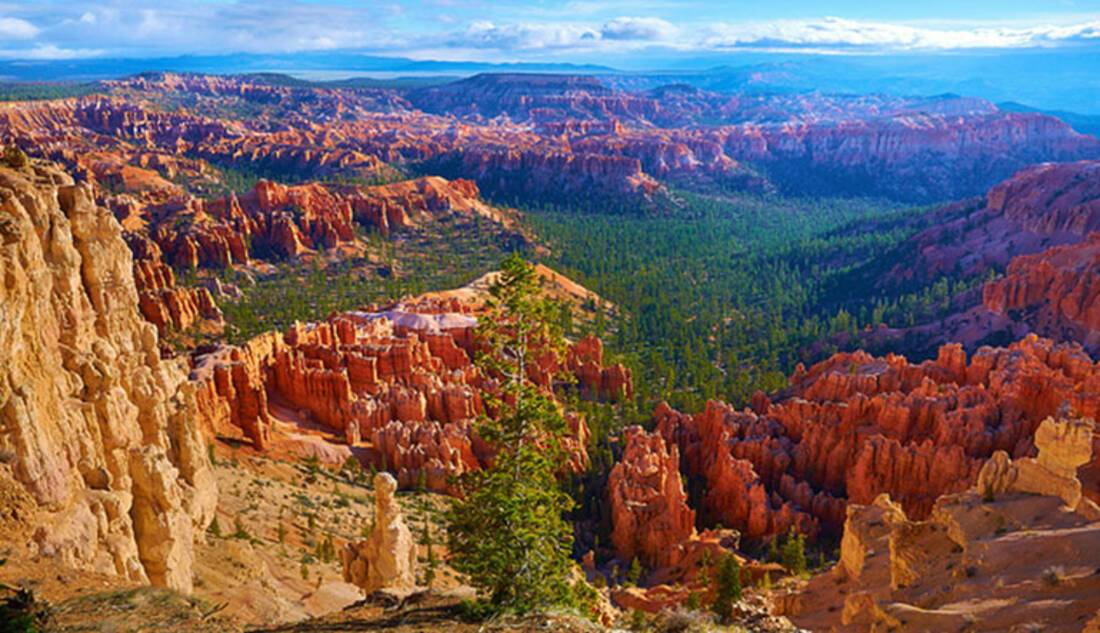 Bryce Canyon
This startling landscape in Utah is not actually a canyon despite the name. Instead, the enormous natural amphitheatres were caused by headward erosion. The geological feature that makes this national park truly unique are the hoodoos. Also known as tent rocks, fairy chimneys or earth pyramids, they are found nowhere as abundantly as Bryce Canyon National Park and the stacks or spires of rock give Bryce Canyon National Park an ethereal feel. In the summer the park appears arid however the rich red rocks contrast incredibly with the snow, which falls regularly as temperatures have been recorded as low as -33°C.
This isolated national park also has the accolade of being one of the darkest in North America. The night sky has an astrological magnitude of 7.4 and visitors can see up to 7500 stars with the naked eye (compared to 2000 in most places due to light pollution.) Lucy from On the Luce combines flexible modern day living with travel and blogs about it. She found her favourite views handily linked on one trail: "Our first stop was at Sunset and Sunrise Points. Despite not being there at the right time of day for either of them, my first views down into the canyon still took my breath away. From up here the hoodoos look like a maze of tightly packed pinnacles of rock below you. On a stunningly clear day the bright terracotta colours of the rocks popped out against the brilliant blue skies. It almost doesn't look real, like someone's carved out these intricate patterns in the rock. This area's called the Silent City, and you can almost picture a hidden civilisation living down there. A mile-long section of the Rim Trail links Sunrise and Sunset points and had some of my favourite views."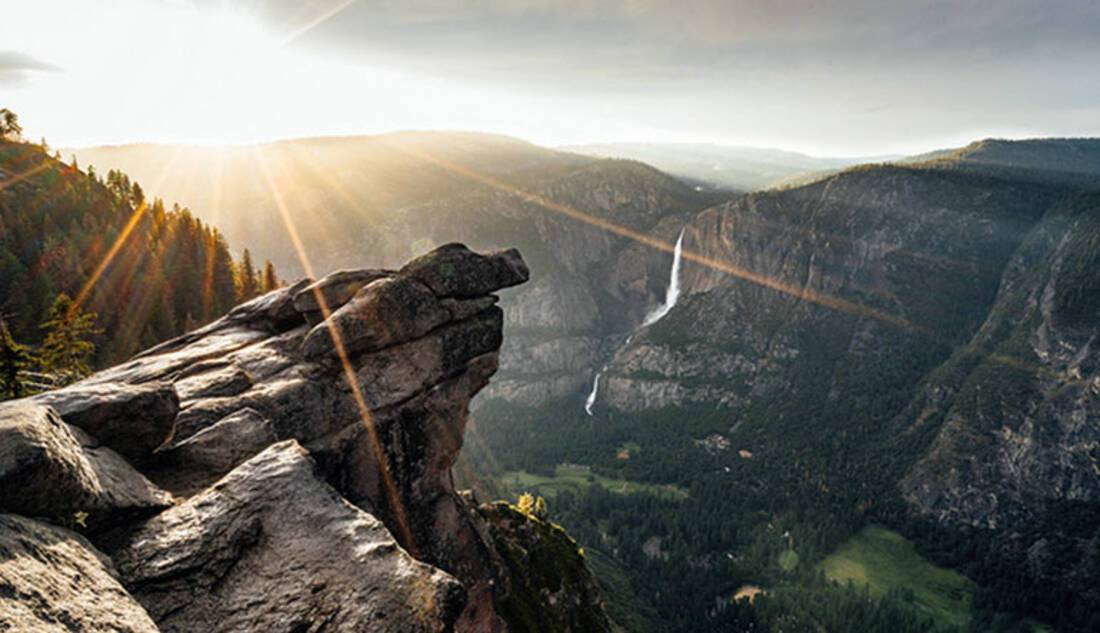 Yosemite
One of the most well-known national parks in America, Yosemite means 'the deadly ones' referring to the tribe that originally resided in the area. Yosemite Valley is where most visitors spend their time and is also what the national park is most famed for. The Glacial U-shaped valley is about 8 miles long and surrounded by the high granite summits of El Capitan and Half Dome, these monoliths have been scaled without ropes by the truly daring such as Alex Honnold. Yosemite Falls is one of the tallest drops in North America at a total of 2425 feet and is an enormous attraction to many tourists.
The other often-photographed point is The California Tunnel Tree. There are three giant sequoia groves in Yosemite and these enormous trees have always been something of an attraction. The Wawona tree or tunnel tree was the largest tunnel tree and resided in Mariposa grove. A scar from fire damage was enlarged in 1881 to allow vehicles to pass beneath it in order to attract tourist attention. Unfortunately this fundamentally destabilised the tree and it fell in 1969. The California Tunnel Tree still stands today and visitors can walk or cycle beneath it. Vanessa Rodriguez from Stylishly me believes she has pinned down Yosemite's best view at Glacier Point: "This winding road takes you up to one of the most spectacular viewpoint anywhere! This incredible view gets you very close to Half Dome. From Glacier Point, you also see Yosemite Valley and three waterfalls. This postcard vista point will end your day with the best view in Yosemite".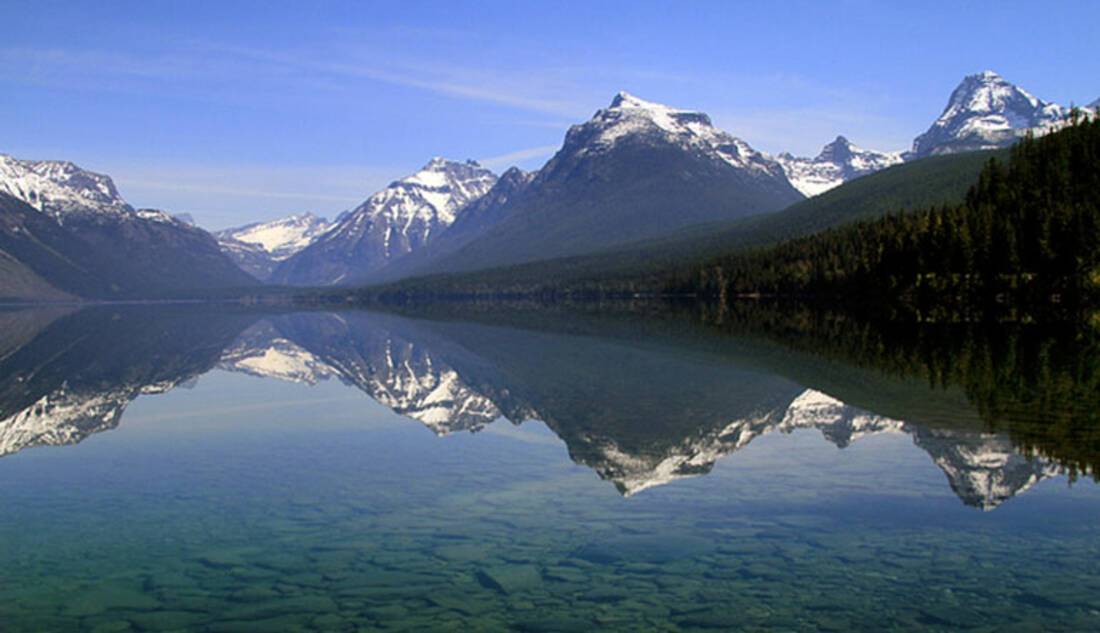 Glacier
Located in Montana and on the Canadian border with Alberta and British Colombia, Glacier National Park includes two mountain ranges and covers over a million acres. The glaciers that the park is renowned for have severely diminished with 150 noted during the mid-19th century reduced to just 25 active glaciers in 2010. With the current climate it is estimated that Glacier National Park will have no glaciers as early as 2030.
In 1885 on a hunting expedition in the area, George Bird Grinnell dubbed the area as 'the crown of the continent'. After his expedition, Grinnell felt so moved by the scenery that he spent the next two decades in an effort to have the area dubbed a national park. In 1910, president of The Great Northern Railway, Louis W Hill began marketing the park as 'America's Switzerland' and the hotels and chalets were thus built in a Swiss style. As ever it is hard for the National Park Service to choose just one view, so instead they came up with several options: "The Park is known for the views off of the Going-to-the-Sun Road. A popular view is in St. Mary looking over Wild Goose Island. But there are many amazing views in the park! I can't recommend just one".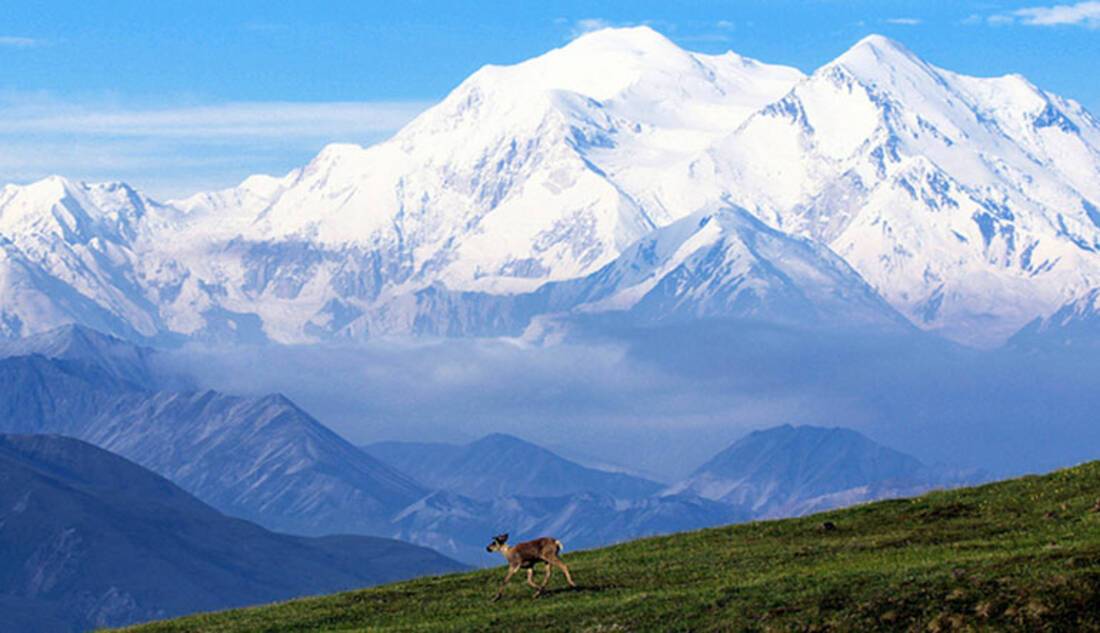 Denali
A national park in the interior of Alaska, Denali is named after the tallest mountain in the park that translates to 'The High One'. The wilderness of Denali has attracted and inspired many individuals, most notably Christopher McCandless whose story is denoted in the 2007 film 'Into the Wild'.
Mount Denali, formerly known as Mount McKinley, is the highest peak in North America and the third most prominent and most isolated peak in the world (after Everest and Aconcagua), with Denali topping a prominence of 6,144 m compared to Aconcagua's 6,962 m and Everest's 8,848m. The first verifiable ascent to Denali's summit was made in 1913 by Hudson Stuck, Harry Karstens, Walter Harper and Robert Tatum.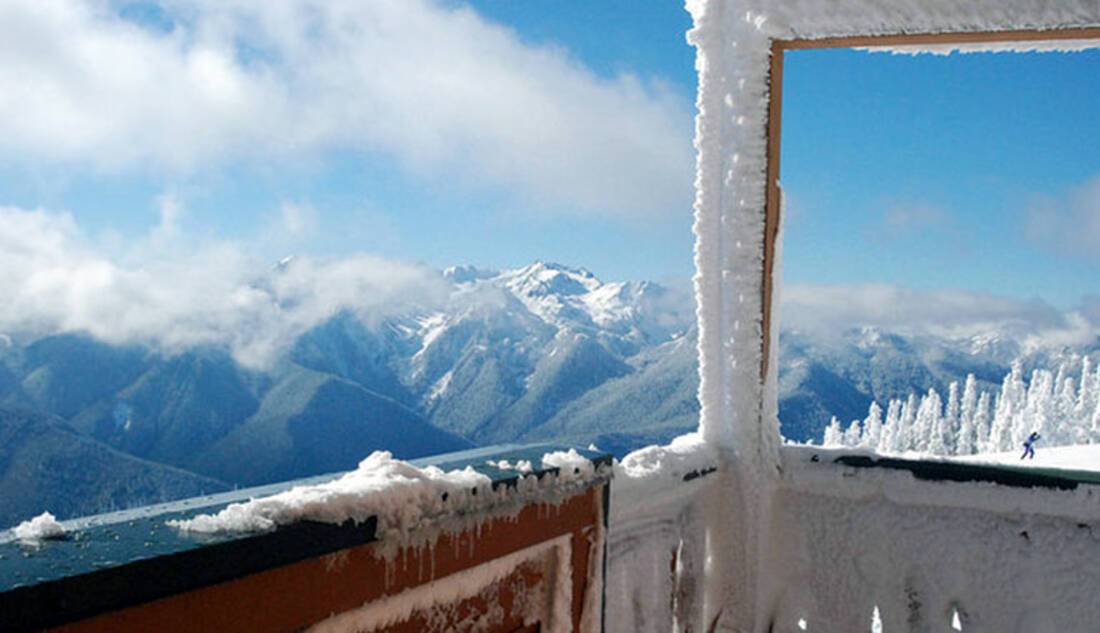 Olympic
Designated a National Park by President Franklin Roosevelt in 1938, it has since been elected by UNESCO as an International Biosphere Reserve and a World Heritage Site. Olympic National Park encompasses four main geographical types: Pacific coastlines, alpine areas, west side temperate rainforests and drier forests. The interior is very rarely penetrated - instead many choose to backpack across the miles of glorious and untouched coastline.
One of the most popular views is that of Hurricane Ridge. In the winter, Hurricane Ridge Ski and Snowboard area is a non-profit organisation that offers both downhill and backcountry skiing. The National Park Staff at Olympic had a hard time picking just one view when asked, saying: "It is almost impossible to pick the best view because of the diversity that Olympic has to offer. There are incredible, vast mountain views at Hurricane Ridge and Deer Park, picturesque lake views like Lake Crescent, and expansive wild coastline in Kalaloch, Mora and Ozette to choose from — and that's just naming a few of the park areas. The temperate Rain Forest in the Hoh and Quinault river valleys is exceptional as well."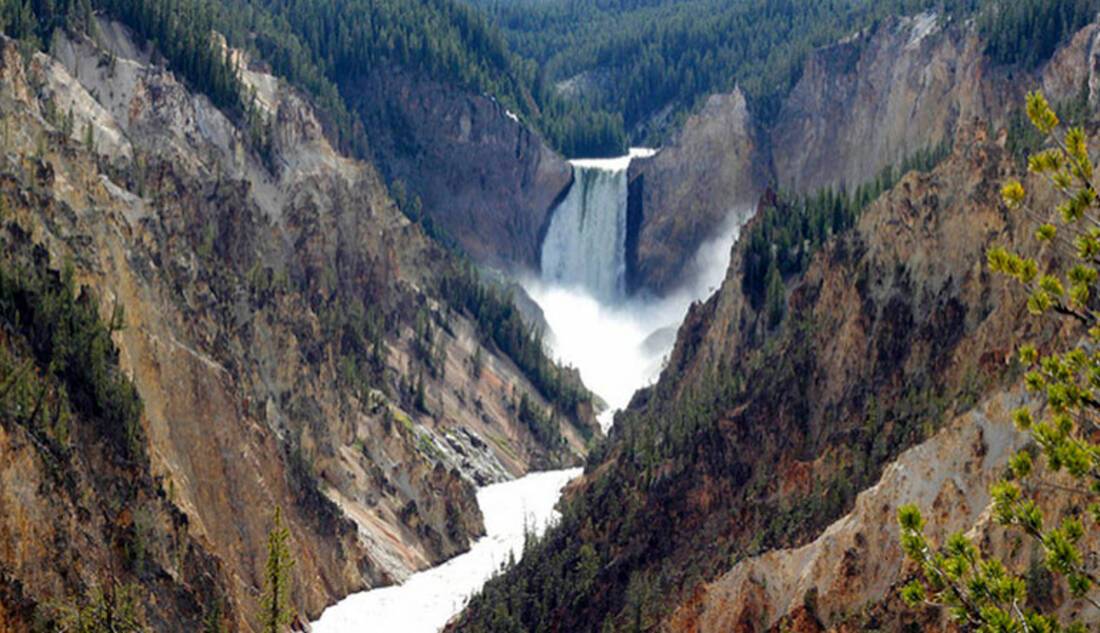 Yellowstone
The first National Park in the United States and reportedly across the world, Yellowstone has always found itself at the centre of controversy. In 1806, a member of the Lewis and Clarke expedition named John Colter left the group to join some fur trappers. After encountering hostilities from native tribes, John Colter suffered severe blows and while recovering from his wounds, he passed through areas of Yellowstone and recalled the area as a place of 'fire and brimstone'. Assumed Colter was delirious, these reports we set aside and 'Colter's Hell' was thought of as a fictitious place. It wasn't until 1869 that an organised and well documented expedition set out and John Colter and Jim Bridger (a later explorer) were vindicated.
Yellowstone is renowned for its geothermal activity as the Yellowstone Caldera is the largest volcanic system in North America and is home to some world renowned geysers. Steamboat geyser is the world's tallest currently active geyser that can throw water up to 300 feet, however Steamboat is unpredictable with the last eruption occurring on September 3rd 2014. Old Faithful may be Yellowstone's most famous geyser and gets its name from the frequency of its eruptions, these fall between every 44 and 125 minutes.
Tom Murphy, a fine art photographer dedicated to immortalising the last wild places, feels drawn to Yellowstone National Park: "The view in Yellowstone that always makes me stand in quiet amazement is the view of the Lower Falls and the Grand Canyon of the Yellowstone. There are several wonderful places to stand around there, but if I had to choose one spot it would be Artist Point. A million people a year go there, but it is still amazing. I have a thousand other places I like to visit in Yellowstone again and again. This view alone would qualify the place as a National Park. Wild clean free flowing river. Spectacular rocks and canyon, thermals, rugged open land.
Other places are in Lamar, Thorofare, Bechler, Hayden, Gardiner's Hole….. My list is long but most are not easily accessed."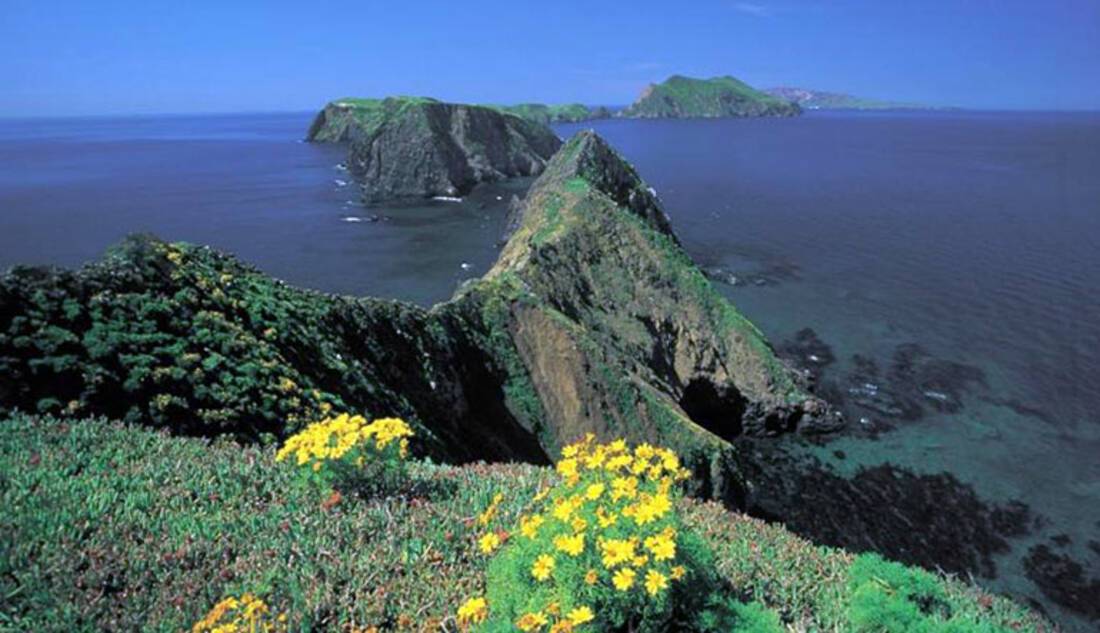 Channel Islands
Consisting of five of the eight Channel Islands off the state of California, the Channel Islands National Park exhibits both coastal beauty and isolation. Half of the park's area is underwater due to the incredible variety of marine life and historical ship wrecks that litter the coast. One hundred and forty five species are unique to the Channel Islands and can be found nowhere else in the world.
Due to the isolated nature of the islands, odd myths have sprung up around them. From the Lone Woman of San Nicolas Island to the history of Prisoner Bay, seclusion is a key theme through the history of the park. Snorkelling and kayaking around the islands is very popular for both geological interest as well as a historical aspect. Inspiration Point is one of the most renowned views. QT Luong, a photography blogger and avid traveller felt the view was sensational, saying: "Inspiration point, on East Anacapa Island, where I am standing, offers possibly the most spectacular view on the entire US West Coast. Earlier in the day, a misty marine layer (a frequent occurrence) had obscured the views I was hoping to capture at sunrise. But now the cool mist has evaporated, revealing beyond a ridge of East Anacapa a striking chain of three islands, Middle Anacapa, West Anacapa and Santa Cruz Island. Standing 250 feet above the narrow strait separating East and Middle Anacapa, I absorbed the dynamic spectacle of pelicans, gulls, and guillemots soaring below me, above a backdrop of deep blue waters and crashing waves."
Image credits: Tim Hauf, Greg Wohead, Olympic National Park, Denali National Park and Preserve, Glacier NPS, Mitchel, Moyan Brenn, James Kaiser