Once the seat of the Catholic popes, Avignon became a part of France in 1791 and is still home to the Popes' Palace as well as the Petit Palace, with its magnificent collection of medieval and Renaissance Italian art. Absolutely steeped in history, both political and cultural, Avignon is home to impressive episcopal buildings and the Saint Bénézet Bridge which are both listed as UNESCO World Heritage Sites.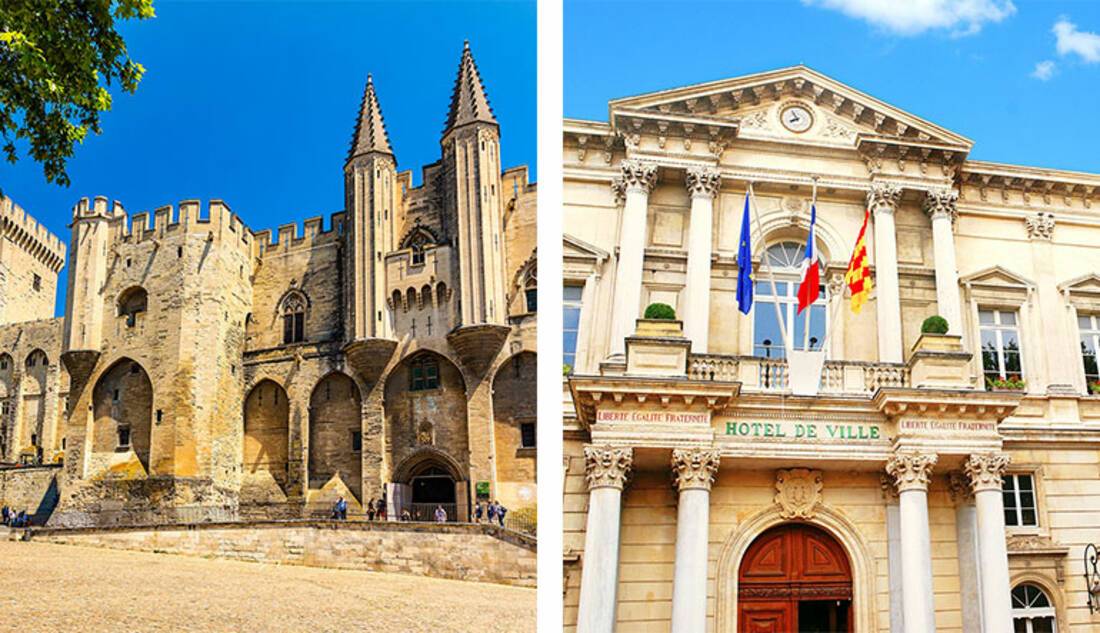 Visit the main square, Place de l'Horloge, where you'll find the City Hall – complete with clock and Jacquemart – the municipal theatre whose delightful Belle Époque style carousel still turns at the top and many authentic restaurants and cafés where you can while away the afternoon people-watching. Elsewhere, the Rocher des Doms is a stunning public garden showcasing panoramic views over the entire city and, once you've finished sightseeing, you can enjoy the peaceful ambience.

It is impossible to visit Avignon without taking advantage of the impressive shopping opportunities. The main avenue, Rue de la République, divides the city into two with the Rue Saint Agricol leading to the chic and bourgeois quarter on one side, and the Rue Joseph Vernet, the 5th Avenue of Avignon, on the other. Further afield, visit the Halles and the Place des Carmes, for traditional French Markets, or head to the Rue des Teinturiers bordered by the little Sorgue river. This delightful cobblestone street dates back to the Middle Ages and today is home to many artists, musicians and locals.
There's no better way to discover a new destination than through its food. Beyond Avignon's walls, the region's Mediterranean climate lends warmth, sunshine, and just a little rain – ideal conditions for vegetable growing – while the proximity of the Med to the south offers dream-worthy seafood spreads. Whilst here, be sure to sample some of Avignon's best offerings including Pieds et Paquets.
Home to glorious cuisine, world-renowned wines, an abundance of historic landmarks, exciting culture and stunning landscapes, Avignon is a destination not to be missed.